10 Digital Marketing Strategies To Boost Thanksgiving Sales
By Arpita Singh
•
November 22, 2022
•
17 mins read
There's a maddening rush before Thanksgiving day; people are busy buying the best possible gifts for their friends and family, gathering house decorations, and catching up on last-minute grocery shopping. Not to mention the infinite hokum sale offers that bombard their inboxes every now and then! You may wonder what chance your business would stand in a situation as stressful as this. Don't worry! A few good shots at digital marketing strategies, and you will find your customers knocking at your door. The Thanksgiving sales target that you have set for this year will no longer only remain a stat figure. But become a reality!
Without further ado, let's study the top 10 today.
1) Make Thanksgiving Peaceful and Relaxing for your Customers!
Well, the rule of thumb with email marketing campaigns is to play short, simple, and safe!
Let's look at how Rover did it right with its sweet email game.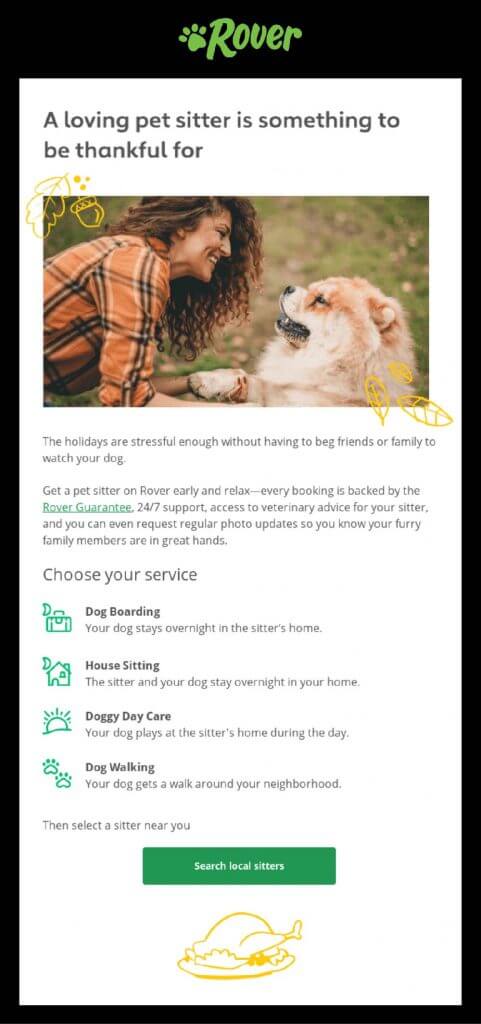 Source: Really Good Emails
The heading beautifully incorporates the theme and pet service requirements of the Thanksgiving festivity. People may have planned vacations for the 5-day long holiday week. With all things looked after, those with pets may have missed booking a sitter for their furry family member. Rover comes in as a savior. Cutting the clutter, it jumps straight to its services listed in one-liner rows. It also gives a brief description of why their pet-sitting services are better than others in the market; note, it is vital to highlight what makes your business so unique and different. The goal is to compel the customers into availing your services! In this case, a CTA at the bottom directs the inquirers to the company's website.
What we learn,
You must understand the pain points of your target audience at times of festivity
How you can help them with a quick and easy-to-get solution
Simplicity (in content) can make you win the email marketing game!
You can always rely on short email campaign copies, keeping the balance of colors – how should we put it? Simple, yes!
2) Engage/Entertain your Audience with Gifting Challenges for Thanksgiving!
Sephora is running an interesting community challenge that spans 9 weeks, starting from the first week of November and ending on the second day of the New Year. Long story short, the Holiday Gifting Challenge riddles the community members each week with "real/hypothetical – but all very relatable" scenarios or people and what will be the best gift option for them. Note, it has to be a product from Sephora, and the participants need to tag the products in their comments! Sephora has received considerate responses from its members, who are pouring in their views and opinions with a free mind.
Now, how will this benefit the Thanksgiving Sales? Well, Sephora has a tight-knit community. Out of curiosity, the members flock to its website and explore its product categories. This fetches organic traffic for the site. Additionally, the company gets insights into the likes and dislikes of its audience members. Thus, they can use this data to develop a proper strategy and know precisely what products they need to emphasize and promote this holiday season.
What we learn,
Piquing the customers' interest and directing them to the website should be one of the main objectives of community challenges
Getting acquainted with what the customer wants and needs may help to create sale or referral offers, promotion deals, festive coupons, etc.
You should always stay connected with your customers/community!
3) Optimize your Website for the occasion. Work it Up!
Regarding search engine optimization strategy, it shouldn't differ from your long-term SEO planning. The content needs to be fresh and aligned with the holiday mood, your site should offer a smooth user experience, and the technical SEO has to be in its best shape. That's it.
Hershey leaves no stone unturned in this respect!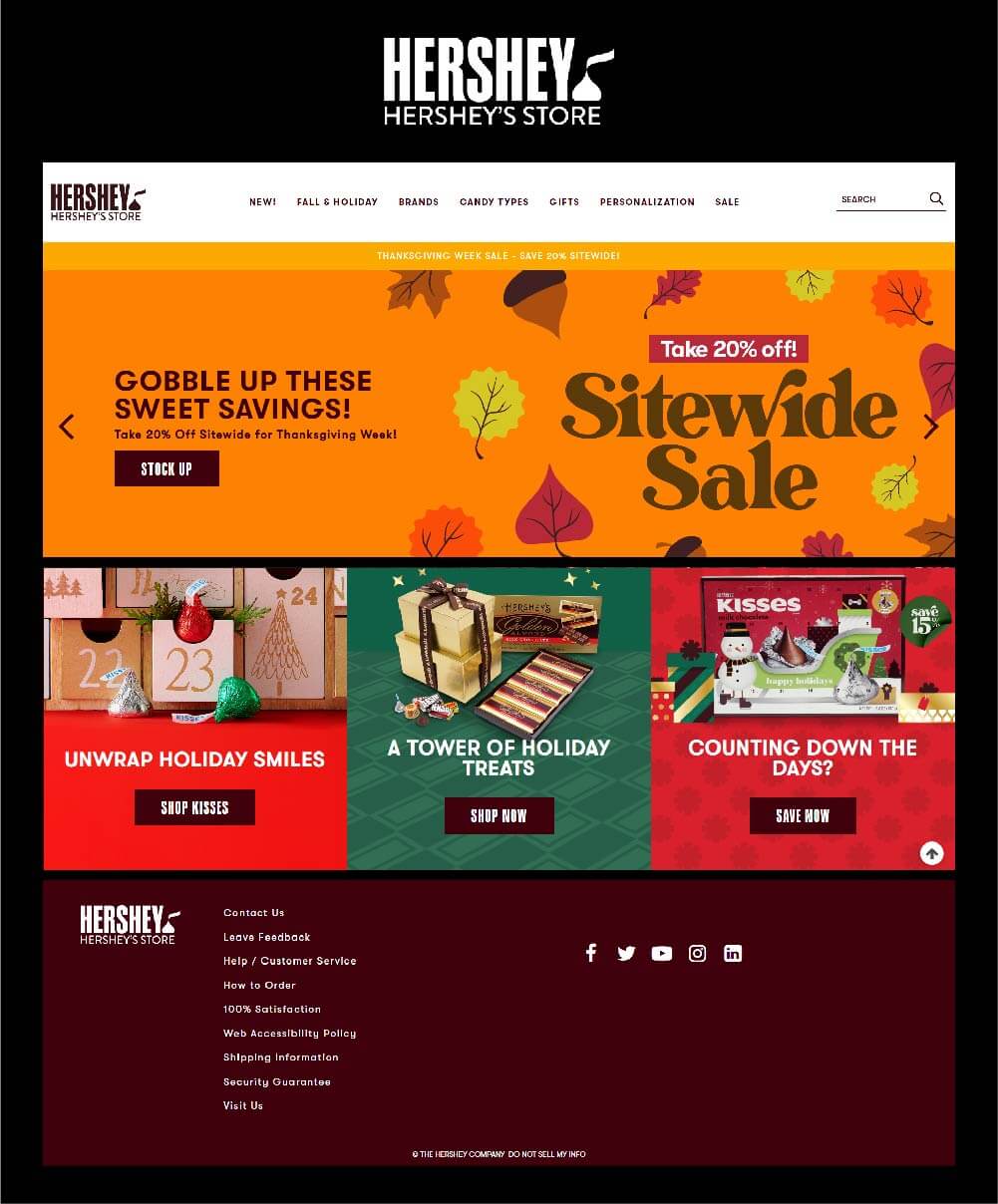 Source: Hershey's Online Store
Setting the pacifying orange tone for the Fall with autumn leaves, it adapts a special Thanksgiving sales (static) web banner on its homepage with a CTA button.
Curating the products into distinct categories facilitates swift customer navigation on the site and enables them to quickly get to what they are looking for. Mobile user experience, page load speed, and site architecture – all these technical SEO elements must be monitored throughout the holiday season.
During the holiday season, you may witness an uncontrollable influx of doubts and queries from customers/visitors. To rule out the repetitive questions, you can opt for separate FAQ or Q/A pages, easily accessible from your home page (in case you don't have one already). Hershey has put together an assorted column of pages, including "How to Order," "Shipping Information," "Security Guarantee," etc., at its site's bottom.
REI is another example that knocks it out of the park when we talk about developing clear and direct CTAs.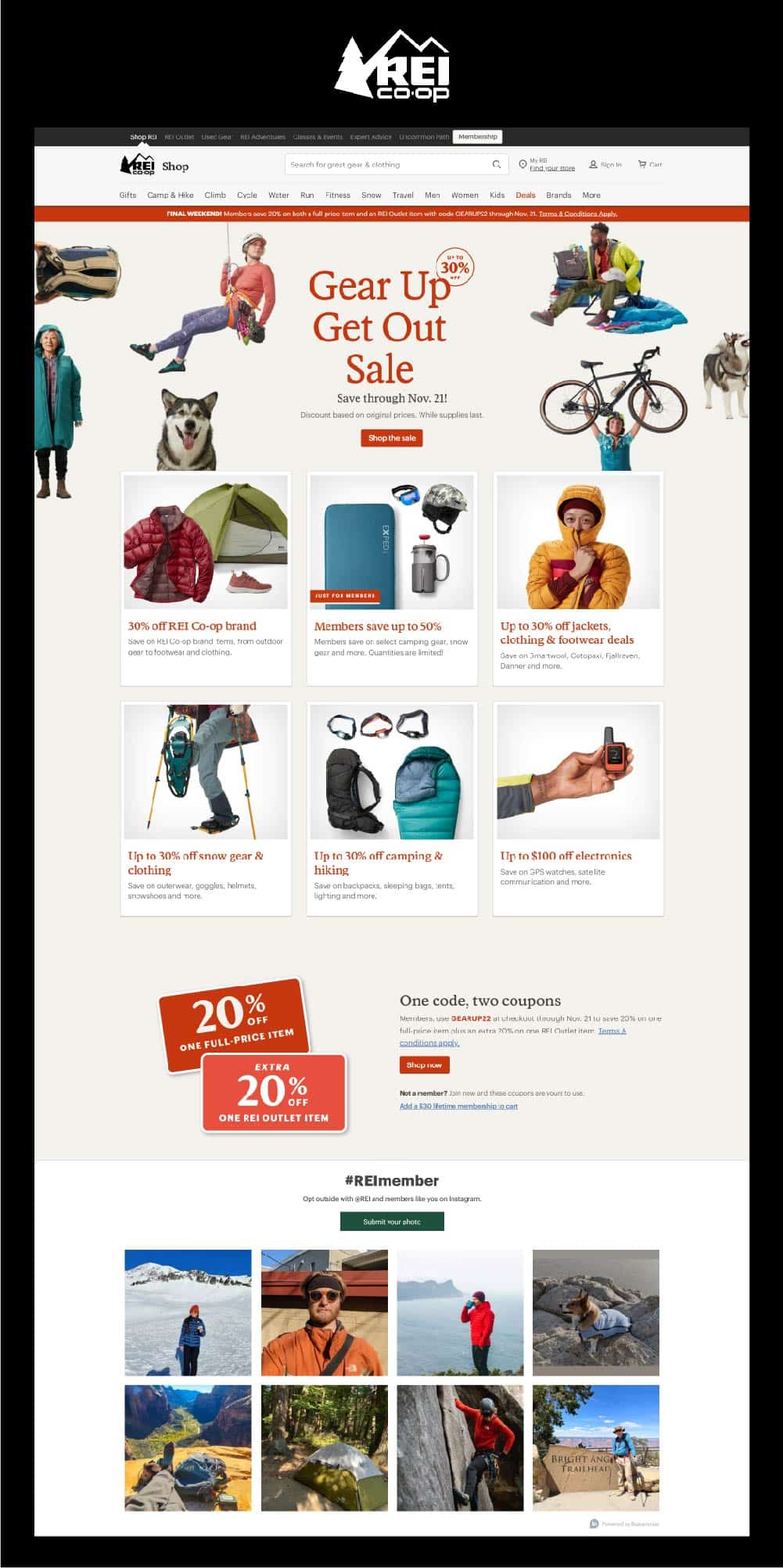 Source: REI co.op Shop
REI is well aware that strategically positioned CTAs lead customers to the path of direct action, and their chances of conversion multiply. Moreover, it focuses on the surrounding content that supplies lucid information about the CTA buttons.
We always suggest continuous reviewing of CTAs for improvement. You can access their effectiveness with the help of Google Analytics Integration and get viable data on what pages have higher bounce rates, conversions, or clicks.
The promotion of the Gear Up Get Out Sale is top-notch. With a set of 6 digital clickable ads, it quite confidently shows that it is prepared to welcome customers during the holiday season. Plus, the addition of coupons and the pronounced mention of the code just makes the shopping experience all the more desirable and convenient. Let us tell you, some people jump from site to site in search of promo codes. So, make sure you have them all set in the front line – with hassle-free visibility and accessibility!
While studying the website, we couldn't stop but admire how wonderfully REI administers its user-generated content. It even leaves a friendly request, cheering its customers to submit more photos.
Sephora cares about its customers' time and energy.
Like many out there, it too has gone the extra mile and created a distinct Gifts category on its website's header.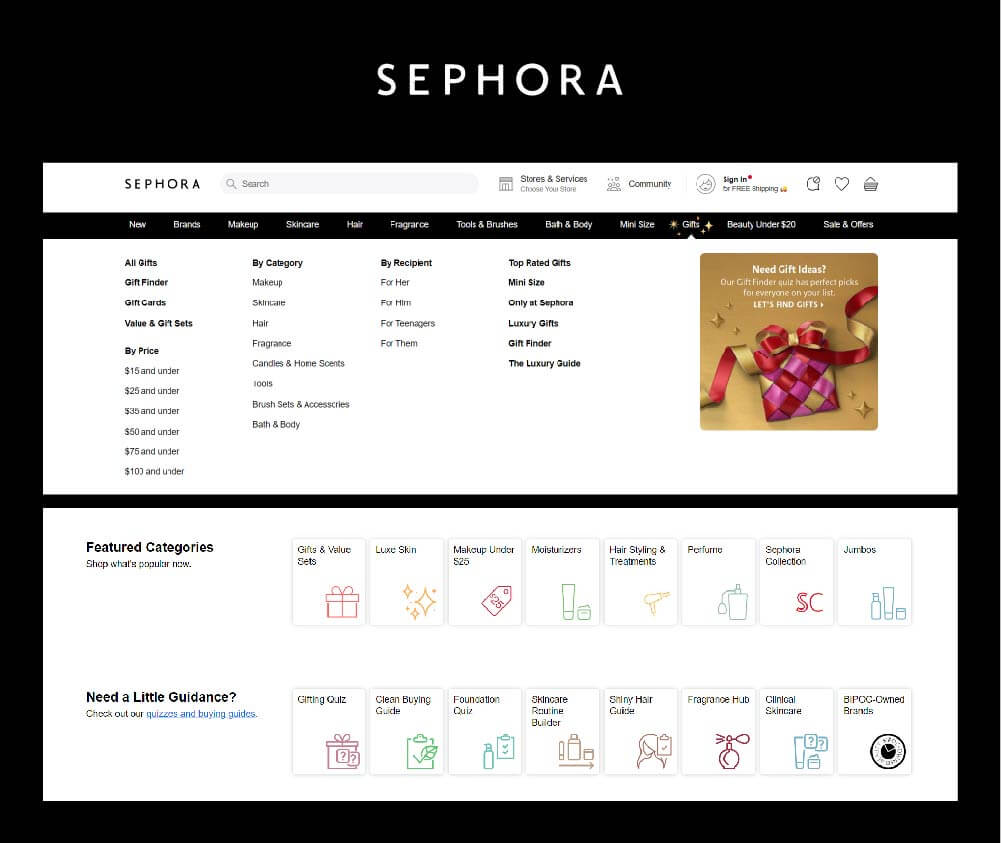 Source: Sephora
It is an ingenious move, as it further helps arrange all the festivity-specific products in one place. This also benefits the customer's perception of what they are willing to buy and, thus bolsters their purchasing decisions.
Sephora takes into account every little detail concerning a shopper's journey. To ease the friction that may disrupt their paths or to simply give them a heads-up – Sephora pulls its best tricks into play. It lays on the front platter "a Little Guidance" with "Gifting Quiz," "Clean Buying Guide," "Foundation Quiz," "Skincare Routine Builders," etc.
You can also refurbish older holiday content and spruce it up with the latest and most-requested products. Preparing holiday gift guides is one thing that can catch customers' attention instantly. Why? Because they are already stressed out and some good advice at the moment could be highly appreciated.
What we learn,
CTAs can make or break the deal
Separate Gift catalogs and landing pages help to boost conversions
FAQ or Q/A sections reduce the burden on Customer Help
4) Collaborate with Micro-Influencers to Spread the Word about your Holiday Exclusive Products!
Influencer marketing is all the rage these days! Giant-sized brands and labels, including Fenty Beauty by Rihanna, map down micro to macro-influencers with a dedicated and decent follower base on Instagram, TikTok, and YouTube. They then offer them product placement and promotion deals.
Fenty Beauty, for instance, collaborated with @joyjah (she/her) to recreate the magnetic "Muva's Lewk" from "#SAVAGEFENTYSHOW Vol. 4" in an Instagram Reels post. The content creator @joyjah (she/her) specializes in social media posts and modeling, (based on her Insta Author Bio,) and has a remarkable following of 494k. While demonstrating the make-up tutorial, she employs the Fenty Beauty products and cleverly endorses them to her followers.
What's more,
Reaching your target audience through niche-specific influencers' is one quick way to grab the attention of new customers
It is quite less expensive than running social media ads
5) Thank your Customers with Giveaways!
Fracture nails the concept, "Appreciate your customers richly and endearingly! And keep doing it more often!"

Source: Really Good Emails
Back in November 2020, it launched a "12 Days of Giveaways" campaign and used emails as a digital source of advertisement. Going by the length, it sure is a long-winded email with multiple CTAs. But observe how comprehensively they have divided their offerings into neat sections. The first, talks about their then-ongoing holiday campaign, Thanksgiving Countdown of 12 days, which comprises a daily giveaway of a surprise gift, applicable to all US residents above the age of 18 – (more details can be found at the bottom of the email). Anyone willing to enter the contest need not make a purchase but just submit their approval to receive mail from the company in the future. A great idea indeed, if we think about acquiring more email IDs for sending promotional emails. The portrayal of the winner board, with the mention of "Yesterday's Winner," only adds to the credibility of the Giveaway Contest.
The second section of the email switches to a brief announcement about its special "25% off Storyboard." It is accompanied by a defined coupon and a "Shop now" CTA at the end. Since the holiday season was in full swing, the company knew that people would be looking left and right in quest of perfect gifts. And the fact that they could provide glass prints, gift cards, and personalized storyboards – the most sought-after gifting items – it was a no-brainer that they would ensure that their services were highlighted in all their holiday emails. Lastly, they also informed the readers about their modeled Instagram hashtag and encouraged them to participate.
What we learn,
Multiple CTAs can confuse people unless you arrange all your offerings categorically and present them to your audience with precise information
Giveaways are great marketing campaigns to lure in new customers and also appreciate the long-standing, loyal lot
Modeled hashtags can help segregate brand-particular user-generated content in the huge pile of pictures, reels, and videos on Instagram
Show your customers that you care about them, and wish to thank them for their engagement
Your email campaign copies should have a structured and comprehensible flow
6) Match up the Social Media Posts with the Melody of Each Festivity as it Approaches!
Food is the soul of all festivities, and businesses know this down pat. As the occasions arrive one after the other, they plan out a social media calendar and create a repository of posts revolving around Thanksgiving recipes, cooking guides and suggestions, easy-prep confectionary delights, etc.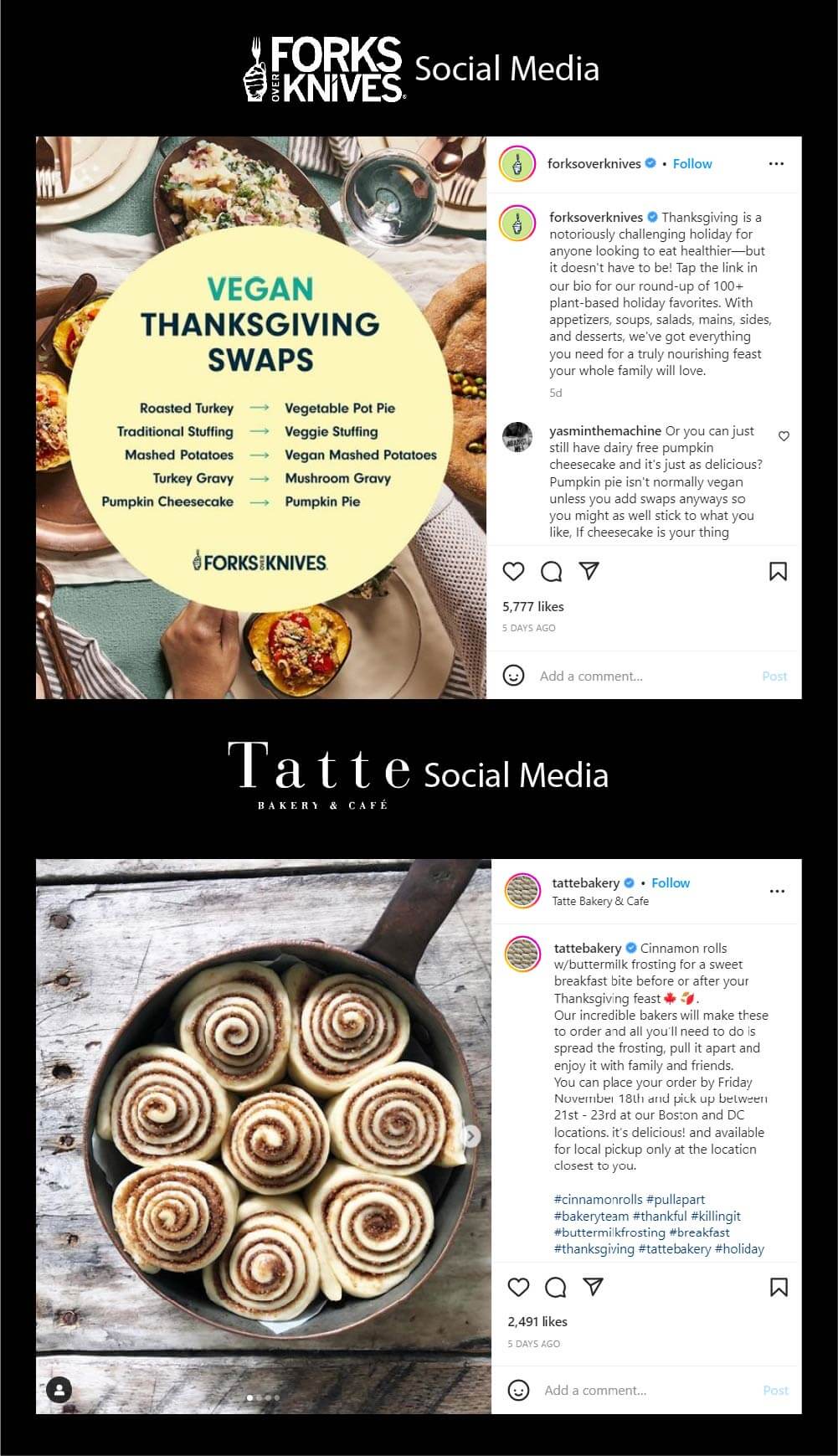 Source: Instagram Posts of Forks Over Knives and Tatte Bakery & Cafe
Forks Over Knives has decided to give a healthy twist to traditional dishes cooked on Thanksgiving and listed the vegan alternatives. The intent is to capture the sentiments of diet-conscious people and help them realize that they can do both – enjoy Thanksgiving and save their diet, all at the same time!
Tatte Bakery & Cafe officially announces its delectable offering for this year's Thanksgiving feast – "Cinnamon Rolls with Buttermilk" – through an Instagram post. It also mentions that the product is available for pickup at its local outlets only.
On Thanksgiving, there's a lot of pressure on the main chef of the house. Cooking the perfect Turkey is no child's play! Therefore, Cooks Country (an American Television Cooking show broadcasted on the PBS public channel) produces heaps of social media content around culinary tips and recipes. In one of their recent Instagram reels, they shared why one shouldn't baste the turkey meat before cooking.
7) Reward your Customers When they Make a Minimum-Spend Purchase!
Treasure-4-Nails features an excellent offer on its website that entices customers to increase their average purchase value.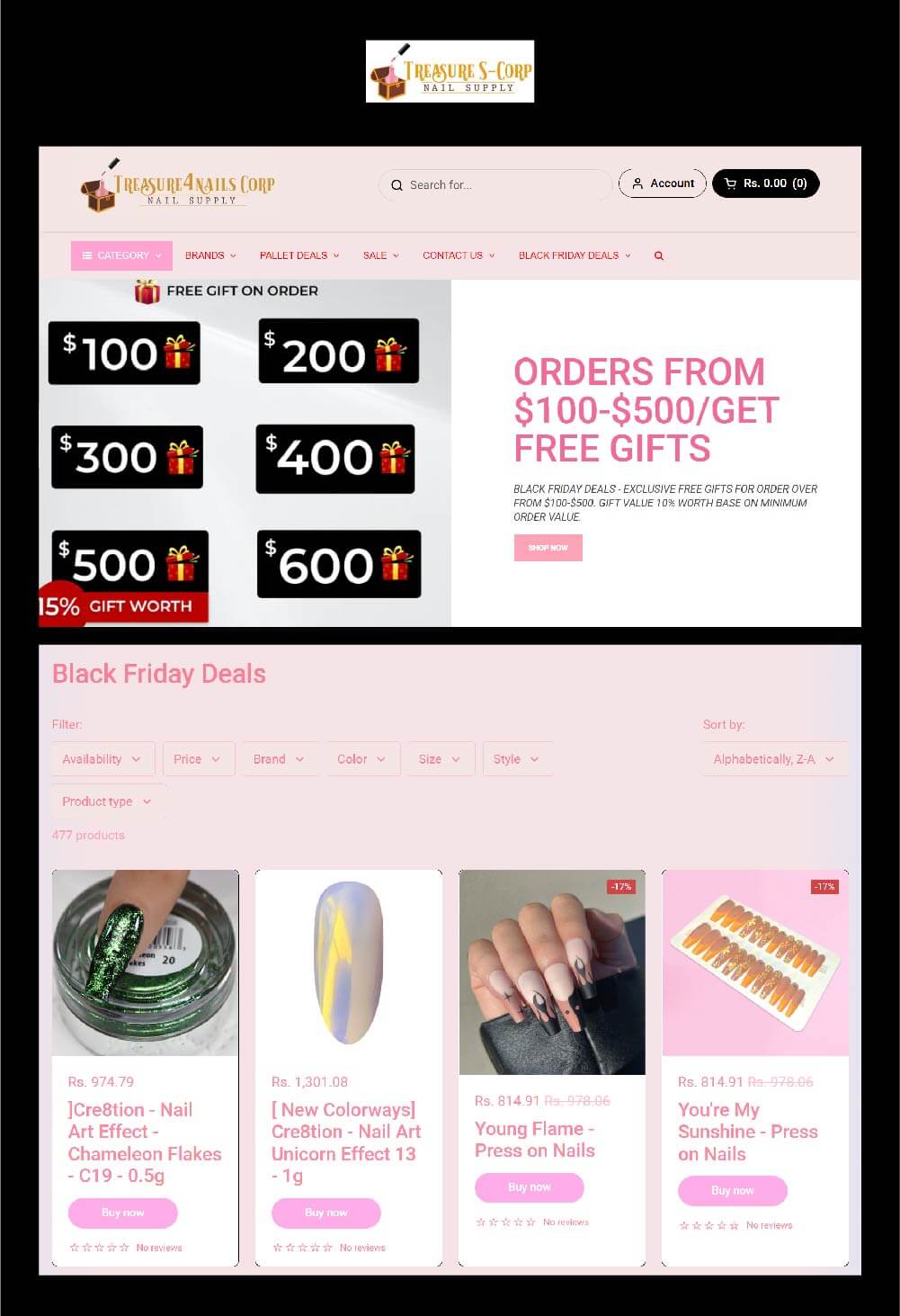 Source: Treasure4Nails Corp Nail Supply
The "Free Gift on Order(s)" touching the price cap of 100$ to 600$ is a tried and tested digital marketing strategy. What makes it so appealing? The worth of gifts rewarded to buyers will weigh in on their minimum order values. Hence, a buyer will probably try to make a high-end purchase to gain the bigger bargain!
Treasure-4-Nails has also made a temporary Black Friday landing page, and it's evident that its priority is to generate holiday revenue – as much as possible. It may remove this from its site later.
What we learn,
Minimum spend rewards can be huge motivating factors for your customers
Give your customers something that they want; hence, a little research into the preferences of your target audience is necessary
Creating temporary pages dedicated to a particular festivity can ease a customer's shopping journey
8) Bundle Selective Products into One Unit! It will help Upsell.
Clubbing multiple products into one bundle unit increases the average order value and opens several pathways for upselling and cross-selling. Imagine if a customer initially pulled a pair of socks in her cart. But upon seeing a deal that offers the same pair of socks along with a throw blanket at a discounted price, she would be incentivized to move to the latter high-end purchasing decision.
What does this mean for you? A chance to clear your old stocks, use your holiday inventory to the fullest, and yes, win more new customers! Therefore, design your sale offers and deals in a way that the shoppers can't resist themselves but hit "buy." For this to happen, you need to know exactly what products they favor this holiday season. How would you know? Conducting Insta Polls can help!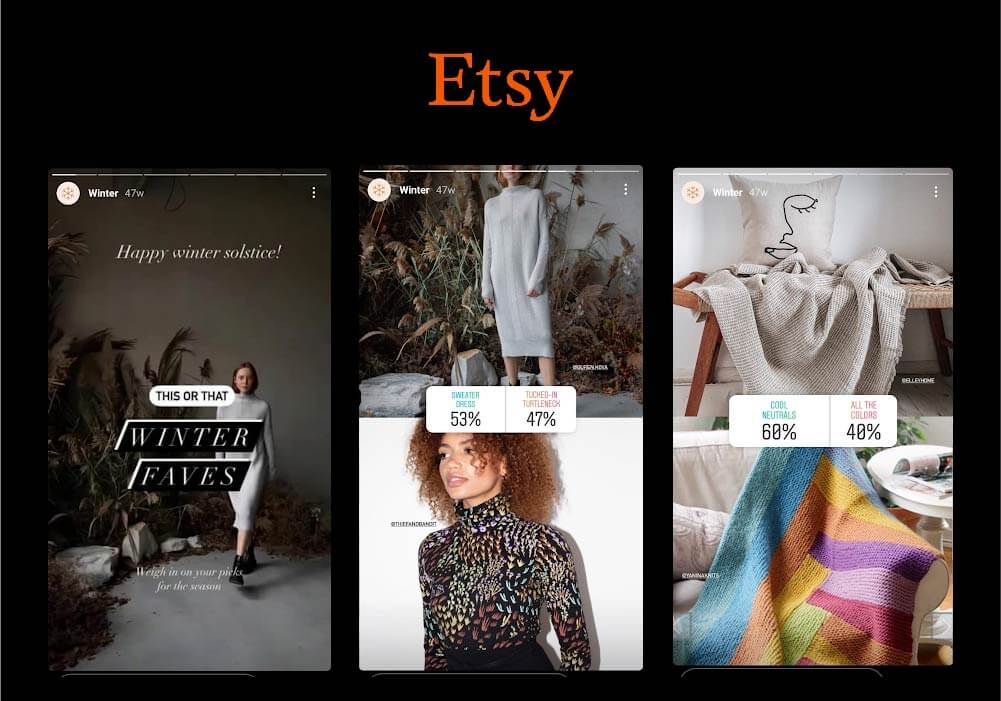 Source: Etsy's Instagram Story
Etsy just did that last year! For its Winter Faves collection, it organized a "This or That" poll on its Instagram Story and gained insights into its customer/follower bases' product favorites.
Etsy could then fashion and formulate bundle offers to assist its site with more inbound traffic and, most importantly, better conversions.
What's more,
Don't go overboard with sale offers; keep your profit margins steady and tangible
We all know that the holiday season is the busiest time of year; hence optimum maintenance of one's e-commerce site is a prerequisite
Sew up the shortcomings, if any, and prepare your site so that it can handle the increased traffic without a dreadful crash
Carve a simple and easy checkout design for your customers to reduce cart abandonment rates
9) Giving it Back to the Community – A Must!
Thanksgiving is all about expressing gratitude and putting the human element of brands to the forefront. Let people know that you are conscious of the society you are living in and doing your bit to introduce positive changes to it. Show them that you are actively taking little measures on your end. Don't forget to highlight its impact and the behind story. Let it all be heard!
You may be confused as to how any of this will boost Thanksgiving sales. The truth is, it will! Eventually! Moreover, it will heighten your reputation in the eyes of your customers and further strengthen your emotional connection with them.
Leesa has donated 30,000+ mattresses to the needy in the US. Upon the eve of Thanksgiving, it humbly showers the credit onto its customer base for allowing them the opportunity to undertake this noble initiative. Without fail, it emphasizes the impact on its website's homepage.
Everyone wishes to contribute to society in some way or the other. Leesa brings them the platform, which causes their customers to feel happy and content about their purchases. This also rewards their self-esteem, and they remain devoted to the brands for their commercial needs even beyond the festive season.
Leesa goes a step further to inform everyone about the kind initiative with its emails proudly.

Source: Really Good Emails
With subtle graphic inputs displaying the beauty of the Fall, strategically-placed CTAs, and a top buzzing "Get our Black Friday Offer," Leesa crafts the mail with art and conviction. Especially the part where they unroll their bumper "Black Friday Mattress Sale" and a freebie "Leesa Pillow," take note of how wonderfully they have captivated the essence of Thanksgiving in their messaging. "This Holiday Season, Get (and give) the gift of good rest" positions their services nicely too.
What we learn,
Be charitable and allow your customers to be a part of all your noble undertakings
Imbibe the elements of kindness and gratitude into your brand messaging tone
Retain existing customers by fortifying the emotional bond with them
10) Haven't Installed a Chatbot Yet? You May Consider Doing so Now!
Besides optimizing the FAQ pages on your website, you can employ an AI-powered messaging app (i.e., a chatbot) with minimal expenditure to add convenience for your customers. This also enables you to streamline and automate your Customer Help services. The chatbot can handle the easy FAQs, and when a Customer Help representative is needed, they can step in and take over the call. Chatbots further lower the Customer Help team's burden and give them opportunities to focus on large-scale issues.
Maintaining cohesive customer communication encourages sales hugely. Dissatisfied visitors who didn't get their queries answered or confused browsers are all potential customers that you lose if not taken care of properly. Installing chatbots will guide them to find the intended products with the least resistance.
What's more,
Shopify Chatbots pull data from your store to harbor uninterrupted customer communication; this includes checking store inventory
You can also bring in place a "purchase follow-up" or "first-purchase automation" (with a form or survey) to gather feedback on your products and the shopping experience, in general
"Abandoned cart automation" lets you send reminder emails to customers who left your site without buying the items they saved in their cart
Follow us daily to get hold of amazing marketing ideas that help you convert and boost sales.
See you next time.
Achieve your digital marketing goals