6 Thanksgiving Marketing Ideas For Your Brand
By Avitanshi Srivastava
•
November 16, 2022
•
18 mins read
6 Thanksgiving Marketing Ideas To Promote Your Brand Effectively
'Tis the holiday season y'all!
It's that time of the year again! Where friends and families gather around for a fun and relaxing time to celebrate one of the most joyous times. And businesses, on the other hand, gear up for an exciting yet stressful time as they try to find the right marketing tactics to capitalize on the festive season. That's why today, we're going to serve you six super helpful Thanksgiving Marketing Ideas that you must try this holiday season.
With all the major holidays being lined up one after the other, it becomes a big challenge for businesses to come up with a robust holiday marketing plan. A plan that can guide them on how to market their brand for a particular holiday in the right way and can help them grab the attention of their potential customers while letting them get ahead of the existing competition.
And on this list of major holidays, Thanksgiving certainly counts as a significant one that you, as a business owner or marketer, cannot skip out on if you're looking to make profits while leaving a fine and lasting imprint of your brand image on your target audience. If done right, Thanksgiving marketing can help you build an emotional connection with your customers.
So, on that note, get ready, as this festive season, we are going to share with you some of the most effective strategies, tips, and ideas that will not only help you stand out from the crowd but will also make you the preferred choice of your potential customers.
How to Market for Thanksgiving Day 2022?
Whether it's Canadian or American, Thanksgiving is always considered a special time of the year when people are surrounded by their family and friends to celebrate all that they are thankful for. That makes it an excellent opportunity for brands to promote their products and services and to show their consumers that they care about them.
So, this year, tap into the thanksgiving holiday spirit with these six helpful Thanksgiving Marketing Ideas to ensure your business stays at the forefront of your customer's minds.
1. Create a Thanksgiving-Themed Social Media Campaign
When it comes to promoting your brand, one cannot skip social media. After all, in today's digital age, everyone has an online presence, whether it's your competition or your customers.
Therefore, we've compiled a list of super helpful Thanksgiving marketing ideas for your social channels that can help you boost your engagement and brand awareness among your potential target audience.
On a side note, if the idea of planning, developing, and executing a full-fledged social media campaign seems like a tough job to pull through, then worry not! We are here to help. Let our team of social media experts take charge of all the nitty-gritty details of your holiday marketing campaign for you while you plan a fun thanksgiving dinner to enjoy with your loved ones!
Create engaging thanksgiving-themed social media posts for all the popular social media channels such as Facebook, Instagram, Twitter, and LinkedIn to reach the maximum target audience.
Plan thanksgiving-inspired polls, quizzes, contests, giveaways, and Q&A, where you can gift the winners various things like a freebie, discount, vouchers, hampers, or a thank-you note with their image featured on your social media as a token of appreciation for their participation.
Additionally, you can also post informative content in the form of GIFs, videos, carousels, reels, stories, or images, presented in an attractive manner. Stories can help you drive traffic to your online shop portal with just a link.
Incentivize your social media pages with thanksgiving-themed promotions through Instagram and Facebook Ad campaigns with tempting deals and discount offers that your customers can't resist.
Collaborate with influencers to promote your products or services by doing a product review or Q&A session, or have them share your posts on their channels, as two-thirds of online shopping decisions are based on the recommendations made by these influencers.
Don't forget the videos. As videos can drive the most engagement compared to all the other strategies, you can plan various types of videos, such as Teasers for upcoming thanksgiving promotions, heartwarming holiday content, customer testimonials, tutorials, informational content, etc.
Apart from the above-mentioned thanksgiving marketing ideas, there's one more marketing strategy that is easy to execute and delivers the best results if planned well. And it's none other than Thanksgiving-inspired Hashtags.
To utilize them for promoting your brand, you can plan various hashtag campaigns and contests involving your audience that will help boost your engagement. Some examples can be – #thanksgivingstories #thanksgiving2022 #thankfulthoughts #expressthanks
2. Dress Up Your Website For the Occasion with Thanksgiving-Inspired Ideas
Your website is like the digital equivalent of an offline store. Without it, you cannot convince your prospects to become your customers. To solidify your brand and build trust, you need to have a website and not just a website but a content-rich website that includes detailed information about who you are, what your brand stands for, and why the consumers should go for your products or services.
Therefore, follow the below-mentioned thanksgiving marketing ideas for optimizing your website this holiday season. Because ultimately, all the conversions will happen on your website.
Create themed content. Start with blogs. Come up with topics your target audience would like to read about related to thanksgiving and then create content around it while incorporating it with your products or services.
For example, if you sell cooking ingredients or kitchen supplies, you can create a blog on planning a complete thanksgiving feast using your products. Or, if you sell workout gear, you can write about how to enjoy your favorite food this holiday season without any worries about gaining weight.
Use thanksgiving-focused keywords. No matter how good any marketing strategy is, it can only garner results if your target audience can experience it. Therefore, using keywords in your blogs, social media, product title, descriptions, etc., can help your customers easily find you.
Sprinkle some thanksgiving charm on your entire website to get the excitement going, especially on the main pages, such as the homepage, products and service pages, header, and footer. It can be easily done with a few changes in your theme, color, copy, and CTAs.
If the entire site is not feasible, then one of the easiest thanksgiving marketing ideas would be just to update the homepage of your website with the thanksgiving theme. You can use some popping colors or thanksgiving symbols & elements like leaves, pumpkins, turkeys, etc., or add a few fall colors.
Create engaging thanksgiving inspired landing pages and promotional pop-ups for your website with catchy CTAs to attract your visitors.
And lastly, make sure that your website isn't taking extra time to load. During the holiday season, competition is fierce, and a slow website can lead to a downfall. Therefore, ensure that your site works well and is set to meet the traffic hike.
3. Cook up Exciting Thanksgiving Deals That Your Customers Can't Resist
The holiday season is considered one of the most important occasions for businesses, as this time around, they get to grow their business in terms of brand promotion and sales. But along with its charm, it's also one of the most stressful feats to achieve due to the fierce competition.
But you need not fret because this holiday season, to help you out from this dilemma of beating your competition and increasing the number of your customers from prospects, we have curated these thanksgiving marketing ideas to help you meet all your goals!
Create deals that last for the entire holiday season or at least a month. As most businesses would be busy coming up with time-specific deals, tap into this gap and reap its benefits as some customers tend to miss out on time-specific deals or do last-minute shopping.
According to NRF (National Retail Federation), many people start browsing or shopping early for the holiday season. Therefore, you can get a head start on hitting your goals by offering your target audience thanksgiving deals and discounts earlier than most of your competitors.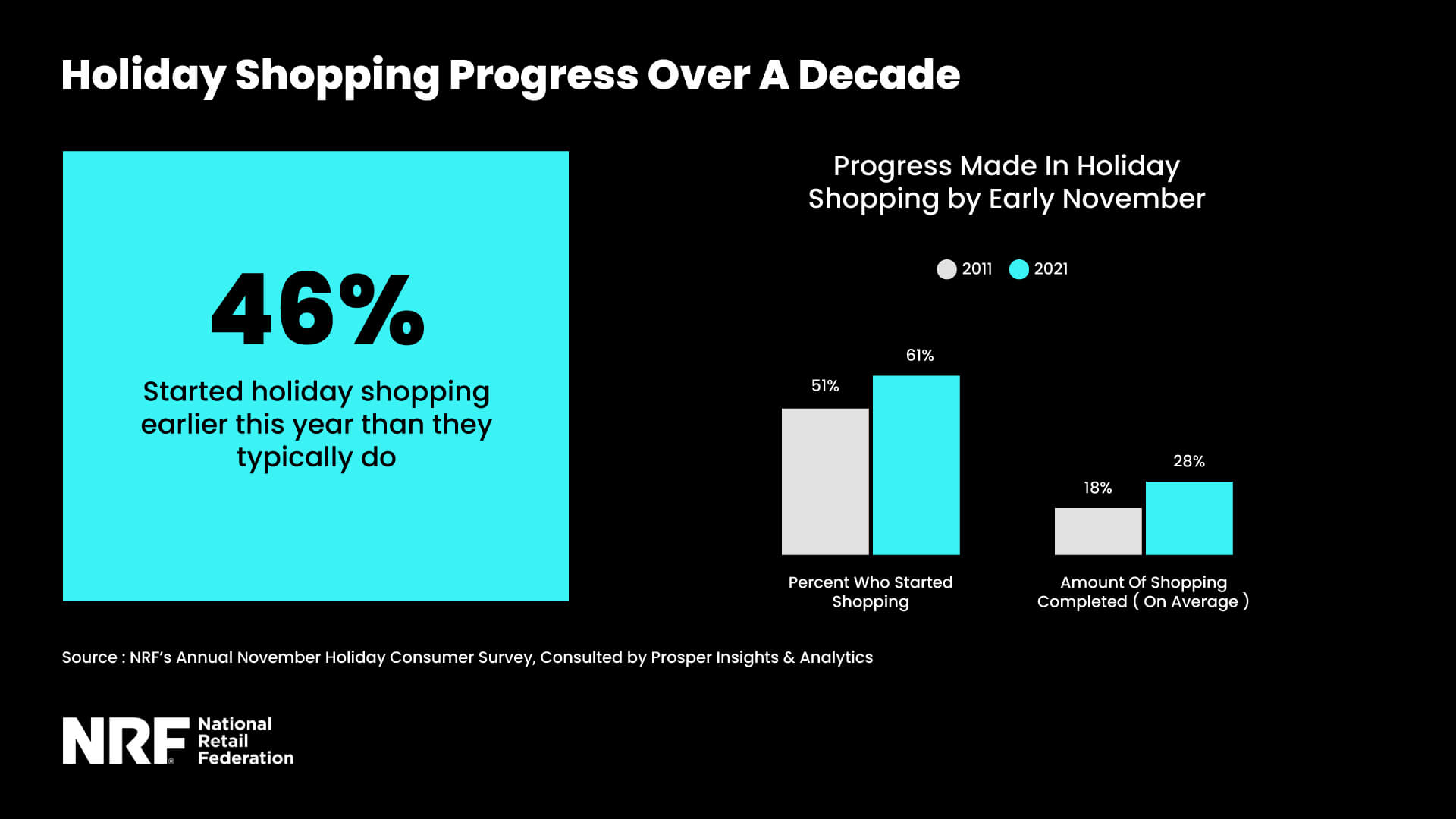 Plan a thanksgiving themed giveaway for your customers, which can benefit you and your customers. With this, you would be free of the slow-moving or seasonal stock, and your customers would love you for the free gifts.
Create exciting and lucrative deals that your customers cannot resist. Remember that gift-giving is one of the most important aspects of the holiday season. So you can create thanksgiving-themed bundles as a gift option.
Create a loyalty program or personalized deal for your loyal customers and make them feel valued. Offer them a loyalty discount, gift card, or a festive giveaway based on past purchases. Let them know that their continuous support matters a lot to you.
Aside from the online promotion, you can also opt for some offline thanksgiving marketing ideas if you have a brick-and-mortar store. Such as designing thanksgiving-themed storefront signs, billboards, posters, flyers, and standees.
Additionally, there are some other promotional thanksgiving marketing strategies that are well-liked by the customers. Such as giving a free gift to your customers with every purchase or the 'buy one and get one free deal'.
And lastly, make sure that all your deals are being promoted by various mediums. From your website to your social media, to emails, SMS, and flash sale pop-ups. Make sure that it reaches the maximum number of people.
4. Convert Your Prospects Right Through The Inbox with these Holiday Marketing Email Tips
According to Hubspot, email generates $36 for every $1 spent. Therefore, email marketing holds the highest conversion rate among all online marketing strategies. It leads to better reach and conversions, provided the value offering must capture the attention of the buyers.
That's why your holiday marketing plan is incomplete without incorporating these thanksgiving marketing ideas into your email marketing strategy.
Send personalized emails. According to Mailchimp, customized emails have higher opening rates as customers feel more valued if they see the brands putting effort into their marketing.
Conduct online research to find the best time to start your email marketing campaign during the holiday season. With the competition at its highest level, it's easy to experience lower opening or conversion rates, therefore, do the required R&D and get the timing right.
Focus on coming up with catchy, compelling, and attractive Thanksgiving-themed email subject lines. They can decide whether or not your email will be opened. Incentivize your email subject lines with unique and tempting offers that your readers can't resist clicking on.
Make the email content visually appealing to capture the attention of your customers. Add thanksgiving inspired graphics, GIFs, videos, or infographics to increase the chances of your prospects checking it out.
View this post on Instagram
Modify your email platform with the thanksgiving theme. Sprinkle the festive feel into your emails with holiday-themed fonts and background images. Add some illustration or animation in the header and footer of the email template.
Send thank you emails to all your loyal customers and clients. Show your appreciation and gratitude towards them with customized discounts and deals.
Create a holiday-themed newsletter for your customers. One that includes everything related to the holidays, from food recipes and decoration ideas to gift options and much more.
Generate quality leads by using embedded forms in your emails. Instead of taking your prospect to the website, they will direct them to the specific landing page, increasing the chances of conversions.
Little tip: If you want to take advantage of email marketing for your holiday business plan but don't have the resources or time to manage it all? Fret not; our experts from our email marketing wing can take care of that for you in a jiffy to make your holiday marketing email plan a success!
5. Optimize Your E-Commerce Store Listings To Boost Your Sales and Brand Promotion
Shopping, whether it's for gifting purposes or just for yourself, is a significant highlight of the holiday season. And if you are an e-commerce store, then to capitalize on that, you need to be where your shoppers are. That is, top E-commerce marketplaces such as Walmart, Amazon, and such.
So without any further ado, let's check out some super helpful thanksgiving marketing ideas. These tips will help you optimize your e-commerce store and product listings to get better rank and conversions.
Start by conducting thorough research to understand how these marketplaces work (for example, Amazon has its algorithm 'Algorithm A10'). From there, you can get insights on how to leverage the platform during the holiday season.
Most customers do not go beyond the second page of search results. So optimize your backend search terms with trending holidays to ensure that your product listings are optimized for searchability.
Use proper keywords (with good search volume) in your product title and description to match your customers' search queries. Using the right keywords can be profitable for your visibility and help customers quickly find you.
Additionally, using long-tail keywords works like a charm when it comes to targeting your customer's search queries. Therefore, before optimizing your product listing, create a detailed keyword strategy, as they highly influence your product ranking.
Optimize the title of your product listing for holiday shopping trends by adding the most relevant keywords. But also keep it brief by limiting it to specific categories such as color, size, and other key attributes.
Optimize the bullet points by highlighting the key features of your product. Provide a snapshot of the product's best features. Connect them with your customer's pain points and how your product would help solve them.
Create catchy and compelling product descriptions and tie them up with the festive theme. No matter what your product is, you can always connect your content with the holiday theme. And if nothing works, then it can always be a gift option!
And lastly, remember the buying intent is the strongest on these marketplace platforms. So don't forget to offer your prospects special deals and tempting discounts.
6. Express Gratitude – To Your Community, Customers, and Employees
Thanksgiving Day is about expressing gratitude to the people who have directly or indirectly contributed to your growth. Whether it's your community, customers, or staff. But why are we presenting it here as a marketing tactic? That's because, when it comes to your customer's buying behavior, they prefer brands with a generous and humanitarian side.
View this post on Instagram
Therefore, to help you express your thanks, we have come up with some unique thanksgiving marketing ideas. So go ahead and incorporate it into your holiday marketing strategy for the best results.
Plan an event and spend the entire day with your staff by volunteering for any non-profit organization or camp. Take a team photo and share the joy with everyone via your social platforms.
Donate a portion of your proceeds to any of the charities of your choice. Request your customers to donate through your promotional deals and send them a personalized thank you mail. Post their images on your social media with the cause they donated for.
Team up with your local food bank and plan a thanksgiving dinner for a local homeless shelter. Or if being physically present can be a problem, give financial aid by sponsoring a thanksgiving dinner.
If you're an online seller, add handwritten thank you notes into your order packaging to express gratitude to your customers.
Send personalized thank you emails to your loyal customers with special deals, discounts, and freebies.
Give a free gift to your customers. To make it more exciting, plan a lucky draw or offer it to the first 50 or 100 new customers.
Feature your customers, clients, and staff on your social media channels. Show appreciation for them by thanking them for contributing to your brand's success.
Organize free workshops or free trials for your customers or clients. Educate them about your business and its products and services.
Final Thoughts on Thanksgiving Marketing Ideas To Help Promote Your Brand
First, here's a recap for you on our top 6 thanksgiving marketing ideas –
Create a Thanksgiving-Themed Social Media Campaign
Dress Up Your Website For the Occasion with Thanksgiving-Inspired Ideas
Cook up Exciting Thanksgiving Deals That Your Customers Can't Resist
Convert Your Prospects Right Through The Inbox with these Holiday Marketing Email Tips
Optimize Your E-Commerce Store Listings To Boost Your Sales and Brand Promotion
Express Gratitude – To Your Community, Customers, and Employees
And with this, we would like to again emphasize the importance of having a proper holiday marketing plan. With a strong holiday marketing strategy, you can boost your visibility and brand awareness for your business. It will also help you build credibility and lasting relationships with your customers.
Therefore, we hope that with these thanksgiving marketing ideas, you can develop a full-proof Thanksgiving marketing plan for your business.
And on the last note, as Thanksgiving is all about celebrating people and spreading the joy of giving, you can also be part of the holiday spirit by sharing your favorite thanksgiving marketing idea from above with your group! (who knows, someone else might need these tips?)
Happy Reading!
Did you find this article helpful? We will be posting more holiday marketing tips in the upcoming weeks. Stay tuned to our blog, and never miss an update!
Achieve your E-Commerce goals