6 Thanksgiving Marketing Ideas To Stand Out And Promote Your Brand In 2023
By Avitanshi Srivastava
•
November 16, 2022
•
31 mins read
With all the major holidays being lined up one after the other, it becomes a big challenge for businesses to come up with a robust holiday marketing plan. A plan that can guide them to make the most of the holiday season.
And on this list of major holidays, Thanksgiving certainly counts as a significant one for business owners and marketers. It's an opportunity to make profits and create a lasting brand image for your target audience. If done right, Thanksgiving marketing can help you build an emotional connection with your customers.
It's that time of the year when friends and families gather around for a fun and relaxing time to celebrate one of the most joyous times. On the other hand, businesses gear up for an exciting yet stressful time as they try to find the right holiday marketing tactics to capitalize on the holiday shopping season.
That's why today, we will share with you 6 super helpful Thanksgiving Marketing Ideas that you must try this holiday season.
How to Market for Thanksgiving Day 2023?
Whether it's Canadian or American, Thanksgiving is always considered a special time of the year when people are surrounded by their family and friends to celebrate all that they are thankful for. That makes it an excellent opportunity for brands to promote their products and services and to show their consumers that they care about them.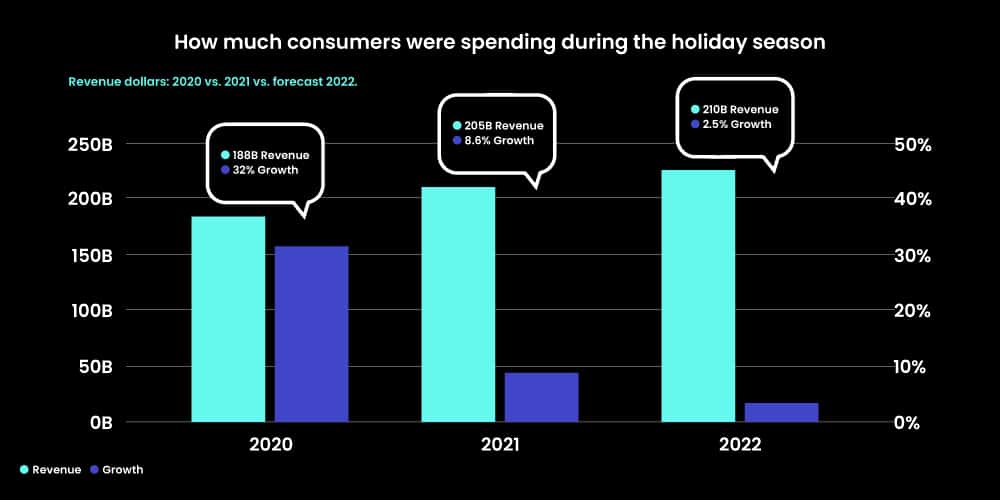 So, this year, tap into the holiday spirit with these 6 helpful Thanksgiving Marketing Ideas to ensure your business stays at the forefront of your customer's minds.
1. Thanksgiving Focused Digital Marketing Strategies
1.1 Create A Thanksgiving Social Media Campaign
When it comes to brand promotion and establishing a strong online presence, you cannot skip social media. In today's digital age, both competitors and customers are active online.
Therefore, to increase your brand awareness and boost your audience engagement, we've gathered some valuable Thanksgiving marketing ideas tailored for your social media channels.
Also read: Quick Social Media Marketing Guide for Holiday Campaigns
Leverage Thanksgiving Hashtags For Social Engagement
When utilizing hashtags for social engagement, remember five key things:
Select hashtags closely related to your content or campaign
Tap into trending Thanksgiving hashtags
Balance popular and niche hashtags
Create unique branded hashtags to foster community engagement and brand recognition within your Thanksgiving campaign.
Some Thanksgiving hashtags examples can be –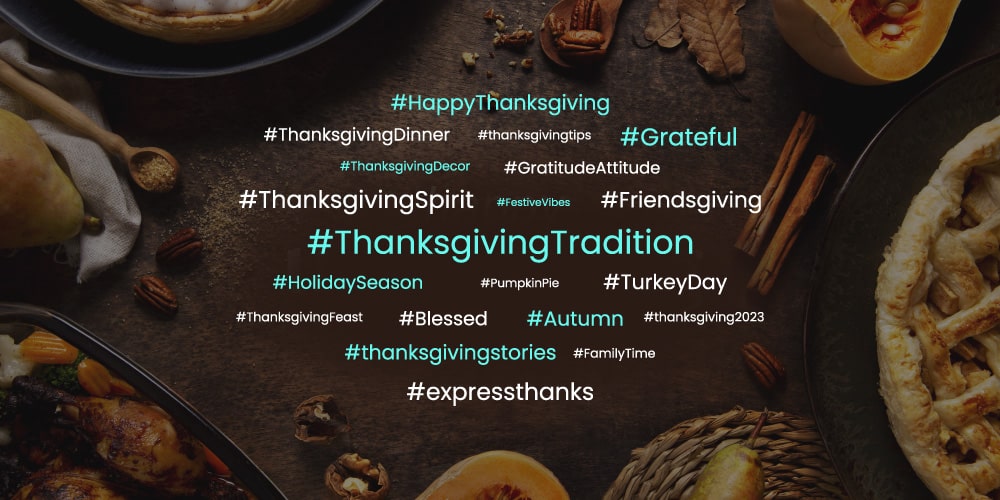 Collaborate With Influencers For Thanksgiving-themed content.
Optimize your holiday marketing strategy by partnering with influencers who can create authentic and engaging Thanksgiving content. Partner with them for product reviews, Q&A sessions, product promotions, and product recommendations.
Two-thirds of online shopping decisions are based on the recommendations made by these influencers. Leveraging influencer marketing during Thanksgiving can effectively increase your brand reach, customer engagement, and conversions.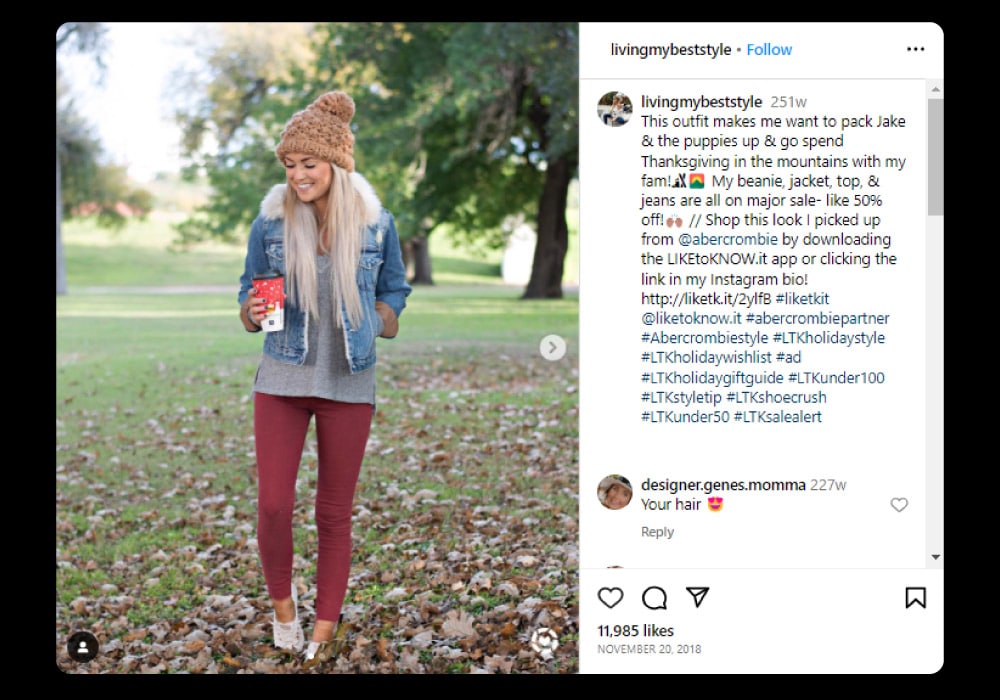 Thanksgiving Social Media Posts Ideas
Create engaging Thanksgiving social media content for popular platforms like Facebook, Instagram, Twitter, and LinkedIn to reach a wide audience.
Plan Thanksgiving-themed polls, quizzes, contests, and giveaways, with prizes like discounts, vouchers, hampers, freebies, or personalized thank-you notes featuring winners' images to show appreciation for their engagement.
You can also post informative content in the form of GIFs, memes, videos, carousels, reels, stories, or images infused with Thanksgiving elements.
You can try various types of video content, such as Teasers for upcoming Thanksgiving promotions, heartwarming holiday content, customer testimonials, tutorials, etc.
Maintaining a strong social media presence with consistency can help you drive holiday traffic and establish a strong brand authority.
A little note: If the idea of planning, developing, and executing a full-fledged social media campaign seems like a tough job to pull through, then worry not!
We are here to help. Let our team of social media experts take charge of all the nitty-gritty details of your holiday marketing campaign for you while you plan a fun Thanksgiving dinner to enjoy with your loved ones!
Also read: 5 Holiday Marketing Campaign Lessons That Boost Sales
1.2 Run Creative Shopping Ads To Boost Conversion
With the holiday season approaching, it's the ideal time to notch up your holiday marketing ideas with some creative Thanksgiving ads. It's a perfect opportunity to connect with your target audience and capitalize on your holiday marketing ideas.
Here's how to make your Thanksgiving shopping ads stand out:
Infuse your paid ads with Thanksgiving elements like pumpkins, autumn leaves, and cozy family scenes to resonate with the holiday spirit and captivate your target audience.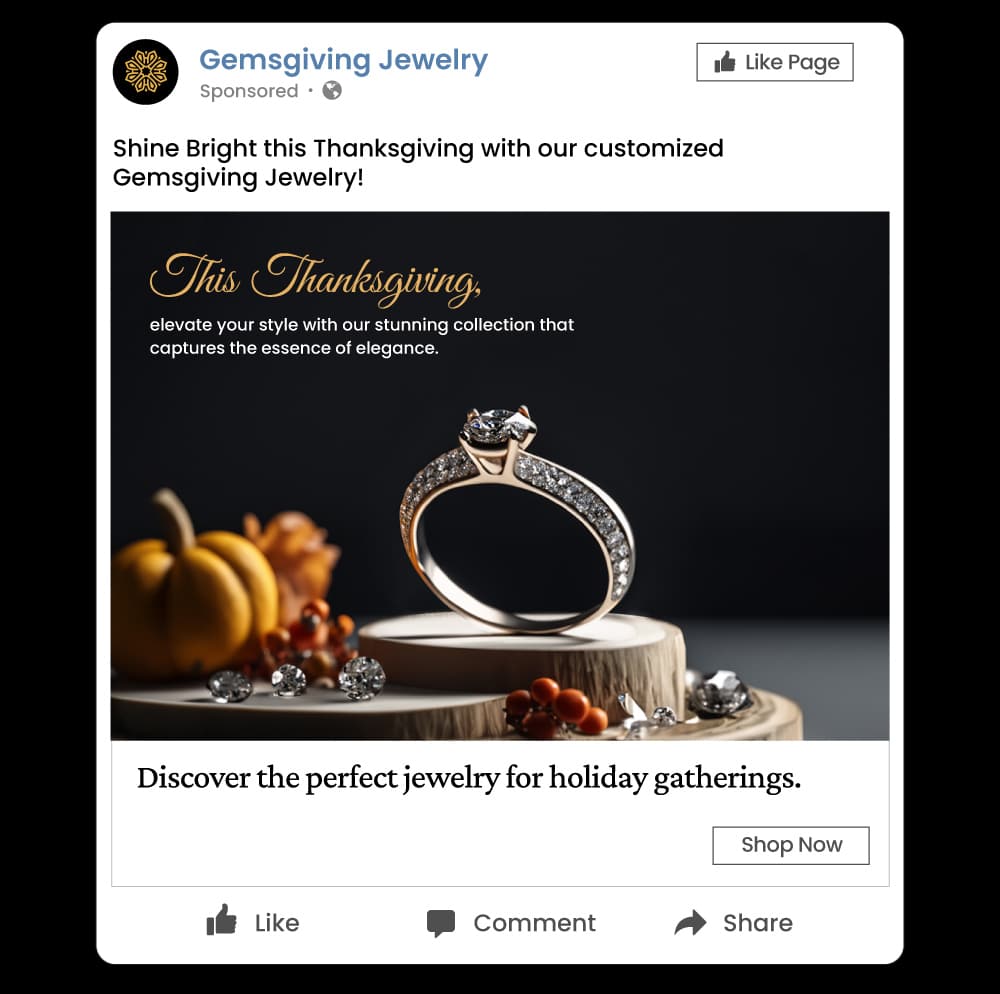 Optimize your Ad Copy and Descriptions
Use persuasive language to highlight the exclusivity and benefits of your Thanksgiving offers and promotions. Incorporate Thanksgiving keywords to increase the holiday traffic. Don't forget to highlight how your products or services can enhance customers' Thanksgiving celebrations.
Leverage Emotional Storytelling
Craft your shopping ads with compelling stories that align with the holiday themes. Feature stories of how your products or services have made a difference in people's lives and how your brand is grateful to its customers.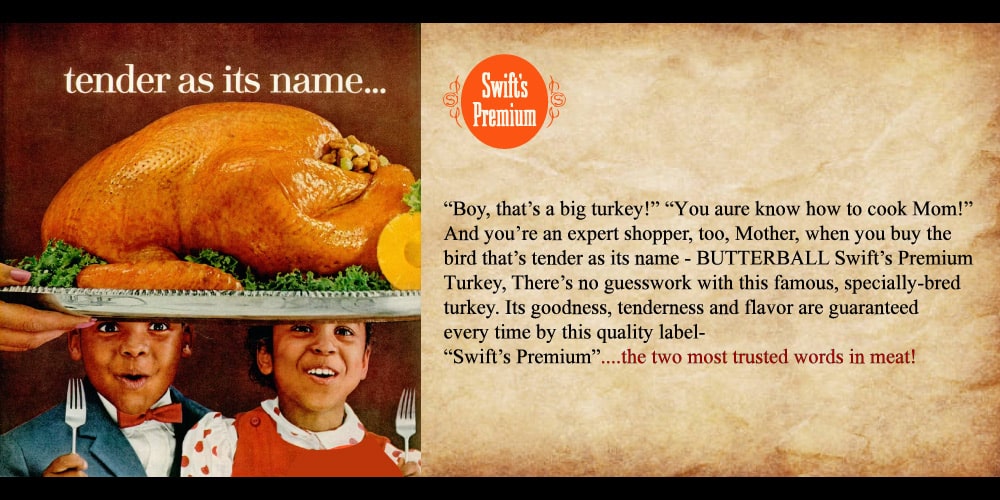 Create Urgency with Countdowns
Whether it's a countdown to a Cyber Monday sale, Thanksgiving Day, or a Single's Day sale, urgency created from a countdown element can lead to higher conversion rates as there's nothing like FOMO (fear of missing out) to rush customers into making purchases.
Optimize for Mobile Shopping
Nearly one-third of US internet users browse and shop on their smartphones, especially during the holiday shopping season. Therefore, ensure that your shopping ads are responsive and provide a user-friendly mobile experience.
1.3 Use Thanksgiving-Focused Keywords to Boost Your Holiday Marketing
When it comes to optimizing your holiday marketing strategy for Thanksgiving, using Thanksgiving keywords ensures your brand gets the attention it deserves during the holiday shopping season. Here's how you can effectively use Thanksgiving keywords to enhance your reach.
Pick the most relevant and high-traffic Thanksgiving keywords in your niche. You can take the help of tools like Google Keyword Planner, SEMrush, or UberSuggest.
Incorporate Seasonal Terms
Integrate Thanksgiving terms and phrases naturally into your site content, blog posts, product descriptions, and social media posts. For instance, if you're in the food industry, consider keywords like "Thanksgiving recipes," "turkey preparation tips," or "holiday meal planning."
If your business has a local presence, don't forget to include location-specific Thanksgiving keywords. For instance, if you're a restaurant, use keywords like "Thanksgiving dinner in Rochester" to attract local customers searching for dining options.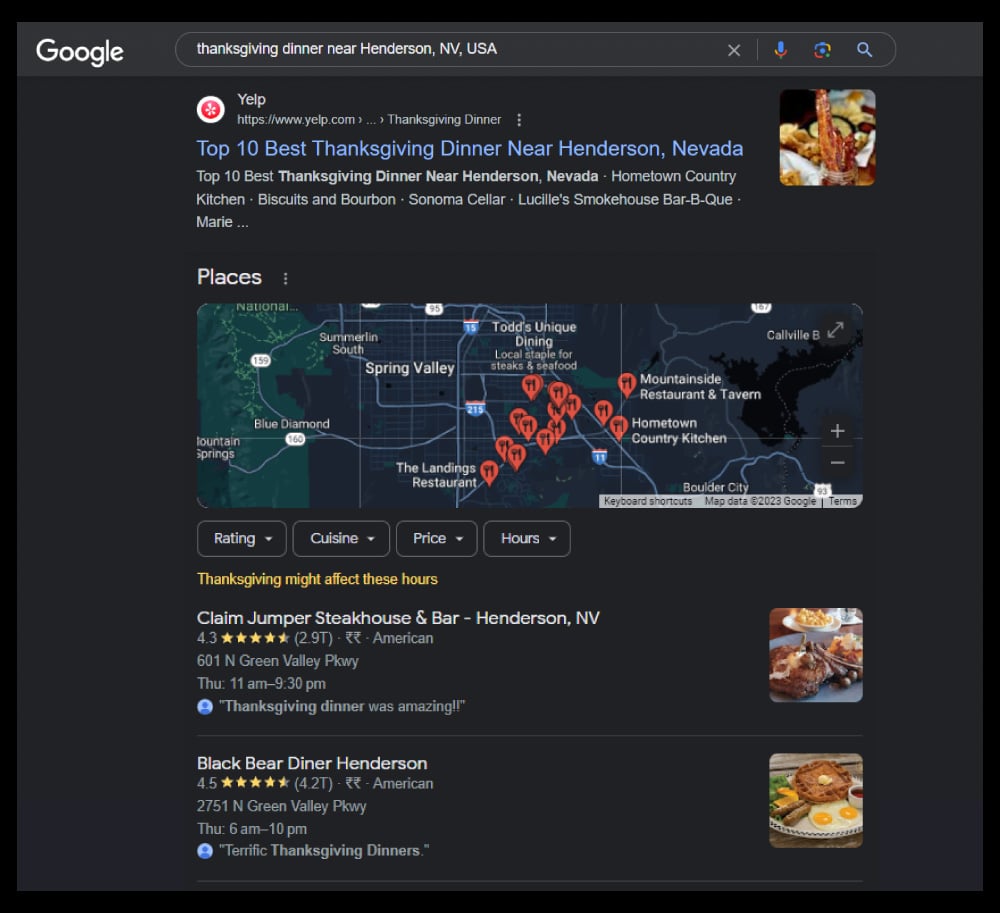 Longer and more specific, these long-tail keyword phrases can capture the search intent of potential customers better. For example, "best Thanksgiving kitchen gadgets for home cooks" can attract users actively looking to make a purchase.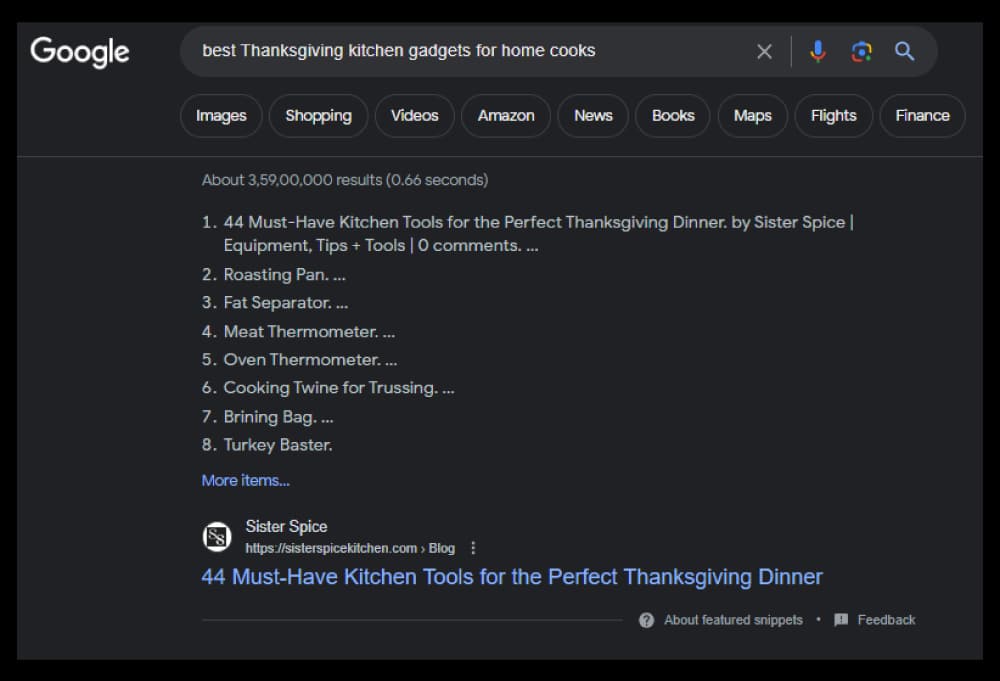 Make sure to incorporate Thanksgiving keywords in your meta titles and meta descriptions. These meta tags are crucial for search engine optimization (SEO) and can improve your click-through rates in search results.
Also read: 12 Content Ideas to Put Your Holiday Season Marketing in Gear
1.4 Dress Up Your Website With Customized Thanksgiving Landing Pages
When designing Thanksgiving landing pages for optimal conversions, consider these four essential elements:
Adapt to the occasion, in this case, the holiday. Use Thanksgiving images, Thanksgiving elements, colors, etc., to set the holiday mood for visitors.
Showcase exclusive Thanksgiving deals or promotional pop-ups to entice visitors.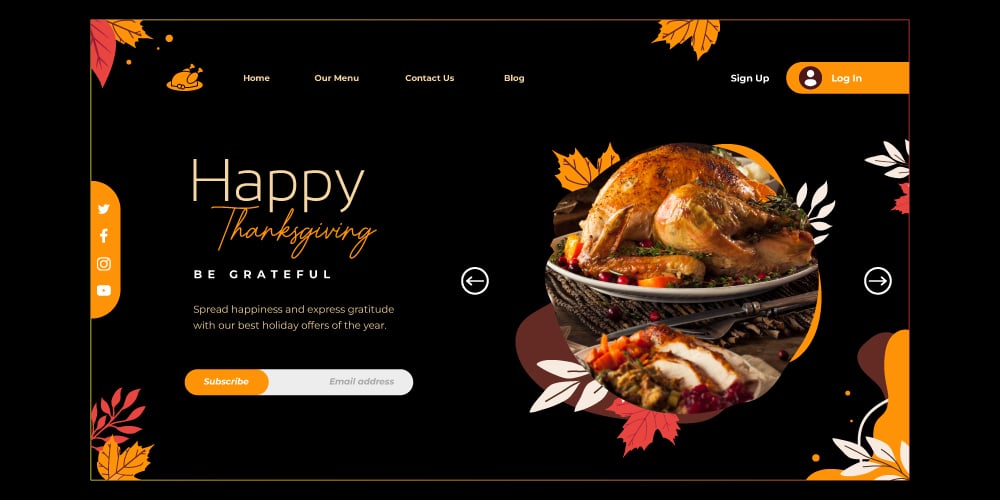 Incorporate CTAs (Call-to-action)
Include clear and persuasive calls to action that guide visitors to take desired actions, whether it's making a reservation, shopping, or subscribing to updates.
Craft engaging and informative content related to Thanksgiving, such as articles, recipes, or tips, to keep visitors interested.
1.5 Convert Your Prospects Right Through The Inbox with These Holiday Marketing Email Tips
According to Hubspot, email generates $36 for every $1 spent. That's why your holiday marketing plan is incomplete without incorporating these Thanksgiving marketing ideas into your email marketing strategy.
Send Personalized Thanksgiving Emails
According to Mailchimp, customized emails have higher opening rates as customers feel more valued if they see the brands putting effort into their marketing.
Find the Right Time For Best Results
Conduct online research to find the best time to start your email marketing campaign during the holiday shopping season. With the competition at its highest level, it's easy to experience lower opening or conversion rates, so make sure to get the timing right.
Make The Email Content Visually Appealing
To capture the attention of your customers. Add Thanksgiving elements, graphics, GIFs, videos, or infographics to increase the chances of your prospects checking it out.
Sprinkle The Festive Charm
Modify your email platform with the Thanksgiving theme using holiday images, fonts, and colors. Add some illustration or animation in the header and footer of the holiday email template.
Prepare a Holiday-Specific Newsletter
Create a holiday-themed newsletter for your customers that includes everything related to the holidays, in this case, from Thanksgiving decoration ideas to food recipes to gift options and much more.
Additionally, make good use of embedded forms in your emails. As they direct your prospects to the specific landing page, increasing the chances of conversions.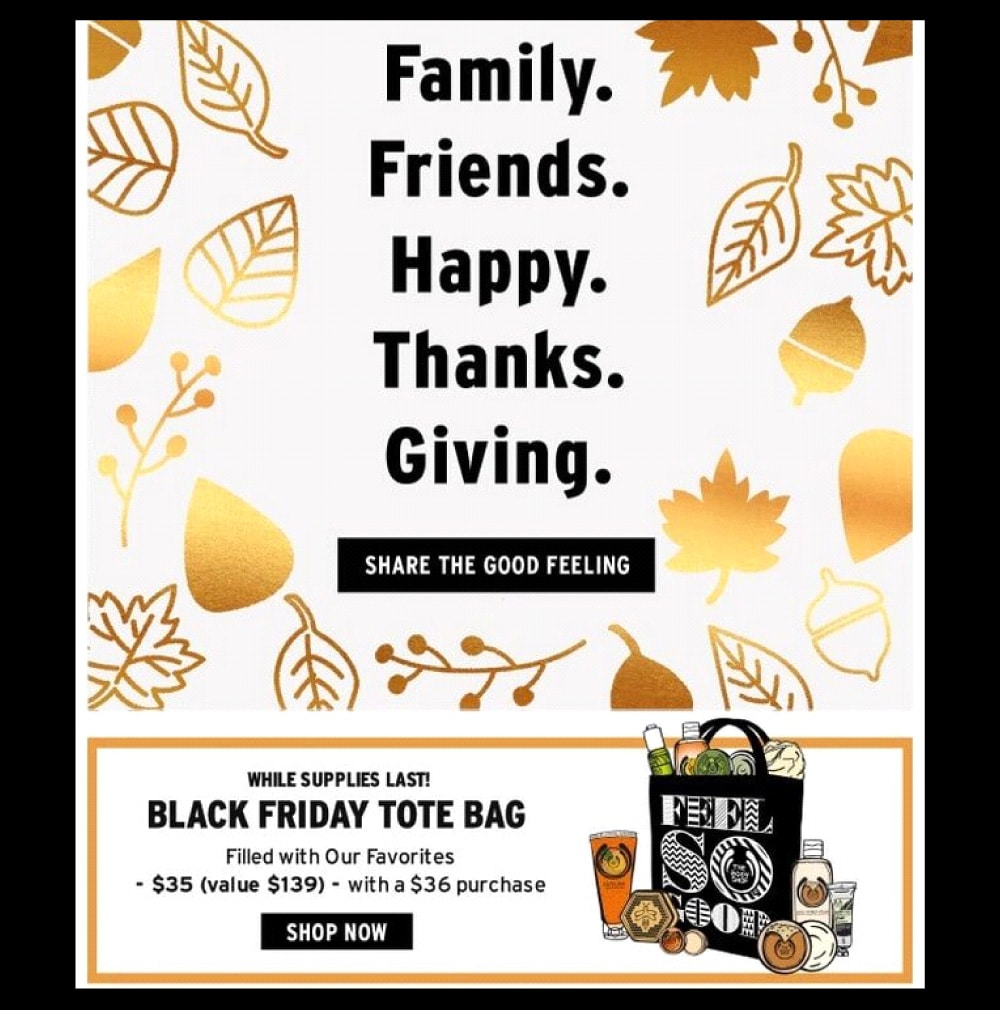 Little tip: If you want to take advantage of email marketing for your holiday business plan but don't have the resources or time to manage it all? Fret not; our email marketing experts can take care of that for you in a jiffy to make your holiday marketing email plan a success!
1.6 Use Thanksgiving-Themed Email Subject Lines
Focus on coming up with catchy, compelling, and attractive Thanksgiving email subject lines, as they can decide whether or not your email will be opened. Incentivize your Thanksgiving email subject lines with unique, tempting offers that your readers can't resist clicking on.
Here's what you need to keep in mind:
Your Email subject lines should be short and sweet, ideally under 50 characters, to capture attention.
Clearly communicate the value or benefit your Thanksgiving email offers, giving subscribers a reason to open it.
Create urgency with phrases like "limited time" or "act now" to prompt immediate action.
Use the recipient's names to make the email more personalized and relevant.
2. Thanksgiving Shopping Promotions and Discounts
2.1 Run Month-Long Thanksgiving Deals For Last-Minute Shoppers
Maximize your Thanksgiving sales potential by launching month-long Thanksgiving deals tailored for last-minute shoppers. Leverage multiple marketing channels with targeted Thanksgiving content, and boost your sales by using the below-mentioned Thanksgiving marketing ideas.
Diverse Product or Service Selection
For example, just like by having a diverse selection of products, from pantry essentials to decor, cooking tools, and even gift items, ensures your deals align with Thanksgiving festivities.
Similarly, other businesses, whether it's event planning, catering, or hotel business, can cater to the particular holiday by adapting and modifying their services to create a diverse range to attract a wider customer pool.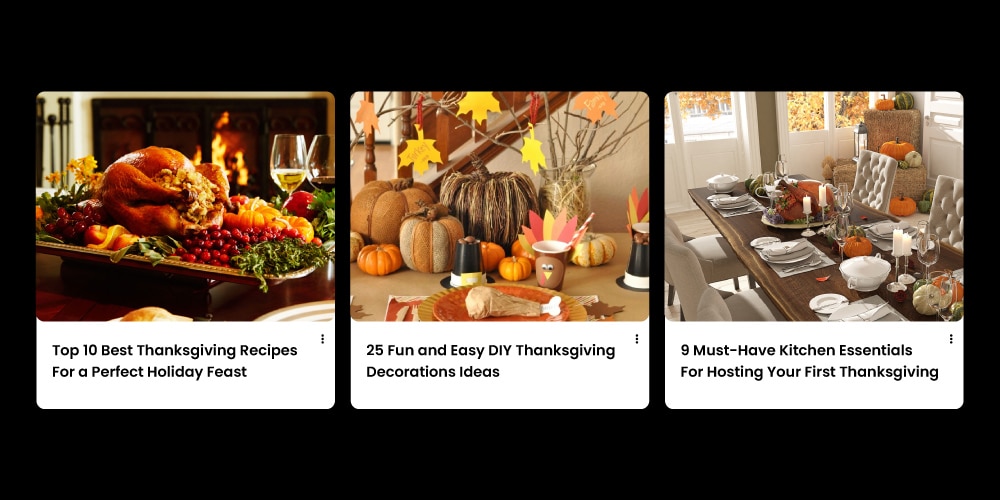 Gradual Discount Progression
Start with moderate Thanksgiving offers at the beginning of the month and gradually increase those Thanksgiving discounts as the holiday approaches.
Promote Through Multiple Channels
Utilize your website, social media, email marketing, and even physical flyers or signage to promote your month-long Thanksgiving deals.
Engage with Thanksgiving Content
Create Thanksgiving content around your deals, such as Thanksgiving recipes, Thanksgiving landing page templates, website decoration ideas, social media post templates, or hosting tips.
Offer Exclusive Thanksgiving Discounts For Early Shoppers
According to NRF (National Retail Federation), many people start browsing early during the holiday shopping season. Therefore, you can get a head start on hitting your goals by offering your target audience Thanksgiving deals and discounts earlier than most of your competitors.
According to NRF (National Retail Federation), many people start browsing or shopping early for the holiday season. Therefore, you can get a head start on hitting your goals by offering your target audience Thanksgiving deals and discounts earlier than most of your competitors.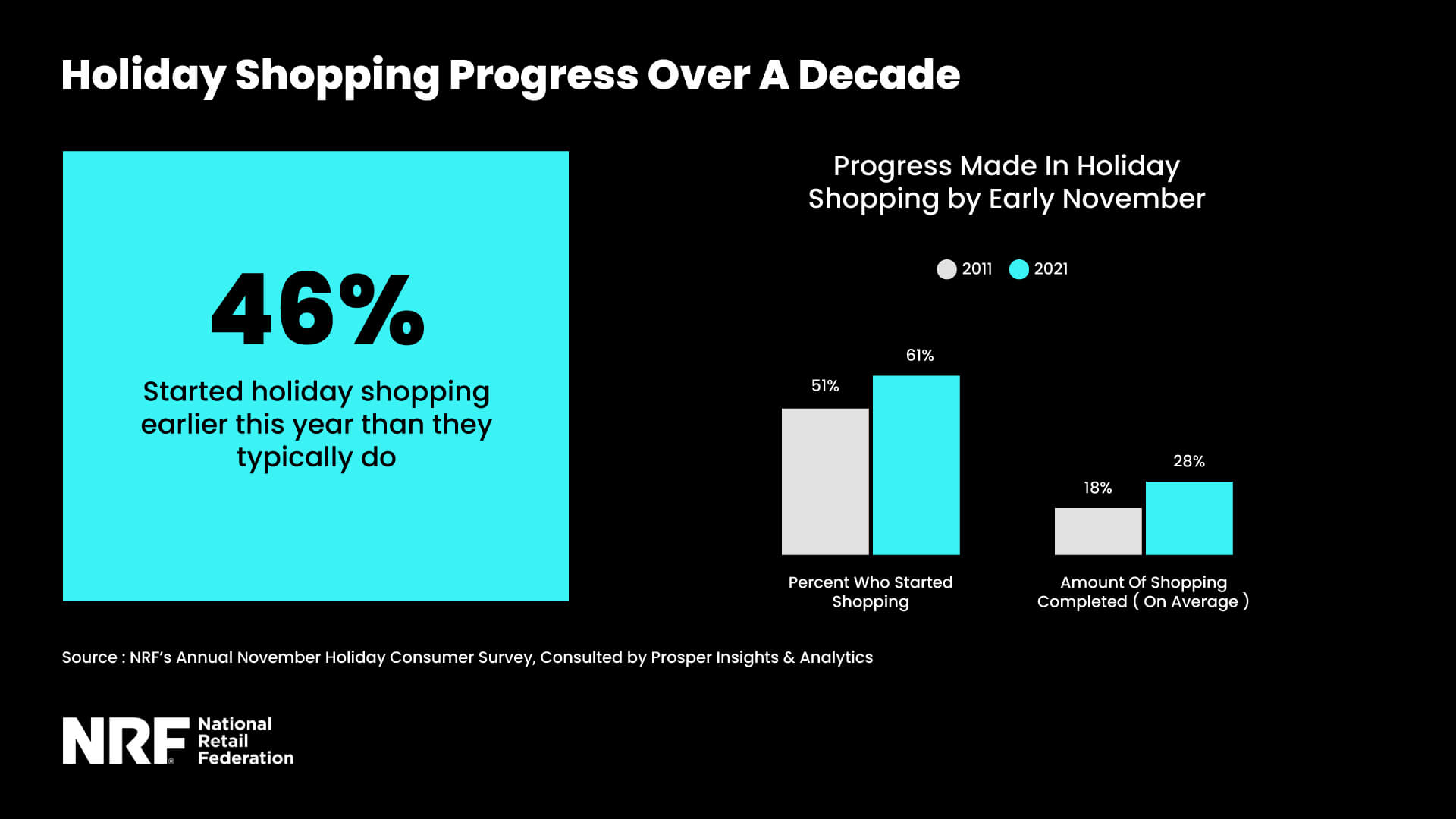 2.2 Leverage Thanksgiving Giveaway Ideas
Plan a Thanksgiving giveaway for your customers, which can benefit both you and your customers as you would get to be free of the slow-moving or seasonal stock, and your customers would love you for the free Thanksgiving gifts.
So here are the Thanksgiving marketing ideas for giveaways:
Product and Service Giveaways
Offer free or discounted products, such as a turkey, pumpkin pie, or Thanksgiving merchandise.
Give Thanksgiving gift cards to encourage your In-store or online spending.
Host a holiday trivia contest about Thanksgiving fun facts or history. Offer prizes to participants with the most correct answers.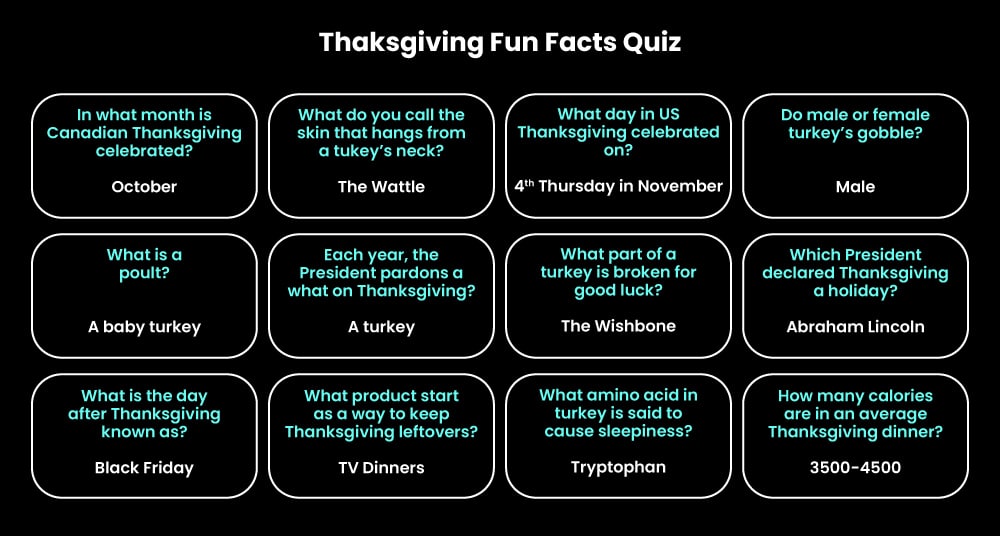 Encourage goodwill by donating a portion of your sales to a local charity for every purchase during the Thanksgiving shopping season.
2.3 Create A Sense Of Urgency With Time-Specific Thanksgiving Discounts
Get the most from your Thanksgiving marketing ideas by instilling a sense of urgency through time-specific holiday discounts. You can motivate customers to make quicker purchasing decisions by offering limited-time Thanksgiving promotions.
Here's how you can do it:
Run short, high-impact Thanksgiving sales events on the day of the holiday with significant discounts on select items.
Thanksgiving Countdown Deals
Run countdowns and highlight the time remaining for customers to avail of special Thanksgiving discounts.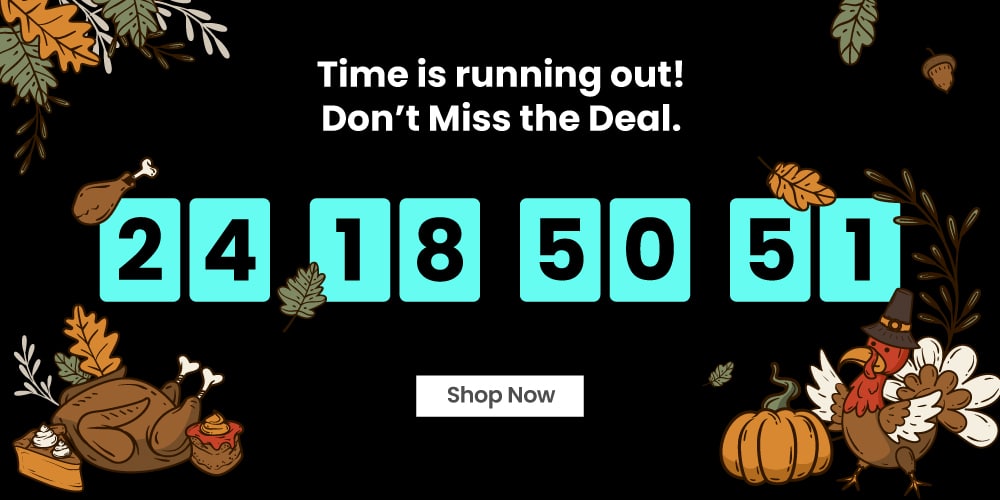 Encourage early shopping by offering exclusive Thanksgiving discounts.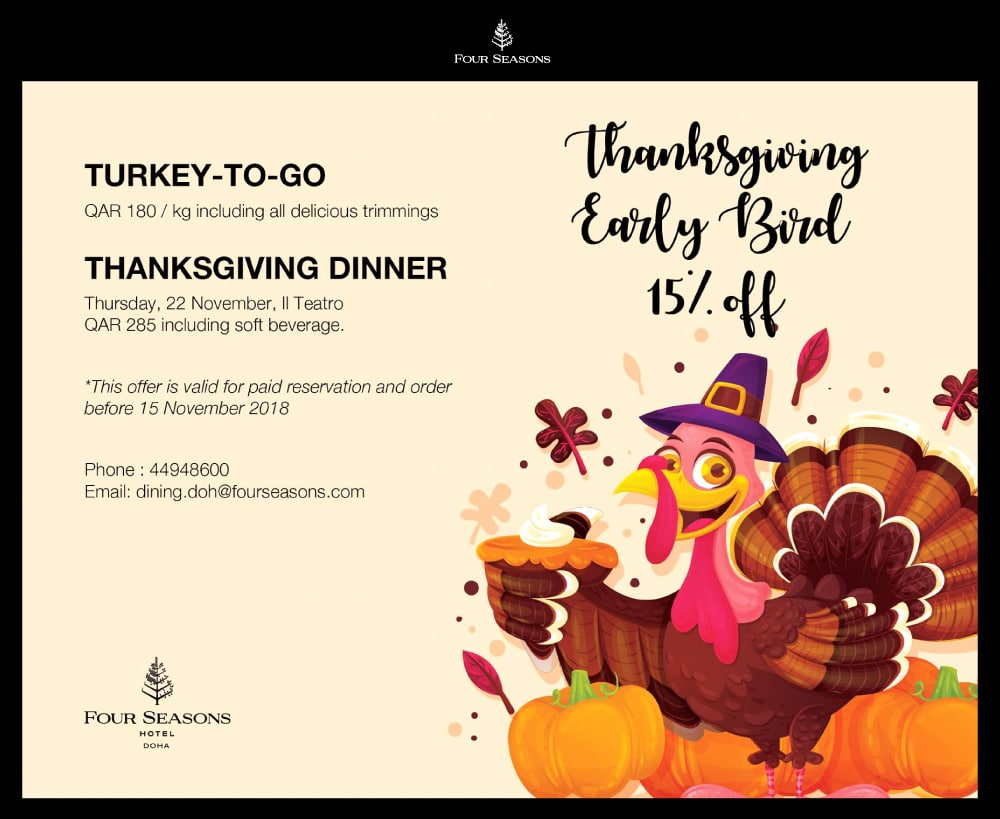 Limited Quantity Thanksgiving Offers
Advertise products with limited availability, pushing customers to act fast.
Thanksgiving Weekend Bonanza
Extend the shopping excitement through the weekend with customized Thanksgiving deals and offers.
2.4 Offer Thanksgiving Loyalty Programs To Reward Your Customers
A well-planned holiday loyalty program or personalized deal makes your loyal customers feel valued. Recognizing and rewarding their contribution lets them know that their continuous support matters a lot to you. This, in turn, strengthens your customer relationships and encourages them to be your brand advocates over the competition.
Here's how to reward your customers this holiday shopping season:
Offer Thanksgiving Points
Offer bonus loyalty points for every purchase made during the Thanksgiving shopping season.
Give Exclusive Thanksgiving Discounts
Provide special discounts exclusively customized for your loyal customers as appreciation.
Grant loyal customers early access to Thanksgiving deals, allowing them to shop before others.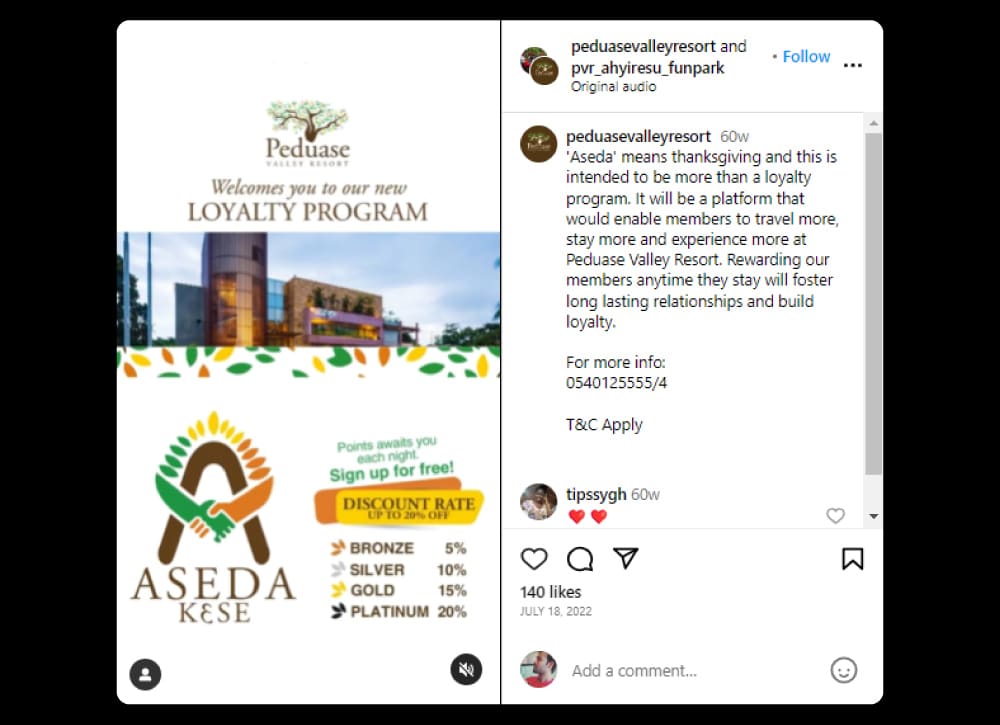 Surprise loyal customers with free Thanksgiving gifts or add-ons with their purchases.
Organize loyalty-exclusive Thanksgiving raffle draws with exciting prizes.
Also read: 7 Wicked Halloween Marketing Ideas To Boost Your Online Sales!
3. In-Store and Offline Thanksgiving Marketing
3.1 Implement Offline Thanksgiving Marketing Ideas
Don't overlook the power of offline Thanksgiving marketing strategies. These holiday marketing tips can create a strong local presence and connect with customers in your community. Here are some effective offline Thanksgiving marketing ideas:
Try Out Thanksgiving Decor
Decorate your physical store with Thanksgiving-themed displays, such as designing Thanksgiving posters, billboards, storefront signs, flyers, and standees.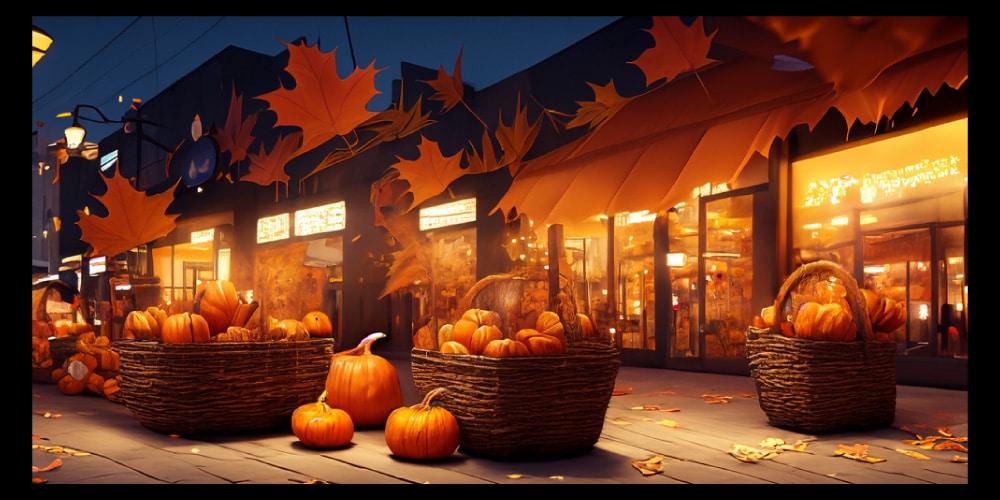 Host special Thanksgiving events like cooking demonstrations, tastings, or charity drives to engage with your local audience.
Build Community Engagement
Get involved in local Thanksgiving parades, food drives, or volunteer initiatives, showcasing your brand's commitment to the community.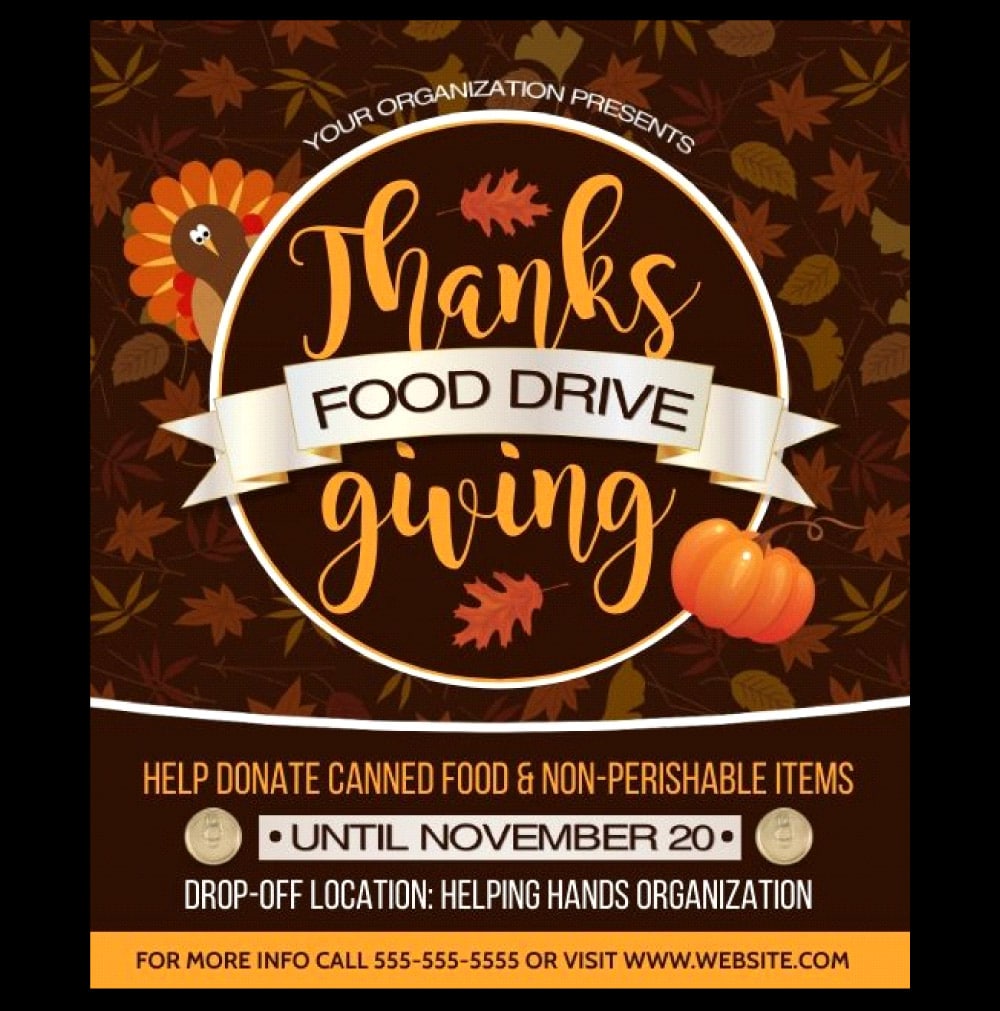 Collaborate with local businesses for joint Thanksgiving marketing efforts, such as co-hosted Thanksgiving events or cross-promotions.
3.2 Host Thanksgiving Events To Showcase Your Brand
Thanksgiving events help you connect with your target audience and provide opportunities to promote your brand and products meaningfully during the Thanksgiving season.
Here are a few types of Thanksgiving events you can host:
Charity Drives and Volunteer Events
Organize food drives, charity auctions, or volunteer opportunities for your team and customers to give back to the community during the holiday season, aligning your brand with social responsibility.
Online Thanksgiving Contests

Host online Thanksgiving contests or a "Thankful Photo Challenge," encouraging participants to share their entries on social media spreading brand awareness.
 Thanksgiving Webinars or Panels
Arrange informative webinars or panel discussions related to Thanksgiving topics or your industry expertise.
4. Customer Engagement and Gratitude
4.1 Express Thanksgiving Gratitude To Your Customers
Apart from the Thanksgiving marketing ideas mentioned above, there are some other promotional Thanksgiving marketing strategies that are well-received by the customers.
Thanksgiving Day is about expressing gratitude to the people who have directly or indirectly contributed to your growth or success, whether it's your community, customers, or staff.
Therefore, to help you express your thanks, we have developed some unique Thanksgiving marketing ideas that you can incorporate into your holiday marketing strategy.
Request your customers to donate through your promotional deals and send them personalized thank you cards with special deals, discounts, and freebies.
Contact your local food bank and plan a Thanksgiving dinner for a local homeless shelter.
If being physically present can be a problem, give financial aid by sponsoring a Thanksgiving dinner.
If you're an online seller, add handwritten thank you notes into your order packaging to express your gratitude to your customers.
Give a free gift to your customers, and to make it more exciting, either plan a lucky draw or offer it to the first 50 or 100 new customers.
4.2 Feature Your Customers With Thanksgiving Products Or Services And Utilize UGC
Feature your customers with Thanksgiving products on your social media channels and show appreciation for them by thanking them for contributing to your brand's success.
Encourage user-generated content (UGC) like photos, reviews, or testimonials showcasing how they use your offerings during the holiday shopping season. Share these authentic experiences on your website and social media to build trust, engage your audience, and inspire potential customers to choose your brand for their Thanksgiving celebrations.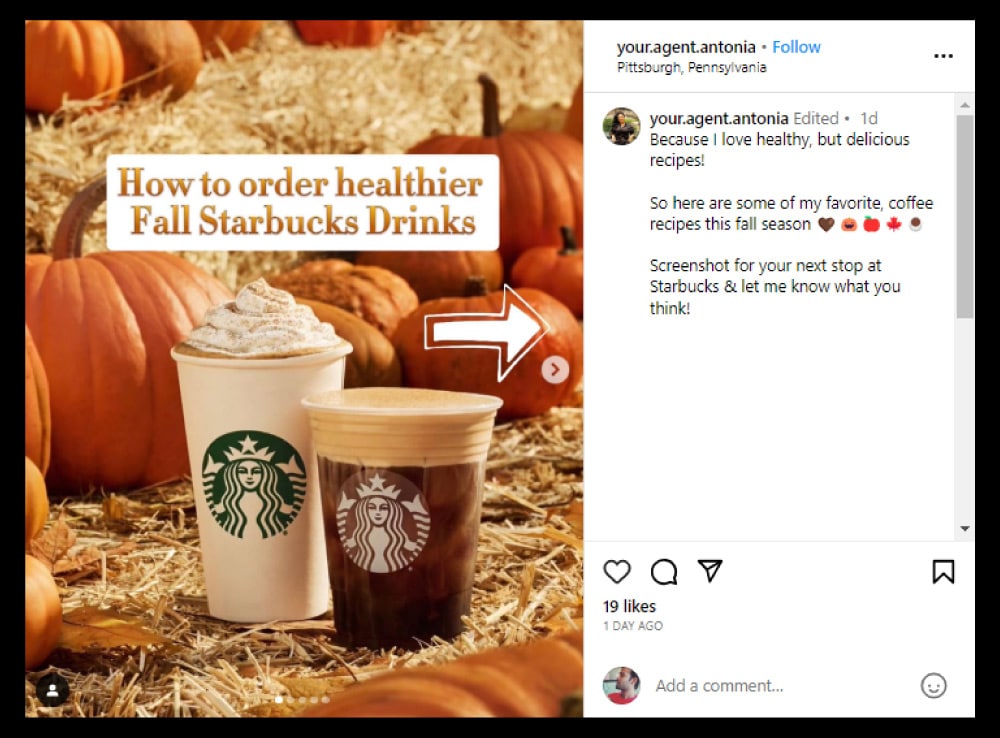 5. Customize and Optimize Your Products for Thanksgiving
5.1 Optimize Product Listings With Thanksgiving Keywords
Shopping, whether it's for gifting purposes or just for yourself, is a significant highlight of the holiday season. If you are an e-commerce store, then to capitalize on that, you need to be present where most shoppers will be; that is, the top E-commerce marketplaces such as Walmart, Amazon, Flipkart, and such.
Here are some super helpful Thanksgiving marketing ideas that you can use to optimize your product listings to get better product ranking and conversions.
Optimize Backend Search Terms
As most customers do not go beyond the second page of search results, optimize your backend keywords with trending holiday search terms to ensure that all your product listings are optimized for searchability.
Use high-volume Thanksgiving keywords in your product title, description, and other categories to match your customers' search queries. Using the right keywords can help customers quickly find you.
Therefore, before beginning product listing optimization, create a detailed keyword strategy, as they highly influence your product ranking.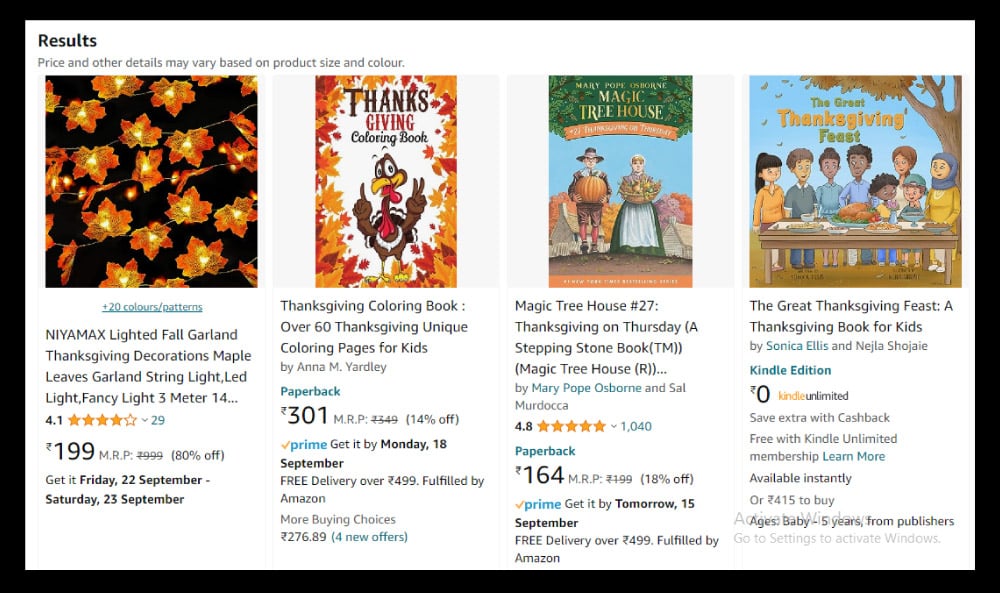 Optimize The Title, Bullet Points, and Product Description For Holiday Shopping Trends
Ensure to incorporate the most relevant Thanksgiving keywords in the title, like "Thanksgiving decorations," "holiday gifts," or "festive home decor," but limit it to specific categories such as color, size, and other key attributes.
In bullet points, Highlight the key features of your Thanksgiving items. Connect them with your customer's pain points and solutions.
Create catchy and compelling product descriptions and tie them up with the festive theme. No matter what your product is, you can always create seasonal content around a holiday theme, and if nothing works, then it can always be a gift option!
Lastly, as the buying intent is the strongest on these marketplace platforms, don't forget to offer your prospects special Thanksgiving deals and tempting discounts.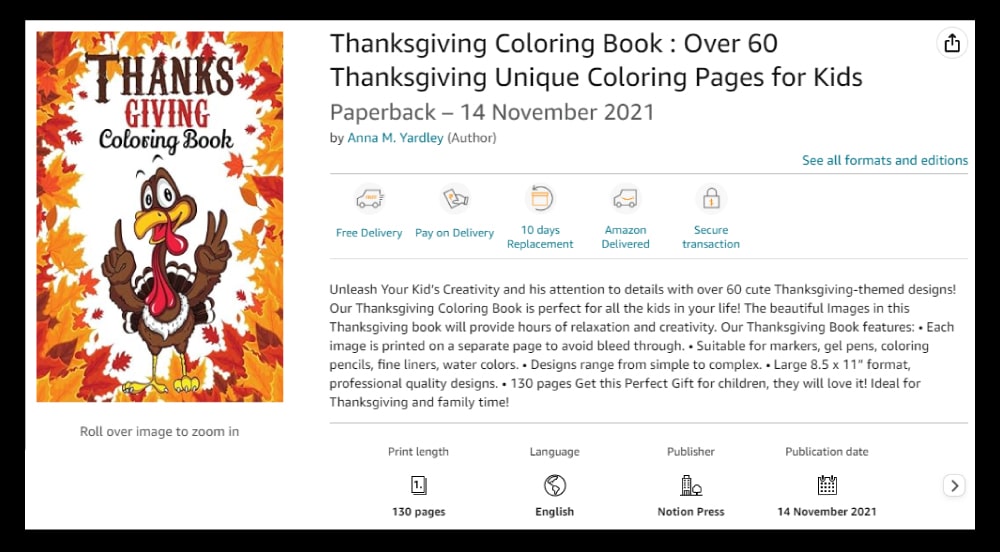 Also read: Top 7 Digital Marketing Strategy to Boost Your e-Commerce Sakes for Christmas and New Year
5.2 Customize Your Products For the Thanksgiving Season
The Thanksgiving season offers endless opportunities to tailor your products for this holiday shopping season. Regardless of what you sell, there's a creative way to make it Thanksgiving-ready.
Here are some examples:
Curate the ideal Thanksgiving ensemble for your customers. Think sweaters, scarves, and comfy pants to ensure they look and feel great during Thanksgiving celebrations.
Position your candles as the ultimate Thanksgiving hostess gift. Showcase their warm and inviting scents, perfect for creating a cozy atmosphere during Thanksgiving gatherings.
Provide your customers with Thanksgiving decor ideas to help them transform their homes into welcoming spaces for guests. Highlight your Thanksgiving decor items that enhance the holiday spirit.
Market your toys as the go-to solution for keeping kids entertained during Thanksgiving
festivities. Think puzzles, board games, and craft kits to engage young minds.
Present your desserts as the ideal sweet finale for a memorable meal. Highlight seasonal flavors and treats that add a delicious touch to Thanksgiving celebrations.
By customizing your products to align with the Thanksgiving theme, you can cater to the needs and desires of your audience during this special time of the year.
5.3 Upsell And Cross-Sell Your Products To Boost The Thanksgiving Season Sale
Maximize your Thanksgiving season sales by implementing smart upselling and cross-selling strategies. By implementing these Thanksgiving strategies, you can increase your Thanksgiving season sales and improve your customers' shopping experience, making their Thanksgiving holiday preparations more convenient and enjoyable.
Provide your customers with an upgraded version of the product or service they're interested in. Recommend related products or services that pair perfectly with their purchase.
Create Thanksgiving Bundles
Boost your Thanksgiving sales with creative bundles! Combine complementary products into holiday packages, offering them at a discounted rate compared to purchasing items individually. For instance, create a Thanksgiving product bundle, the 'Gratitude Journal Kit' bundle, with journals, pens, and inspirational quotes.
Alternatively, offer bundles like 'Thanksgiving Survival' for those needing relaxation, including scented candles, stress-relief oils, and soothing bath bombs. These imaginative Thanksgiving gift bundles make the holiday shopping season a breeze and delight customers with convenient gift-giving solutions.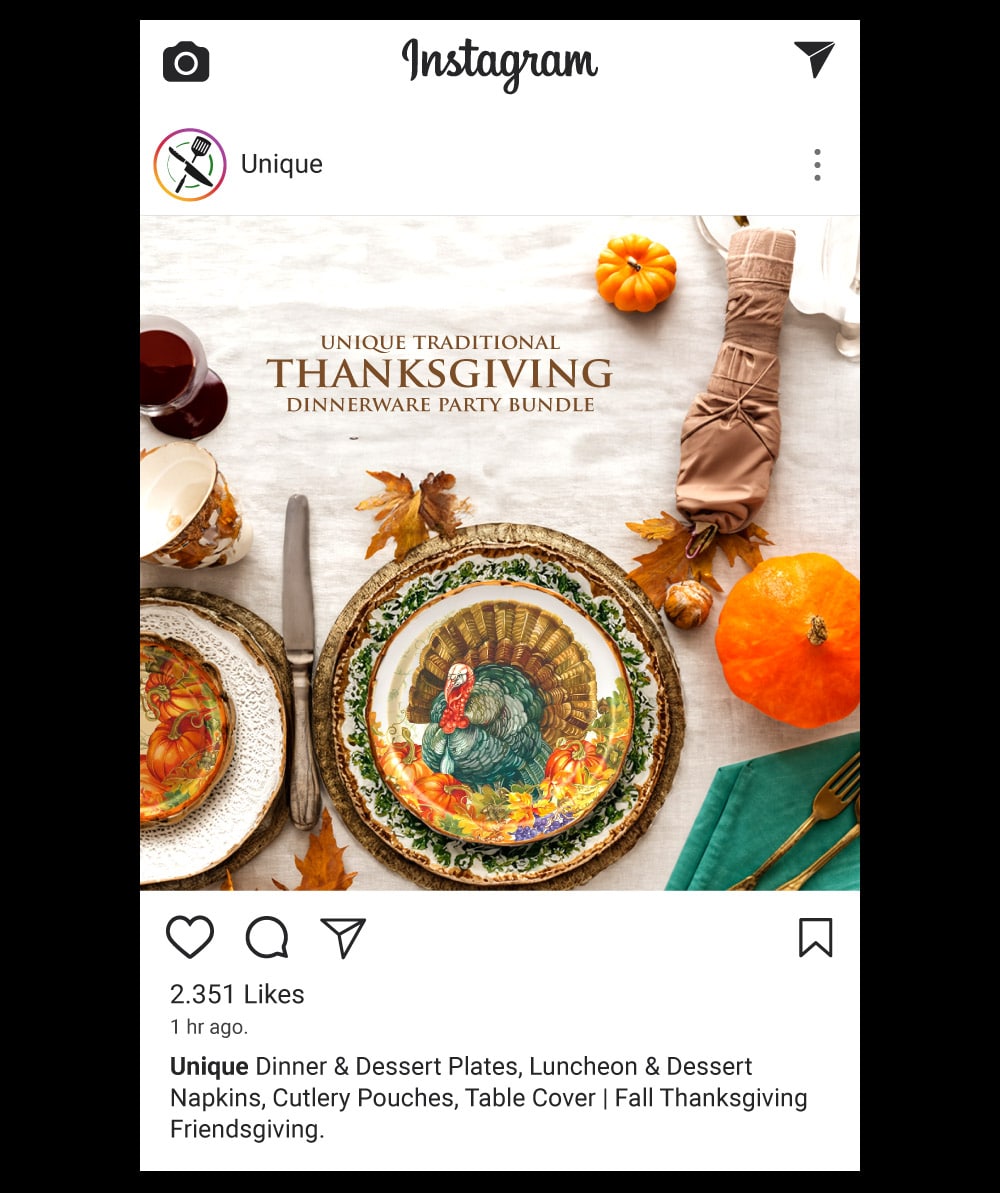 6. Integrated Thanksgiving Marketing Strategies
6.1 Target All Mediums And Marketing Platforms To Increase Thanksgiving Sales
Ensure your Thanksgiving marketing ideas gain maximum exposure by leveraging multiple marketing channels. Diversifying your approach ensures that you reach a broader audience and drive more conversions.
Here's the list of platforms and mediums you can use to increase your holiday traffic and conversions effectively.
Organic and Paid Social Media
Email Marketing Campaigns
SMS campaign
Website Landing pages, Banners, and Product displays
Content Marketing
Flash Sale Pop-ups
Pay-Per-Click (PPC) Advertising
Offline Marketing Channels
Local Listings
Public Relations and Media
6.2 Give A Seamless Shopping Experience To Your Customers With Better Order Fulfillment And Payment Methods
By prioritizing these aspects of order fulfillment and payment methods, you can create a seamless Thanksgiving shopping experience that enhances customer satisfaction and encourages repeat business.
Free Shipping and Convenient Delivery Options
Provide customers with the convenience of free shipping on their Thanksgiving purchases. If you're a small business owner, then this tactic can benefit you greatly in your Small Business Saturday marketing plan as well.
Offer flexible delivery options, including standard shipping, express delivery, and curbside pickup. Ensure that customers can choose what suits them best.
Simplify the returns process by offering no-hassle returns for their Thanksgiving orders. Make the return policy clear and easily accessible on your website.
Reduce the number of steps required to complete a purchase. Implement guest checkout options so customers can make quick purchases without the need to create an account.
Provide various payment options to cater to different customer preferences. Include buy now, pay later services that allow customers to split their Thanksgiving expenses into manageable installments.
Enable mobile payments for added convenience, ensuring customers can use their preferred digital wallets and payment apps.
Consider providing credit options or easy EMIs to accommodate those who may prefer deferred payment plans for their Thanksgiving shopping.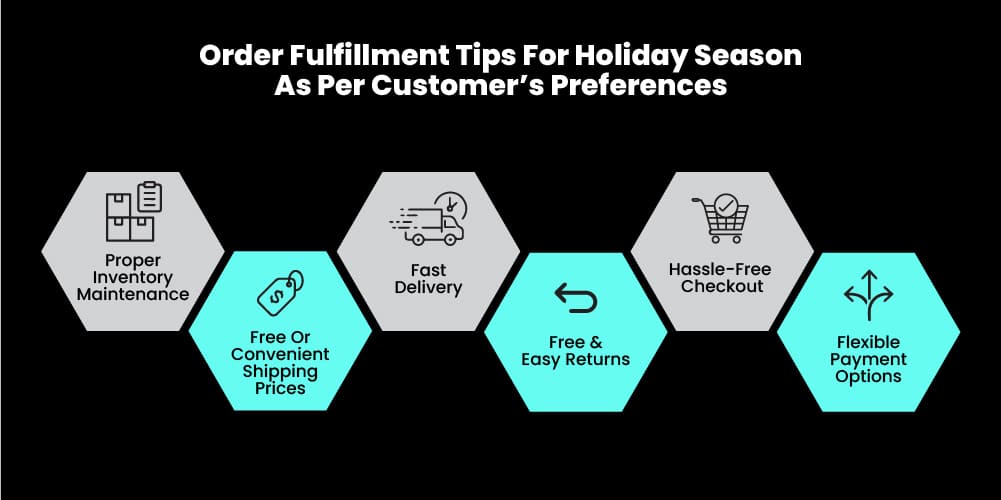 Also read: 5 Great Ideas to Get to Know Your Customers Better
6.2 Leverage Popular Holiday Season Trends To Attract Customers
Stay ahead in the game by capitalizing on current holiday marketing trends. Keep an eye on what's hot in the industry—whether it's influencer collaborations, interactive content, or themed campaigns. Incorporate these holiday trends into your Thanksgiving marketing strategy to engage your audience effectively and drive sales during the holiday shopping season.
By aligning your Thanksgiving marketing ideas with current holiday trends, you'll create a more impactful and relevant connection with your customers, leading to a successful Thanksgiving marketing campaign.
6.3 Additional Thanksgiving Activities That You Can Try
These additional Thanksgiving marketing ideas can help you create a diverse and engaging Thanksgiving marketing campaign for your brand. Remember to tailor them to your specific target audience and industry for the best results.
Create a Thanksgiving gift guide.
Showcase your company's Thanksgiving decorations or behind-the-scenes Thanksgiving preparations.
Create a Thanksgiving-themed scavenger hunt on your website.
Offer free Thanksgiving-themed downloadable resources (e.g., printable recipe coloring pages).
Host a Thanksgiving podcast episode or series.
Create and share Thanksgiving playlists or music recommendations.
Share Thanksgiving memes and humor to engage your audience.
Recommended Reading: 9 Fabulous New Year Marketing Ideas to Jump-Start Your Year
Final Thoughts on Thanksgiving Marketing Ideas To Help Promote Your Brand
Now that you are armored with the best Thanksgiving marketing ideas to make the most of the holiday shopping season. We would like to once again bring emphasis to the importance of having a proper holiday marketing plan for your business as with a strong holiday marketing strategy, not only will you be able to boost your online visibility and brand awareness, but it will also help you in building credibility and lasting relationships with your customers.
Therefore, we hope that with these Thanksgiving marketing ideas, you can develop a full-proof Thanksgiving marketing plan for your business.
And on the last note, as Thanksgiving is all about celebrating people and spreading the joy of giving, you can also be part of the holiday spirit by sharing your favorite Thanksgiving marketing idea from above with your group! (Who knows, someone else might need these tips?)
Happy Reading!
Did you find this article helpful? We will be posting more holiday marketing tips in the upcoming weeks. Stay tuned to our blog, and never miss an update!
Achieve your digital marketing goals