5 great ideas to Get to Know Your Customers Better
By Rohit Sharma
•
October 19, 2022
•
8 mins read
Get To Know Your Customers Day is a day dedicated to establishing a deeper connection with the lifeline of any business, i.e., your customers. Every third Thursday of January, April, July, and October, companies go the extra mile to understand their customer base better and increase their trust and loyalty.
Customer Relations can significantly improve your Business Growth
Get to know your Customers Day reminds you how loyal and regular customers are essential to any business's success.
According to Marketing Metrics, businesses have a 60-70% chance of selling to a customer that has engaged with them before, while the probability of selling to a new customer can be as low as 5-20%.
You can grow your small business into a large corporation by maintaining excellent customer relationships, just like other huge brands today. It's important to understand that healthy customer relationship positively impacts your business. In contrast, the costs that arise when a company ignores customers or fails to offer positive experiences are incredibly high.
As a business owner, you always want to see yourself in a long-term relationship with your customers. When you aim to put your customers first and believe in building genuine relationships, your customers will know that you see them as more than just an avenue to profits. Doing so will help your business grow and build market credibility.
5 Great Ideas for you to Improve your Relationship with your Customers
All you need to do to improve your relationship with your customers is to LISTEN. A happy customer is a repeat customer. Here are 5 ideas for you to know your customer better and make them happy.
I. Engage with your customers online
Acquiring customers is essential but holding on to those customers is even more crucial. And this is where engagement with your customers comes into play.
Successful businesses rely on having an engaged customer base. Think of it like this, how would you feel if your customers engaged with your posts online? As a brand, you set goals to achieve customer engagement on your social platforms. It's the same with your customers; they feel appreciated when you reach out to them, engage with them online, and interact with them to understand their buyer experience. These things matter!
Customer interactions tend to have more human-to-human contact, which can help you get to know your customers better and build a better long-term relationship with them.
To make your customer feel appreciated, you can:
Make your customers part of your celebrations- Share your milestones and business successes with your customers to make them feel like they contributed to your success.
Listen and respond to their Feedback- Survey suggests customers highly value great customer experiences.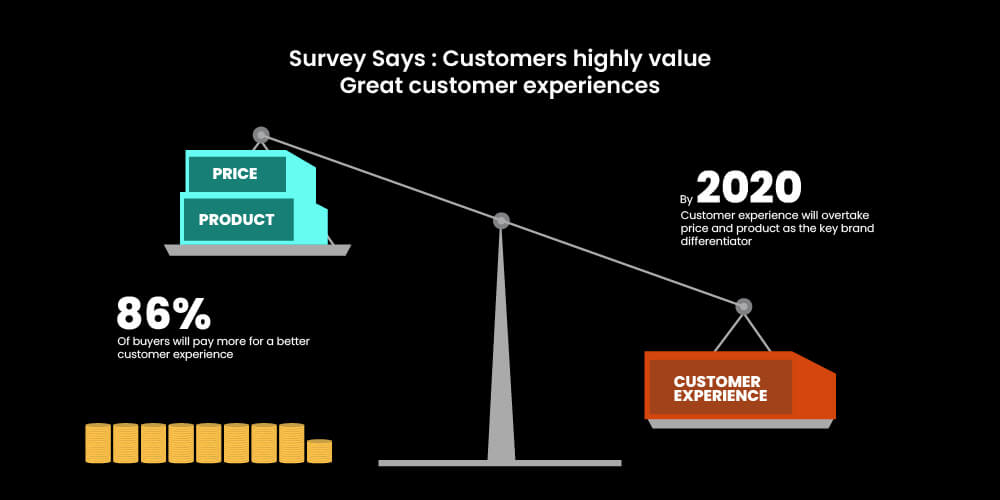 Engage by creating a community or group- Building a community can help make customer-driven decisions and increase your brand awareness in the market.
II. Offer rewards in exchange for their feedback
To deliver a brand experience that your customers will love, you need to act on the feedback they provide. As the demands of a consumer change and evolve constantly, you need to find ways to stay up to date with these demands and deliver a relished customer experience to build long-term relationships that turn into profitable repeat customers.
Customers provide feedback because they want it to be heard and expect the business to act on it.
If you want to get to know your customers better, reward them for their feedback. But remember that rewarding your customer for every kind of feedback might not be appropriate.
Keep these things in mind while rewarding your customer:
Whenever a customer provides you with some feedback, they are investing time in your brand. So appreciate and recognize their time and effort in giving feedback.
If a customer is displeased with your services and provides negative feedback, you might want to consider offering them something to show that you are sorry and that you want the customer to give you a second chance.
The best type of reward for your customer is something they can USE. For example, your brand could offer an unhappy customer a unique or personalized discount coupon.
III. Conduct Surveys
Customer loyalty is an art, and customer satisfaction surveys act as a tool to help you create it. Intelligent business owners rely on customer feedback to increase their productivity and profitability.
Customer satisfaction surveys help you understand what works for your business and what doesn't. The feedback collected in these surveys allows you to improve on the negative and double down on the positive. It's also much cheaper (and easier) to keep your existing customers than to find new ones.
There are multiple benefits of conducting customer surveys. By conducting surveys, you can:
Decode customers' perspectives- Each customer's buying journey offers businesses different opportunities to identify and craft a better experience. As each customer is unique, asking various questions gives you a chance to understand your customer better and determine what is affecting your business positively and negatively.
Gain valuable Feedback- Customer surveys help businesses understand WHAT a customer is thinking and WHY they are thinking it. The valuable feedback helps highlight areas where the company might be lacking and how it can improve.
Identify consumer buying patterns- By using surveys, you can identify the WHY and HOW behind consumer purchase decisions. The "why" and "how" constitute your Consumer Buying Patterns. You should be able to identify these patterns after analyzing the information in your customer surveys. Identifying these patterns can help you make future decisions with ease.
Retain your customers- It becomes easy to retain customers by acknowledging and implementing their feedback. Acting on customer feedback makes your customers feel valued and more likely to stay loyal to your brand.
IV. Launch a Loyalty Program:
Launching your customer loyalty program is a great way to Get to Know Your Customers if you don't already have one. Customers will consider buying from your brand if they are enthusiastic about it. You could encourage users by offering benefits to every new sign-up during the launch of your Loyalty Program.
Customer loyalty programs are solidified methods for growing and sustaining market share. They can also supercharge your customers to make them advocates for your business.
A loyal customer is more likely to repurchase and refer your brand to others. Loyalty programs are a proven incentive to make customers choose you over competitors. A well-designed loyalty program will positively impact your business and customer loyalty.
According to the Global Customer Loyalty Report 2022 from Antavo, 93.1% of companies with a loyalty program have a positive ROI.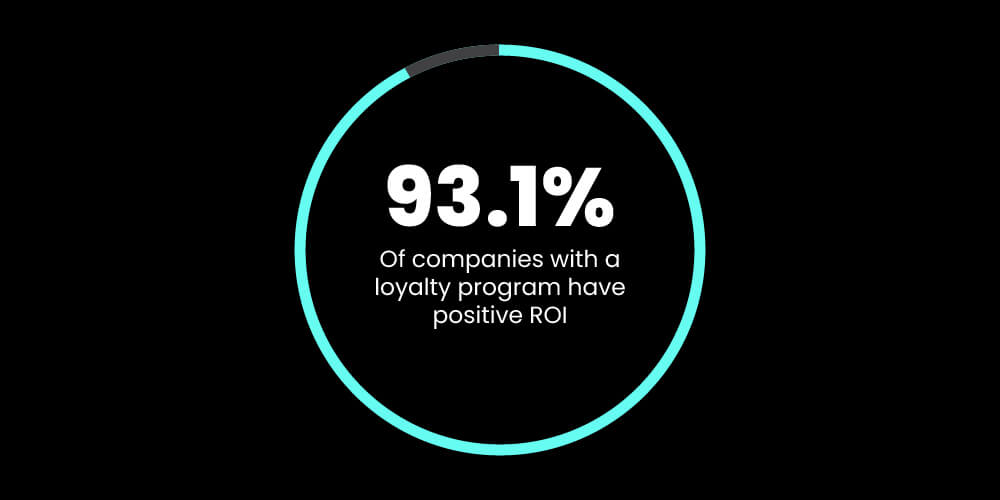 You need two things to set up a great customer loyalty program:
Customer data- to help you track consumer activity
Reward System- to help you reward your customers
You might be thinking, "so what should I offer to get the most customers to sign up?". Well, a Gartner Consumer Privacy Survey from 2019 suggests that consumers are most willing to share their personal information for cash rewards, free products or services, discounts or coupons, and loyalty points which can be exchanged for something else.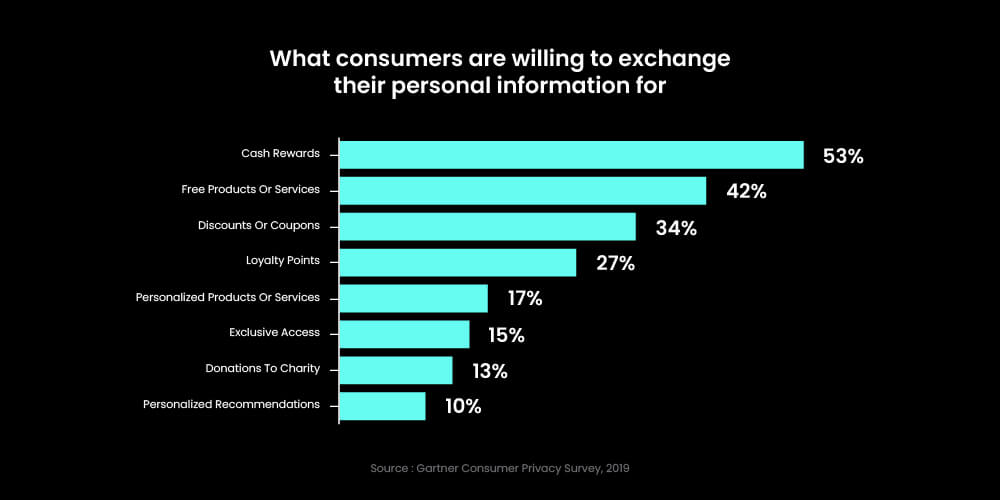 V. Give back:
A groundbreaking global study reveals that consumers are four to six times more likely to purchase and protect a Purpose-Driven Company.
94% of global consumers say it is essential that the companies they engage with have a vital purpose and prove they will reward those who do. Yet 37% of consumers do not believe companies today have a clear and strong purpose.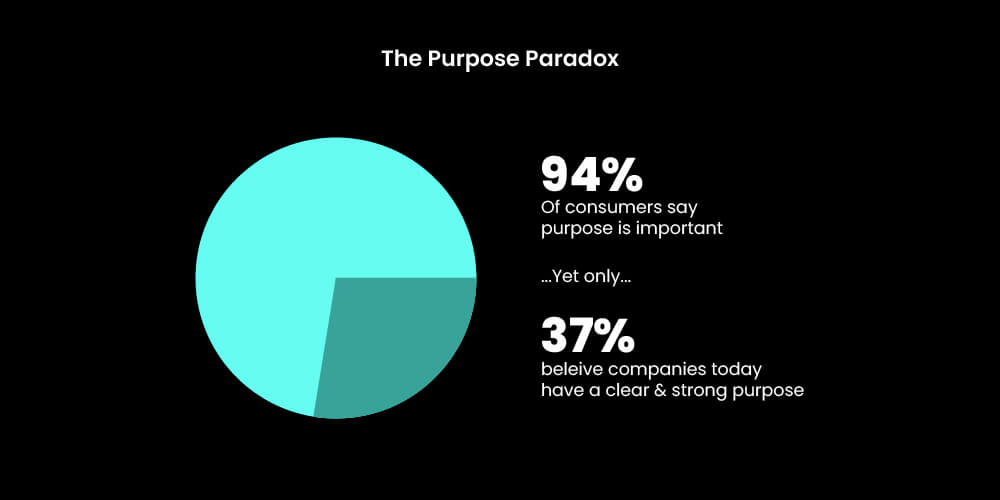 It would be best if you got involved with the community and showed that you care about your manufacturing methods and how you treat your employees and keep a check on how you conduct yourself. This is a great way to show you understand what matters to your customers.
Giving back in your customers' names builds trust and encourages them to support you in the long run.
Always ask yourself, "What cause would my customer be passionate about?". Start by asking your customers and showing them you value their feedback by acting on the ideas shared by them. You could run a poll or send out a quick survey before you proceed. This will show your customers that you care about their input, and they will be inclined to support you in your future endeavors.
Use social media to share your cause online and ask your customers to support your cause. You will be surprised to see the number of customers that offer to help. Customers love to be part of a cause that makes them feel larger than life. Supporting any good cause has a feel-good factor and positively impacts everyone involved.
This Get to Know Your Customers Day Focus On Building Loyal Relationships
As it is said, "Every good intention is rewarded," so on this get-to-know-your-customers day, invest in a good cause and see the results for yourself.
This Get to Know Your Customers Day focus on building loyal relationships that help you make meaningful connections with your customers. Remember, we are all customers. So always treat your customers the way you would want to be treated.
Hopefully, these ideas will help you establish a strong base for loyal and fruitful relationships with your customers. Be on the lookout for more tips from us; we will share them here.
Achieve your digital marketing goals