How to Align Your Social Media Strategy with Your Business Goals
By Rajdeep Gadhavi
•
April 14, 2023
•
9 mins read
Nowadays, social media has become a critical component of business strategy, providing a powerful medium for reaching and engaging with potential customers. However, to achieve business success, you will need more than just a social media presence. To truly leverage social media's potential, aligning your social media strategy with your business goals is essential.
Be it any industry, one thing that you must have is a social media strategy. Over 4.74 billion people across the world are using social media at this moment. So, if you want to build a personal or business brand, social media is a non-negotiable platform.
But let's face it, in 2023, social media marketing will be more complex than ever. It is because many brands are investing in social media more than ever.
Will social media help your business to scale?
The simple answer is yes. Social media can directly impact the visibility and profitability of your business. More often than not, social media acts as the face of the company nowadays. We observe consumers contacting businesses directly on their feeds by tagging them or commenting on their posts. Thus social media has made brands more accessible than ever before.
Social media marketing becomes even more critical if a business is just starting out. It can help your brand get noticed and scale up your business when done correctly. For instance, a small fashion and beauty brand, CeeCee's Closet NYC, saw a massive surge in their followers on TikTok, which in turn increased their sales. Chioma Ngwudo, the CEO, confirms," Social media has been an enormous tool for us. We've been expanding more on TikTok and Pinterest. Also, we use email marketing and text lists to keep our customers up to date."
Why Do Most Businesses Fail in Leveraging Social Media?
Social media strategy is crucial for every business to engage with its target audience. But, there must be more than just a social media strategy. Despite investing a good amount of money, brands need to understand that while having a robust social media strategy is important, it is equally essential to implement it effectively.
Lack of effective execution and misalignment of your business goals to your social media marketing strategy can be a problem that needs prior attention to maximize the potential of social media. But where do you begin? You can take several steps to integrate social media into your marketing strategy. Let's take a look at some.
Aligning Your Social Media Marketing Strategy With Your Business Goals
Defining business objectives
When jotting down a social media strategy for your business, you should first define the objectives you want to achieve through social media.
If your business goal is to grow the brand, the social media goal attached to it should be increasing awareness. But if you want to drive leads into sales, you must focus more on conversions. When your goal is customer retention, the objective should be more toward the consumer's needs, how they think, and how they feel about your service.
Clear social media marketing goals are crucial for your social media strategy success. With clear goals, it can be easier to measure the efficacy of your efforts, adjust your approach, and achieve your desired outputs. Moreover, clear social media goals help you prioritize your efforts and allocate resources effectively, leading to better ROI on your marketing.
By aligning your goals with your overall business objectives, tracking your progress, and adjusting your approach as needed, you can achieve your desired outcomes and see a positive impact on your business.
Target Audience – The backbone of your social media strategy
Target audience is a crucial factor in social media marketing and has a direct impact. Starting from the type of content you create to the messaging you use and how you advertise. Understanding your target audience enables you to develop your content and messaging to effectively reach and engage with the people most likely to be curious about your products or services.
Social media aids you in knowing about your audience's insights, like their age group, where they live, gender, marital status, and income. You can get a better idea of this with inbuilt tools on social media platforms like Facebook and Instagram, which have their dashboard. These dashboards provide all the relevant data to help frame a robust content strategy. Like their activity based on time, the app can help you decide the frequency and timings of the postings.
Psychographic aspects of your target audience, like why do they buy a product and what emotions drive them to buy it is also essential to know when it comes to understanding your target audience.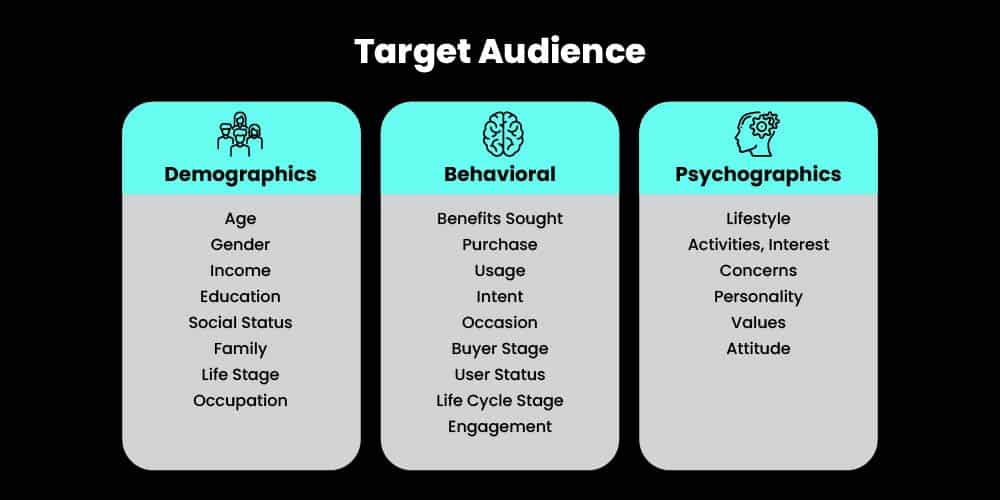 Let's look at how an Airline company uses social media advertising to reach the desired audience.
Norwegian Air turned to social media advertising to increase brand visibility and promote specific routes. The airline could effectively reach its target audience and scale its online presence by running Facebook and Instagram ads.
Through these ads, Norwegian Air was able to showcase its brand and highlight the unique features and benefits of its airline. By targeting specific routes, the airline was able to reach travelers interested in those destinations, increasing the likelihood of booking a flight with Norwegian Air.
Social media advertising provides a powerful platform for businesses to reach their desired audience and achieve their marketing goals. With the capability to target exact demographics and interests, social media ads can effectively increase brand visibility and drive conversions. Norwegian Air's social media advertising is an excellent example of how businesses can leverage these tools to attain their marketing pursuits.
The above example of Norwegian Airlines shows us the impact that digital ads can have on a business. Thus it is evident that digital advertising is the marketing industry's future, and we certainly can not overlook it. Check out our blog on using digital video ads to market your message effectively.
Channels to chase
Once you have a clear idea about what you want to achieve through social media and who will be your consumers and customers, the next step is to be on the proper channels.
Your business should target different social media platforms depending on your industry, product, and service. For instance, if you want to boost your brand awareness, Instagram and Tiktok are the best places. Among B2B marketers who used social media platforms for paid promotion worldwide, 49% of respondents stated that LinkedIn delivered the best results. While LinkedIn can effectively generate more leads, Twitter is an excellent platform to stay on top of the mind.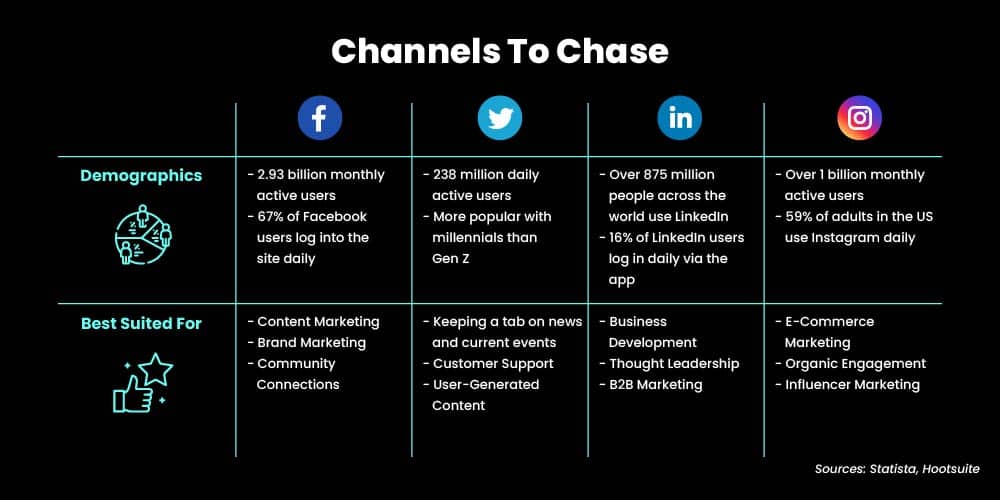 Industries like fashion, travel, and entertainment should prioritize their Instagram strategy. They use influencer marketing for promotion to maximize the reach of their brand. In contrast, the news and media industry can take their Twitter game to the next level to derive maximum benefits from the platform.
Unlocking the Potential of Social Media: Crafting a Winning Content Strategy for Your Brand
Based on your audience and platform selection, develop a content strategy that supports your business goals. Create a content calendar and plan for regular posts. You will need a social media content strategy for your business goal attainment.
Content creation for social media should be done keeping in mind the kind of content your audience would want to consume. Your content strategy should be based on target audience research, competitor analysis, selection of platform, and the type of marketing message you want to convey.
Suppose you want to grab your audience's attention by entertaining them; it is a no-brainer that your content has to be engaging. A catchy hook, visually appealing graphics, and compelling content will engage an audience. Millennials look for this kind of content on Instagram as it is aspirational.
Blog posts, articles, and long-form content work well on LinkedIn. Content with core values, be it any business or personal, shows more results on LinkedIn than on other platforms.
Twitter is a platform where we see the optimum use of trends. Social media trends can be anything from politics and pop culture to sports and more. Discussion on Twitter happens over a particular topic, and that's how your posts can stay in the know. But don't jump and try to cover every social media trend. Keep it relevant and in sync with your business offerings and brand tone.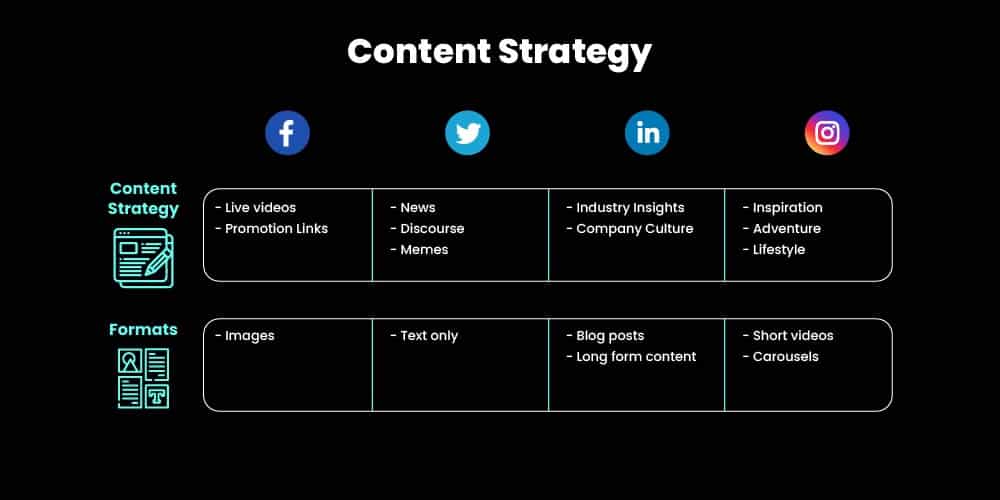 If your business has much to do with giving information and educating, then YouTube is the perfect platform. How-to and explainer videos are content that gains more engagement on YouTube if done with proper intent for customer engagement.
Knowing the type of content and formats will help you determine a content mix, calendar, and forms of content that you should target for your business. Crafting content related to your target audience can boost engagement and shares and drive conversions.
Metrics that Matter
How can we ensure we get as much value as possible from the time and resources we put into social media?
The answer lies in metrics. One needs proper social media metrics tracking for business outcomes measurement.
The social media plans you map should always reflect your precise business needs. Many social media goals can apply to almost any social media campaign. Hence, measuring social media progress with metrics that complement our business objectives makes sense. It aids in your social media management project and helps you to gauge results.
Social Media Analytics are essential as they let us know where our social media strategy needs to be directed, changed, or modified. Here are some social media metrics that businesses should keep a tab on: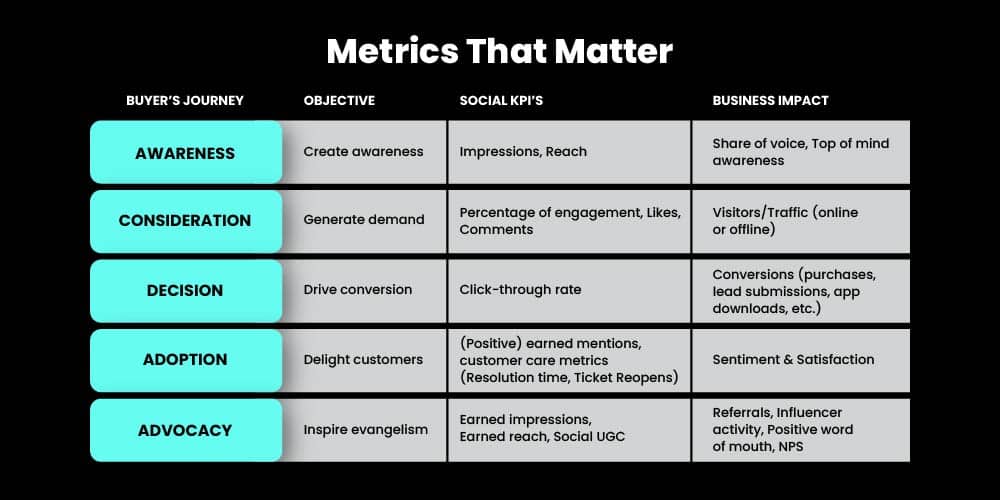 Use tools like Google Analytics, Twitter Analytics, etc., to measure your social media performance and track progress toward your business goals. Social media metrics will allow you to make data-driven decisions and optimize your strategy accordingly.
In conclusion, aligning your social media strategy with your business goals is crucial for achieving success on social media. To do so, you must clearly understand your business goals and how social media can help you achieve them.
Overall, having a social media strategy is an essential first step. Still, it must be followed by effective execution and integration with other marketing efforts to achieve the desired results.
Contact our Social Media Marketing team here to scale your business through social media.
Achieve your digital marketing goals