12 Content Ideas to Put your Holiday Season Marketing in Gear
By Arpita Singh
•
November 29, 2022
•
18 mins read
December is finally here! We will be officially entering the Christmas season in a day or two. Businesses of all sizes expect sales to peak during this time of the year. Why so? People step up enthusiastically in the streets and online – to shop for festivities and take advantage of the heavy discount offers thrown throughout the holiday season. In such a scenario, it is vital to maintain an ongoing holiday season marketing strategy based on a vibrant mix of different content forms. From videos to blog posts, reels, images, catchy captions, memes, etc.
Why do you need them? They facilitate uniform customer engagement and mindful communication of services and products to the target audience. Creating brand awareness and establishing its values to as many people as possible is another good reason!
We have collected some of the best content ideas from the past and present to inspire you and help upgrade your content marketing game. Let's get started now!
1) Amazon's Joy is Made
This November, Amazon released a 2-minute 32 seconds Christmas advert on YouTube, inspiring its viewers to go the extra mile and create a joyful experience for the people they love dearly.
The ad shows a young girl deeply fascinated by a snow globe, so much so that she carries it along wherever she goes, even to a dentist's clinic. Christmas is around the corner, as alluded to by a decked-up Christmas tree in the living room. We also see her father wishing to do something special for her child and ordering a paper shredder machine on Amazon.
Now, embedded marketing is nothing new! It has been in play for decades. This modern merchandising technique is typically known as product placement, and in this case, we see Amazon screen-placing its offering.
Back to the ad we go –
The father then borrows a garden spruce pot, a couple of old fans, and tons of newspapers from his neighbors. Finally, the ad reveals that he has brought the dreamy microcosm of the snow globe into reality and fashioned a nearby greenhouse cabin similar to it. Witnessing the picturesque scenery, the daughter heaves joyfully and hugs her father. Remember the shredder that the father bought earlier? It has helped produce tiny bits of paper that now float in the air and mimic snow falling from the sky. The video takes the viewers on a trip to a magical wintery night with gold glitter lights. Amazon assures its customers that it will help them as it did the father by supplying him with the shredder just in time!
The trimmed 1-minute version of the video commercial is available on Amazon.co.uk (published on November 13). It has amassed more than 500k views and counting!
2) Michael Aram's Table Setting Ideas for a Grand Feast
Thanksgiving, Hanukkah, Easter, Christmas, and New Year – what's one thing common to them? Parties, dinners, and get-togethers – yes, precisely! Many indulge in organizing grand feasts for their family and friends. Therefore, table set-ups, dinnerware, and crockery rise in great demand during these festivities.
Michael Aram is a luxury and homeware decoration brand that invents incredible table-scaping ideas. It also regularly updates stunning HD images that act as rich visual fodder for its audiences.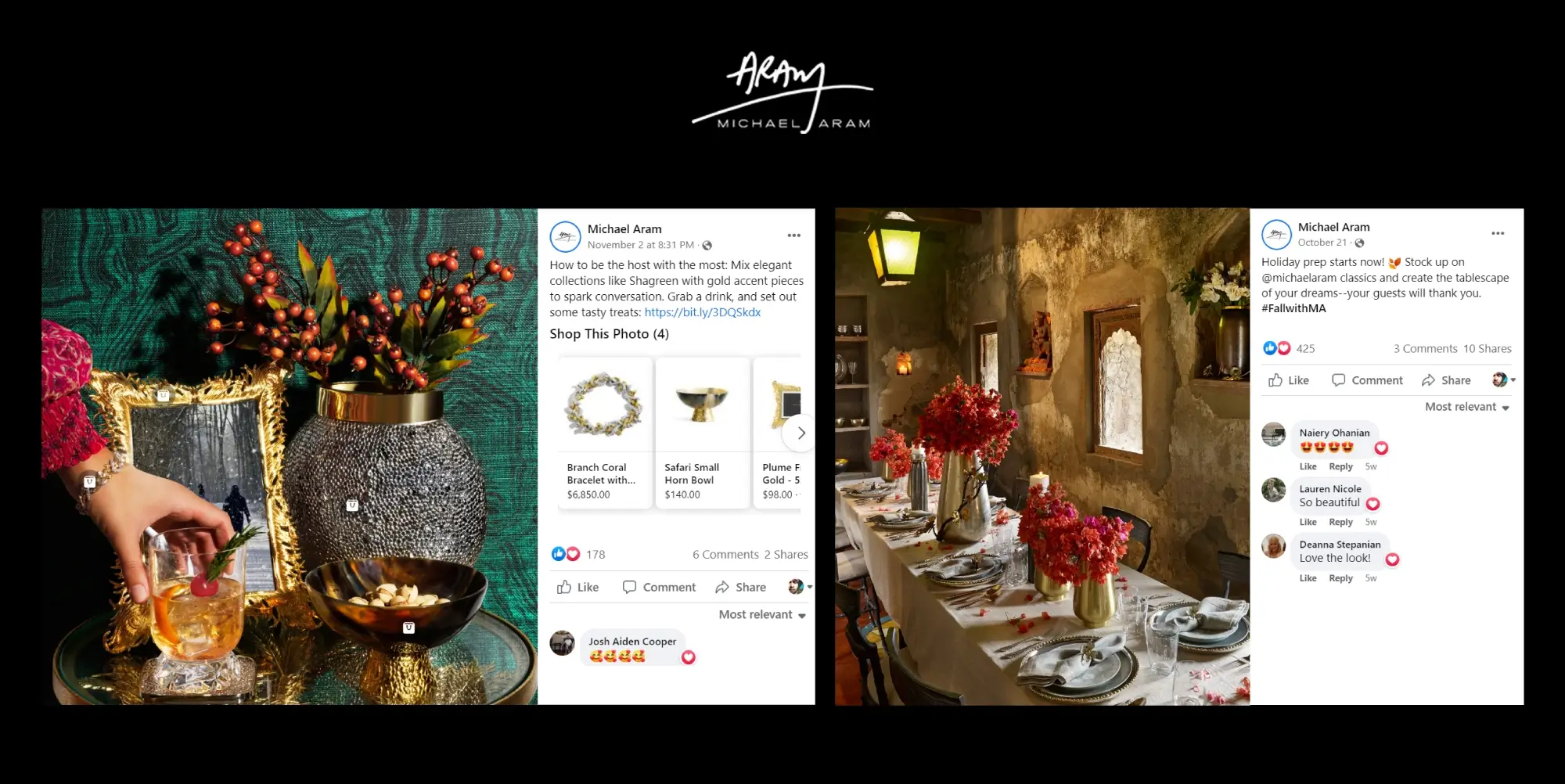 Source: Facebook Media Posts – Image 1 & Image 2
Michael Aram collaborates with famous culinary artists and influencers across social media platforms and proposes recipes and cooking guides for tasty treats, easy homemade snacks, and beverages. These food options are a significant content hit on any celebratory occasion and can give a healthy boost to your holiday season marketing campaigns.
3) McDonald's UK Inner Child
McDonald's UK launched a video ad campaign in November 2020, when the world was reeling under the terrible Covid-19 pandemic. It has exceeded 2 million views on YouTube and continues to evoke a lively festive spirit in its viewers even today.
The Inner Child Christmas advert featured a beautiful rendition in its background, Forever Young, in the soothing voice of Becky Hill (a prominent British singer). Furthermore, McDonald's UK announced that 10p from every download of the song would go directly to FareShare, UK's national network of charitable food redistributors. By doing so, they gave their video campaign a noble meaning – emphasizing kindness is the way to go about in times of festivity.
About the commercial,
It opens with a teenage boy lost in video games when his mother enters the room with a brown carton of Christmas ornaments. She prompts him to come down and begin with holiday home embellishing. The toddler inside him gets thrilled at the idea of Christmas, but he nudges off that feeling and resumes his games. It then cuts to the mother-son duo walking down the street and showcases the mother desperately trying to cheer up her son by wearing a reindeer headband randomly. His "inner child" smiles yet again, but the pandemic hangover seems too heavy on his mind.
The mother then stops her car by a McDonald's Drive Thru and orders food. His "inner child" instincts ultimately win over his cynical attitude on receiving the delicious meal – as we later find the boy warmly reciprocating in a playful snowball fight initiated by his mother. On returning home, he fetches the box of adornments and happily decorates the hall. He also leaves a glass of milk and some "Reindeer Treats," he saved from the evening earlier, near the hearth to welcome Santa.
This advert demonstrates how food helps the "inner child" step out and immerse an individual in the festive mood. McDonald's also ran a befitting campaign slogan, "Are you #ReindeerReady?" The screen placement of "Reindeer Treats" was indeed a classic move!
4) Funny Memes – The Latest Internet Fad!
Memes are irresistible. Admit it! From gen-Z to Y, X, and boomers – all are hugely addicted to sharing memes on their phones. And good-intentioned humor is always well-appreciated on a day of festivity!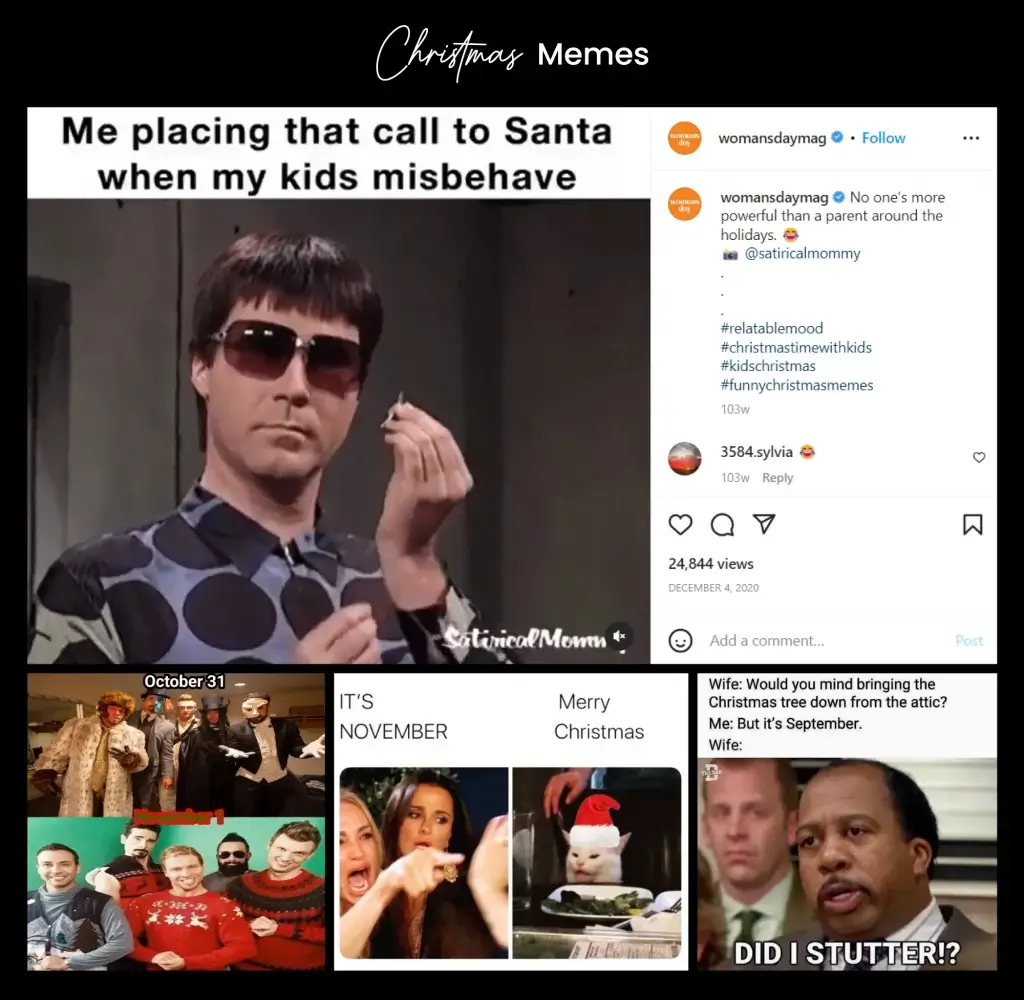 Sources: Instagram Media Posts – Image 1, Image 2, Image 3 & Image 4
Cook some light-hearted hilarious jokes or punchlines and serve them to your audiences as memes. Your job is to make people forget their stress and turn them all jolly and in tune with the upcoming jamboree spirit. Be careful about not delving into any controversy or offending any community, as you don't want to bring negative attention to your brand. Remember, this may affect your sales.
Several brands approach Instagram marketing through memes or gifs. They even use stills from movies or daily soap operas and quote a funny dialogue from a particular character to fit their promotional intent. The same goes for Facebook marketing; it, too, enjoys a healthy dose of memes throughout the year, especially during the holiday season.
5) Barbour's 2022 Christmas with Paddington
Barbour, a British lifestyle and luxury brand, has concocted a delightful Christmas campaign, One of a Kind-ness, this year. It released a video commercial on November 4, featuring the legendary Children's Literature classic – the bear from Peru, Paddington. Animated in the original Peggy Fortnum illustration style, the video enthralls its viewers "in a nostalgic tale of good intentions and festive cheer." It has garnered 1 million views and is getting loads of appreciation for keeping up with the "British charm" of Paddington.
In the 1-minute 32 seconds Christmas film, Paddington takes the viewers on a snowy gift quest through Windsor Gardens, Portobello Market, and finally stops at a Barbour store. He needs to look for something that aptly describes Mr. Curry, his "grumpy and misunderstood neighbor." From a jar of marmalade to settling for Barbour's Re-loved Jacket, Paddington rings in the power of goodwill and kindness for all. But did Mr. Curry like it? Well, watch the video below. You will get to know!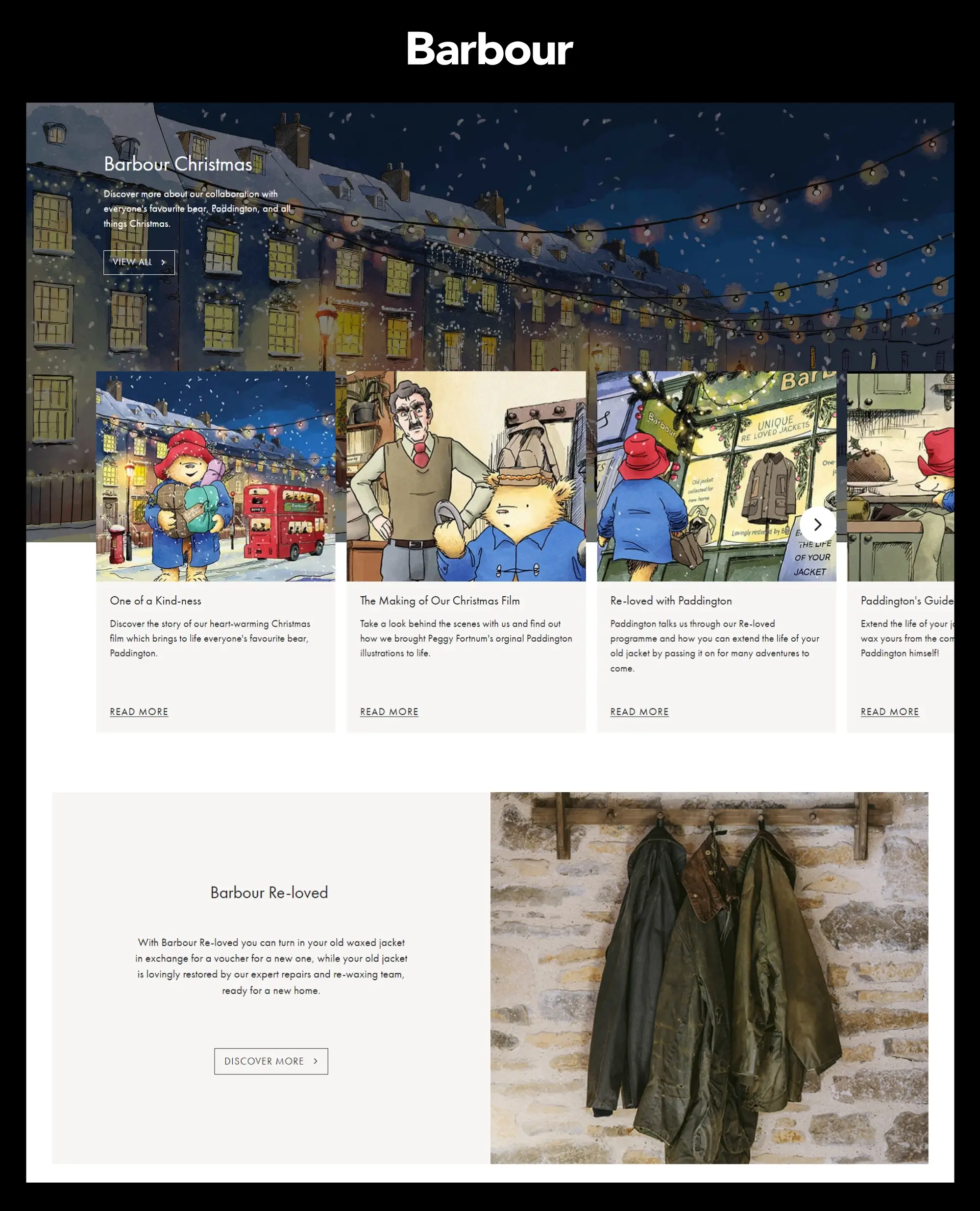 Source: Barbour's Official Website
Now, a little context into Barbour's Re-loved Program.
It is a widespread belief that Barbour's waxed jackets "get better and better with age." As part of their circularity initiative, customers who have no use for their Barbour jackets can hand them back in return for a voucher. Barbour's expert re-waxing team cleans and repairs the jacket with new patchwork and zips, lending them a defined and distinct character. Each such becomes "one of a kind" and is ready for another set of adventures in a new home. This initiative also encourages sustainability and friendly relations with the environment.
Barbour employs all three product placement techniques for this advert – screen, script, and plot. And still delivers a brilliant concept! The viewers recognize that a Barbour Re-loved jacket is a unique gift for someone as exceptional as Mr. Curry in the ad.
Source: Barbour's Blog Post
Barbour has dedicated an entire section on its homepage to promote its 2022 Christmas animated film. Moreover, it has laid out a bunch of blogs, providing further details into the backstory of film production. They include – The Making of our Christmas Film, Paddington's Guide to Re-waxing at Home, and more. It has brought a Barbour Dogs – Christmas Edition community challenge that presents regular competitions with Barbour merchandise as gifts for you and your furry friends.
6) Netflix's Family Movie Nights
Do we forget that holidays are supposed to be fun junctures with family and friends, and yes, some good me-time too? Fortunately, Netflix didn't! Its assorted movie collection caters to the cinema needs of diverse audiences.
Parents love movie nights with their kids, so they will search for good-humored animated films that inspire big laughs, nurture positive emotions, and give them a sense of well-being. Even romantic comedies (aka, rom-com) and musicals are darlings of the holiday season.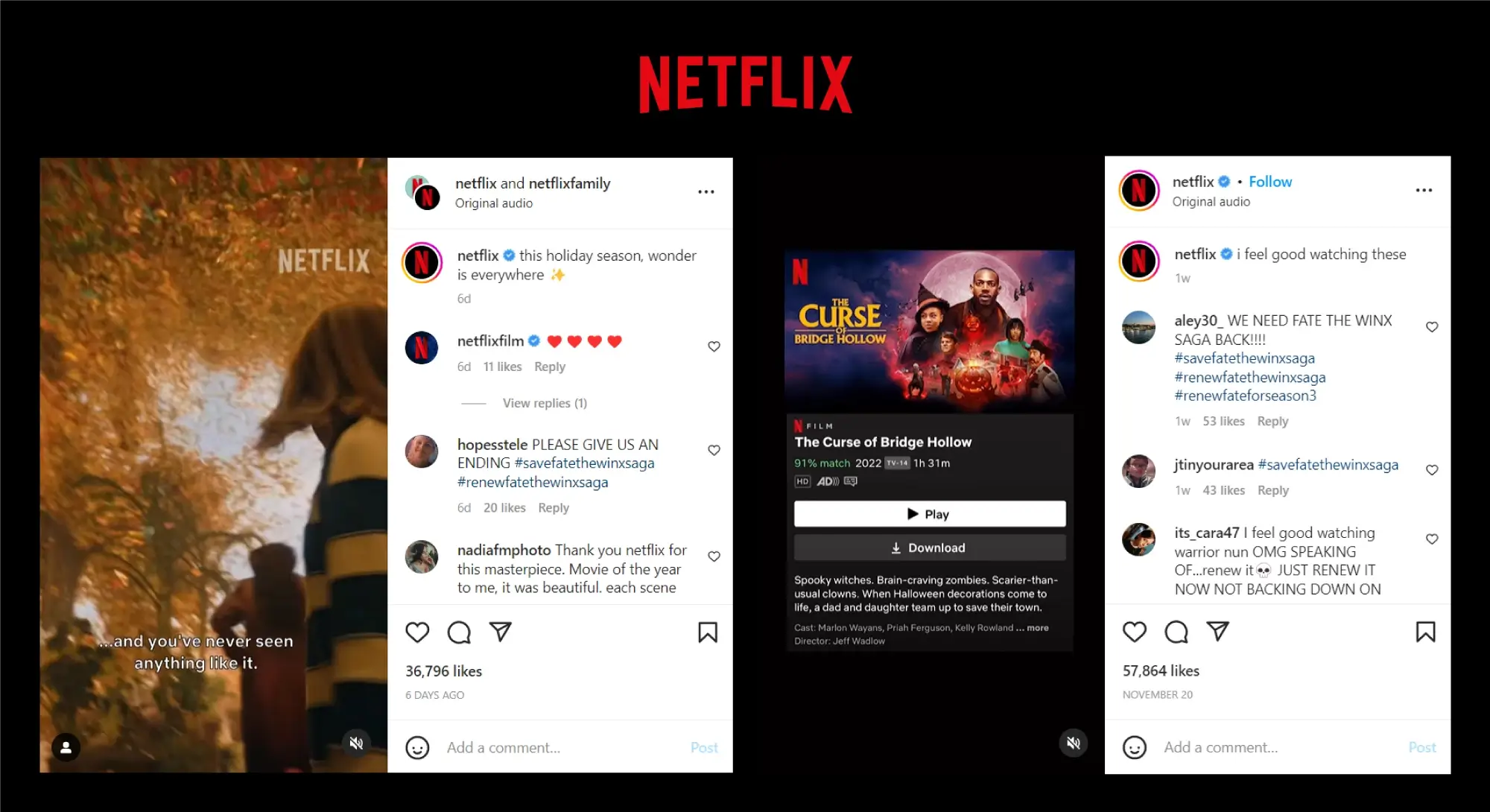 Source: Instagram Media Posts – Reel 1 & Reel 2
Netflix knows this well, and via Instagram Reels, it has conveyed that it has put together excellent movies on its streaming platform to watch this holiday season.
Besides movies, you can prepare listicles about holiday-special comics, literature books, or great diners/cafes/restaurants to visit – whichever suits your niche and your line of business the best. Instagram reels are ideal for channeling selected information to your customers, as they are short and visually enriching. You can also write listicle blogs and promote them in Facebook community groups or send them to your subscribers through email newsletters.
7) Doc Morris' #Herzensangelegenheit (Matter of the Heart)
Doc Morris, a Dutch mail-order pharmaceutical company, unveiled a memorable 2-minute 40 seconds Christmas advert that left the internet teary-eyed in 2020. It has become a massive sensation since then, gathering more than 10 million views on YouTube.
About the advert,
The video begins with an old-aged man with visible shriveled skin, mostly in his sixties, jumping up and hurrying to his backyard cabin. A Christmas tree in the background allows the viewers to anticipate that the festivity must be fast approaching. To everyone's surprise, he pulls out a large kettlebell and totes it to the house. The next day, he wakes up early, affixes a framed photo on the desk, and starts to practice kettlebell lifting. Even the neighbors sneak in for a quick peek at the enduring cries of the older man as he tries to outdo what his age could warrant. All are in utter shock, including his daughter. Days pass, and the viewers can only admire his persistence and grit through the changing seasons of autumn and winter.
The mystery is finally understood by people on Christmas eve when he arrives at his daughter's house. He also brings a star tree topper for her granddaughter. In the final scene, the older man lifts his granddaughter so that she can put the star topper in its rightful place and, thus, accomplishes his long-yearned goal. The video quickly shifts to the photo frame on the desk and tells us that it holds an adorable picture of his granddaughter.
The advertisement video ends with the slogan, "So that you can take care of what really matters in life," spelled in German. Doc Morris reminds its viewers how essential it is to care for one's health, as it matters for the ones who need their warm presence, especially during festivities.
8) Tovala's Stress Less and Celebrate More
No one wants to spend hours in the kitchen cooking food; the holiday season is to relax and enjoy to the fullest! Tovala, the smart oven and meal kit service provider, offers a mobile application with easy recipes for "homemade holiday favorites" and guides to make "no-fuss appetizers and desserts."

Source: Really Good Emails
Tovala advertises the mobile app in email newsletters that it sends to existing and new subscribers. With strategically placed CTA buttons and embedded links to App Store and Google Play, its newsletter is one fine example of email marketing. Alongside sharing the secrets to "effortless cooking" during the holidays, it also promotes its smart, WIFI-connected oven in the last section. Tovala understands that everyone hopes to have gifts delivered to their loved ones before or on Christmas. Therefore, it hangs a quick note for the potential customers, requesting them to place their orders by "12/16" so that it can manage their deliveries on time.
9) Woodie's Christmas Ready Instagram Posts
Woodie's, an Irish Home Improvement Store, adopts visual marketing into its Instagram Social Media game. It has primarily published posts about how to deck the halls or set up the fireplace for a Christmas party in the last few weeks.
That's a great idea, certainly! After Thanksgiving, people start engaging themselves in Christmas preparations. Floristry, sparkle lights, decor items, and other holiday essentials – are usually the most sought-after during this time of the year. Woodie's effectively communicates that it's all set to fulfill the needs of its customers and perfectly stands by its brand motto, "We're all Homemakers!"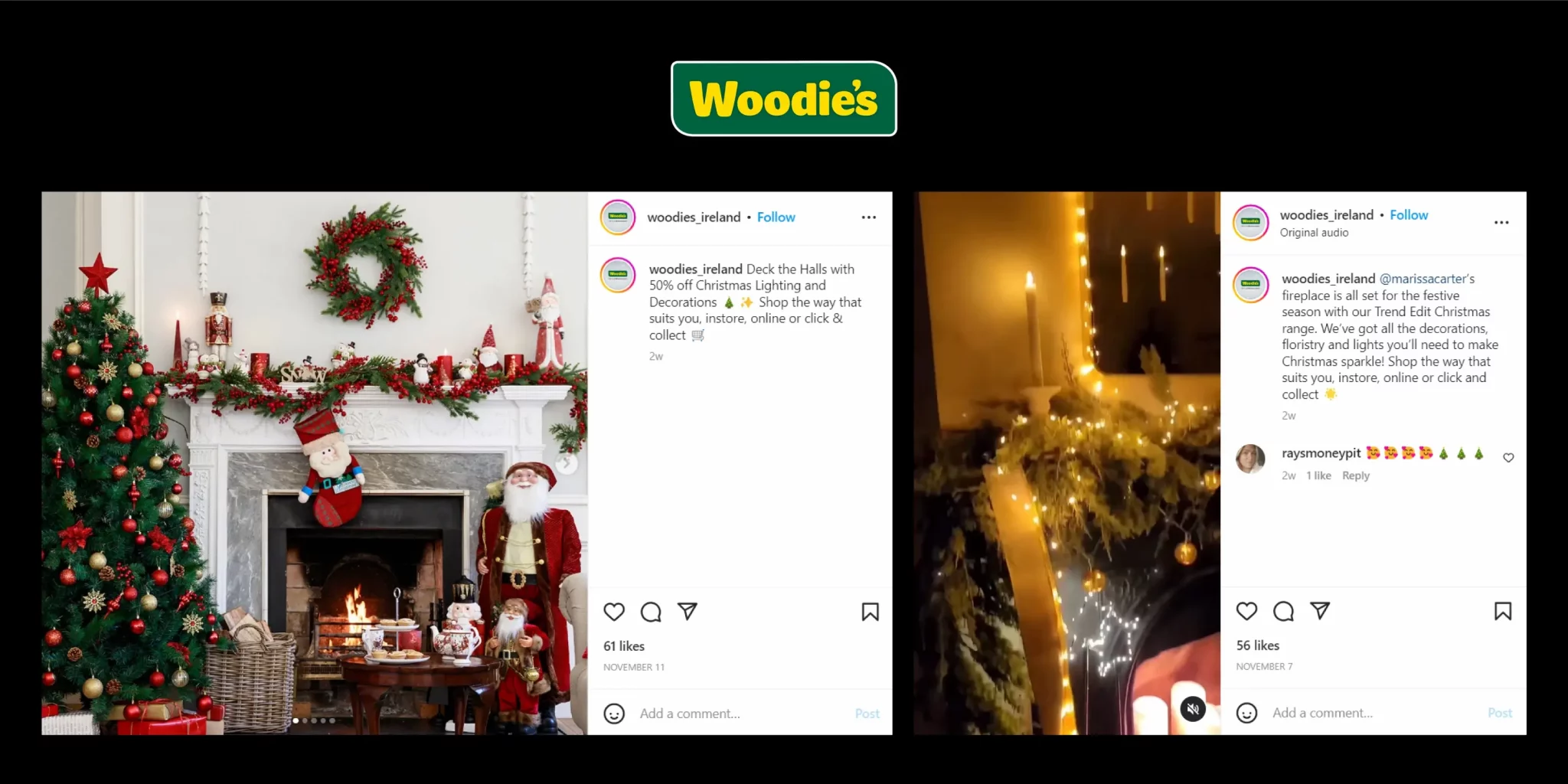 Source: Instagram Media Posts – Image 1 & Image 2
It repeatedly stresses the available shopping options – "in-store, online, or click and collect" in its Instagram posts. This messaging enables the customers to make better purchasing decisions.
When discussing Woodie's, it would be criminal not to mention its iconic Christmas advert that gained everyone's attention back in 2020 – giving you a heads-up! The 1-minute commercial is about Mrs. Higgins; an old lady loved and cherished by all around her. The video depicted how a resident boy, often loitering in her neighborhood, installed a hinge that had been long missing in the door leading to her yard. It was a daily struggle for the old lady, but a random act of kindness from a young man sorted it all.
The ad pushed the idea, "helping the elderly, being kind and compassionate, and spreading joy," is what Christmas is all about!
10) John Lewis' Handy Guides to Buy Affordable Gifts
John Lewis, a UK-based Home Departmental Store, is all ears to its customers complaining about having a tight budget for their Christmas. Therefore, it has put out a blog entirely devoted to helping its readers how to spend an affordable Christmas.
The sub-title reads, "Need proof that you can enjoy Yuletide on the cheap without feeling like The Grinch? Step this way…"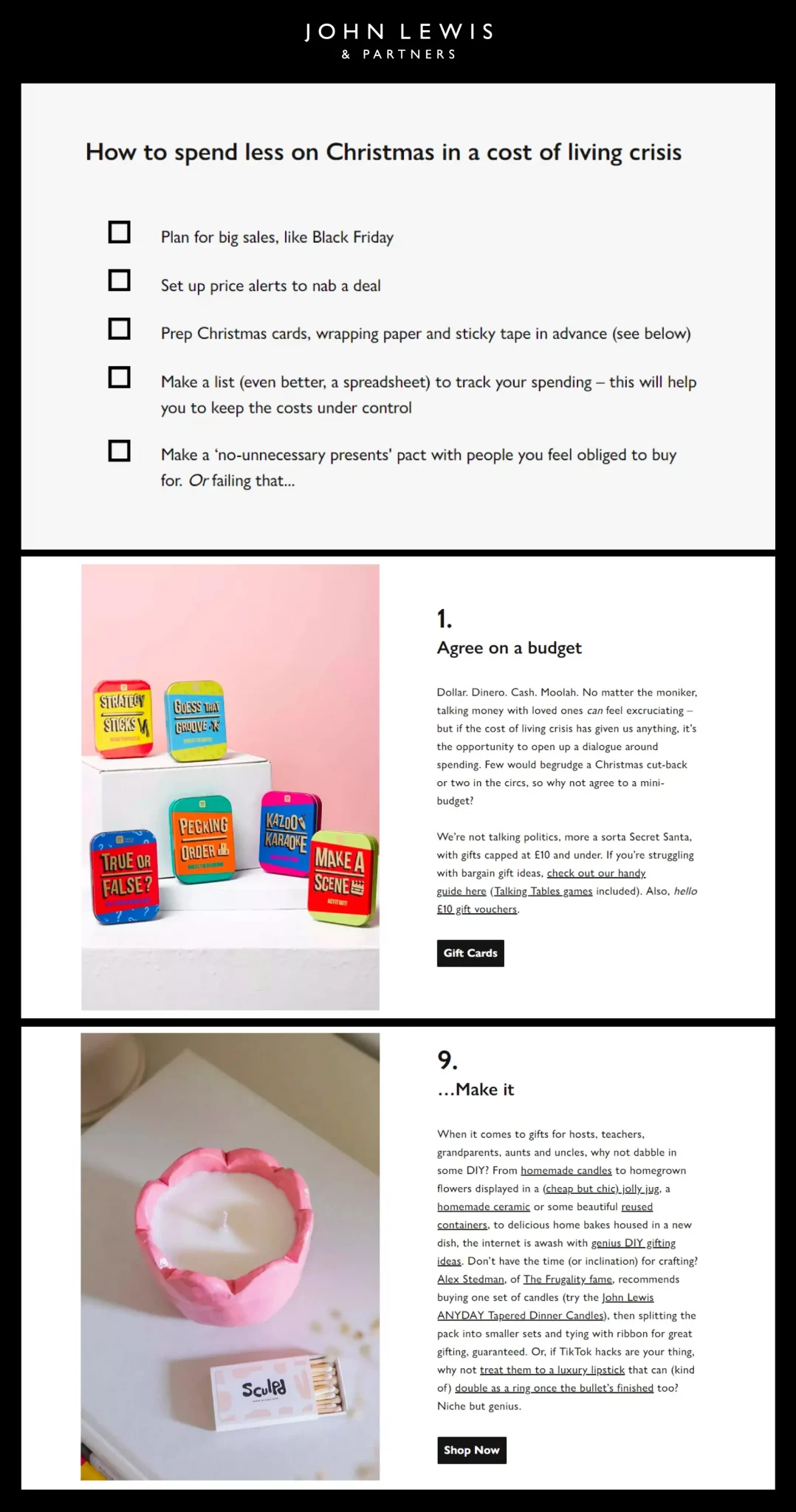 Source: John Lewis' Blog Post
The blog then goes on to discuss – "Introduce an activity advent calendar," "Do DIY decks," "Craft clever cards," "Rent it," and more, along with valuable tips from Martin Lewis (a money-saving expert).
Furthermore, they have carefully curated a separate editorial page called The Edit that features "fashion advice to interiors ideas, beauty trends and invaluable lifestyle tips" to enlighten their audiences. It shows up as Inspiration under the Shopping column on the Website's bottom foot.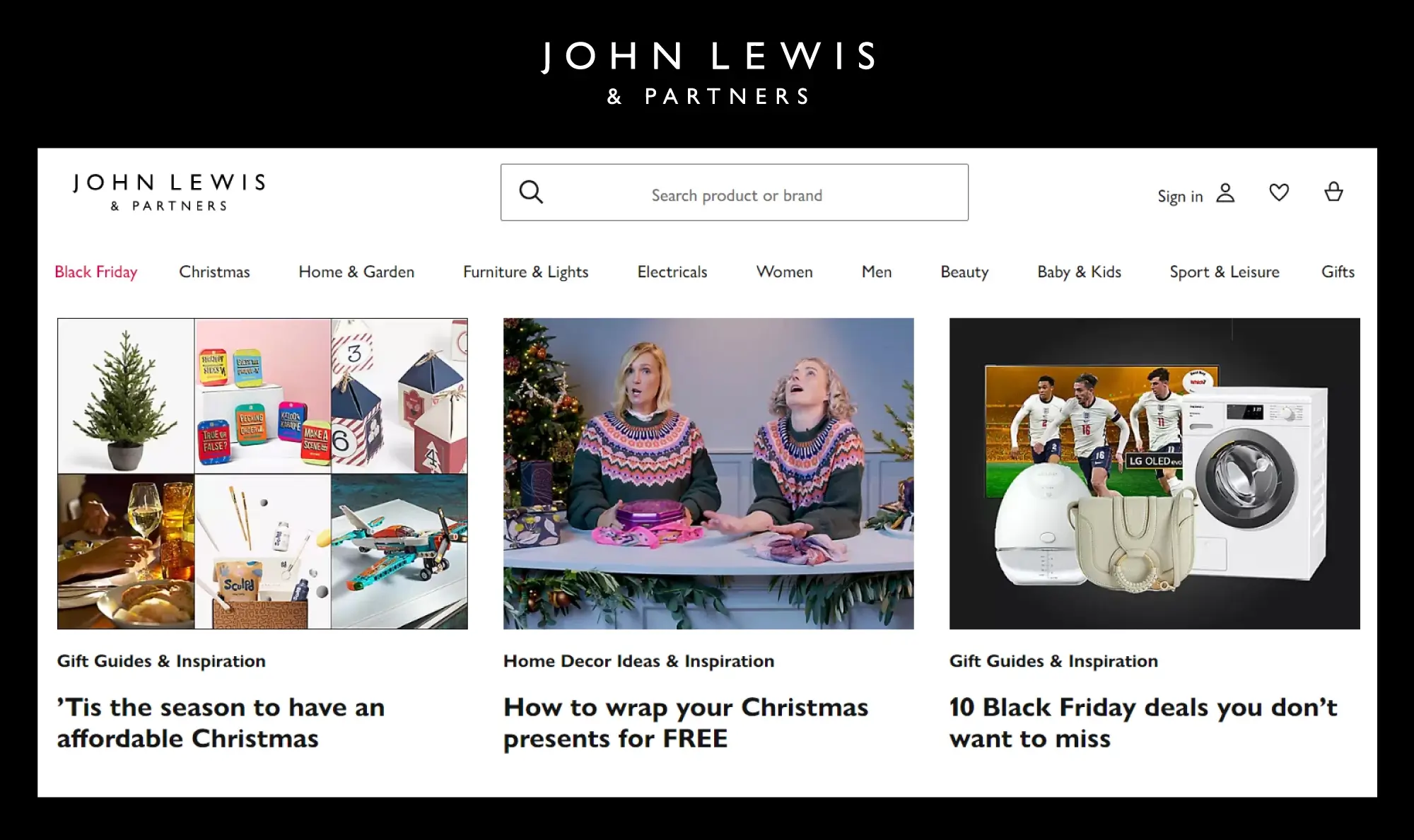 Source: John Lewis' Official Website
This holiday season, their blog posts revolved around thrifty yet "thoughtful Christmas gifts starting from £5," "Black Friday Deals for under £35," "25£ sustainable Christmas candles," men's wardrobe essentials, winter clothing lessons in layering, energy-efficient lights, and other product launches, etc.
11) Disney's The Gift
Disney has a noble vision to "inspire a better world through the power of storytelling." Its Christmas advert campaigns wonderfully substantiate that!
On November 2 this year, Disney UK released a 2-minute 5-second ad film on YouTube as the final chapter and third installation of #FromOurFamilyToYours, a story that began in 2020.
This Christmas advert focuses on Nicole's young daughter, who is worried and uneasy about welcoming a new member to her family. The video highlights how Nicole, due to her pregnancy, cannot participate or play with her daughter as she used to, and the little girl is visibly upset with her mother's sudden negligence toward her. But there's a compelling twist in the situation. Her elder brother always fills in the gap for her mother and ensures she isn't afraid in the dark as he responsibly hands down his Mickey toy plushie. Even when the family decorates the Christmas tree, Nicole drops an Olaf-inscribed snow globe. But his son saves the day and catches the snow globe, bringing the smile back to her sister's face.
In the conclusive scene,
Nicole and her husband introduce their newborn to their family, the little girl approaches the cradle anxiously. She finds an adorable baby boy, but he is crying. Quickly realizing that she is now the elder sister to the baby, she hugs her Mickey toy for one last time and passes it on to him with love. Thus, "the gift" of caring for someone younger than you is a blissful experience. This video ad has surpassed 5 million views on YouTube so far and has been taking viewers on an emotional roller coaster ride.
Moreover, Disney has claimed to commit support "worth more than $4m to its long-term charity partner, Make-A-Wish® International, and its network of affiliates around the world." This initiative adds a noble cause to its Christmas campaign, carving out a heartening trajectory for its brand and positively impacting the minds of its target audience.
12) Apple's Let the Holidays be a Gift to all!
"Shop early for the best selection of holiday favorites. Shop now," Apple begins with a clear and bold CTA in its email newsletter, designed like a catalog with costs mentioned below the product images.

Source: Really Good Emails
Their eclectic collection comprises iPhones, silicon cases, leather key rings, air tags, gift cards, air pods, and Apple watches to safe chargers. The branched illustration increases comprehensibility and helps customers decide the best gifts for their dear ones without overhauling their budget plans. The holiday-exclusive services at the bottom, with a defined CTA for each, adds to the beauty of this newsletter.
For more content ideas and to get your holiday season marketing strategies to yield good sales – follow us daily.
See you next time!
Achieve your digital marketing goals