Small Business Saturday: 11 Must Try Marketing Ideas to Boost Your Holiday Sales
By Shrananda Raj Gautam
•
November 14, 2022
•
19 mins read
Small Business Saturday is just around the corner, and it's the perfect opportunity for local small businesses to shine and attract eager shoppers. In the world of retail giants and online marketplaces, this special day celebrates the heart and soul of communities—small businesses. If you're a small business owner, you don't want to miss out on this chance to dazzle your customers.
To help you stand out and make the most of this Small Business Saturday, we've compiled 11 creative and effective marketing ideas that will make your business the talk of the town. But first know,
What is the significance of online marketing for small businesses, especially during Small Business Saturday?
Broader Audience Reach
The global digital advertising and marketing market was estimated at $350 billion in 2020 and is projected to reach $786.2 billion by 2026.
Higher Conversion Rates
It increases conversion rates for the average website by 6% to 12%, turning potential customers into actual buyers.
Cost-Efficient
63% of businesses have increased their digital marketing budgets just this past year. Online marketing is cost-effective since it's free, and you can complement it with paid advertising for added impact.
Mobile Accessibility
With around 92.1% of people browsing the internet via smartphones, online marketing provides an easy and effective way to reach them.
Brand Awareness
88% of consumers say authenticity is important when deciding what brands they like and support.
What is Small Business Saturday?
Small Business Saturday is an annual event designed to inspire consumers to support local businesses, both in-person and online. This initiative occurs each November during the post-Thanksgiving weekend, presenting a valuable chance for local small businesses to boost their sales, especially during the busy holiday shopping season.
Initially introduced by American Express in 2010, Small Business Saturday was conceived as a response to the economic challenges that followed the 2008 financial crisis. The idea was to shine a spotlight on local small businesses and their importance in the community.
When is Small Business Saturday?
This year, Small Business Saturday is set for November 25th.
It always falls on the Saturday following Black Friday and occurs just before Cyber Monday. This strategic timing is designed to tap into the fact that consumers will have money left after their Black Friday shopping spree that will be spent by this shopping event.
11 Small Business Saturday Marketing Ideas to Stand Out this Holiday Season!
#1 Optimize Your Small Business Website
Keeping your small business website in tip-top condition is crucial, especially if you're selling things online. Ensure your website is optimized before Small Business Saturday rolls around. Being online and connecting with potential customers has been a game-changer for businesses and it's going to stay important during the holiday season and beyond.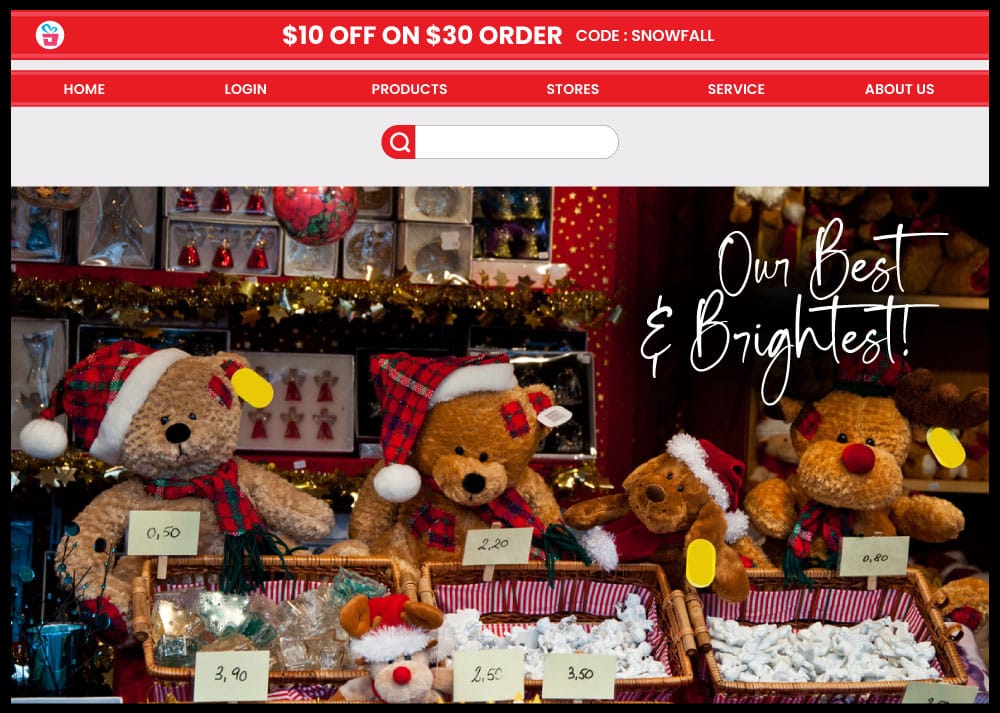 So, what does this mean for your small business marketing campaign? It means keeping your website updated whenever you're adding any new products or services, and making sure all the information is accurate. Also, ensure that your website looks and works well on smartphones and tablets because many people shop on their mobile devices.
According to a study conducted by the Pew Research Center, 76% of adults in the United States now prefer the convenience of shopping online through their smartphones. In comparison, a few individuals, 69%, opt for making their purchases via traditional desktop or laptop computers. This data underscores the significant shift towards mobile commerce in the consumer landscape, highlighting the growing reliance on smartphones as a primary platform for online shopping during the holiday season.
A user-friendly, mobile-friendly website will help you reach more customers and make their shopping experience a breeze. This way, you can set your business up for success during the holiday season and beyond.
#2 Own Your Small Business Identity
During the holiday season, it's vital to keep in mind that customers have a natural inclination to support small businesses. So, take every opportunity to showcase your small business identity throughout the holiday season. Share the heartfelt story of how and why you embarked on your entrepreneurial journey. Keep your customers engaged with your active participation in local holiday events and initiatives. Highlight what makes your products or services unique and extra special. Don't be shy about underlining what sets you apart from the larger retail chains – this is the essence of your small business brand story which will complement your overall holiday marketing campaign.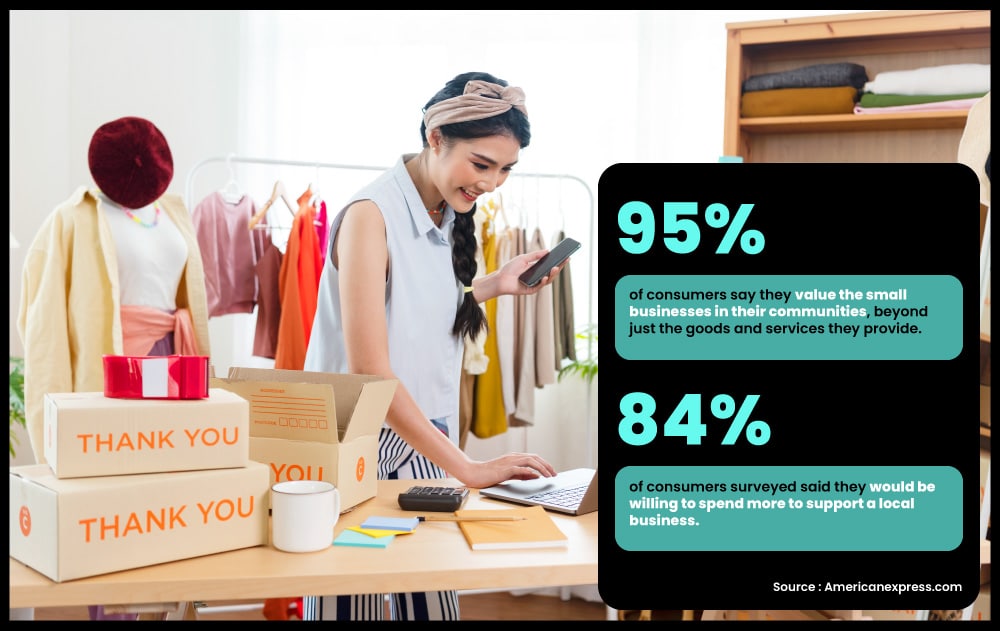 To effectively use your brand's story to attract more customers, you first need to illustrate it. In general, your brand story is what you are. It's a combination of three major parts:
The people who run your business and what they believe in.
The reason your business exists or the issue it's trying to help customers with.
How you connect with your customers and the way you treat them.
By articulating your brand story, you create a compelling narrative that resonates with your audience, ultimately helping you connect with more customers and increase your Small Business Saturday sales this holiday season.
#3 Adjust Your Website SEO Plan
Search engine optimization (SEO) is a big deal for local small businesses. It's like a map that helps people find your website and know what you're all about. If your SEO isn't good, you won't show up much when people search for things, and that means fewer sales.
This year, with many folks shopping online, website SEO is even more crucial. A lot of your sales will depend on it.
To boost your chances of popping up in search results:
Optimize Blog Posts with Relevant Keywords
Ensure your holiday marketing strategy includes optimizing your blog posts that matter to your customers during this festive season. By aligning your content with popular holiday search terms, you'll attract more visitors to your website.
Craft Holiday-Themed Blog Content
Create engaging blog posts that offer valuable information tailored to your customers' holiday needs. Write about holiday-related topics, products, and services to capture the festive spirit. This will not only boost your website's visibility but also enhance your customers' holiday experience.
Create Festive Promotional Content
Incorporate holiday-centric promotional content into your marketing strategy. Highlight special deals, discounts, and promotions that resonate with your target audience during the holiday season. Use popular holiday keywords to make your offers more discoverable.
Improve Local SEO for Your Shop Small Event
Ensure your business location is well-optimized for local holiday shoppers. Leverage Google My Business and local SEO practices, including keywords like "near me," "local holiday shopping," and "holiday deals near me." This will help your small business appear prominently in search results and attract customers in your community during the shop small season.
These steps will help more people discover your business online.
#4 Set Personalized Email Marketing Campaigns
Email marketing is a great way to reach your target audience, informing them how your business is participating in Small Business Saturday. Consider creating such emails for a personalized touch. Additionally, you can also consider adding pictures of your products or services to give a real-time view of what to expect when shopping from your business.
Moreover, a personalized email enhances the customer experience significantly. Emails that feature personalized subject lines have a 26% higher chance of being opened. They are more relevant and tailored, especially if they are about offers or discounts (even upcoming sales) that concern a person's interests.
To generate high-quality Personalized Holiday Email Campaigns:
Know Your Audience
Start by accumulating comprehensive data about your target audience. The more you understand their preferences and behaviors, the better you can tailor your holiday emails to resonate with them.
Compelling Content
Ensure your small business email content is not just informative but also easy to read. Keep it relevant to your audience's interests and strategically incorporate compelling holiday offers to grab their attention.
Influential Segmentation
Divide your Small Business Saturday email list into segments based on relevant criteria. This enables you to send more personalized and targeted messages. Automation can help streamline this process.
Responsive Design
Your email design should adapt seamlessly to various devices, including smartphones and tablets. This ensures that your message looks good and is easily readable on any screen.
Social Media Integration
Connect your Small Business Saturday email campaigns with your social media platforms. This integration can enhance your reach and engagement, as well as provide more touchpoints with your audience.
#5 Customers Want Options to Pay Their Way
When it comes to Small Business Saturday online shopping, meeting the wishes of customers is a big deal. "Customers Want Options" means that we should give people lots of different ways to pay when they buy things online. Some folks like to use credit cards, others prefer debit cards, and some find it handy to pay for things later. It's all about making sure everyone can choose how they want to pay.
Imagine you're in a restaurant, and you get to pick your favorite dish from a menu with lots of options. It's kind of like that, but with payment methods. When we offer various payment choices like credit cards, debit cards, and "pay later" options, it makes the online shopping experience much smoother and more convenient.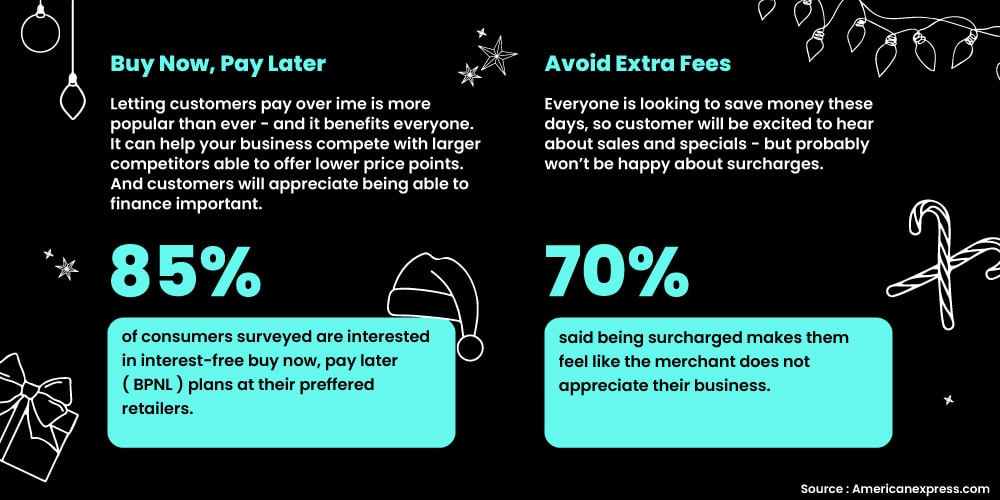 This flexibility makes customers happier, and it builds their trust in Small Business Saturday online shopping. They know they can shop the way that suits them best, and that's a win-win for both shoppers and businesses.
#6 Offer Irresistible Discounts, Coupons or Freebies
Creating a standout offer is a vital component of Small Business Saturday's success. To ensure your offer captures your audience's attention, follow these key steps:
Start by considering your target audience and what would genuinely appeal to them. Reflect on what your store is renowned for and any past successful promotions.
Whatever offer you choose, it must be something your business can feasibly fulfill. Honesty and reliability are essential.
Compelling Discount/ Offer Ideas for Small Business Ideas: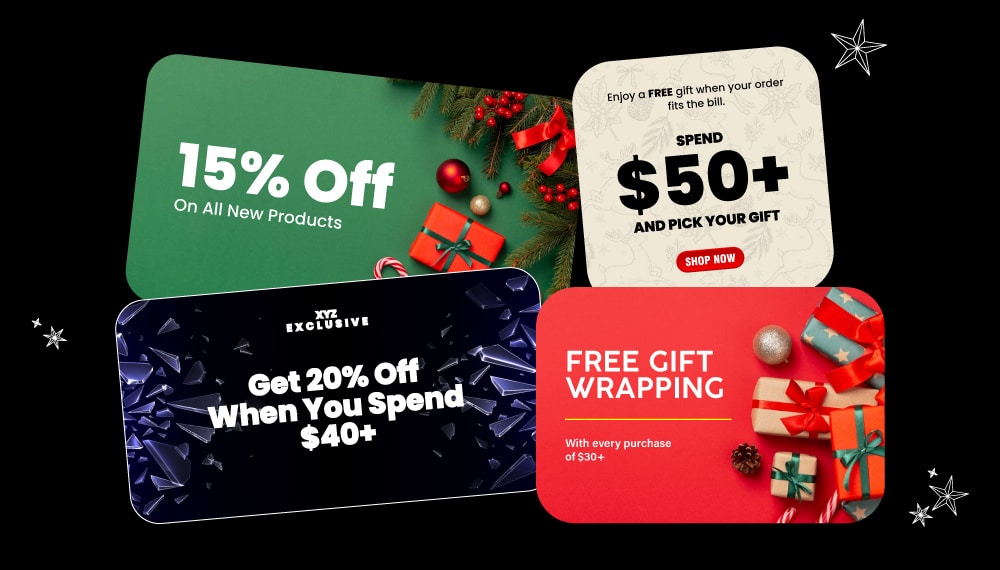 15% Off All New Items
Attract shoppers with a 15% discount on all new products, encouraging them to explore your latest arrivals.
Gift with Purchase
Encourage larger transactions by providing a free gift with any purchase over $50, incentivizing customers to spend more.
Savings on Future Purchases
Offer a 20% discount on the next purchase when customers spend $40 or more, fostering repeat business and customer loyalty.
Free Gift Wrapping
Simplify the holiday season for your customers by offering free gift-wrapping services, making their Small Business Saturday shopping experience hassle-free.
You can enhance your Small Business Saturday sales with the implementation of the exclusive holiday marketing strategy, by seamlessly integrating the above-mentioned discount coupons into your promotional campaign.
#7 Use Social Media to Promote Your Small Business
Social media has integrated itself into our lives seamlessly. It is estimated that nearly 54% of social media users are female, while the remaining 46% are male in the US. Moreover, by continuously updating and evolving social media algorithms, local small businesses can create value-rich content for the holiday season marketing and reach a wider audience effectively.
While leveraging social media is a great idea, be sure to customize them to meet your business intent.
View this post on Instagram
3 Super Quick Ways to Incorporate Social Media Marketing with Small Business Saturday Marketing:
Strategic Planning
Prepare well in advance to ensure you have a series of engaging posts leading up to Small Business Saturday. Share your brand story and unique offerings. For instance, consider collaborating with complementary businesses to offer special discounts, like a home store partnering with a furniture brand for savings on their products.
Hashtag Magic
Boost your brand visibility by using small business-related hashtags on a variety of posts. This makes it easier for potential customers to discover your content and join in on the Small Business Saturday excitement.
Tease and Excite
Generate buzz by providing sneak peeks and insights into how your business is gearing up for the big day. Teasers about special offers, new products, or exclusive events can pique your audience's interest and anticipation.
#8 Partner Up with Other Businesses on Small Business Saturday
Take a moment to survey your local small business landscape. Are there neighboring establishments that provide products or services that complement your offerings? For example, do you own a wine shop near a cheese store or a boat trip company close to an outdoor gear retailer?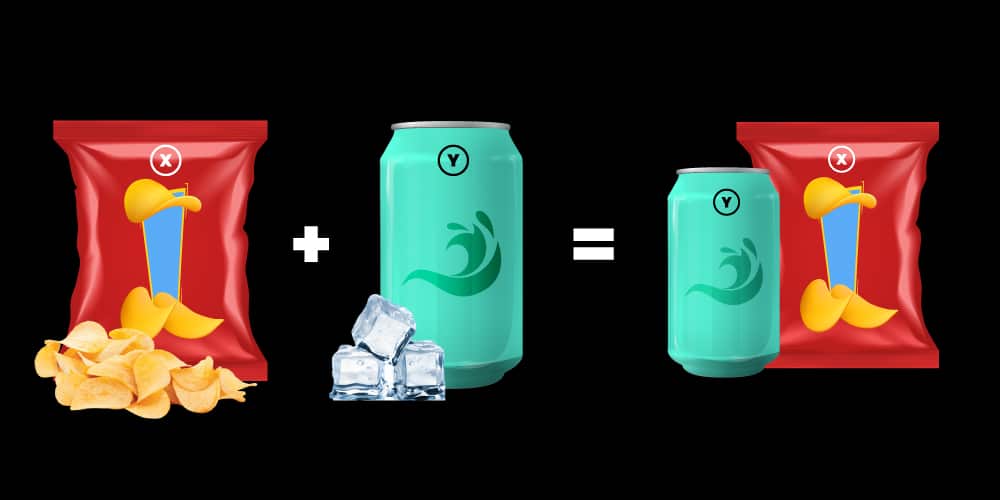 In the above image, the collaboration between "Brand X" and "Brand Y" on Shop Small Season can help these brands increase their visibility, attract more customers, and create a positive impact on the local small business community. By working together, they can leverage their strengths to make this special day even more successful for small businesses and their own brands.
If you find such synergies, consider forming partnerships for Small Business Saturday. The possibilities are exciting:
Joint Discounts
Offer special discounts when customers shop at both businesses. This encourages cross-shopping and enhances the value for your patrons.
Product Bundles
Create enticing product bundles that combine your items with those from your partner business. This can be an irresistible deal for your customers.
Crossover Events
Organize unique events, like wine tastings at the cheese store or outdoor gear demos during a visit to your boat trip company. This not only adds fun to the Small Business Saturday online shopping experience but also fosters a sense of community.
By collaborating with nearby small business owners, you not only unlock fresh opportunities for Small Business Saturday but also cultivate valuable relationships in your local community.
#9 Invest in Paid Advertising
Investing in paid advertising can have a transformative impact on your Small Business Saturday marketing campaign success. It works wonders by driving potential customers to your doorstep whenever they make a relevant online search.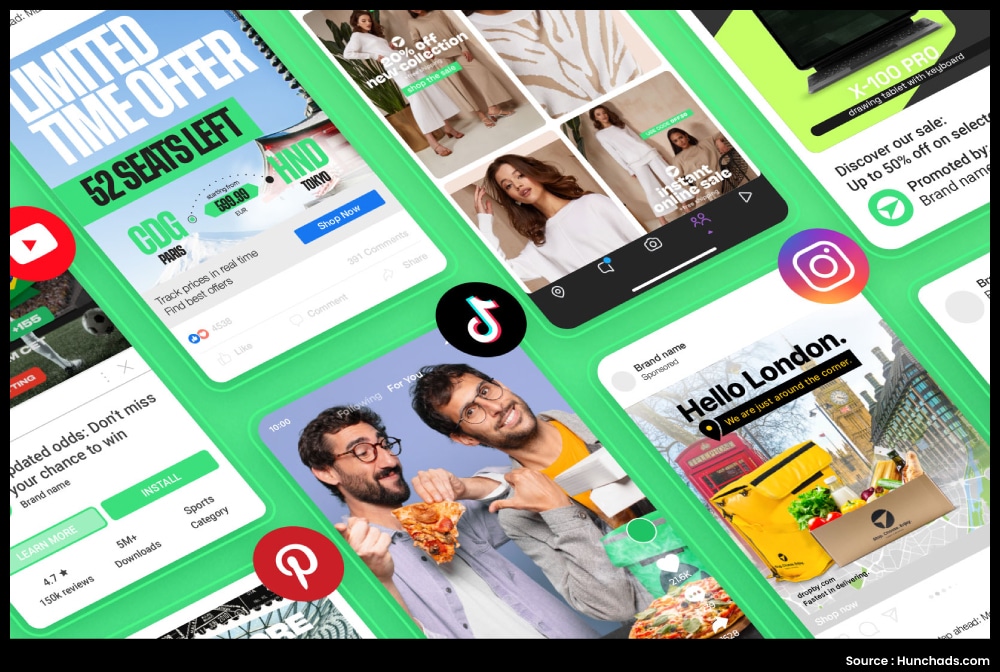 This holiday marketing strategy is not only effective on its own but also greatly complements your organic marketing efforts. Even if your business doesn't have a website, there are options available. You can verify your business as a Business Profile on Google My Business and utilize Smart campaigns on Google Ads to effectively reach your target audience.
#10 Do Giveaways and Run Contests with Relevant Hashtags
Small Business Saturday is an amazing opportunity to make more sales than usual. Consider rolling out giveaways, and coupon campaigns and running online contests, as they can be the catalyst to increasing engagement and traction online. Here are some holiday marketing strategies to consider:
How to Offer Giveaways on Small Business Saturday
Engage Your Audience
Interact with your followers and ask them about their holiday wishes or traditions, encouraging them to share their stories.
Prize Selection
Choose prizes that are in high demand during the holiday season, such as gift cards, festive hampers, or popular gadgets.
Entry Rules
Keep entry rules simple and clear to maximize participation. Utilize a hashtag like #HolidayGiveaway to help users discover your contest.
Promote Across Platforms
Share your giveaway on various social media platforms and your website to reach a broader audience.
How to Run Contests on Small Business Saturday
Theme and Creativity
Set a shop small theme for your contest that inspires participants to get creative. For example, a "Holiday Recipe Contest" or a "Best Decorated Home" competition.
Judging Criteria
Clearly define the criteria for judging entries, ensuring they are based on originality, quality, and adherence to the theme.
Hashtags and Tagging
Encourage participants to use relevant holiday hashtags like #FestiveContest and tag your brand in their submissions to increase visibility.
Prizes and Recognition
Offer attractive prizes and acknowledge the winners through shoutouts, blog features, or interviews, showcasing the best entries on your social media platforms.
Engagement Boost
Don't forget to acknowledge and give shout-outs to giveaway winners. This not only recognizes their loyalty but also fosters further engagement and excitement within your customer community.
#11 Keep the Momentum Going
Even though Small Business Saturday can be tiring, don't forget how important it is to follow up during the week after the event.
A simple thank-you message can make a big difference and it won't take much time. Depending on how many pictures you took, you could create an album on Facebook or choose the best one to share with your followers.
Keep your message simple, like this: "Thanks to everyone who came to #ShopSmall this Saturday. We appreciate your support and hope to see you again soon!"
Also, add the new email subscribers you got to your list and send a quick email. In any follow-up message you send, your goal should be to remind your customers about their great experience with you and encourage them to visit again soon. Include a picture to make the thank-you more personal and offer something that will bring people back to your store before the year ends.
Why will Early Planning be Beneficial for Your Small Business?
Aside from the eleventh-hour rush, here is why you need to prepare for this day well in advance:
You will have time to research and experiment with the type of content you wish to generate
Selectively pick products that are in demand (trending) and have higher chances of getting sold (for example, during Christmas people, are often looking for Christmas-themed gifting items/services, so stocking on them will draw more Small Business Saturday sales)
Craft a social media campaign strategy and automate it
Process data to understand what other brands are doing and how you can compete (competitive research for the holiday season)
Conduct A/B testing to check what is working and what is not
Remember to create an enjoyable Small Business Saturday online shopping experience.
Make the Most of Small Business Saturday With Impactful Marketing
Small Business Saturday was initially started by American Express; it has now evolved into an annual tradition to show support to local businesses. It has great significance in the US as the day celebrates and recognizes homegrown brands.
The event gives local small businesses plenty of opportunities to form customer relationships, generate ROI, and establish brand awareness. By being online during this time of the year, your brand can drive traffic and leads from a wider demography. This is essentially important for local brands that are ambitious and are always looking for opportunities to grow!
Importance of Having a Small Business Saturday Marketing Strategy
It's a great chance to offer special deals to attract more customers.
People like to support small businesses on this day, so you can make more sales.
It's a perfect time to try out new ideas on social media to reach more people.
You can make everything fit your business's style and brand.
Using both free and paid advertising can help get more people to your store and increase your Small Business Saturday sales
How Mastoke Can Help You?
Being online can be a big plus for small businesses. It helps people find you easily when they search for a business like yours. You can also create special marketing campaigns for holidays that bring more customers.
However, because more and more businesses are going online, it can be tough to make your small business really noticeable. The competition is getting stronger every day.
That is where Mastroke can help create power-packed and foolproof Small Business Saturday marketing strategies for your online growth. Are you ready to maximize your Small Business Saturday potential? Let's get started on your journey to success!
Achieve your digital marketing goals