9 Brilliant Holiday Social Media Campaign Ideas
By Manjari Shreya
•
October 27, 2022
•
12 mins read
The holiday season is upon us! Everyone is ready to shop and celebrate quality time with their family and friends. So it is also a great time for businesses online from a sales and growth perspective. So naturally, you are bound to see tempting shopping deals and holiday ads everywhere.
As people save all year long to enjoy this time together, businesses are also working round the clock to bring the best offers and discounts for their customers. Special discounts and offers are an instant recipe to turn them into loyal customers despite the plethora of options available.
Therefore, while planning strategies for your holiday marketing, opting for social media campaigns can be the key to setting yourself ahead of your competition.
Holiday social media campaigns are a great way to put your business out there and capture the attention of shoppers online. Additionally, having a strong content strategy for your social media campaigns can create brand awareness, improve client retention, and drive traffic & sales.
Why Leverage Holiday Social Media Campaigns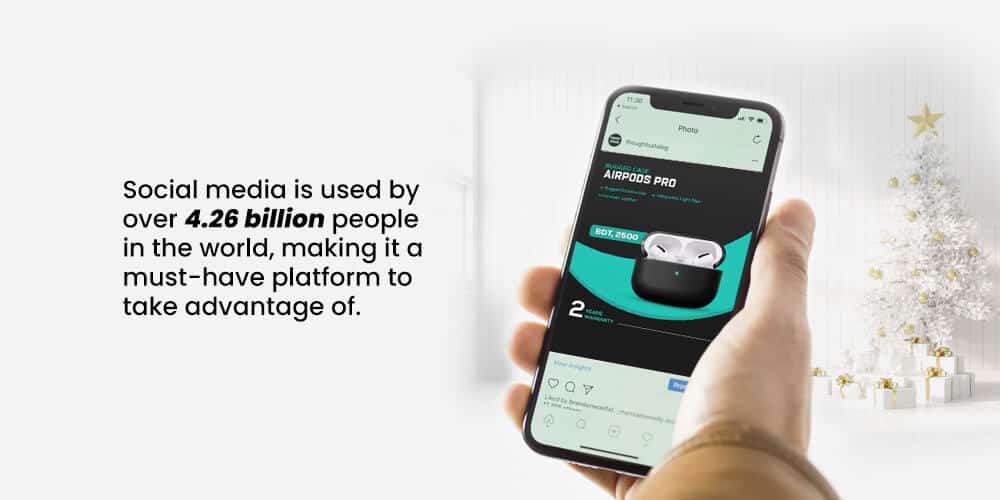 An estimated 45% of online users turn to social media when they are in the process of making a decision. This makes having a holiday social media strategy crucial. Social media is used by over 4.26 billion people in the world and nowadays these platforms have a wide range of features offered that can be leveraged by businesses all over.
Moreover, with social media you can give sneak peeks at how your brand is preparing for the holiday marketing campaign. Because people prefer brands that engage with their audience and do not just throw advertisements at them. And as many people turn to social media to get gift ideas, offering valuable holiday-exclusive products can result in an instant purchase.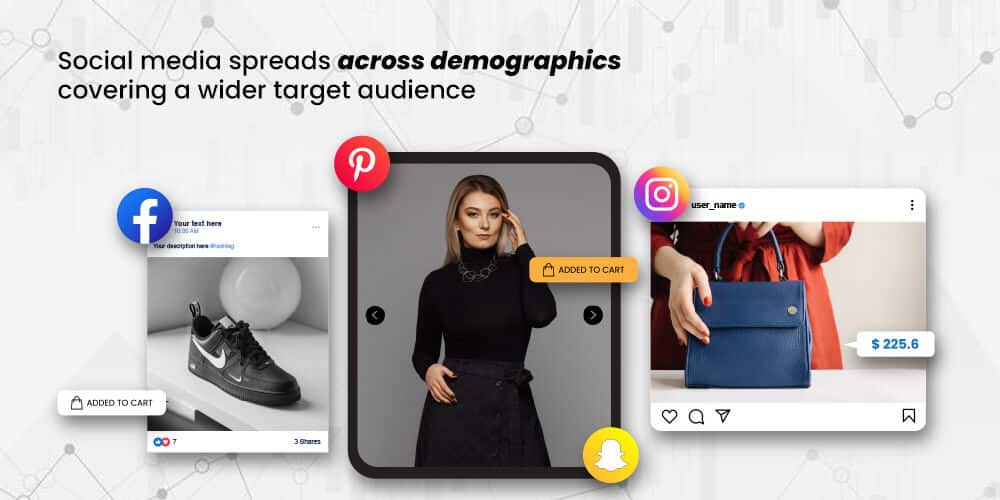 Know that social media has an existing pool of users who are constantly following, liking, commenting, and sharing content. This eliminates the time spent constructing a strategy for reaching your target audience and capturing their attention. The prime focus thus becomes creating an effective holiday social media campaign that draws traffic, and revenue while offering a pleasant shopping experience.
To achieve this, focus on providing value-based holiday-specific content that can include gifting ideas, holiday-focused blogs, video content, and even promotional content. Regular social media posting of the brand leaves a footprint on the buyer's mind that plays a positive role when it comes down to making a buying decision.
9 Brilliant Holiday Social Media Campaign Ideas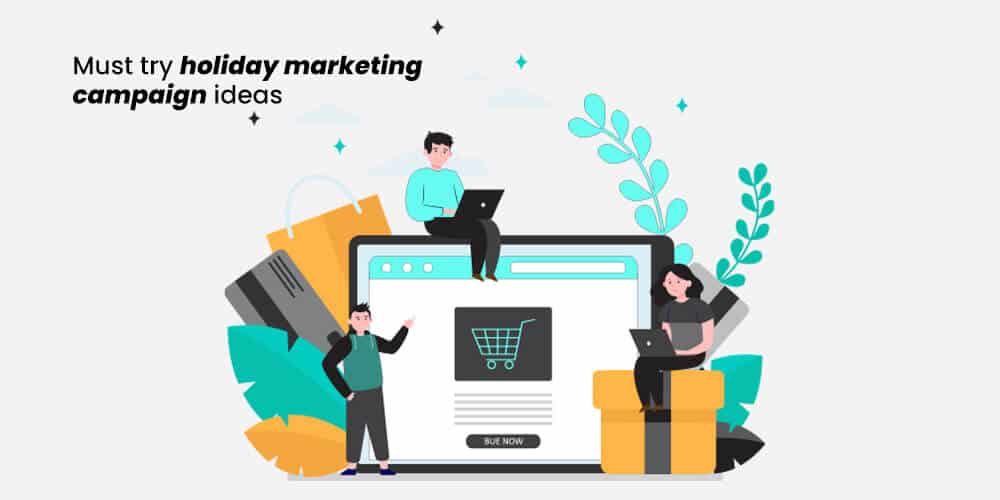 1. Center a social media theme around the holidays:
Creating a content calendar and centering it around the holidays not only entices people to check what your brand has to offer but is also a great opportunity to introduce new products or services. Planning well in advance is the key to maintaining uninterrupted consistency.
A theme shows what a brand does at a glance, so just by incorporating the holiday theme in your marketing, you can show that your brand is in-sync with current market demands. To achieve this, make a list of holidays that are relevant to your brand and brainstorm on the type of posts that can be made.
The aim is to attract people so they engage with your social media content and make a buying decision when the time comes.
For example: Walmart during Christmas updated its Facebook cover picture to focus on the Christmas holidays, highlighting free store pickup and delivery.
2. Optimize the content to fit the holiday season:
Devote a quarter of the year to creating holiday-related content. But make sure you are not overdoing it. From adding an element of holiday to reels, carousels, and even video posts, aim at transitioning into the holiday season seamlessly. Capture the essence of the holidays and show consumers how your brand fits in.
While doing so, keep links easy to find for a pleasant browsing experience.
For example, when making use of the story feature on platforms like Facebook and Instagram, consider embedding a direct shopping link so consumers can check the items from there. Similarly, when posting product images, consider adding shopping tags.
3. Plan giveaways and engage with your audience:
Freebies and giveaways can make anyone happy and make them want to stay updated with what your brand is offering. The holiday season is the best time to do a giveaway as it promotes brand recognition and encourages people to buy more in the future.
Since people are already in a giving mood, a giveaway from a brand draws more appreciation. Moreover, a giveaway contest can boost your social media engagement during the holidays. This traction can show up in form of comments, tagging, and sharing of content.
Note: You do not always have to do a product giveaway. Consider a coupon giveaway where you can share a coupon discount code with the winner and they get to avail of the discount within a set timeline. If you are a service-based business, consider offering holiday bundle discounts to encourage bookings.
4. Run special holiday discount offers to attract your customers:
Holidays are the perfect time to introduce never-seen-before offers, especially on items that are usually not on sale. Such offers create a fear of missing out and encourage people to buy a product or service available at a discounted rate. Additionally, platforms like Facebook Ads and Google Ads can be used to run holiday ads to further reach a wider audience.
While doing so, ensure the prime focus is on creating a sense of urgency highlighting that the deal is for a limited time and it might not return anytime soon. People tend to make big purchases and such discounts are highly appreciated by them. So not only a brand is gaining revenue but also a consideration for any future purchases.
5. Create campaign-specific hashtags and feature customer-shared content:
Featuring consumer-generated content is the ultimate proof of authenticity and credibility. But receiving such huge traction in messages can get difficult to manage and keep a track of. In fact, some messages may even go unnoticed. A highly practical and tangible solution is to create a campaign-specific hashtag.
Here's how to choose your campaign hashtag:
Make sure it is unique to your brand only and has never been used before
Ensure the hashtag is clear and easy to understand
Avoid putting together more than 3 words
Write it in Title case for easier understanding
Avoid making the hashtag entirely about your brand
Avoid coming up with hashtags that use slang/profanity or are morally incorrect
Make your hashtag simple, authentic, and catchy
6. Create a sense of urgency:
Creating a sense of urgency works wonders with seasonal offers as they can be used for a limited period of time and be taken down at will. As they are not directly linked to the website, a brand need not spend time and effort changing existing website content to match the offers they are running.
7. Create video content giving a sneak peek into your company culture:
Video content is consumed for about 84 minutes per day globally. This number opens endless possibilities for brands to showcase their line of products or services in an interactive manner.
For example, if you are a house cleaning business, consider posting videos showcasing how your brand's cleaning services prepare the house for guests. Adding any special discount rates or bundles can help too.
Such content not only provides information but also addresses a common problem while offering solutions.
8. Organic and paid ads for a 'best of both worlds' experience:
While organic posting should be on the calendar, paid holiday ads can support your organic campaign to gain more traction.
Through paid marketing, a brand can re-target, re-engage and convert leads from a wider demographic.
Special discount codes and offers can do the trick here. Paid advertising also reminds people, who might have forgotten, about your range of services and products. By showcasing their products/services in line with the festive season, brands can make the best of festive advertising.
9. Partner with a charity or non-profit organization:
Holidays are not the same for everyone. With a brand partnering with a charity or non-profit organization, not only do they come across as a conscious and caring brand, but this move also makes it possible for someone to experience the true joy of holidays while keeping their circumstances aside for a moment.
This can be done by creating a special fundraiser or donating a small portion of the sales to a charity organization or to an NGO. By doing so, not only a brand makes a special place for itself in heart of those in need but showcases how the brand fosters a sense of community.
For example, You can collaborate with any local non-profit organization or can choose to volunteer for your nearest NGO. Alternatively, you may also consider organizing free workshops. Additionally, encourage your customers to donate to a good cause through your promotional deals. Also, consider sharing pictures and videos from the event on your social media channels using a dedicated hashtag and location tag.
The Importance of Holiday Social Media Campaigns in Your Holiday Marketing Strategy
Holiday marketing is about implementing holiday-themed strategies in your marketing plan to attract your consumers using various platforms whether it is a website, social, or email. But before moving forward with any strategy, as a business owner, you need to ask the most important question – 'why'.
To make it simple, we have compiled a list of reasons why holiday social media campaigns are incredibly important for your business:
1. Shopping has become an important part of the holiday season:
Holiday shopping has become a new way to express love, and care towards family and friends. Unlike traditions that involved singing, dancing, and making merry, shopping has emerged as a less time-consuming and more fulfilling alternative.
2. Customer-centric marketing brings better results:
Holiday marketing is about gaining the attention of your target audience. And with the holiday season around the corner, it can seem difficult to achieve since many brands are also competing for the audience's attention. Holiday marketing calls for witty and creative ideas that strike a chord with the audience and convert into a buying decision.
3. Benefits the customer as well as the brands:
Holiday social media campaigns are rewarding for your customers as it helps them easily make a buying decision. It also helps them save more with holiday exclusive discounts. This in return results in generating sales and ROI for your business. Moreover, giving holiday or seasonal discounts also adds to reputation.
4. Makes the brand more value-based:
A value-based brand is more positively perceived as it aligns with the common beliefs and personal values of people. This makes the brand more memorable and gives an advantage over other competitors. Being able to adapt and be able to serve your customers is a reflection of a brand's care for its customers' needs.
Recipe for Creating the Best Holiday Social Media Campaigns
Social media is rapidly expanding and with more people turning to it for gifting ideas, the latest offers, discount updates, and even holiday decoration ideas, it is the best place to kickstart your holiday social media campaigns.
The benefits of doing so include:
It helps improve brand awareness while showcasing what the brand is offering during the holiday season
Increasing peak season engagement
Promote conversions as people are already on the lookout for the best offers
Showcasing exceptional consideration for customer service
While your brand can be constantly working towards delivering a seamless shopping experience to your customers, being a value-based brand can turn the tables. Be sure to capture the essence of emotions involved when it comes to shopping for the holiday season, the spirit of being around family and friends, the joy of spending time with them, and the magnitude of appreciation gifts can show.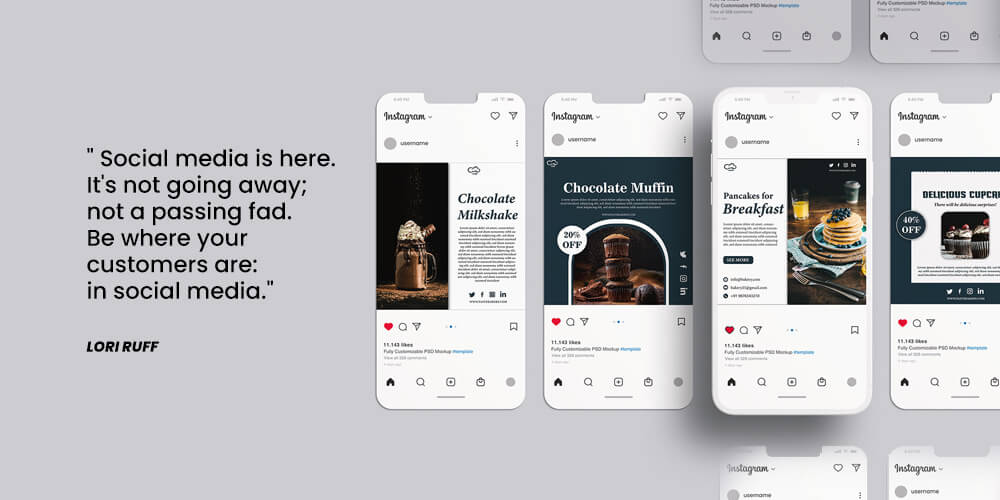 With approximately 90% of people on Instagram following a business account, keeping your posts around products can be a huge boon. Additionally, around 50% of Instagram users visit a business website they follow on the platform.
So if your brand specializes in products that are holiday-specific, be sure to post them all around your social media. For products that are not holiday-specific, consider using quick photography to set them around the holiday theme.
It is important that when you are featuring product photography, include purchase-related information. This information includes how and where the customers can buy the featured items from.
If you are looking to magnify your holiday social media campaign strategies and corresponding results, Mastroke can help by taking care of your holiday marketing needs. This way, you can focus on delivering exceptional products/services to your customers while we work wonders online to bring you unprecedented growth!
Achieve your digital marketing goals