11 Social Media Trends That Will Define 2023
By Rohit Sharma
•
April 25, 2023
•
15 mins read
The social media trends in 2023 depict that this is the year when brands will embrace a new approach to managing their relationship with consumers.
By actively listening to their audiences and leveraging immersive consumer insights, brands will focus on getting closer to their communities. This effort to build relationships will lead to greater success for both the brand and the consumer.
How Trends Are Born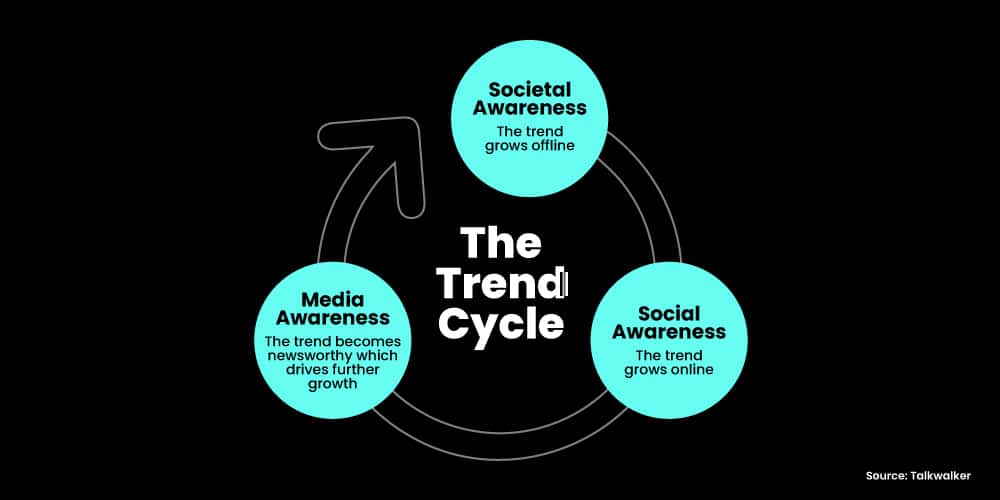 Macro-Trends often influence global trends in
1. Cultural Influences
Various factors, such as art, music, politics, and social movements, can influence social media trends. Streetwear became a trend due to the influence of hip-hop and street culture. At the same time, sustainable and eco-friendly products emerged due to the growing concern for the environment and the need to reduce the ecological footprint, influenced by social and political movements.
2. Technological Advancements
As technology evolves quickly, it leads to new products and ideas, giving rise to new social media trends. For example, the emergence of social media platforms and influencers has resulted in a trend of promoting products and services on Instagram and other social networks.
To benefit from trends, brands should jump on them early by listening to their audience, identifying emerging trends, and joining the conversation as soon as possible. Those who are quick to adopt new trends are more likely to succeed.
Social media trends 2023
I. Companies Will Engage In Customer Care On Social Media
II. Brands Will Focus On Building Communities
III. More AI-Enabled Content Creation
IV. Multi-Sensory Social Media
V. Several Brands Will Experiment With Metaverse Experiences
VI. Consumers And Brands Will Unite For Impactful Environmental Change
VII. Predictive Analytics Will Be On The Rise
VIII. Brand Transparency And Authenticity
IX. "Edutainment" Content Will Take Over
X. Employee Advocacy Is The Future
XI. BeReal Will Be A Turning Point For Brands
I. Companies Will Engage In Customer Care On Social Media
Approximately 1 out of 5 people from Gen Z, Millennial, and Gen X age groups have used social media to talk to a brand for customer service in the last three months.
The same report also mentions that 76% of marketers have said that their companies already provide customer service through social media. Since social media is becoming increasingly popular for shopping, businesses plan to continue using it to engage with their customers.
In 2023, you can expect more businesses to create support channels specifically for social media, ensuring that customers get quick and efficient responses regardless of which social media platform they use.
How brands are using this trend
Tips to Connect with Consumers on Social Media
Set up a dedicated handle for social media customer support
Set up brand monitoring using Social Media Tools
Set up Social Media Guidelines
Respond QUICKLY- be proactive
Have a robust Protocol for escalations
Keep templates ready for frequently asked questions
Try a Chatbot to offer a 24*7 service
Pick the proper channels- Brands mostly use Twitter & Facebook
II. Brands Will Focus On Building Communities
Marketers have realized that having a large social media following alone is not enough. For long-term success, building an engaged community is vital.
This shift is a response to the changes in consumer behavior that have emerged in the aftermath of the pandemic.
As a result, brands now aim to build broader brand communities using as they:
Allow them to understand their consumers and their unique ecosystems better.
Result in brand advocates who help them reduce their marketing costs.
Why are communities important?
According to 90% of social media marketers, building an online community is crucial for success in 2023. This approach offers several advantages:
Online communities help people engage with your brand.
Engaging with a community brings users closer to your brand.
Communities increase your brand's visibility on the platform.
They attract more potential customers to your profiles.
Communities create a welcoming and engaged environment for your followers.
They also help build brand loyalty and affinity.
Communities encourage members to share their own stories, inspiring connections and action.
Having an active community can help build trust in your brand.
Communities can attract more followers and lead to higher retention rates.
How brands are using this social media trend
Gymshark values its community and affectionately calls it the "FAM."
This group of fitness enthusiasts plays a critical role in the brand's success by creating and sharing content about fitness on social media, which helps to keep the brand alive and thriving.
III. More AI-Enabled Content Creation
AI is changing how we use the internet, especially on social media.
For example, AI helps us get personalized recommendations and moderates content and ads. One such tool is- Lately, which uses AI to create content for social media based on what you've posted before.
Additionally, AI-powered tools like DALL-E, Midjourney, and Stable Diffusion can create visual content for social media.
These tools have made it easier for social media marketers to create content that looks good and is engaging.
As AI technology advances, it will offer greater value to social media marketing by providing more innovative tools to enhance the overall social media experience.
How brands are using this trend
While other brands use existing AI technologies for their marketing, Coca-Cola did something different.
They built their own AI platform with the help of OpenAI and Bain & Company, exclusively for the brand.
How Marketers can use this social media trend
Marketers can use AI to generate ideas for social media campaigns and content calendars.
AI can also help you create attention-grabbing captions for social media posts.
Marketers can create Social media posts in multiple languages using AI.
You can get help with Technical writing and product copy
Headlines, taglines, and descriptions for social media ads can be written using AI
Personalised responses to customer inquiries and comments on social media can be generated
IV. Multi-Sensory Social Media
As we approach an era of the "Internet of senses," there will be a greater focus on delivering content in various formats to create a more accessible experience for audiences.
According to Talkwalker, multi-sensory social media will be a trend in 2023.
This means that brands will incorporate different formats on social media channels, such as audio, video, and text, to provide engaging experiences for social media users.
Brands will invest in creating sensory elements, from gamification to fully immersive digital environments, as consumers expect these to become mainstream by 2030.
How brands are using this trend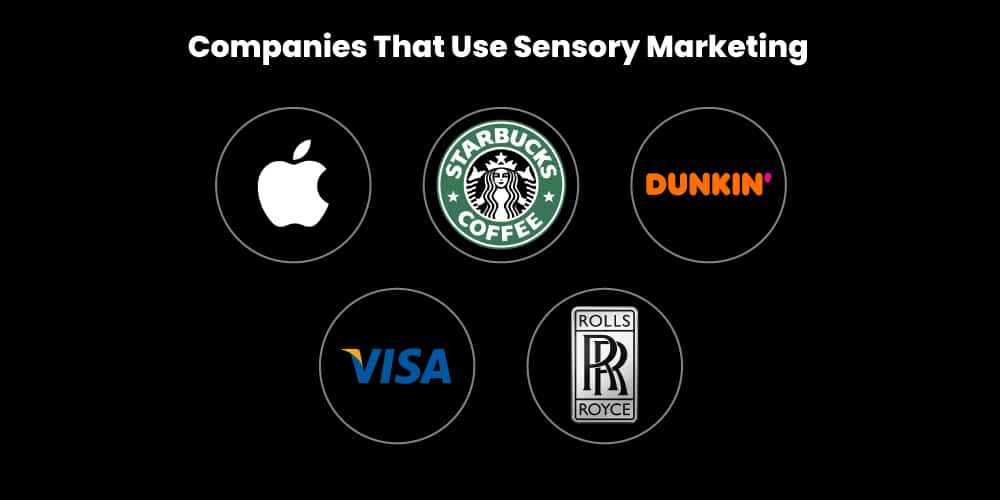 Dunkin Donuts is a prime example of sensory marketing and how it can influence consumer behavior.
Dunkin Donuts has successfully incorporated sensory elements into its brand by strategically using packaging, colors, and a recognizable jingle.
How you can use this social media trend
1. Target Emotions
Capture your audience's attention by appealing to their emotions immediately.
You can take inspiration from Airbnb's highly influential "Belong Anywhere" campaign, which establishes a powerful connection with its target audience.
2. Use Sound
Incorporate sound into your marketing efforts by creating jingles, music, etc.
The "Like a good neighbor…" jingle by State Farm is an excellent example of a memorable tune that stays with you.
3. Use Visually Appealing Designs
To enhance your brand's visual appeal, ensure your company website has an attractive, visually pleasing design that resonates with your customers.
Alternatively, consider hiring a professional graphic designer to create visually engaging and aesthetically appealing graphics for your social media or advertising campaigns.
V. Several Brands Will Experiment With Metaverse Experiences
In 2023, experts predict that the metaverse will become more commonplace in our daily social media experience. This includes consumers trying out avatars, virtual reality (VR), augmented reality (AR), virtual stores, and non-fungible tokens (NFTs).
As more tech giants like Facebook, Microsoft, and Tencent enter the metaverse arena, the potential market size could reach $800 billion.
How brands are using this trend
Nike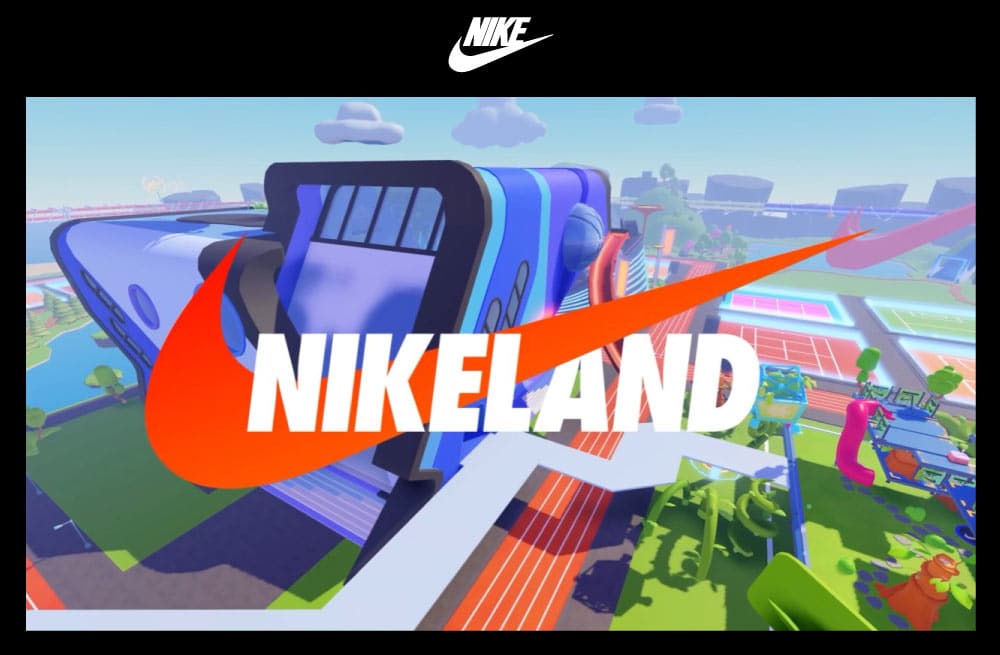 Nike launched NIKELAND in November 2021, an interactive world where visitors can play mini-games and engage in a sporty lifestyle. NIKELAND is hosted on Roblox, a popular metaverse platform that offers immersive experiences. By expanding its market to the digital space, NIKE can engage more people with its products and services.
Samsung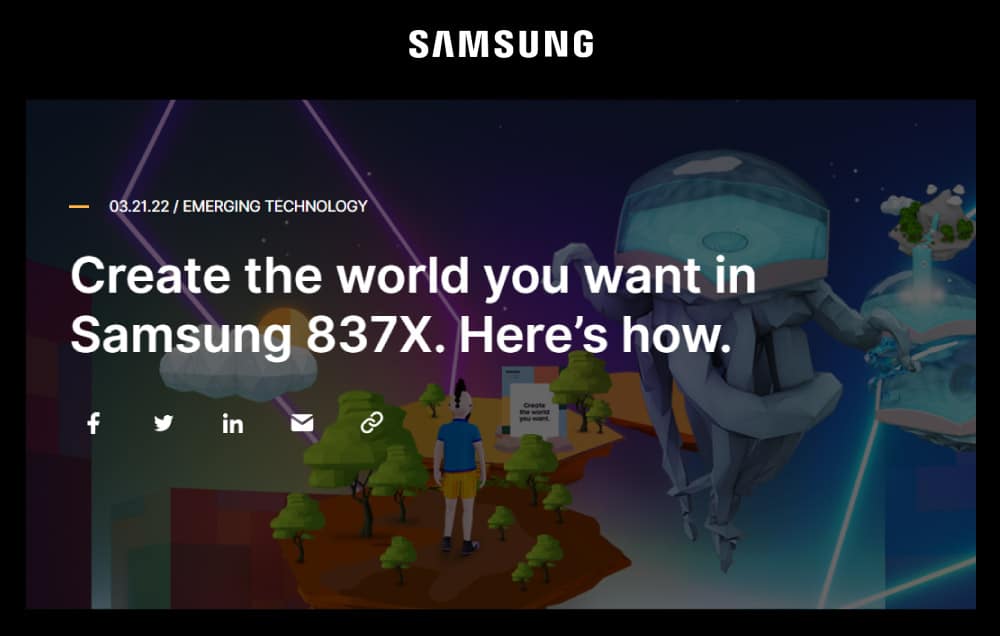 Samsung launched its first Metaverse store in January 2022 on Decentraland. Since its launch, the store has welcomed over 120,000 customers, indicating a strong interest in the metaverse from Samsung's customers.
How you can use this social media trend
There are two popular marketing tactics for the metaverse.
One is brand partnerships, where brands can create experiences on popular gaming platforms such as Decentraland, Sandbox, Roblox, or Epic Games.
The other is self-hosted experiences, where brands can host their own metaverse experiences on their website, app, or even a theme park like Disney to have more control over the experience.
VI. Consumers And Brands Will Unite For Impactful Environmental Change
The COVID-19 pandemic has led to a rise in public concern about environmental sustainability.
And as a result, social media has emerged as an influential tool for brands and consumers to come together and create impactful change.
Research shows that 75% of people are now more likely to adopt eco-friendly habits after watching sustainability content on social media.
This social media trend will continue to grow and allow brands & consumers to unite and make a positive environmental impact.
How brands leverage this trend
Every product carbon neutral by 2030 | Apple
Apple aims to be carbon neutral in all aspects of its business, including manufacturing, supply chain, and product life cycle, by 2030.
Currently, Apple has already achieved carbon neutrality for its global corporate operations.
This new goal means that every Apple device sold by 2030 will not impact the climate.
How you can use this social media trend
More than posting about your CSR efforts, encouraging users to take action is required on Social Media.
Be consistent, but don't be pushy. Create a good content mix for your social media feed. Be a thought leader & an advocate for change.
Use storytelling to weave a narrative so people can relate to it and are eager to learn more on your social media channels.
Humanize your brand to deepen the public's understanding of your actions.
Partner with or support a Non-Profit Organization to promote and bring about a positive change.
VII. Predictive Analytics Will Be On The Rise
Predictive analytics market to exceed US$44.3 Billion By 2030.
This growth trend reflects the increasing demand for predictive insights, data-driven decision-making, and the growing availability of powerful analytical tools and platforms.
Predictive analytics has become popular among marketers and social media professionals, with mentions up 20% since January 2022.
Social listening allows big data to be easily accessed, and now AI capabilities are catching up to provide accurate predictions. Predictive analytics has the potential to offer valuable insights into future trends, topics, and campaigns, helping professionals understand how they will evolve.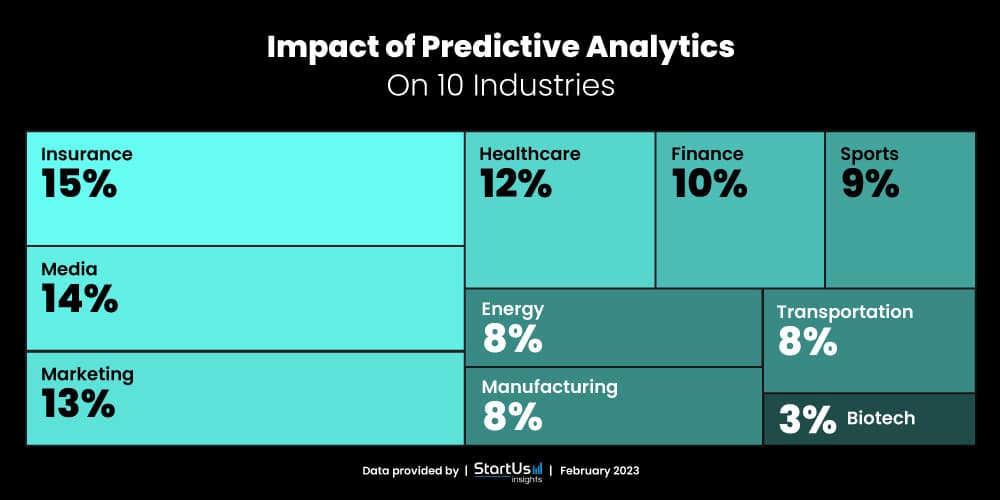 VIII. Brand Transparency And Authenticity
As the digital world grows and changes, consumers make more informed choices seeking transparency and trustworthiness from companies they do business with.
The abundance of information readily available online empowers consumers to compare and evaluate brands based on factors such as reviews and offerings, which makes building trust with target audiences crucial to retaining sales.
Experts predict that in 2023, consumers will continue to demand authenticity and transparency from businesses, particularly on social media.
Companies must take a public stance on ethical values and behaviors and promote a socially responsible image to establish customer credibility.
Leaders who are honest about their intentions, acknowledge their mistakes, and credit their team for success will also garner consumer appreciation. Whether you are a small business owner or a corporate leader, creating an authentic brand identity that aligns with your values, tone, and personality is essential for building customer trust online and in person.
How brands use this trend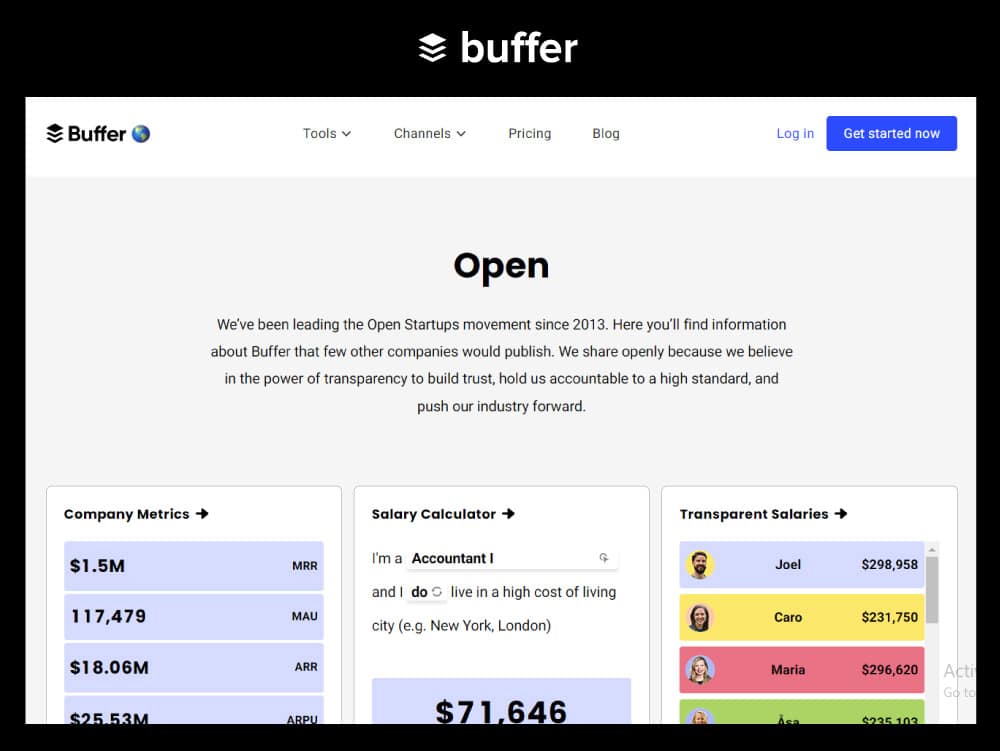 Buffer, a tool for managing social networks, is known for being very transparent about its operations, contributing to its success. The company shares everything on its blog called Open Culture.
This includes their plans for the future, diversity statistics, how much they give to charity, and details of employee perks and benefits. Buffer also created a stir when they published the salary of every employee on their website.
IX. "Edutainment" Content Will Take Over
Businesses have realized the value of creating entertaining and informative content in specific industries. However, in 2023, everyone is predicted to jump on board.
For instance, fintech companies successfully created valuable and entertaining content last year.
Short-form videos' increasing popularity creates the perfect environment for fun facts, tutorials, and explainers to flourish on social media. This is why educational content is on the minds of most marketers who are partnering with content creators.
Brands Leveraging the Power of Edutainment Content
Adam Ruins Everything – How College Loans Got So Evil
The "Adam Ruins Everything" show is about busting myths and clearing misunderstandings.
Their videos take complicated or confusing ideas and make them easy for almost anyone to understand.
On top of all that, their videos are also fun to watch! They keep you engaged with entertainment, so when the video ends, you'll have learned something new without even realizing it.
X. Employee Advocacy Is The Future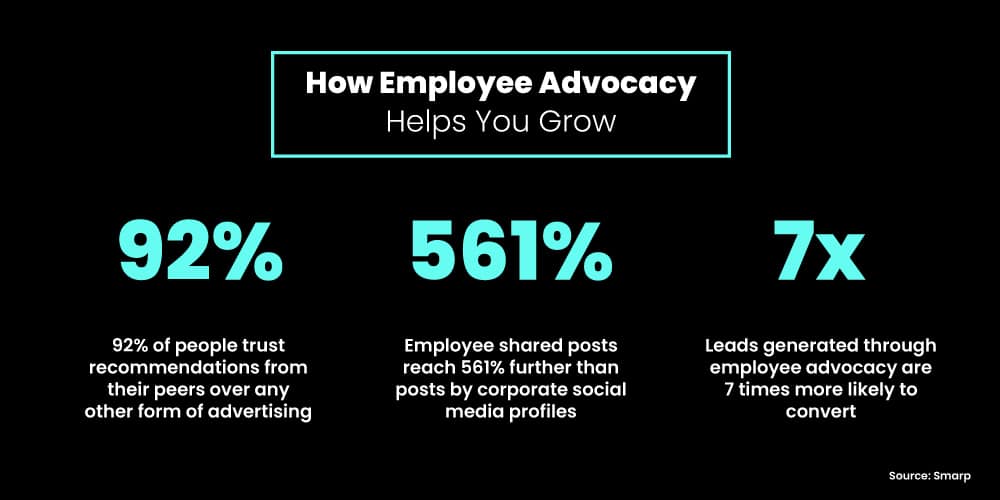 People trust people.
They connect with people.
They form relationships with people.
Relationships are based on trust.
And people tend to connect more easily with other people than with faceless corporations.
That's where employee advocacy comes in. Involving real people with personalities can make your brand more relatable and trustworthy. Not only that, but a network of advocates can significantly increase your social media reach and engagement.
According to Gartner, 90% of B2B social media marketing strategies will incorporate scaled employee advocacy programs by 2023. So, if you want to keep up with social media trends and stay ahead of the competition, embracing this approach is essential.
How to Start Your Employee Advocacy Program
1. Build a Positive Workspace
Create a positive workplace to make your employees happy and motivated about the company's goals. When your employees enjoy working for your company, they will likely share their positive experiences with others.
2. Get your leaders on board
The way company leaders and department heads behave affects the whole team. If they support your program by using it themselves, their positive attitude can inspire employees to do the same.
3. Set Goals and KPIs
Link your employee advocacy goals to the performance indicators of essential departments, such as the number of social media shares and top-performing employees.
4. Build Your Employee Advocacy Group
Create a team of employees to initiate your employee advocacy efforts on social media.
5. Have a social media policy
Establish guidelines for employees regarding what they can and cannot share on social media.
XI. BeReal Will Be A Turning Point For Brands
BeReal gained significant popularity as a social media trend in 2022, pleasing users while leaving marketers puzzled.
The app's main appeal lies in its community aspect, which allows users to stay connected with friends and share daily updates.
Another popular feature is "Memories," which enables users to revisit their past posts and relive their experiences. This is particularly useful since everyday photos, such as homework assignments, screenshots, and random pictures, can accumulate quickly and drown out cherished memories.
As of April 2023, BeReal has more than 10 million users who use the app daily. This is a significant increase from April 2022, when they had 2.93 million daily active users.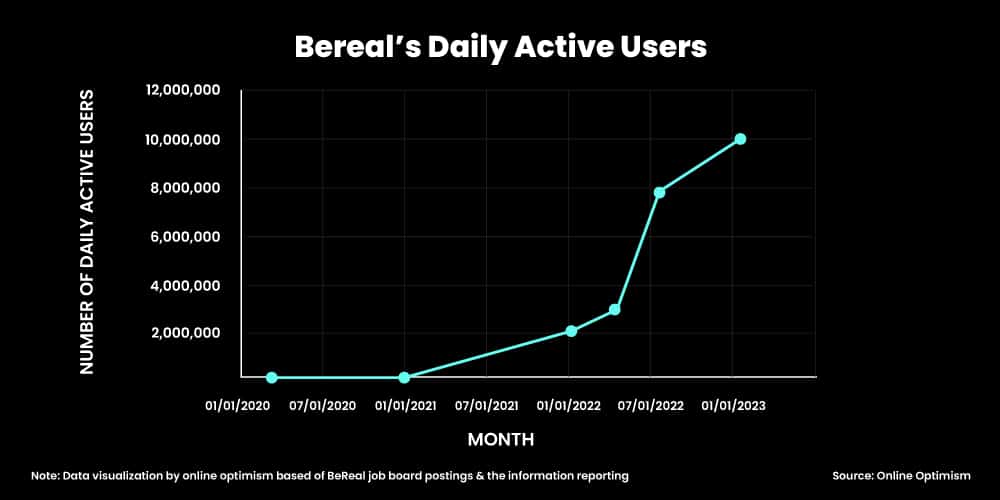 The future is uncertain, and BeReal might introduce brand advertising features in the upcoming months.
However, the most important thing is to identify what authenticity means for your brand and wholeheartedly embrace it.
Conclusion
As we step further into the digital age, social media is becoming an even more vital part of our daily lives.
It has revolutionized the way we communicate, connect, and consume information. The year 2023 will be an exciting time for social media, with several emerging trends that are likely to impact how we engage with social media platforms.
These social media trends will transform the social media landscape, providing businesses with new opportunities to engage with their audiences. Brands must remain adaptable and innovative to stay competitive and connect with their audiences meaningfully.
To fully leverage the potential of these social media trends, aligning your social media strategy with your business goals is essential.
This will help you make the most of the opportunities these trends present. If you require further guidance or assistance with aligning your strategy, don't hesitate to contact us. We're always here to help!
Achieve your digital marketing goals