5 Holiday Marketing Campaign Lessons That Boost Sales
By Rohit Sharma
•
November 28, 2022
•
10 mins read
The Holiday season is an excellent time for businesses to acquire new customers and drive repeat purchases through existing customers.
The best way to engage with new and existing customers is to launch Holiday Marketing Campaigns that convert.
According to, Statista, the holiday shopping season is the most significant economic stimulus for nations.
So, as customers gear up to empty their pockets, it is time for you to plan your Holiday Marketing Campaigns.
Here are five lessons to help your Holiday Marketing Campaigns stand out:
I. Gamification will keep customers engaged and drive repeat purchases
People love games.
Gamified content is visually appealing and highly addictive. Millennials and Gen-Z enjoy gamified content and are willing to engage with it often.
Gamification encourages users to use rewards and achievements to make them act on a specific action.
Gamification is often the most overlooked method of solving eCommerce challenges.
E-commerce businesses, irrespective of size, face specific challenges such as abandoned carts, acquiring loyalty, etc.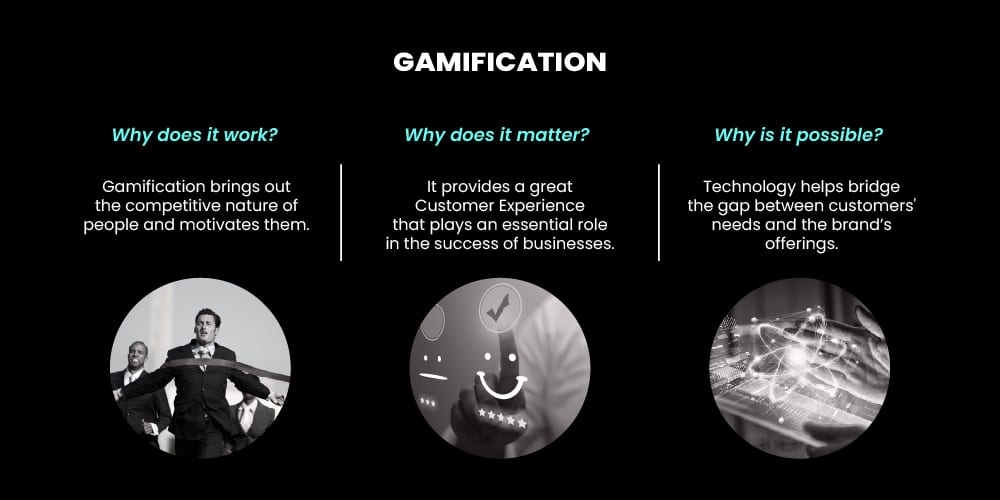 According to Boston Retail Partners, within the next five years, nine of ten retailers, which equals 87 percent, will apply gamification to engage their customers.
E-Commerce businesses face a lot of challenges during the Holiday Season. Some of the major challenges they faced are:
According to Baymard Institute, 69.99% is the average documented online shopping cart abandonment rate.
The shopping cart abandonment rate is an essential metric for eCommerce sites, as a high abandonment rate usually signals a poor user experience or a broken sales funnel. Reducing shopping cart abandonment can lead directly to more sales and revenue. This is why businesses need to optimize the check-out process for users.
Businesses earn loyalty by providing consistent value, engagement, and attention. However, there needs to be more connection between what marketers believe it takes to cultivate loyalty and what actions attract a loyal customer.
The customer loyalty challenge lies in a brand's ability to personalize the customer experience consistently in a high-quality way.
Engagement is the keyword. Make sure your gamification holiday marketing tactics encourage users to participate.
Engagement and customer experience matter so much that 88% of customers will pay more for a great customer experience.
Here are some examples of customer loyalty gamification for you:
1. Reward Linked Loyalty Programs
Setting up a points system where users can redeem points later as goodies or products can increase repeat purchases and improve loyalty.
One of the most well-known examples of a reward program is the Starbucks Loyalty program on their app. They reward you with points and badges every time you purchase a drink or snack using their app. Using points and badges to hand out rewards, such as free coffee, has proven to be a strategy that keeps the users returning for more.
2. Quizzes and Polls
You may create fun quizzes and polls based on your products that users can redeem in cash or kind.
Quizzes are a great way to acquire customer feedback and carry out A/B testing for your products.
This will help you increase customer engagement and establish a fun, enjoyable emotion of positive reinforcement between your product and customers.
3. Building communities
Building communities on social media channels, such as Facebook, Instagram, Twitter, etc., can be an effective strategy for your business.
Social Media channels are a great place for your existing and potential customers to interact and engage with your vision, products, etc. Heightened engagement on these channels can lead to an increase in social sharing and an increased brand awareness.
Look at gamifying the user experience in these communities. Nike is one brand that maximizes consumer engagement by letting players share their progress, invite other players to compete among themselves, etc.
Social communities work for two key reasons – they are fantastic for accessing and sharing information and giving your customers a sense of belonging. It becomes easy to forge and sustain relationships with your consumers.
Focus on gamifying the user experience. This will ensure customers engage with your programs and future updates. Including gamification in your holiday marketing strategies will add to increased customer satisfaction and gain repeat customers.
II. Simplicity will boost conversions
The holiday season can become quite stressful for customers as they have to think of ideal gifts for their family members and friends.
Your aim as a business should always be to:
Enhance the buyer's journey
Reduce the stress of your customers by providing simple solutions that help them make decisions
Enhancing the buyer's journey and reducing stress, especially during the holiday season, starts with simplifying the entire customer experience.
Simplicity has many facets. For some, it could mean having a "less is more" marketing mindset, offering price discounts, better customer service, etc.
Your job as a business is to identify what "simple" means for your brand.
If you want to prioritize simplicity throughout your customer journey, then you can start by asking yourself these questions:
How can I make it easier for my customers to understand what I'm offering?
How can I reach out to customers in their language and the time and place that is most accessible to them?
How can I make our pricing transparent and consistent for users?
How can I create offers that attract existing and new customers?
How can I create a frictionless purchase experience for users?
It is essential to know that no matter how valuable your content is, it can only attract customers if the design inspires them to take action.
Here are some tips to enhance your website design for a better customer experience: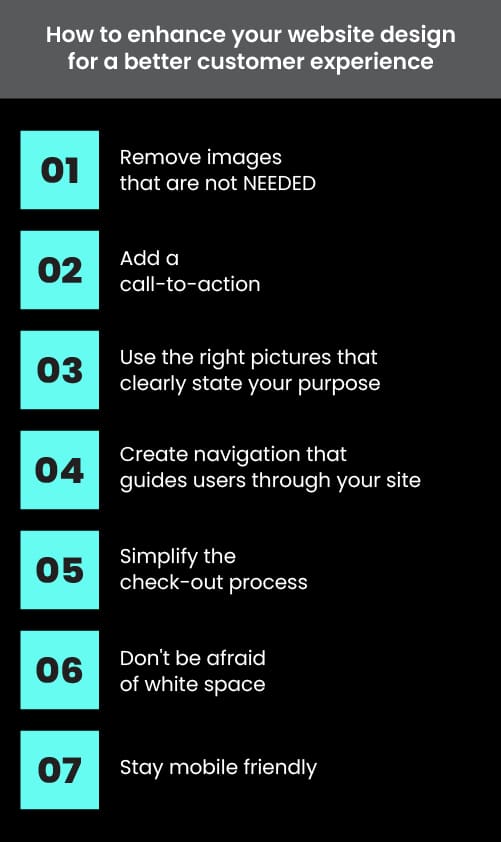 III. Planning in advance is key
Successful holiday marketing campaigns require strategic planning ahead of time.
Waiting until the last minute to plan your holiday marketing campaign could cost you a lot of money and might not bring desired results.
The first thing you want to do before you jump into your holiday marketing campaign is to map out a holiday marketing strategy.
You can use the following tips to create an effective Holiday Marketing Strategy: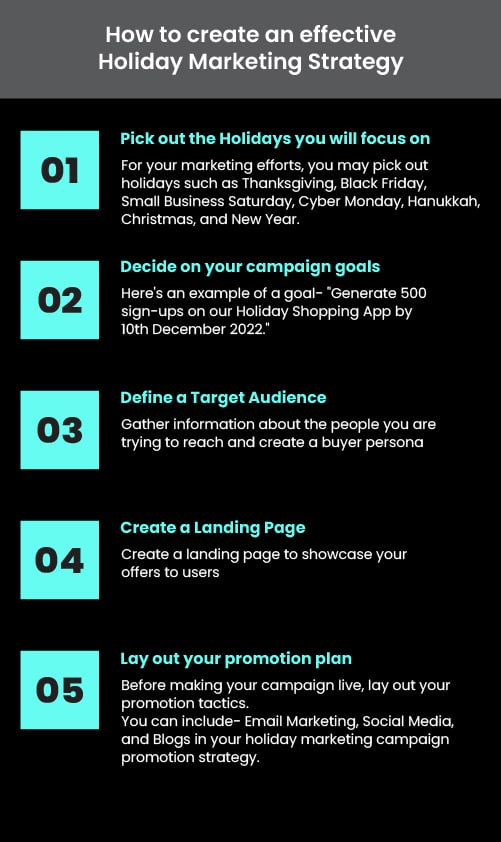 Pro tip: You can make the most of your holiday marketing by keeping the Holiday Marketing Trends in mind. This will help you stand out from your competitors, boost your sales and increase your revenue.
III. Providing value to customers brings results
64% of customers find ads to be annoying. And 615 million devices now use Adblock.
The above statement proves that customers are tired of traditional marketing and seek other ways to engage with the brands they want to shop with.
Well, if customers don't want to engage with ads, how do you reach out to them?
The solution lies in providing value through your marketing efforts.
Providing value in your marketing campaigns will help you put your customer first as it focuses on exceeding customer expectations by delivering more than they asked for with every interaction.
Here are three ways to add value to your marketing efforts:
a. Teach your customers something new
One of the best things you can do as a brand is to put yourself in your customer's shoes.
Since nobody knows your products better than you, you have everything you need to make yourself an expert with value-add marketing. By focusing on what's important to your customers and how you can help them get that with your brand, you start helping and stop selling.
You can help customers overcome obstacles and get more out of your brand by using the following communication channels.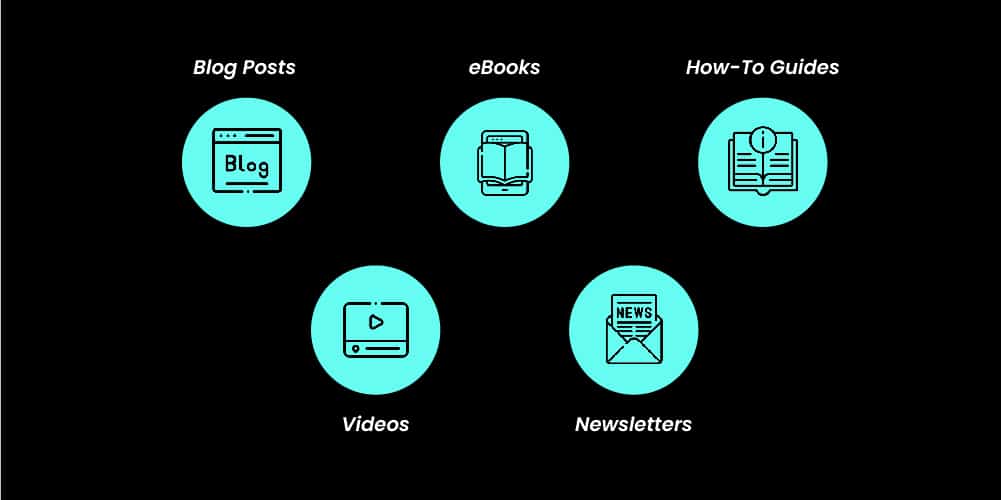 b. Enhance the onboarding experience
A positive customer onboarding experience will help them feel like they made the right choice.
Customers usually require some hand-holding during the onboarding process. Enhancing the onboarding experience will make them believe in you and help retain them in the long run.
Here are some tips for you to create a successful onboarding experience:
Have a greeting mail or a welcome message
Ensure the login setup is easy to navigate
Have an interactive walk-through that teaches your customer how to use the product to its full potential
Have a knowledge section that contains solutions to frequently asked questions
c. Offer rewards and discounts
We all love great sales promotions. Whether it is '30% off, 'Buy one & Get one free, or a 'Limited period offer', we are all suckers for good deals. The delight of buying something new plus the gratification of allowing us to save money is what makes sales promotions highly effective.
Loyalty programs can be one of the best ways to satisfy your customers.
They also provide valuable data such as name, contact information, shopping preferences, purchase history, etc.
Rewards and discount programs give customers a reason to return and encourage them to purchase again.
Here are five reward and discount ideas for you to include in your holiday marketing strategy:
i. Reward Loyal Customers with gift vouchers
ii. Use early bird discounts for new products
iii. Reward referrals from existing customers
iv. Retarget visitors with a custom offer
v. Offer free samples to test new products
IV. Offer excellent customer service
Make sure your customers know they matter.
Brands must focus on the little things that can make or break their customer experience. This can help save the valuable community members you might lose out on due to poor customer service provided.
To establish a significant emotional relationship with your customers, you must focus on their needs and provide excellent customer service.
Excellent customer service means following best practices like having a pleasant attitude towards customers, valuing customers' time, being quick with your responses, and providing valuable solutions to meet and sometimes even exceed their expectations.
Investing in delivering excellent customer service can provide long-term business success.
Here are five ways for you to deliver excellent customer service to your customers: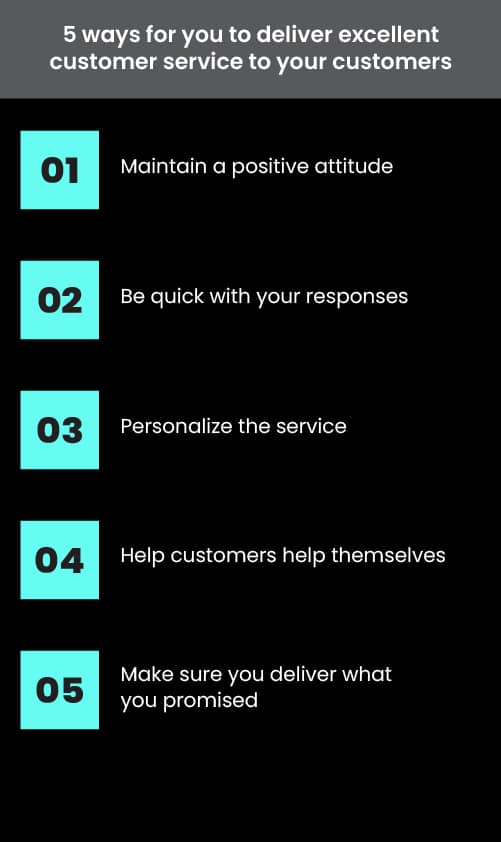 V. Optimize everything for mobile
Mobile accounts for 65% of all eCommerce traffic!
If you have yet to keep mobile at the core of your Holiday Marketing Strategy, it is time for you to adapt.
For your digital marketing strategy to succeed, you need to optimize all your marketing efforts for mobile. Mobile phones generate a tremendous amount of traffic and help create a personal channel between the business and the customers by offering plenty of options for personalization.
Mobile marketing can provide the extra push to your brand, as it is said that:
75.1% of users in the United States connect from their smartphones rather than desktops
Businesses can convert users easily by integrating mobile marketing into their strategies
The majority of customers search for holiday gift ideas from their smartphones. Small businesses can benefit from including mobile marketing in their strategy as it helps inform users where to make purchases from near them.
All in all, including mobile marketing in your holiday marketing plan, will boost traffic which can later convert into repeat customers.
Here are some tips for you to increase conversions with your holiday marketing campaigns for mobile devices: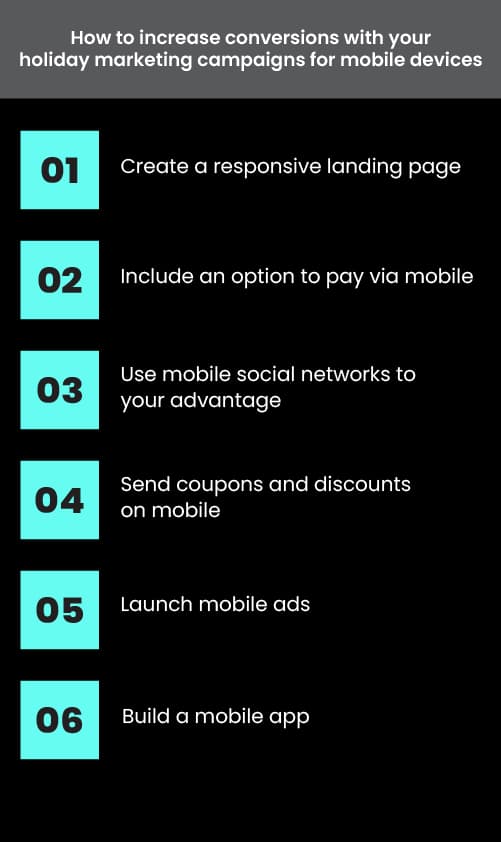 Conclusion
The holiday marketing lessons mentioned above clarify that marketing campaigns centered on holidays can produce excellent results for your business.
Make sure to plan your campaigns ahead of time and get them running early. This way, you can expect to have an incredibly successful holiday season.
If you are running behind on your holiday marketing planning this season, don't worry, we are here to help you. Just reach out to us here, and we will happily provide the guidance you need to make the most out of your holiday season.
Achieve your digital marketing goals