7 Holiday Season Trends For E-Commerce Businesses
By Avitanshi Srivastava
•
November 17, 2022
•
17 mins read
7 Holiday Season Trends Every E-Commerce Business Needs to Look For
Holiday E-Commerce Trends: Everything You Need to Know
Knock, Knock! The most exciting time of the year has arrived! Well, it can be true for friends and families, but it is the busiest time of the year for businesses. Because this is when people spend the most money, you need to ensure you're prepared for the rush. So, to help you get ready, we've compiled a list of some popular holiday season trends that every e-commerce business should look for before planning its holiday strategy.
And why should you look out for these holiday season trends before creating your holiday marketing plan?
The holidays are a crucial time for businesses to generate profits and reach their annual sales goals. And with so many people looking for gifts and deals online, ensuring that your business is equipped for the influx of traffic and orders is vital.
And in order to ensure that, your holiday marketing strategy must be planned keeping in mind the latest holiday trends so that you can create a successful holiday campaign that would resonate with your customers. It will help you make the most of the holiday season and maximize your revenue.
Because no matter what business you are in, with the help of these holiday season trends in your marketing plan, you can succeed your competitors, gain more customers and earn better profits. So, check out the article below and get started on your holiday preparations with these holiday trends as you plan for a successful holiday season!
Some Major Holiday Season Forecasts and Predictions for 2022
The holiday season is finally here, which means it's time to give some serious thought to your e-commerce business's holiday strategy. And like any other marketing strategy, your holiday strategy would be incomplete if it missed out on these holiday season trends this festive season.
So, fret not; we have got you covered! Here are some of the most popular holiday season statistics, forecasts, and predictions that you need to look for:
1) Global 'digital foot traffic' outside of China – measured as mobile sessions during Q4 2022 – is set to surpass 450 billion mobile shopping app visits this holiday season, up nearly 22% YoY. Including China, that number jumps to nearly 850 billion sessions, +15% YoY. – from data.ai
Takeaway: This means that having a mobile strategy this holiday season will be critical for retailers and e-commerce businesses to hit growth metrics and win over their customers.
2) 31% of consumers are aware of those that are less fortunate and want to be charitable. 27% of consumers plan to donate more than they did last year. And 31% of consumers plan to make non-cash gifts like donating products to a food bank or toys to a charity campaign. – from Accenture
Takeaway: Collaborate with charities, volunteer, and donate. Involve your customers as shoppers prefer brands that are humanized in nature. It also increases brand loyalty because consumers feel good about contributing to a bigger cause than just their purchase.
3) Consumers are reprioritizing where their money is being spent. They are spreading their spend across the season, but they are also leveraging the major Cyber Weekdays to maximize buying power on strong discount days. – from Adobe
Takeaway: Compared to previous years, shoppers are now spreading their holiday spending across the season to find better deals, so instead of focusing on major holidays, businesses should provide better offers and discounts for the entire holiday season.
4) According to Salesforce, online spending will remain large. They have predicted that online sales in November and December will reach $1.12 trillion worldwide and $265 billion in the U.S. – from Salesforce
Takeaway: Businesses need to gear up with a robust online strategy for the holiday season. For example, email marketing, blogging, social media, and google ads are some of the online marketing strategies which they can utilize for their benefit.
5) A recent consumer survey by Gartner revealed an interesting finding that nearly half (48%) of consumers will start to shop in October or November this holiday season, with 16% of consumers now shopping year-round for holiday gifts. – from Gartner
Takeaway: To ensure you become a preferred choice of your customers, instead of bombarding them during the holiday season, establish yourself as a brand that offers year-round deals and gift ideas. That brand image will make them more inclined towards opting for you during the holiday season.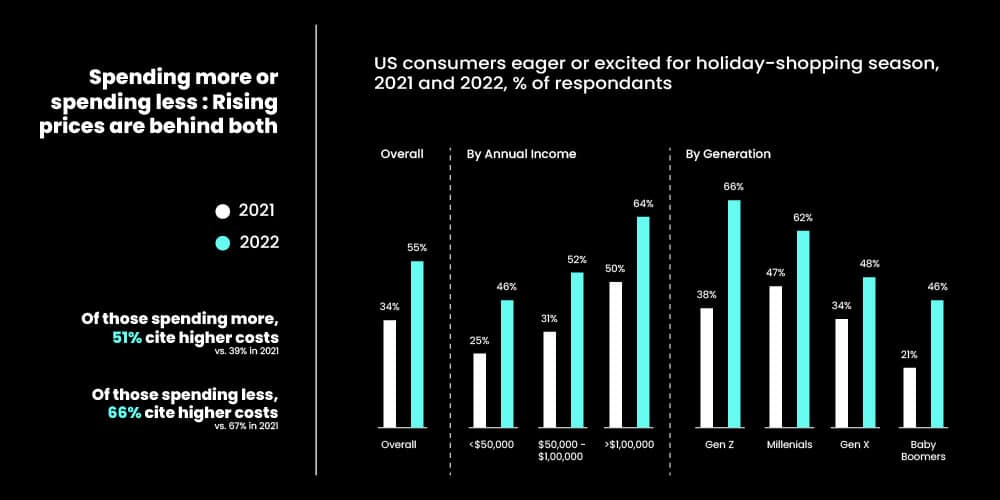 6) NRF and Prosper Insights & Analytics' annual September survey showed that 58% of holiday shoppers also say that deals and promotions are more important to them when shopping for gifts and other holiday items this year when compared with last year. This is significantly up by 48% since September 2021. -from NRF (National Retail Federation)
Takeaway: Nothing makes a shopper happier than getting a good deal. And most people wait for the holiday season to shop, whether it's holiday gift shopping or household stuff. Therefore, businesses must focus on providing their customers with competitive pricing, tempting deals, and value-based discounts to earn better profits.
7) Given the current inflationary environment, 72 percent of U.S. survey respondents expect to pay more for gifts this year, so they are looking for bargains. Of those consumers, 44 percent say they are seeking sales or coupons, and 43 percent say they will switch retailers if they find a lower price elsewhere. – from Mckinsey
Takeaway: E-Commerce businesses need to brush up on all their marketing tactics and platforms if they want to retain customers in the face of inflation. From optimizing their website with holiday-themed landing pages and pop-ups to planning social media campaigns and sending personalized emails with irresistible deals and prices, e-commerce businesses will have to gear up.
8) Sprout Social's data science team projects retailers can expect, on average, 18% more social messages per month this holiday season compared to the non-holiday months in 2022. – from Sprout Social
Takeaway: Shoppers care about the efforts brands invest in reaching out to them. Promoting your product or services with holiday-themed campaigns shows consumers just that. So, plan a detailed social media holiday strategy with defined goals, put it on a calendar, and don't forget to track results to optimize your strategy as per your customers' preferences.
9) Since 2020, when the trust became synonymous with health and safety, brand trust has figured prominently for consumers. This year, a remarkable 93% of them told us it is top of mind during holiday shopping, similar to last year's 92%. – from Pwc
Takeaway: Consumers nowadays want to know more about the brands they are getting associated with. They prefer brands that they find relatable in terms of sharing the same values when it comes to sustainability and purpose.
10) Shoppers seek inspiration from Google when they don't have a specific product in mind. Forty-three percent of U.S. holiday shoppers that used Google said they did so to get gift ideas, and 64% said they did so for discovery and inspiration. – from Think with Google
Takeaway: Promote your products to the right customers at the right time across Google surfaces, like Search, YouTube, Gmail, and the Shopping tab, with not only clear information about products, availability, and offers, but also inspiration-based content to pique their interest while browsing.
11) Brands on Pinterest see 5x more conversions when people are exposed to their ads earlier in the season, compared to brands that wait to advertise later on. – From Pinterest
Takeaway: Buying decisions are not instantaneous. It is a process where the shopper goes through the entire buying journey, from awareness to consideration to the final purchase decision. Therefore, planning an early promotion strategy might bring better results.
12) A report by Deloitte estimates substantial e-commerce growth of between 12.8% and 14.3%, which it attributed to budget-focused consumers going online to find deals and compare prices. – from Deloitte
Takeaway: Even with inflation, people are excited about the holidays. But they are a bit wary about the high prices. Therefore, businesses need to offer convenience to consumers by providing them with better payment and delivery options and value-based discounts.
13) Consumers say they will be looking closely at the price of goods. In fact, 45% say it is the top factor they will weigh in on when making a purchasing decision. A whopping 73% included the price in their top three factors. – from SAP
Takeaway: Price will always be the key factor. Therefore, to capture the attention of consumers, E-commerce businesses need to strengthen other areas. These include creating the most seamless shopping experience by providing hassle-free checkouts, the facility to pay later or to pick up at the store after shopping online, interest-free EMIs, fast and free shipping, easy returns, etc.
14) Due to the rising inflation, holiday gift spending is expected to drop by $30 billion in the U.S. as 58% of consumers cut back on non-food spending during the holidays. – from Forbes
Takeaway: Brands must be flexible to change their approach to match customers' needs. This year is less about high-ticket, flashy items and more about providing a great experience on the essentials and turning everyday items memorable.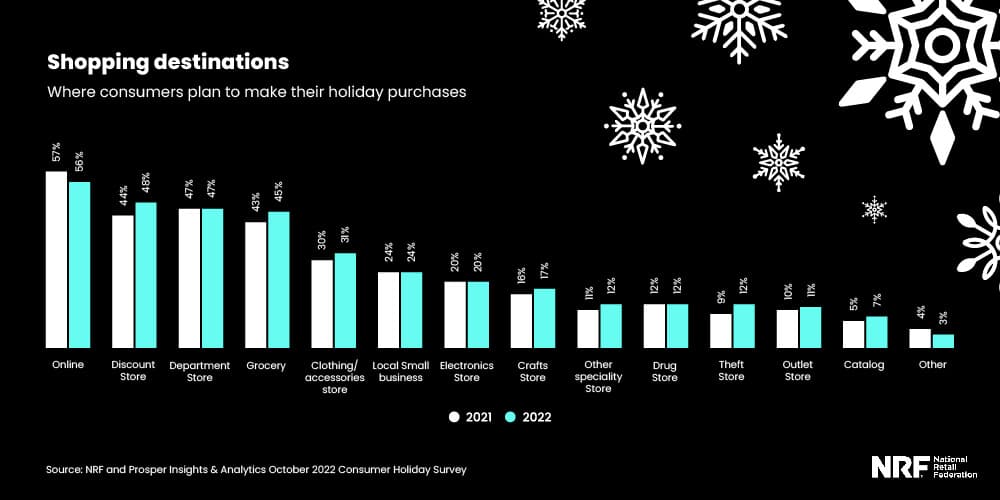 15) When asked if they would purchase gift cards or vouchers as holiday presents in 2022, more than half of the surveyed consumers in the United States said they were likely to do so. Specifically, about 30% of respondents said they were somewhat likely to buy gift cards as gifts, while just under a quarter said it was very probable. – from Statista
Takeaway: Nowadays, shoppers are finding gift cards and vouchers more cost-effective, time-saving, and thoughtful gift options. Brands need to cash in on this as, from their perspective, it is a more convenient and secure option that can help boost their profits, customer loyalty, and brand awareness.
7 Holiday Season Trends To Watch Out For This Festive Season
1. Online and Offline go hand-in-hand (BOPIS – Buy Online, Pickup In-store)
To ensure that you have a foolproof holiday marketing strategy, you need to think further than planning promotions or offering discounts. Creating a hassle-free shopping experience is also vital. And that's where BOPIS comes in.
BOPIS is an acronym for Buy Online, Pickup In-store. This is considered one of the popular holiday season trends. The reason? It offers consumers the convenience of shopping from the comfort of their homes. Imagine shopping without the hassle of standing in long queues or running into millions of shops.
With BOPIS, they can browse as many options as they want, and can easily pick it up from the store. The delivery can either be arranged for the same day or if they are out of stock and will take some days, one can be notified at the time of purchase. It also saves them from spending huge shipping charges or making returns.
According to Shopify, 59% of consumers are interested in BOPIS-type shopping options. 64% say they are opting for in-store pickup more often than before the pandemic was declared. While 30% chose this for the first time since the pandemic declaration.
Therefore, brands that have their businesses on both platforms, E-commerce, and retail, need to utilize this holiday season trend to provide their customers with better order fulfillment options.
2. Social media can drive more purchases
Gone are the days when there used to be mistrust among shoppers when it came to making online purchases. Now with social commerce at its peak, social media has become the storefront for brands to promote their products and services. At the same time, social media has become the new market for shoppers.
There are many reasons why this is one of the 'must-do' holiday season trends and why it is vital for brands to incorporate a robust and well-planned social media strategy into their holiday marketing plan. For example, consumers have a better sense of familiarity when it comes to using social media for browsing anything. A lot of their purchasing decisions are based on recommendations from various influencers.
Apart from that, customers prefer to investigate the brands before making a purchasing decision. Their decisions heavily depend on online word of mouth such as customers' reviews, feedback, and ratings. In fact, to be honest, you cannot debate the advantages of better deals and convenience in the shopping experience. Such as the comfort of browsing from home or selecting from millions of options from anywhere anytime.
That too with the benefits of easy checkout, payment, shipping, delivery, and return options.
Therefore, brands need to realize the worth of investing in this holiday season trend. Having no social media holiday strategy will cause them to lose a good chunk of their consumers and profits.
3. Free Shipping, On-time Delivery, Easy Returns, and Stress-Free Checkouts are the key to making your consumers happy
The holiday season is an exciting, relaxing, and fun time. It is also when people have to make a long shopping list, with the dread of shopping in holiday rush.
At this chaotic time, businesses need to come to the rescue of their customers to win both hearts and profits. How? By offering them the most simple, easy, and convenient shopping experience. For customers, how brands conduct themselves at every step of their buyer journey impacts their decisions and perception.
According to BigCommerce, one survey found that 96% of consumers will go back to companies that made returns and exchanges as seamless as possible. Another stated that 21% of online shoppers in the U.S. abandoned their shopping carts because of long, complicated checkout process.
Similarly, according to Deloitte, 85% of people prefer free shipping over fast shipping and expect two days delivery time at max.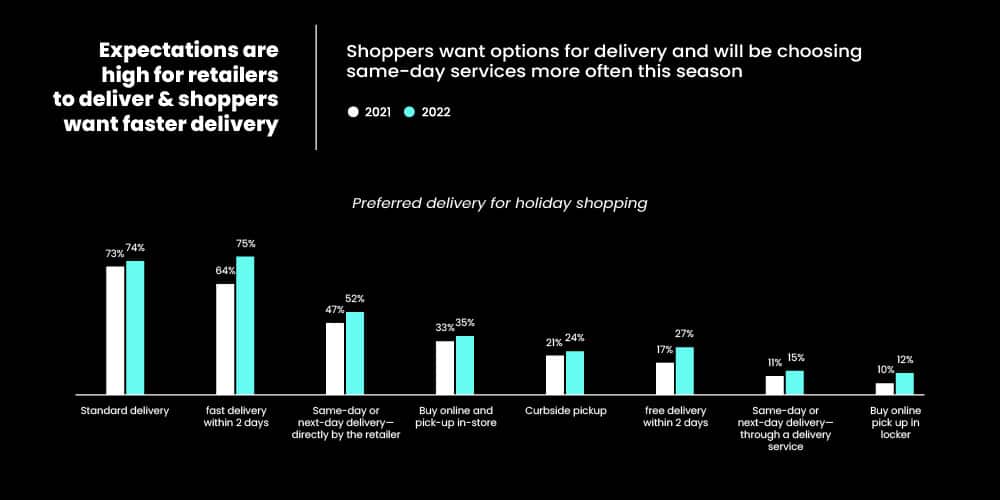 With all these statistics, one thing remains an indisputable fact. That to leverage this holiday season trend, brands need to become flexible in their approach. They need to provide a seamless shopping experience to their customers. They must understand that the convenience of online shopping also comes with its own set of cons. For example, it's very easy for a customer to switch to a different brand with just a click.
Therefore, we need to ensure that your customers' buying experience is hassle-free and leaves them happy instead of frustrated. So make sure to follow these holiday season trends to offer your customers a delightful shopping experience.
4. Loyalty marketing can make a world of difference for Your E-Commerce Business
During the holiday season, customers get bombarded with multitudes of emails, SMS, social media ads, and other marketing tactics. That is where these loyalty programs come in handy to create a differentiating factor between you and other brands.
Loyalty programs are cost-effective, create a sense of belonging, and help build lasting emotional relationships between brands and their customers. According to Pwc, 6 out of 10 millennials belong to a customer loyalty program, and 66% have a brand or retailer credit card, which influences online browsing (77%) and in-store shopping (79%) — higher than any other age group. This is alone a reason enough to add it as one of the helpful holiday season trends.
Apart from that, loyalty programs have a long track record of success. They are also a great way to boost brand recognition. Because loyalty programs increase the likelihood of new customers making repeat purchases from the same brands.
What brands need to remember when it comes to offering loyalty programs is that many shoppers love them. So, they end up being great at improving the conversion rate. But these results are directly proportional to the convenience offered which attracted and hooked them in the first time.
5. Digitally Driven Retail is the way to go
Why this is mentioned here as a  holiday season trend needs no further explanation. As its significance and impact are well-known among all online businesses.
Nowadays, everyone has an online presence, whether it is your customers or your competitors. So, it is logical that online marketing is the way to go if you do not want to miss out on most of your target audience. And, well, have them go to your competitors instead?
So it could be an online-only business, have a combined retail and e-commerce business, or operate a brick-and-mortar store. You must develop a robust online strategy to get into customers' sight and grow your business.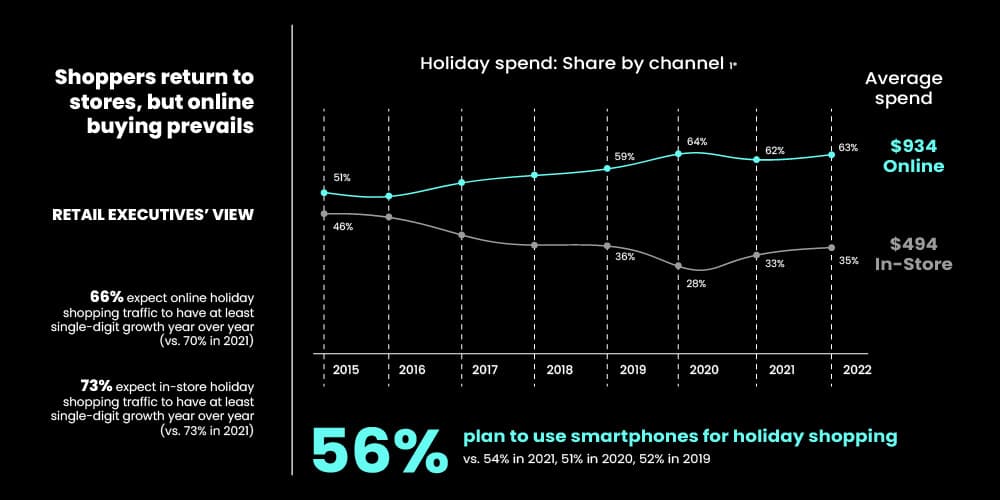 Nowadays, there are many ways to sell online. For example, having a seller account on leading e-commerce platforms such as Amazon, Walmart, Flipkart, Shopify, etc. This provides convenient options to sell from the comfort of your home or business to different cities or countries.
A system that allows customers to browse and place their orders from the site and pick them from the store. With the presence of social commerce and social media, nowadays, you can easily reach your customers and capture their attention.
To utilize this holiday season trend, brands must equip themselves with all these online strategies. So that they can target their consumers in right place at right time to maximize profits and grow their business.
6. Holiday shoppers will start early, and so should you
We will not even state any figures or statistics to reinforce this perennial holiday season trend. Because we all know that there are two types of shoppers. Those who wait until the last minute and those who plan ahead and start shopping early. Obviously the latter gets plenty of time to plan, browse and shop. But some of us can't help but cherish the last-minute adventure right?
But wanting to avoid the last-minute panic or the overwhelming holiday rush is not the only reason shoppers like to get a head start on their holiday shopping.
There are other reasons too. Such as the ability to avoid delivery delays, make returns and get the right items delivered before the holidays hit. Also, finding the items they want before they run out of stock, get better deals and discounts, and more.
This is why brands need to start their holiday strategy early. Compared to waiting for the major festivities to come around before they start bombarding promotions. As mentioned earlier, Pinterest found that brands that implemented this holiday season trend in their strategy and started promoting early got 5x more conversions than the brands that started promoting later.
Businesses need to understand that consumers can no longer be lured in with a blind bombardment of promotional efforts anymore. In today's time and the world, they prefer brands that invest time and effort to reach their customers.
7. BNPL (Buy now, Pay later) will increase spending and profits
This method helps provide your customers with an effortless and seamless shopping experience. This is our last but one of the most popular and evergreen holiday season trends in the holiday season. BNPL (Buy now, Pay later) is a convenient order fulfillment method. It allows businesses to offer their customers easy and flexible payment options for paying later.
During the holiday season, shopping lists tend to be long, and inflation and price hikes are always knocking on the door. Which puts customers on the lookout for brands with flexible payment options to save them money.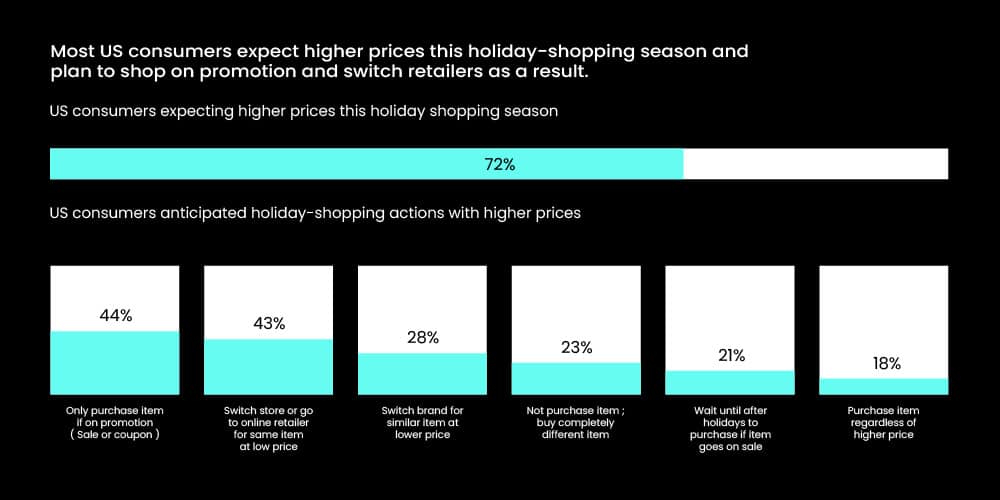 For flexible payment methods, there are many ways brands can offer hassle-free options to their consumers to boost their profits. These methods can include a small deposit, and you can pay the balance via various methods. Such as interest-free EMIs, and automatic installments via check, debit card, credit card, or bank transfer.
In a nutshell, these flexible payment methods allow consumers to split their holiday savings over multiple purchases. It also lets them buy expensive items they can conveniently pay for in small credit installments over time. So brands willing to incorporate and adapt to these holiday season trends can earn better profits and brand awareness.
Final Thoughts
Now that you know what to expect, it's time to start planning your holiday strategy. So keep these predictions and holiday season trends in mind and use them to your advantage. Once you begin planning your holiday strategy with the help of these ideas, you'll surely have a successful holiday season!
Achieve your E-Commerce goals