7 Holiday Shopping Trends Every E-Commerce Business Should Look For in 2023
By Avitanshi Srivastava
•
November 17, 2022
•
19 mins read
E-Commerce Holiday Shopping Trends 2023: Everything You Need to Know
Knock, Knock! Guess who's knocking at the door? The most exciting time of the year – the holiday season!
While it can be considered exciting and relaxing for friends and families, for e-commerce businesses, it is also the busiest time of the year. Therefore, to assist you in gearing up for the holiday season, we've compiled a list of 7 popular holiday shopping trends for 2023 that you should keep an eye on while planning your holiday strategy.
The holiday shopping season is a time when people are most willing to empty their wallets. As a business owner, this makes it crucial for you to know the holiday marketing strategies that can help you profit from this festive shopping period and boost your sales.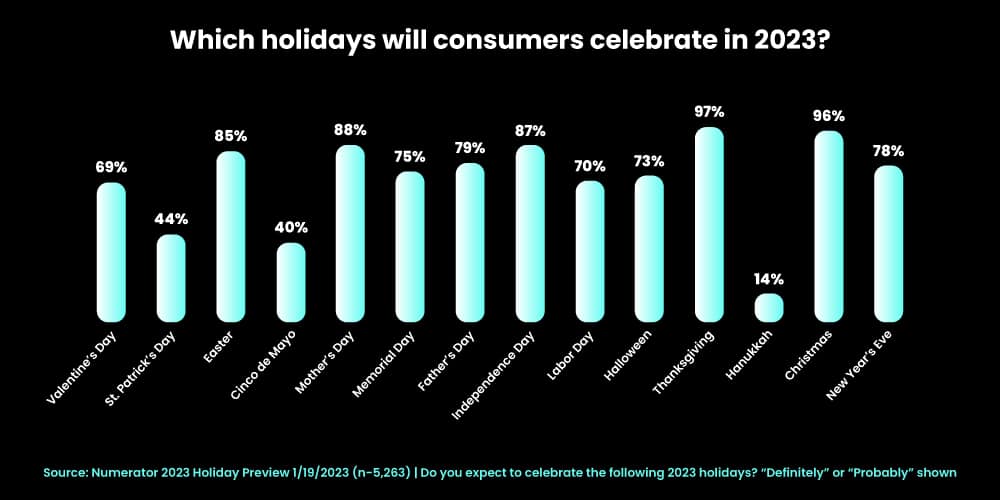 Why Should You Look For These Holiday Trends Before Creating Your Holiday Marketing Plan?
With so many people looking for gifts and deals online, ensuring your business is equipped for the influx of holiday traffic and orders is vital.
In order to ensure that, your holiday marketing strategy must be planned keeping in mind the latest holiday shopping trends so that you can create a successful holiday campaign that would resonate with your customers. It will help you make the most of the holiday season and maximize your revenue.
No matter what business you are in, with the help of these holiday trends in your marketing plan, you can succeed your competitors, gain more customers, and earn better profits. So, get a head start on your holiday preparations with these holiday shopping trends as you plan for a successful holiday season!
1. Social Media as a Holiday Shopping Destination: The Power of Influence
As the world shifts towards online shopping, social media reigns supreme as one of the key holiday shopping trends, wielding the influence to guide and inspire purchasing decisions during the holiday shopping season.
Why It Matters During the Holiday
Social media has transformed from a mere platform for connection to a robust shopping destination. Shoppers rely on social media for product discovery, recommendations, and influencer endorsements, especially during the holiday shopping season when gift ideas are in high demand.
This shift in consumer behavior emphasizes the undeniable influence of social media marketing on modern holiday marketing trends.
How Brands Can Embrace This Holiday Shopping Trend
To optimize your brand's social media presence for the holiday shopping season, you should focus on influencer marketing, engaging content creation, and a seamless shopping experience. By maximizing the potential of the social media platforms, you can increase your holiday traffic and drive higher customer engagement.
To boost your holiday sales, opt for influencer collaborations for product reviews or to showcase your products, create holiday-themed social media posts with relevant hashtags, and provide direct shopping links. Invest in social commerce features to enable in-app purchases and elevate brand performance.
Consumer Benefits of Social Commerce
1. Informed Choices:
During the holiday shopping season, shoppers get to make informed decisions based on product recommendations, reviews, customer testimonials, and user-generated content.
2. Effortless Convenience:
Social commerce brings shopping to your fingertips. With just a few taps on your phone screen, you can browse, explore, and purchase products without leaving the platform. This caters to the needs of busy holiday shoppers, ensuring a hassle-free shopping experience.
3. Engagement:
Beyond transactions, social media platforms foster a sense of community and engagement. This engagement not only enhances the shopping experience but also cultivates brand loyalty, a vital aspect during the holiday rush.
4. Inspiration:
Holiday shoppers find gift ideas and inspiration through curated content. From festive gifting concepts to trending holiday products, the platform serves as a virtual showroom.
Takeaway
Brands that tap into social media's potential for shopping and engagement can connect with consumers on a more personal level, driving sales, audience engagement, and brand loyalty during the holiday season.
2. Seamless Holiday Shopping Experience: Free Shipping, On-Time Delivery & Easy Returns
The holiday season is all about joyful celebrations and finding that perfect gift. However, the experience can turn frustrating without a seamless shopping journey.
According to BigCommerce, one survey found that 96% of consumers will return to companies that made returns and exchanges as seamless as possible. Similarly, according to Deloitte, 85% of people prefer free shipping over fast shipping and expect a maximum two-day delivery time.
Therefore, to ensure a successful and profitable holiday marketing campaign, focus on providing your customers with effortless convenience and flexibility.
Why It Matters During the Holiday
The holiday season is an exciting, relaxing, and fun time. But it is also that time of year when people have to make a long holiday shopping list, and the one thing they dread most is going out shopping in the holiday rush.
Businesses that rescue their customers at this chaotic time by offering them the most simple, easy, and convenient shopping experience win both the hearts and profits.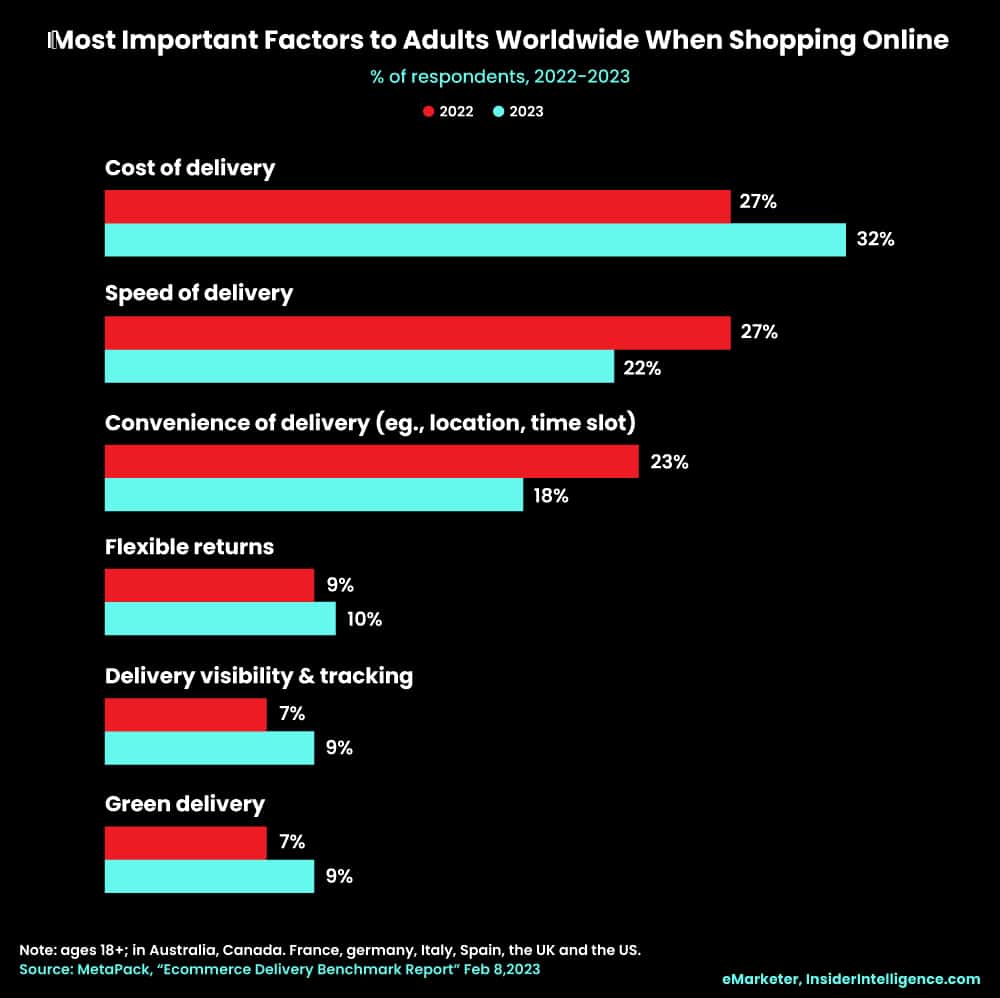 How Brands Can Embrace This Holiday Shopping Trend
As a brand, how you cater to your customer's needs at every step of their buyer journey decides your brand perception in their eyes. So, to increase your holiday traffic, prioritize customer satisfaction by offering affordable or free shipping, ensuring timely deliveries, and simplifying the return process. Streamline online checkouts, provide hassle-free return labels, and clearly communicate your shipping policies.
To leverage this holiday shopping trend, brands need to be flexible in their approach when it comes to offering a seamless shopping experience to their customers. They must understand that with the convenience of online shopping comes the con where it's very easy for a customer to switch to a different brand with just a click.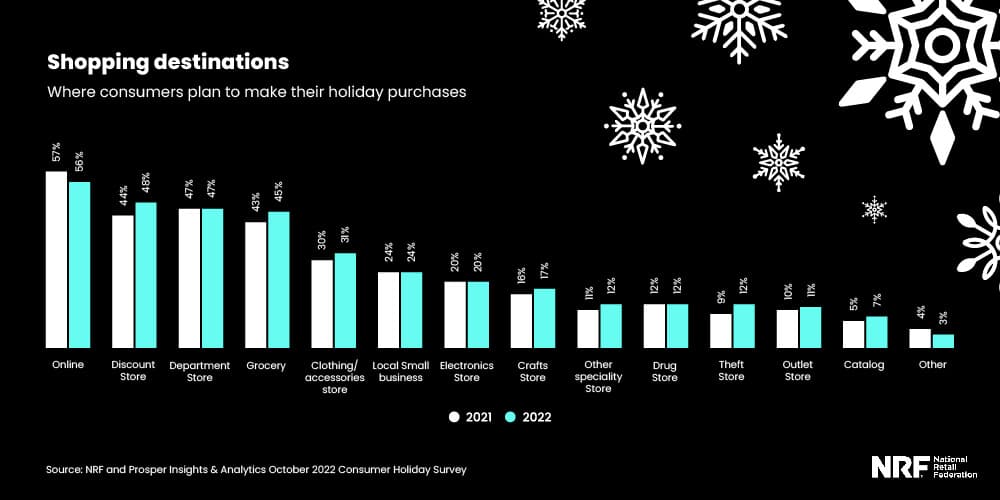 Consumer Benefits of a Seamless Shopping Experience
1. Reduced Stress:
A seamless shopping experience with free shipping, on-time delivery, and easy returns allows shoppers to enjoy a stress-free holiday, focusing on the joy of the holiday season rather than logistical worries.
2. Time-Saving:
A simplified and efficient process saves time, allowing holiday shoppers more precious moments to spend with loved ones and partake in festive activities.
3. Convenience:
Free shipping and easy returns cater to customers' desire for convenient shopping. The hassle-free experience adds to the joy of the holiday season.
Takeaway
A customer-centric shopping experience leads to satisfied, loyal customers who return year after year.
3. BOPIS (Buy Online, Pickup In-Store): Convenience Will Reign Supreme During the Holiday season
As we wade into the holiday shopping trends of 2023, one trend gaining significant momentum is BOPIS, an acronym that spells out convenience for modern holiday shoppers. Buy Online, Pickup In-Store, abbreviated as BOPIS, has emerged as a game-changer. It's more than a mere holiday trend; it's a solution to the holiday rush.
Let's delve into why BOPIS is becoming a buzzword among shoppers during this holiday shopping season.
Why It Matters During the Holiday
The holiday season is notorious for long queues, crowded stores, and delivery delays. Holiday shoppers are seeking convenience more than ever during this hectic time. According to Shopify, 59% of consumers are interested in BOPIS-type shopping options.
BOPIS (Buy Online, Pickup In-Store) has emerged as a saving grace, offering consumers the ease of online shopping combined with the comfort of in-store pickups.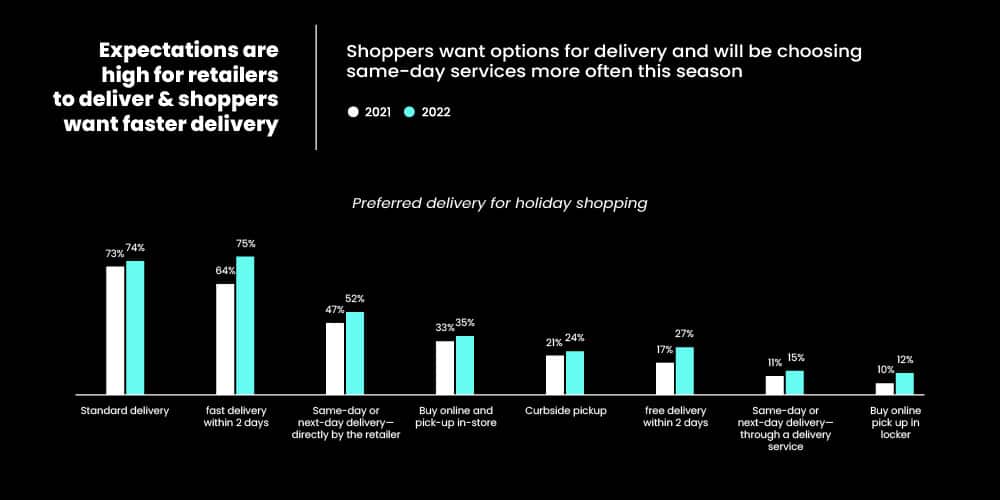 How Brands Can Embrace This Holiday Shopping Trend
To capitalize on the BOPIS (Buy Online, Pickup In-Store) trend during the holiday shopping season, businesses should ensure their online shopping platforms are seamlessly integrated with their physical stores.
Streamline the ordering and pickup process, offer same-day delivery or scheduled pickups, and keep customers informed about the order status. Invest in technology that facilitates safe contactless pickups to meet modern consumer demand.
Consumer Benefits of BOPIS (Buy Online, Pickup In-Store)
1. Time-Saving Benefits of BOPIS for Holiday Shoppers:
BOPIS offers a swift and seamless shopping experience, allowing customers to skip long lines and find their desired items without the typical in-store search. This efficient process leaves the holiday shoppers with more time for the festivities.
2. Cost-Effective Solutions Offered by BOPIS during the Holiday Season:
BOPIS is a budget-friendly solution as it cuts down on shipping costs for both consumers and retailers. Shoppers can avoid shipping fees, and retailers can streamline their logistics, translating to cost savings. This cost-effectiveness is a win-win situation for all.
3. Reduced Environmental Impact: BOPIS and Sustainability during the Holidays:
BOPIS aligns with sustainability goals by reducing the carbon footprint associated with individual home deliveries. It's a step towards a greener future, appealing to eco-conscious consumers.
4. Immediate Consumer Gratification with BOPIS:
In the hustle and bustle of the holiday shopping season, last-minute shopping needs are inevitable. With BOPIS, shoppers can acquire their desired items right away, making it perfect for those spontaneous holiday moments.
Takeaway
By optimizing BOPIS (Buy Online, Pickup In-Store), e-commerce businesses can provide a hassle-free shopping experience and attract customers seeking convenience and quick access to their holiday purchases.
4. Digitally Driven Holiday Marketing is the way to go
Imagine a world where retail breaks free from physical confines, fusing effortlessly with online shopping platforms to create the ultimate shopping experience. Welcome to the realm of digitally driven retail, a trend significantly influencing how we shop during the holiday season.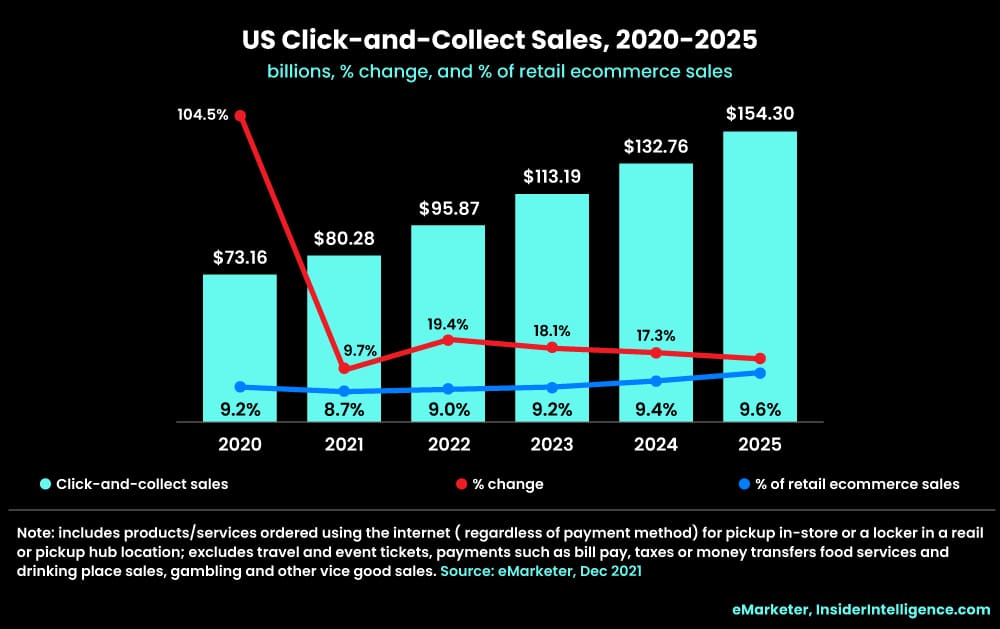 E-commerce isn't confined to websites; it's about meeting your customers where they are. Let's delve into how this trend is reshaping retail as we know it and why businesses should embrace these holiday shopping trends.
Why It Matters During the Holiday
In our list of evergreen holiday shopping trends, this one wins the crown. In today's digital era, having a notable online presence is imperative for businesses of all kinds. Because that's where all the customers are, browsing products, learning about your brand, and making purchasing decisions.
That is why every entity, whether a purely online business, a blend of retail and e-commerce, or a traditional brick-and-mortar establishment, must develop a potent online strategy to capture customers' attention and outshine the competition.
How Brands Can Embrace This Holiday Shopping Trend
Leverage major online marketplaces like Amazon, Walmart, and Shopify to widen your reach and tap into a broader target market. Implementing effective online marketing strategies, encompassing SEO (Search Engine Optimization), social media advertising (on all the major social media platforms, Facebook, Instagram, Twitter, and LinkedIn), and targeted email marketing, is key to standing out.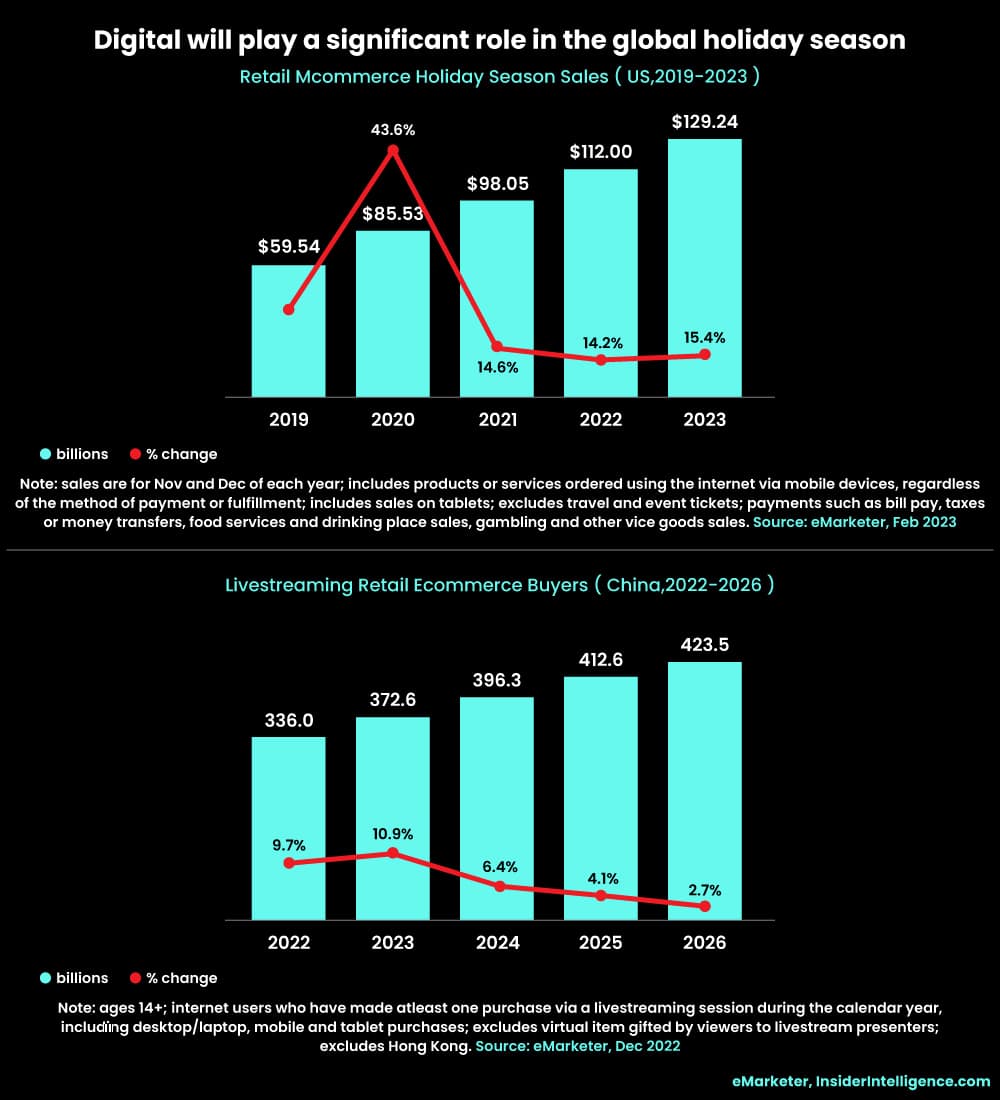 Consumer Benefits of Brands' Online Presence
1. Convenience:
The contemporary shopper seeks simplicity and ease. A robust online presence provides the convenience of browsing and shopping from the comfort of one's home. No queues, no parking hassles—just effortless shopping at one's fingertips.
2. Variety:
Online shopping platforms offer an expansive range of products and an abundance of choices. Shoppers can explore various options and compare features, prices, and styles, ensuring they make the most informed decisions tailored to their preferences.
3. Accessibility:
An online presence breaks the barriers of physical stores. Brands can reach customers not only within their geographical proximity but also beyond. This accessibility opens up new markets and amplifies brand reach.
4. Easy Research:
Before making a purchase, customers appreciate the ability to conduct thorough research. Online shopping platforms empower shoppers to compare prices, read reviews, and gather information, allowing them to make informed and satisfactory purchasing decisions.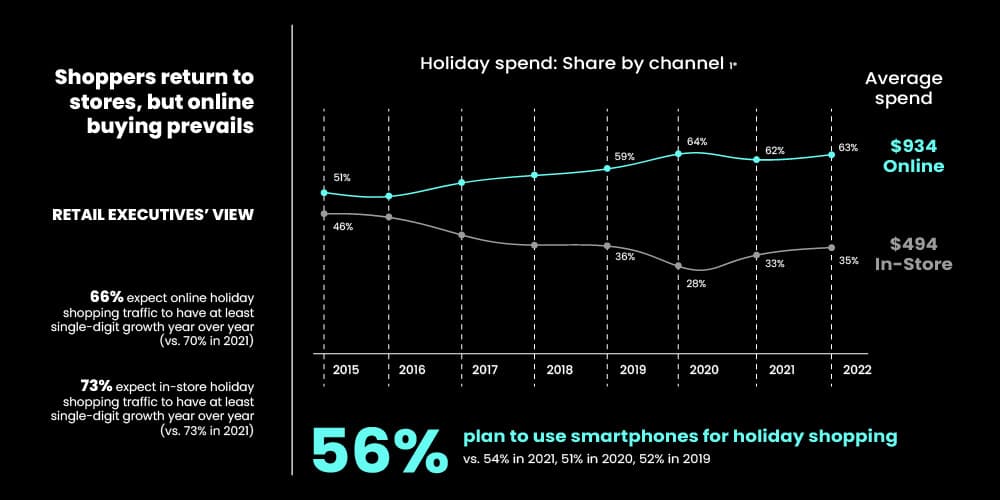 Takeaway
A robust online presence is crucial for e-commerce businesses looking to tap into the vast online market and engage with customers during the holiday season.
5. Loyalty Marketing: Maximize Profits with Loyal Holiday Shoppers
Among all the holiday shopping trends, there is one underrated trend that is a true game-changer for your e-commerce business: loyalty marketing.
Loyalty programs are cost-effective, create a sense of belonging, and help build lasting emotional relationships between brands and their customers.
According to Pwc, 6 out of 10 millennials belong to a customer loyalty program, and 66% have a brand or retailer credit card, which influences online browsing (77%) and in-store shopping (79%) — higher than any other age group. This is alone a reason enough to add it as one of the useful and profitable holiday shopping trends.
Why It Matters During the Holiday
During the holiday season, customers get bombarded with multiple email campaigns, SMS campaigns, social media ads, and other marketing tactics. That is where these loyalty programs come in handy to create a differentiating factor between you and other brands.
Moreover, holiday shoppers truly appreciate the brands that give back through loyalty rewards. Loyalty marketing is also a great way to boost brand recognition because loyalty programs increase the likelihood of new customers making repeat purchases from the same brands.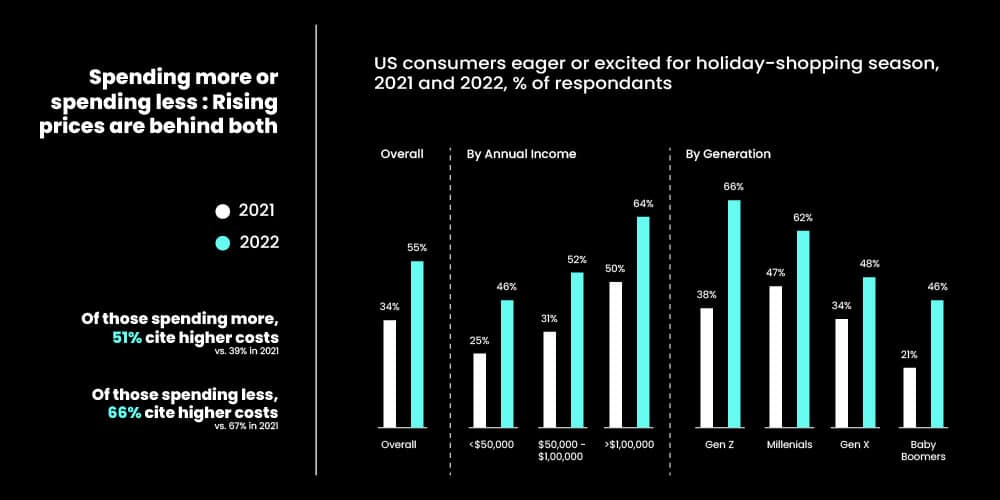 How Brands Can Embrace This Holiday Shopping Trend
Optimize your customer experience during the holiday rush by crafting enticing loyalty programs. Imagine offering holiday shoppers special benefits like enticing rewards, exclusive discounts, and early access to those highly anticipated holiday deals.
What's more, tailor these offers based on their past purchases and engagement history, making them feel truly valued.
Consumer Benefits of Loyalty Marketing
1. Unlock Exclusive Perks:
Holiday shoppers delight in unlocking exclusive discounts, rewards, and promotions through loyalty programs. These special perks add value to each purchase, motivating the target audience to engage more with the brand.
2. Foster a Sense of Belonging:
Loyalty programs build a sense of community among like-minded holiday shoppers. Customers feel connected, part of an exclusive group enjoying tailored benefits, strengthening their emotional connection to the brand.
3. Elevate the Shopping Experience:
Personalized offers and recommendations tailored to individual preferences enhance the overall shopping experience. Customers feel recognized and valued, further encouraging their loyalty and continued engagement.
4. Encourage Repeat Business:
Loyalty programs incentivize customers to return for future purchases. The allure of accumulating points or achieving higher membership tiers entices customers to choose your brand over competitors, promoting repeat business and lasting relationships.
Takeaway
By investing in robust loyalty programs, brands can create a win-win scenario where customers feel appreciated and valued, and businesses enjoy increased customer retention and brand advocacy.
6. BNPL (Buy Now, Pay Later): Boosting Holiday Sales with Flexibility and Convenience
As e-commerce businesses try to navigate the holiday shopping season to the best of their abilities, a useful financial tool emerges as one of the star holiday shopping trends that help them, known as Buy Now, Pay Later (BNPL).
It's more than just a payment option; it's a marketing strategy that eases the financial burden during the holiday season. BNPL is reshaping how consumers approach holiday shopping, giving them the flexibility they crave. Let's delve into this holiday marketing trend and understand why it's a win-win for both holiday shoppers and e-commerce businesses.
Why It Matters During the Holiday
The holiday season and significant expenses are practically synonymous. From holiday gifts to decorations, the costs add up quickly. Amidst these financial commitments, flexibility becomes a highly valued trait in any payment option.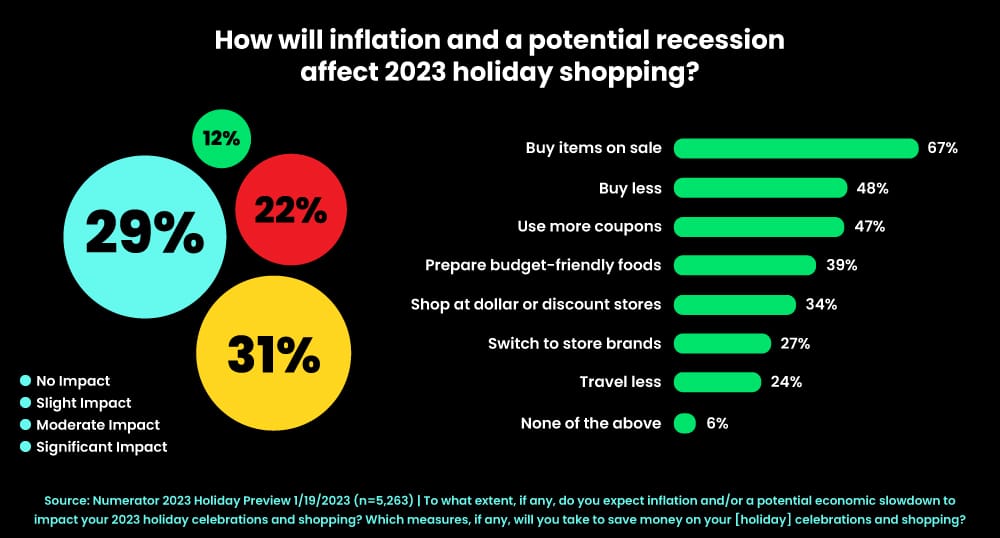 Enter Buy Now, Pay Later (BNPL)— one of the evergreen holiday shopping trends offering an attractive solution to holiday shoppers, allowing them to spread their holiday spending over manageable periods. Let's explore how this holiday marketing trend is transforming the holiday shopping landscape.
How Brands Can Embrace This Holiday Shopping Trend
To truly embrace the BNPL holiday trend during the holidays, brands need to integrate this option seamlessly into their payment systems. They need to promote Buy Now, Pay Later (BNPL) as a budget-friendly option way to shop during the holiday shopping season.
The emphasis should be on offering customers convenient and flexible payment plans. Small deposits, interest-free EMIs for pricier items, and clear communication about these options are pivotal.
Consumer Benefits of BNPL during Holiday Shopping
1. Budget-Friendly:
With BNPL, the burden of holiday spending is considerably lightened. Holiday shoppers can enjoy the festivities without constant financial worry, creating a more joyful and relaxed shopping experience.
2. Flexibility:
BNPL offers flexibility at its core. Holiday shoppers can tailor payment plans according to their financial situations, making it a highly appealing choice during the holiday hustle and bustle.
3. Access to Premium Holiday Items:
Higher-priced items that might have been put off due to budget concerns to manage the holiday spending carefully can now be within reach. BNPL provides a gateway to those premium holiday purchases without immediate financial stress.
4. Less Financial Stress:
The holiday season often means financial strain. BNPL intervenes as a friend in need, allowing holiday shoppers to manage their holiday expenses more effectively. It's a budget-friendly approach that provides breathing space.
Takeaway
Brands that offer BNPL options can attract budget-conscious shoppers, boost holiday sales, and provide a valuable shopping experience during this financially demanding time.
7. Embracing Sustainability for a Greener Holiday Season
As we delve into the holiday shopping trends for 2023, one trend that's gaining significant momentum is eco-conscious shopping. Sustainability has become more than just a buzzword; it's a lifestyle and a growing preference among holiday shoppers.
With the world becoming more conscious of environmental issues and climate change, holiday shoppers are seeking ways to make their holiday season more eco-friendly.
Why It Matters During The Holidays
The holiday shopping season typically involves a surge in consumption and, unfortunately, waste. From disposable wrapping paper and excess packaging to energy-intensive holiday decorations, traditional holiday practices can take a toll on the environment. This is where sustainability steps in as one of the significant holiday shopping trends.
In today's time, sustainability has become increasingly important to both consumers and e-commerce businesses. Shoppers are more conscious of the environmental impact of their holiday purchases, and e-commerce businesses are looking for ways and methods to reduce their carbon footprint and appeal to eco-conscious shoppers.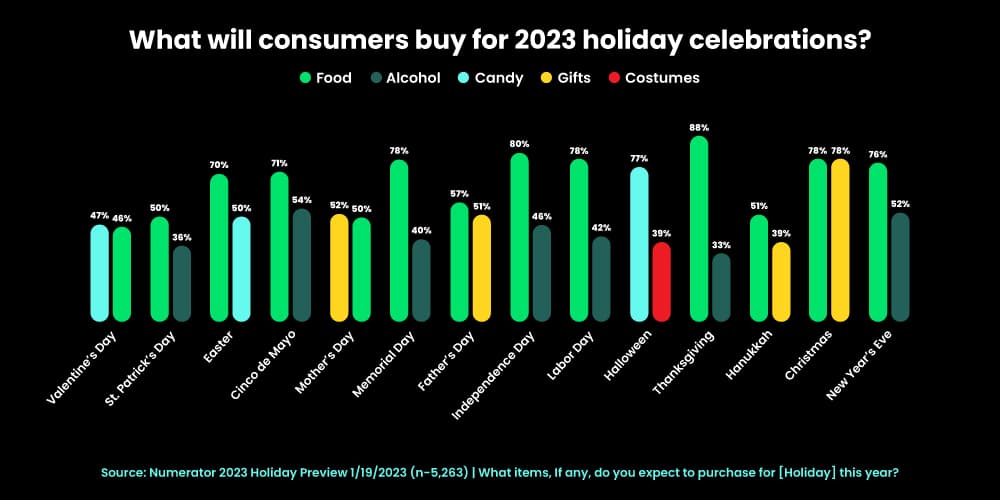 How Brands Can Embrace It
E-commerce businesses can embrace sustainability by implementing eco-friendly packaging, offering green shipping options, and promoting sustainable products. Marketers can create eco-friendly marketing campaigns that resonate with environmentally conscious consumers.
Consumer Benefits of Sustainable Shopping
Eco-conscious consumers aren't just looking for green products; they want to make a positive impact with their holiday purchases. By embracing sustainability, e-commerce businesses can appeal to these consumers and offer benefits like:
1. Reduced Environmental Impact:
Sustainable products and practices help reduce the carbon footprint and protect and preserve natural resources.
2. Ethical Choices:
Consumers feel good about supporting brands that prioritize ethical and sustainable practices.
3. Unique Gifting:
Eco-friendly gifts are often unique and thoughtful, making them stand out during the holiday season.
4. Long-Term Impact:
Sustainability isn't just for the holidays. Consumers appreciate products that contribute to a more sustainable lifestyle year-round.
Takeaway
By incorporating sustainability as one of the key holiday shopping trends into their holiday strategies, e-commerce businesses, and marketers can appeal to a growing segment of eco-conscious consumers and demonstrate their commitment to responsible and ethical practices.
Bonus Tip for E-commerce businesses
Early Holiday Shopping: Planning Ahead for a Stress-Free Season
Imagine a holiday season without the rush, stress, or last-minute panics. Early Holiday Shopping offers this idyllic vision, a chance to plan ahead and navigate the festive season with grace. Let's explore why early shopping is becoming one of the most cherished holiday shopping trends, promising a more relaxed and enjoyable holiday experience.
Why It Matters During the Holiday
Many holiday shoppers prefer to start early to avoid last-minute stress, secure the best deals, and ensure timely deliveries. Brands need to align with this holiday marketing trend to meet customers where they are in their shopping journey.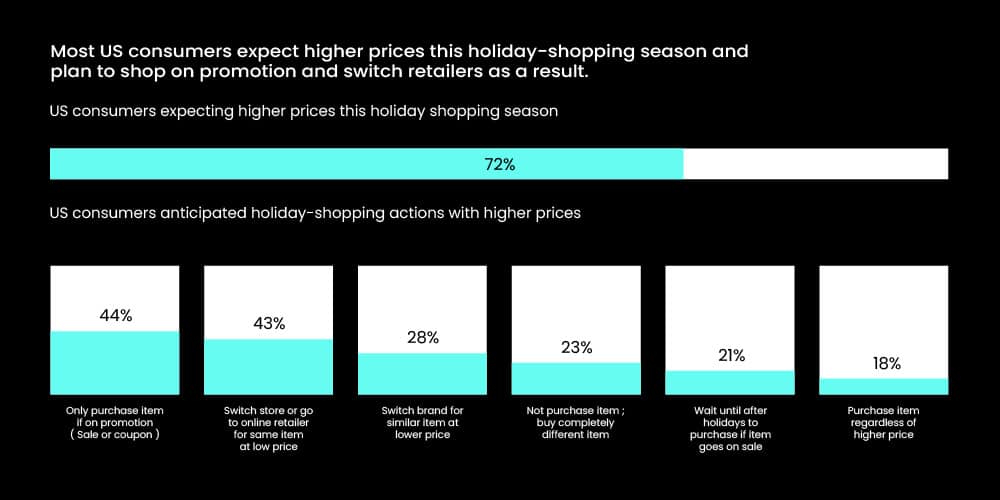 How Brands Can Embrace It
Encourage early shopping with exciting and lucrative holiday promotions, discounts, and early access to holiday collections. Promote holiday gift ideas and deals well in advance. Implement holiday marketing campaigns that highlight the advantages of starting early.
Consumer Benefits of Early Holiday Shopping
1. Less Stress:
One of the most evident advantages of early holiday shopping is the reduction of stress. Holiday shoppers can leisurely browse and buy, avoiding the frenzy of last-minute purchases. This leads to a more relaxed and enjoyable holiday shopping experience.
2. Better Deals:
The early holiday shoppers catch more than just worms. Early bird discounts and promotions are the perks of early shopping, providing an economic incentive to plan their holiday purchases ahead, making the most out of budget allocations.
3. Variety:
Early holiday shoppers often get the cream of the crop. The variety of holiday products available is at its peak during the early shopping phase. Shoppers can choose from a wider selection, ensuring they find the perfect gifts or holiday items.
4. Timely Delivery:
On-time delivery is a major concern, especially during the holiday rush. Early shopping allows for ample delivery time, reducing the risk of delays and ensuring gifts arrive promptly, adding to the joy of giving during the holidays.
Takeaway
Brands catering to early shoppers can enjoy increased holiday sales, reduce customer stress, and build goodwill.
Holiday Shopping Statistics, Predictions, and Consumer Trends
The holiday season is finally here, which means it's time to give some serious thought to your e-commerce business's holiday strategy. And like any other marketing strategy, your holiday marketing strategy would be incomplete if it missed out on these latest holiday season trends.
So, without further ado, let's dive into some of the most popular holiday shopping statistics, forecasts, and consumer shopping trends that you, as a business owner or marketer, should be aware of:

Final Thoughts
As we delved into the 7 most popular holiday shopping trends of 2023, it's clear that aligning your brand with these consumer preferences is essential for success. By offering convenience, embracing sustainability, and prioritizing customer satisfaction, e-commerce businesses can stand out during the busy holiday shopping season and create memorable shopping experiences for their holiday shoppers.
So don't forget to incorporate these holiday shopping trends and predictions into your holiday strategy. Use them to your advantage as you begin planning your holiday marketing strategy to maximize profits, build brand loyalty, and make this holiday season joyful.
Recommended Reading: Top 6 Holiday Marketing Tips For Businesses On A Tight Budget
Happy Reading!
Achieve your digital marketing goals