Top 7 Digital Marketing Strategy for Christmas and New Year
By Manjari Shreya
•
December 5, 2022
•
8 mins read
How to Optimize Your Digital Marketing Strategy for Christmas and New Year's eCommerce Sales
It's Beginning to Look a Lot Like Christmas!
With Christmas and New Year around the corner, it's time to gear up and prepare for ravishing year-end eCommerce sales. During this time of the year, people are often busy getting gifts and look forward to spending quality time with their friends and family. This makes it the ideal time for businesses to run last-minute holiday marketing strategies to gain more footfall and generate eCommerce sales.
But why is christmas marketing strategy important, you ask?
Well, since Christmas and New Year's Eve are merely a few days apart, it makes for the most ideal time for a brand to be at the forefront of its target audience. An impactful holiday marketing strategy aims to draw engagement from the target audience, optimize brand sales and create brand awareness. During the holiday season, positioning your brand as the ultimate go-to destination for shopping can drive more sales and result in better ROI.
Since people often prefer buying gifts during the Christmas season, this opens up the possibility of creating a lasting brand impression that converts buyers into loyal customers. This way, a holiday marketing strategy for Christmas can significantly increase sales beyond the holiday season. Additionally, a holiday marketing strategy lays the foundation for more sales and growth in the coming months.
Let's explore how your brand can scale eCommerce sales with an impactful Christmas holiday marketing strategy and tactful optimization.
7 Ways to Optimize Your Digital Marketing Strategy for Christmas & New Year's eCommerce Sales

1. Center Your Content Around Christmas and New Year:
By creating content that centers around Christmas and New Year, a brand maximizes the chances of getting seen whenever a relevant search is made. Additionally, it presents an opportunity to introduce a new range of products or services.
Moreover, by keeping your content themed around the holidays, you can show people how your brand fits into their holiday needs. This can influence last-minute buying decisions.
Your target audience is constantly on the lookout for valuable solutions, and it is always best to cater to their 'buying' state of mind. One can do this by creating themed content that not only accommodates this requirement but also shows a brand making consistent efforts to adapt.
2. Create holiday-themed email marketing campaigns:
Email campaigns are versatile and can be planned throughout the holiday season to generate leads through Christmas and New Year. Your target audience is constantly looking for valuable deals, offers, or even discount codes that will save them money.
By custom delivering discounts straight to their inbox, the brand can minimize time spent in making a final purchase decision. Moreover, to create a sense of urgency, these emails can come with limited-time deals that will last up to a certain time if not claimed.
Run 'cart abandonment' email marketing campaigns
Cart abandonment is common, especially during the sale season. While there is no sure-shot way to eliminate cart abandonment during the checkout process, optimization at this stage can be of some help.
Here are a few things to consider when running a cart abandonment email campaign:
Create retargeting email marketing campaigns that target abandoned carts with emails that either offer last-minute discount codes, stock running low messages, or even a simple 'Your cart is waiting for you' message
Make use of retargeting ads to bring customers back to your website via display advertisements
Offer free shipping on a limited-time basis to encourage rush checkout
Include product image thumbnails throughout the checkout process to keep customers emotionally invested in the purchase
Ensuring that the checkout process is seamless in terms of stages, information requirements, etc
The aim is to turn your products into gifts for quick last-minute gifting.
3. Offer rewards, vouchers, and discount coupons during the eCommerce sales season
Your target audience is on the lookout for irresistible offers and discounts that can save them money. A brand can keep itself present in the target audience's subconscious mind by offering them discounts and even vouchers that can be redeemed later.
This way, whenever they think of making a purchase, your name will pop up in their heads. And with a coupon guaranteed to offer a discount, they are more likely to checkout without second thoughts.
Additionally, since it's the holiday season, consider offering gift-wrapping services too at checkout for added convenience. This is also a great time to reward your loyal customers.
4. Create a landing page showcasing all offers on sale:
Whether your business is service-based or product-based, landing pages can do miracles when it comes to grabbing user attention and drawing instant conversions. Additionally, landing pages can seamlessly support organic holiday marketing campaigns.
Here are other benefits of using landing pages to accelerate your eCommerce sales with holiday marketing campaigns:
They can increase direct conversions
Offer valuable, data-driven behavioral insights into your target audience
Landing pages can be used for testing campaigns
They are excellent for increasing the user base contact information
5. Plan social media strategy in advance
Advance planning can help cover all aspects of holiday social media marketing in detail. A well-planned holiday marketing strategy can significantly help in increasing eCommerce sales. As many people are already checking brand pages for communication on platforms like Facebook, Instagram, and LinkedIn, it becomes easier for marketers to reach their target audience pool.
Additionally, analyzing the previous year's statistics is the best way to improve existing strategies to attract maximum traffic and sales. With a plethora of options available already, utilizing past data can help eliminate any unnecessary steps that may hamper the sales process. Planning at least 3 months in advance is ideal, as you will have plenty of time to test-run campaigns multiple times before making a final decision.
6. Optimize your eCommerce store with seasonal content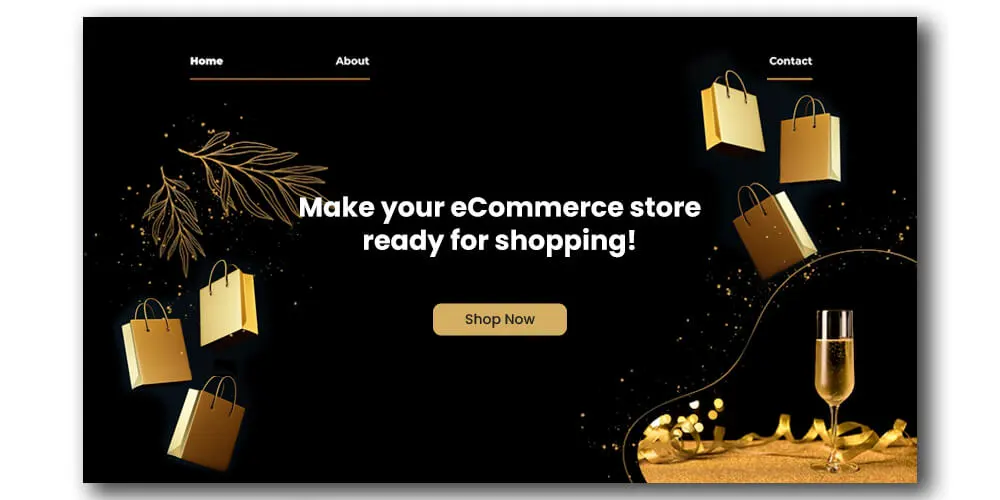 While having a holiday social media strategy is essential, updating your website can speed up eCommerce sales. Optimizing your website with seasonal content can subconsciously encourage a buying decision.
By having sale offers flashing, free shipping options, and even gift wrapping services available, people may end up buying products or booking services more willingly, as these offerings are seasonal and won't be around for long. Additionally, to create a sense of urgency, countdown timers can be added too.
Here are 5 quick ways to optimize your eCommerce website for the holiday season:
Optimize your eCommerce website for mobile
Tailor the website copy to reflect the holiday spirit
Offer multiple payment options
Decrease website loading time
Create bundle offers on popular services
7. Utilize customer reviews and content generated by users
Authenticity is the key to creating a credible brand image. By sharing user-generated content, your brand not only shows real people using your brand's products or services but also establishes brand dependability. Nearly 2.14 billion people shopped online in 2021, and this number is set to rise in the coming years, making it important to be a trustworthy name that buyers can bank on during this eCommerce sales season.
Importance of Optimizing Digital Marketing Strategy for Christmas and New Year
Strengthens brand image while also creating brand awareness
Increases eCommerce sales and ROI as the brand is already at the forefront of buying decisions
It makes the brand relevant to the holiday season
Great time to highlight products and services through promotions
Target the right audience with offers and an impeccable buying experience
Ramp up Your eCommerce Sales This Holiday Season With These Tried & Tested Tips!
Regarded as the best Christmas holiday social media marketing strategy, optimizing your website can be the key to increasing eCommerce sales this holiday season. This way, the website is in sync with the holiday shopping experience. With valuable offers and unbelievable discounts, an eCommerce website can be the launchpad to convert leads into loyal customers.
Here are 5 undeniable benefits of keeping your eCommerce website ready for Christmas and New Year!
Ensures that your website is ready for the traffic and has seamless navigation for quicker ordering
Blends with the spirit of holidays and has a welcoming look and feel for the visitors
With strategic holiday SEO, your website can attract more organic footfall
A well-optimized eCommerce website can be used to run paid ads and for retargeting and remarketing purposes
Your website, as well as your business, stays relevant to the market demands and is able to cater to an audience from varying demographics and age groups
Looking for optimization that makes your website ready for the holidays? At Mastroke, we leave no stone unturned to help your business be in the know. Our experts work round the clock to help skyrocket your eCommerce sales during the holiday season. Let Mastroke take care of your Christmas holiday marketing strategies.
Achieve your digital marketing goals