15 Fun & Festive Holiday Marketing Ideas to Try This Year
By Priya Srivastava
•
November 24, 2022
•
11 mins read
December is almost here with all the warm and fuzzy feeling of the Holiday Season. It is the most rewarding time for retailers, and they are on a quest to find the best holiday marketing ideas. With the festive gala all around among the shoppers, the season offers them various opportunities to maximize their revenue.
Adobe's Report on 2022 Holiday Shopping Trends & Insights says, "Total estimated revenue for holiday season 2022 is 209.7 billion dollars." Thus, all e-commerce businesses want to delight and attract customers with the best marketing techniques to get sizzling revenues this holiday season.
However, with the ever-growing competition and changed consumer behavior after the pandemic, it has become more challenging for online sellers to beat the competition and live up to their customers' expectations.
In this article today, we will share 15 Fun & Festive holiday marketing ideas for you to try this season to maximize your ROI. You can consider these ideas in your Holiday marketing campaigns to get the best returns.
15 Fun & Festive Holiday Marketing Ideas To Skyrocket Your Sales This Season!
1. Update your website with holiday-themed elements
We all love to revamp our home aesthetics with festive decorations. So, why not decorate and update your website and its home page with festive elements? Add holiday spirits and show your customers that you are celebrating Holidays.
Add a touch of exciting Holiday elements or some cute Holiday illustrations to your website. Or, create holiday-specific landing pages like Holiday Sale or Shop Holiday Gifts, like bloomscape did (refer to image below), and add CTAs on the home page redirected to these landing pages. This will not only make your visitors' browsing experience interesting but also, you will have increased chances of driving sales.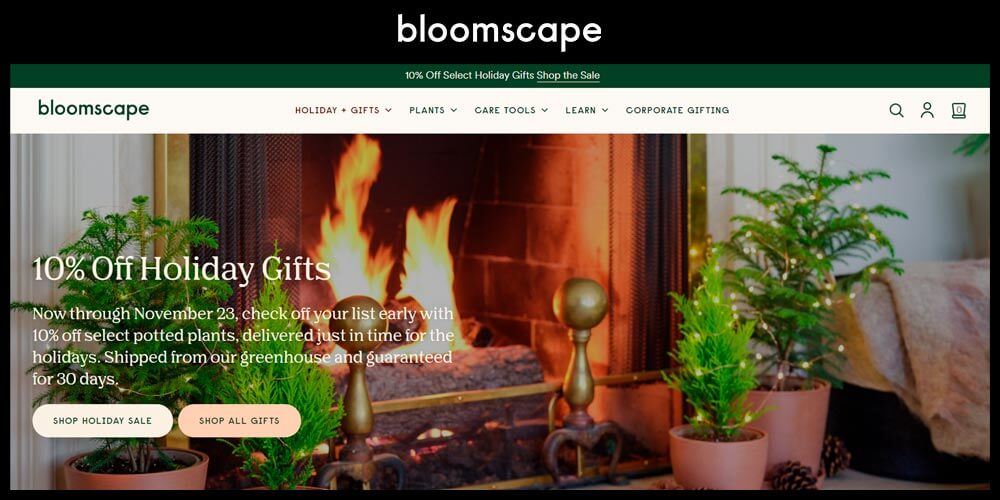 After all, it is your website where all prospective customers are going to purchase products after clicking on your ads. Thus, along with your paid campaigns, you must update your website with eye-catching Holiday elements.
2. Email marketing campaigns with festive seasonal templates
Email marketing campaigns are one of the best forms of direct communication with your subscribers. And if you are not adding holiday season vibes to your email marketing strategy, you are making a big mistake. An effective email marketing campaign can help you build relationships with your leads and convert them into paying customers.
Use email marketing to interact with your customers or introduce them to exciting holiday deals you are offering. However, you must also be unique and creative while designing your email campaigns for the Holiday season.
3. Mobile marketing strategy for holidays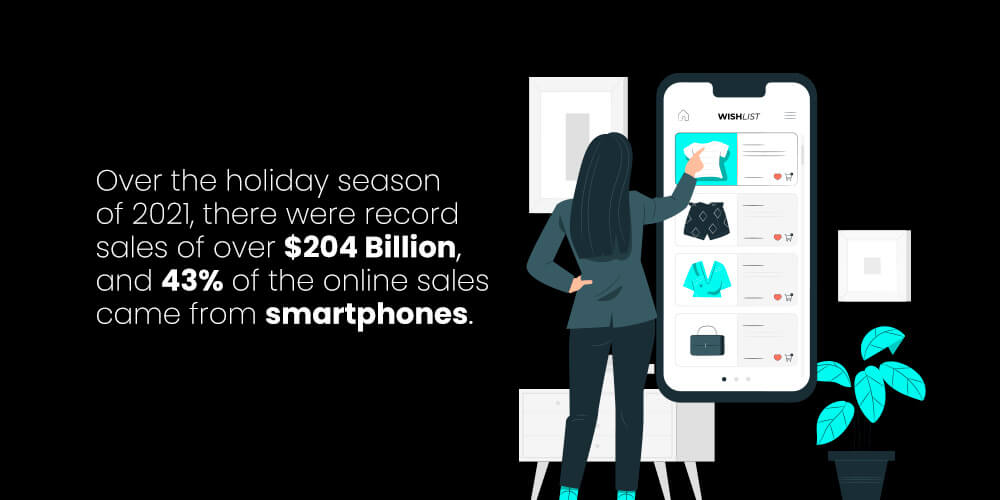 Over the holiday season of 2021, there were record sales of over $204 Billion, and 43% of the online sales came from smartphones.
This year, the mobile commerce percentage is expected to increase as most people have been working from home for the last two years, and they were able to shop through desktops. But now, as most have moved back to work from the office mode, shopping via mobile would be more convenient for shoppers.
Thus, optimizing your website for smartphones and providing a seamless, fully optimized mobile checkout experience is critical to driving sales.
Best tips for mobile marketing strategy for holidays:
Create a mobile app for your brand and promote it to encourage installations. This will help you directly communicate with your prospects, and you can send push notifications, product update notifications, recommendations, or other personalized messages.
Ensure that the app is compatible with all other devices and syncs across all channels
Create holiday-themed SMS campaigns for a broader reach
Automate messages for abandoned cart reminders
Automate customer service to communicate with your customers in real-time
4. Holiday-specific Google ad campaigns with targeted keywords
No matter the size or type of business you own, Google ads are a great way to entice and attract your customers during the Holiday season. Be it to build a relationship with your existing customers or to reach out to new customers; google ads can efficiently achieve most of your business goals and objectives. Holiday shopping is incomplete without including Google Ads campaigns in your holiday marketing strategies.
Create seasonal Google ads campaigns with targeted keywords to target Holiday Shoppers. For example, if you sell indoor plants, target high-ranking keywords such as "Holiday Plant Gifts" or "Indoor Plant Gifts For Holidays" and create specific campaigns offering some benefits or incentives to your customers.
5. Reward and give back to your loyal customers
Reaching out to new customers is essential but valuing your existing ones is also important. Let them know they are special to your business, and take Holidays as an opportunity to show some appreciation and thank them for their loyalty. Send them personalized gifts or emails offering discounts or deals specially customized for them.
Tips to give back to your loyal customers:
Give them early access to new products or services
Offer exclusive discount deals
Offer them coupons or referral bonus
Give them loyalty points on every purchase that they can redeem on later purchases
Send them a survey and ask for feedback to make them feel valued
6. Revamp your social channels with festive creatives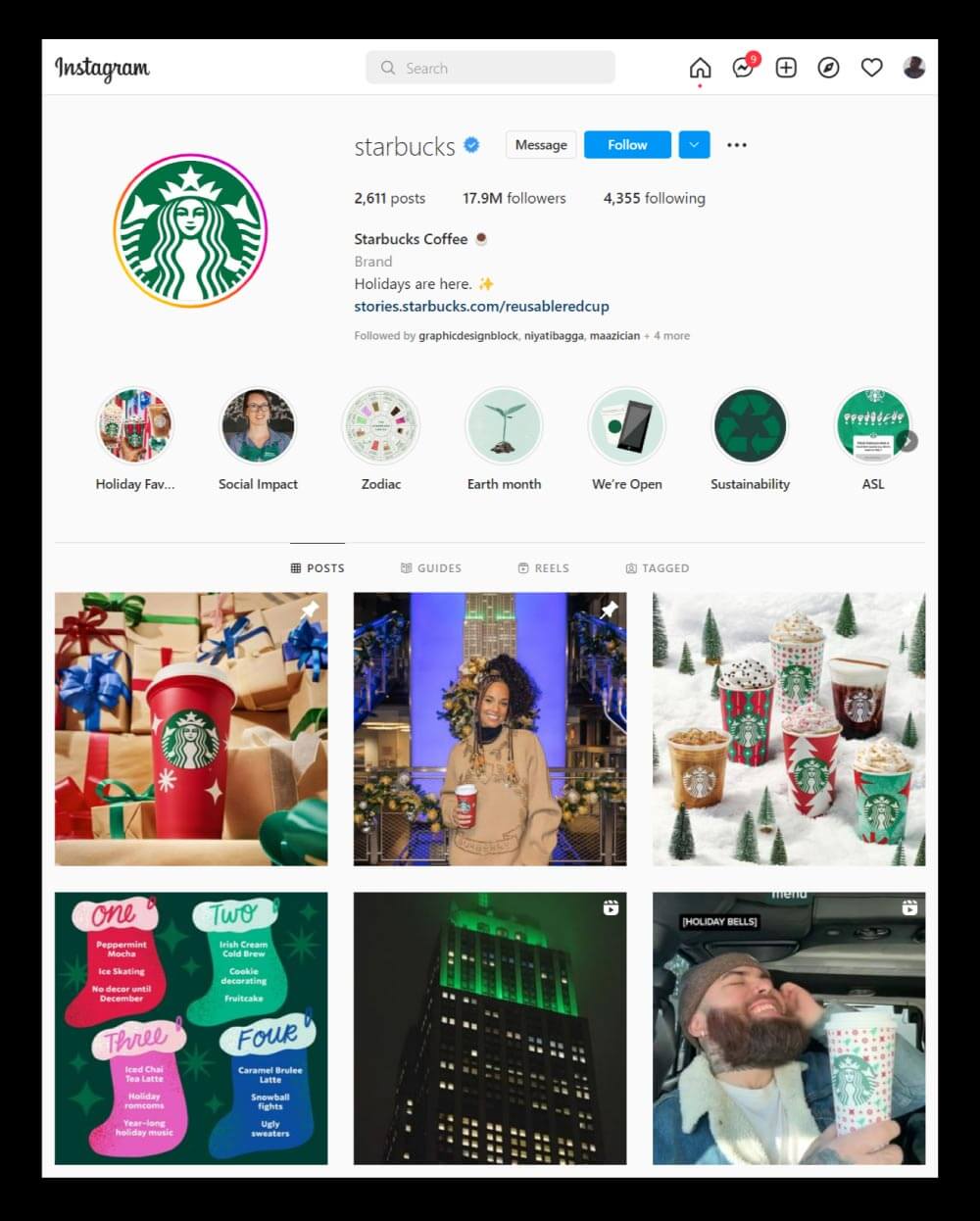 Every person who spends time online spends most of their time on social media platforms. Gone are the days when Social media was only meant to chat with your friends and family or to know about their whereabouts.
Social channels are now powerful tools for marketers. Be it to improve the organic growth of your website or to drive traffic, leads, and sales, marketing on social media platforms is an efficient holiday marketing strategy.
Update all your social media profiles with festive feel creatives, and plan festive-themed content postings regularly targeting all major holidays. Use different forms of posting and utilize all excellent features like reels and clips, short videos, IGTV videos, etc., available on platforms like Facebook and Instagram to post engaging content on your social channels.
7. Host giveaways on socials
Hosting giveaways during holidays is a great idea to enhance your brand awareness and user engagement. And, if you are thinking, do giveaways work? Well, it is a big yes!
Hosting giveaways helps you gain awareness, increase social media followers, gather leads, and increase your chances of conversions and sales.
You can run # Hashtag-specific contests on social media and offer freebies to winners. Every customer loves freebies, and what's better than giving freebies via a contest to your customers? As you'll have double the benefits of doing this. First, you will have an increased engagement rate for your store. Second, you will have a high chance of quick purchase action.
One idea for hosting contests or giveaways could be running a Hashtag challenge asking the users to share Halloween-inspired Costumes with unique hashtags like #HalloweenNightCostume or #GetReadyForHalloween.
8. Add a sense of urgency to your PPC campaigns
Adding a sense of urgency to your Holiday marketing ad copy is a proven idea to drive sales. Making people feel they will miss out on a fantastic deal attracts and encourages them to take quick purchase action.
Add phrases like "Discount ending soon," "Only a few items left in stock," or "Limited time offer" in the ad copy to motivate the shoppers to complete the purchase right away. Looking at FOMO notifications, customers fear or become anxious about missing out on the deal.
9. Update your e-store's blog page with festive blogs
The blog page of your store is where you can share your thoughts or create posts based on users' interests. Create a post about a Holiday gift guide, and suggest gift sets with creative uses of the products available in your store.
Holidays are when shoppers look for gift ideas and read gift guides, decoration ideas, or costume ideas. Thus, it's an excellent opportunity to bring organic traffic to your store via festive blog posts.
10. Instagram ads are a win-win during the Holidays
Instagram has gained massive popularity lately and now plays an essential role in Holiday marketing for businesses. It is one of the Millenials and GenZ's favorite platforms to scroll through or watch reels and stories. Thus, it also turned out to be a great platform to capture shoppers' attention as they look forward to getting inspiration or ideas on Instagram during the Holidays.
Organic or paid ad campaigns, Instagram has proven its worth for Holiday marketing with the unlimited features and opportunities it offers to businesses to promote their business.
Create shoppable Instagram posts to promote your holiday-themed offers or suggest gift ideas through a post. You can also post IGTV Videos for a product demonstration, or share sneak peeks of your upcoming holiday deals through stories and reels.
11. Remarketing and Retargeting, Utilize both during holidays
It is essential to place your business on top of the audience's mind or to remind them that they have shown interest in your product or service. This is where remarketing and retargeting comes in. The shared goal of remarketing and retargeting is to increase conversions by bringing back past visitors to your website who are likely to purchase from you.
However, both retargeting and remarketing nowadays are used interchangeably, but in reality, they both are different. They share a common goal but with different approaches to reaching customers.
Let's understand the difference between remarketing and retargeting with the help of the image below: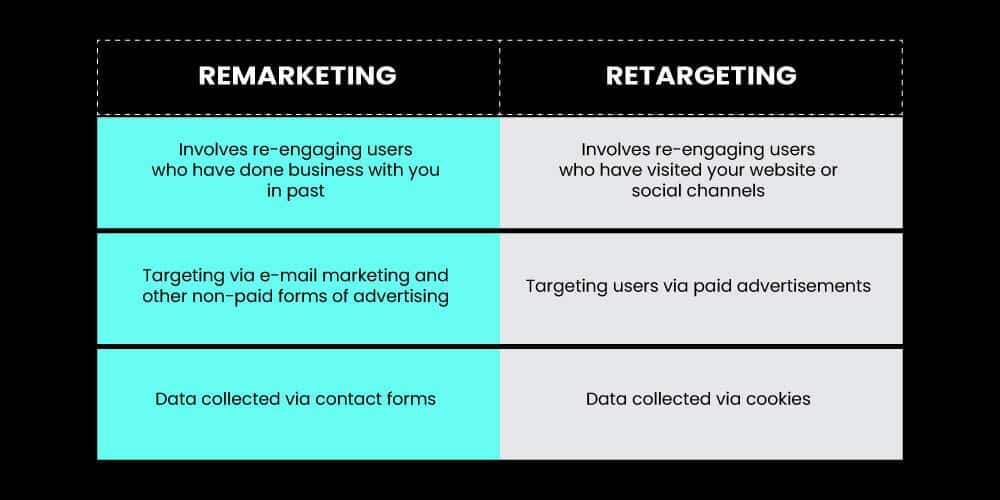 Thus, they go hand in hand and are great techniques for nurturing and developing customer relationships. Both tactics have now become extremely important for all e-commerce businesses.
12. Fun & Creative videos to attract and engage customers
Videos are not only eye-catching and exciting, but they also have the efficiency to gauge the audience's mind and leave a long-term impression on their mind.
Create jolly videos highlighting your Holiday sales or promotions, or share a "Happy Holiday" video note via email campaigns. Or, create a Holiday Gift Guide video, as this is the most searched query of shoppers during the Holiday season. You can also record a video of a Thank You message for your loyal customers to show them some appreciation.
You can try & test different ideas to attract and engage customers with video marketing.
13. Collaborate with influencers
Not only for businesses, but the holiday season is an exciting time for influencers too, as it brings opportunities for both to earn money. It is indisputable that influencers significantly impact customers' minds in today's world. People nowadays make purchase decisions inspired by their favorite influencers' recommendations.
Thus, collaborating with influencers during Holiday Season is one of the best Holiday marketing ideas to raise brand awareness and user engagement.
You can collaborate with influencers to promote the giveaways or contests you've hosted on your social channels. Or, collaborate and request the influencers to promote your products or services via their social media handles.
14. Holiday-specific product bundle offers
Offering product bundles means offering your customers a group of products at a single discounted price. Believe it or not, this tactic work like magic during the Holidays as people tend to purchase discounted product bundles for Holiday gifts or to save money with the offers they get on discounted product bundles.
However, you need to ensure that the bundle is compelling and valuable to your customers and that they are getting an advantage in purchasing the bundle over shopping the products (included in the bundle) individually.
Tips to remember while creating your product bundle:
Add the products in the bundle that complements each other or the products that fit naturally
Look for what products customers purchase together and pair them in a product bundle
Add accessories with a product you think a customer would have considered purchasing together but individually
Highlight the offer and the benefit to inspire customers to buy the product
15. Utilize the power of Push notifications
Push notifications have been around for a while and have multiple benefits for your business. Whether to build a relationship with your audience or to send them a personalized reminder to bring them back to your website, push notifications are efficient marketing tools for every mobile app owner.
Why do push notifications matter for businesses?
Push notifications are messages, including updates, offers, news, etc., sent on users' mobile devices. They are short but powerful messages designed to inspire users to specific call-to-action.
What's more enthralling for businesses is that 60% of app users agree to receive push notifications, with 70% feeling that push notifications are helpful, and 40% interacting with push notifications within 1 hour of receiving them.
The above statistics show the power of push notifications and how efficiently they can boost your Holiday season sales.
Here are some tips for using push notifications for the season:
Study your user's past behavior or shopping pattern and send them relevant notifications
Segment Location-based and time-zone-specific notifications to give personalized offers at the right time
Schedule your push notifications in advance and run automated push campaigns to avoid hassle during the peak shopping season. And, you can also enjoy the season with your family & friends
Send the users Holiday specific notifications customized for each particular Holiday and let the shoppers know about shipping deadlines, offers and discounts, product updates, and much more
Final Thoughts
Holidays are a great time to boost your brand's awareness and user engagement. Utilize the above-mentioned Holiday marketing ideas, and you'll see your holiday sales rise this Holiday season.
Hope you have great sales and happier customers this holiday season 🙂
To read more of our blog posts on Holiday Marketing, click here.
Achieve your digital marketing goals