Top 6 Holiday Marketing Tips For Businesses On A Tight Budget
By Avitanshi Srivastava
•
November 30, 2022
•
14 mins read
Is Holiday Marketing Important For Businesses?
Yes, because it's a time when people are most likely to spend large sums of money on themselves and others. This provides an excellent opportunity for businesses to make significant profits. Therefore, to help you out, today we will share six helpful holiday marketing tips with you. You can use these tips to your advantage if you have a limited budget to mark your presence.
Marketing is vital to any business, but it becomes even more crucial during the holidays. According to Harvard professor Gerald Zaltman, emotion is one of the main factors that drives the consumer's purchasing behavior and decision-making. And the holidays are a time when people are looking to buy gifts for their loved ones. Because they want to find something that reflects the person's personality or interests.
Therefore, by incorporating emotional marketing you can show your appreciation for your customers. By catering to the preferences of your target audience, you can also get positive brand recognition. These holiday marketing tips will allow you to create a positive emotional connection with customers and make them feel valued. And it will also help you boost your sales, and reach new customers.
Holiday Marketing Tips For Businesses On A Budget
Marketing is a huge part of any business. It helps to get your product or service out there and in front of potential customers. In today's world, marketing has taken on a whole new meaning. It's not just about using traditional methods such as television commercials, print ads, and billboards anymore. Marketing now includes social media marketing, content marketing, influencer marketing, email marketing, etc.
The holiday season is a big opportunity for businesses to grow their customer base and get recognition. To be successful, it is vital that businesses understand the importance of holiday marketing. As the holiday season is one of the most important times for businesses to build their identity in the market. They can achieve this by getting their products noticed by consumers who are looking for gifts during the holiday season.
Therefore, businesses need to come up with a robust holiday strategy keeping in mind the consumer trends and their preferences. Usually, big brands are able to pull off grand holiday campaigns as they don't have to worry about the cost. But not every business can allocate such enormous amounts of money without any guarantee of fixed returns. Hence, today, we will focus on some useful holiday marketing tips from which businesses with a tight budget can benefit.
Top 6 Tips To Ace Holiday Marketing For Your Business This Festive Season
1. Choose The Right Marketing Channels
Even if you have a budget crunch, you can still have a pretty profitable holiday season. Yes, when it comes to big brands they do have an advantage over other businesses due to the spending limit. But that does not mean that small businesses cannot leverage it to their advantage by using the right marketing tools. Due to its significance, this is the first tip from our list of top holiday marketing tips.
The key is to find the marketing channels where your target audience resides. After that with the right holiday strategy, you can market your products or services to your customers at the right time with the right messaging. Once you have readied the blueprint of your strategy, consider half the preparation done.
To find the right marketing channels for your holiday marketing preparations, start by scoping out your competitors. From this, you'll gain useful insights like where your customers hang out and which platform is useful for what purposes. Be it creating awareness, building credibility, or generating leads. Create your strategy keeping in mind the stages of the buyer's journey and plan accordingly.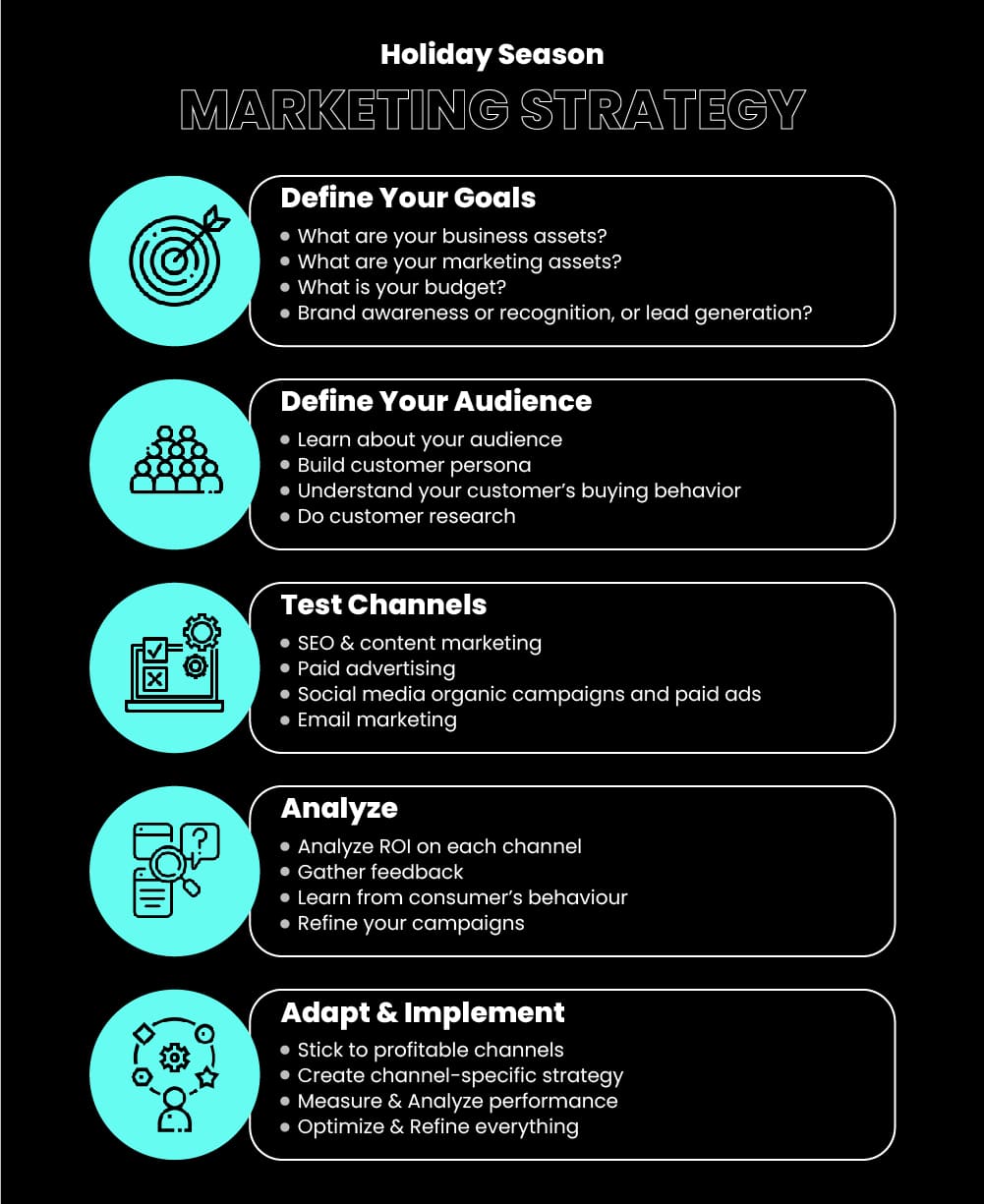 To have a high-impact but low-cost holiday strategy, you need to learn your customers' buying behavior, pain points, and preferences. Because the better you will be at reading your customers and understanding their needs, wants, and preferences, the better you will stand out from the crowd, capture their attention and make an impact.
Therefore, you first begin with identifying the marketing channels your audience frequents the most. Which channels they refer to whether it's for browsing, checking reviews, or making a purchase. Once you get the hang of that, determine what kind of messaging can trigger the desired action from them. With that, you will be able to pull off a profitable holiday marketing plan that won't break the bank.
Now that you have understood the importance of it winning first place in our list of top holiday marketing tips, let's move on to the next.
2. Create Unique And Compelling Landing Pages
Landing page is the first thing users see when they visit a website. It serves as an enticing and persuasive way to introduce the company, product, or service to the user. They are primarily designed to capture your visitors' attention and provide them with enough information to drive them to take the desired action. They are designed to capture your visitors' attention and provide them with enough information to drive them towards desired action.
The reason it has earned second place in our list of top holiday marketing tips is due to its usefulness. As it can be used to accomplish various marketing purposes such as lead generation, conversion optimization, and general branding. And in this case, for holiday marketing. So for businesses looking for low-cost but high-impact marketing strategies, a holiday-themed landing page is one of the best tools.
For example, you can use it as a lead-generation tool to collect information about potential customers or clients. It can also be seen as an advertisement of sorts that will convince users to sign up for more information (holiday specific mails about offers, deals, and discounts, holiday-themed newsletter), or to download marketing collateral (free gift guide or other helpful holiday-related content) or to make a purchase.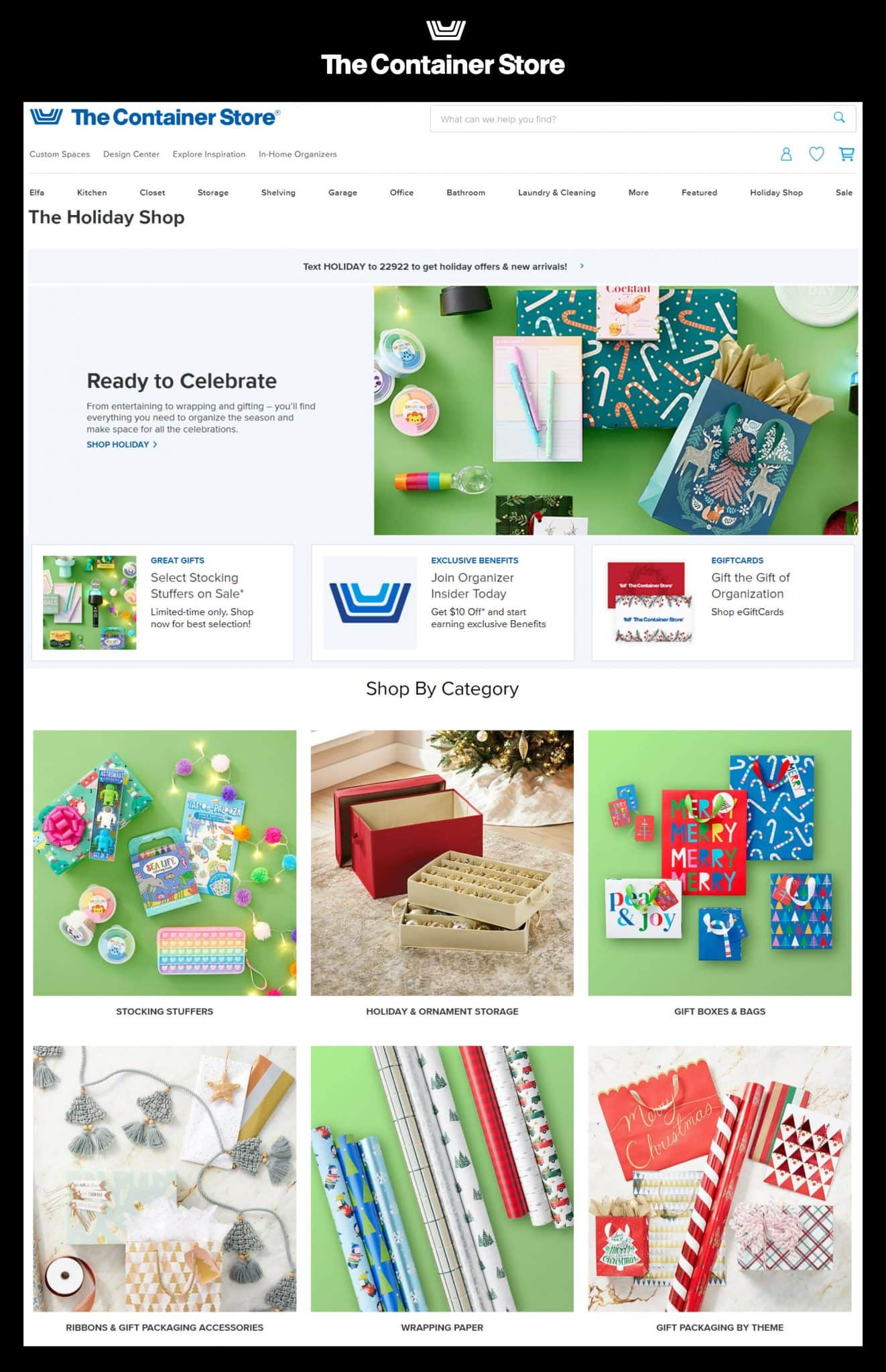 But how do you ensure that they will be adequate to help you make the most of the holiday season? Fret not; take a look at some of these holiday marketing tips that you can use while creating landing pages –
Write a compelling copy and CTAs (Call-to-action)
Tailor it according to the preferences of your audience
Keep it minimal and neat
Optimize page loading speed
Provide unique value propositions, exciting deals, and discounts (price reduction always works like a charm)
Create a sense of urgency (with expiration dates, countdown timer, etc)
Use power words
Use high-quality media
Implement add-ons (gift wrapping, personalized messages, etc.), upgrades, and cross-sells (Suggest accessories or complementary products during checkout)
Use social proof such as case studies, customer reviews, ratings, and testimonials
Sprinkle some holiday spirit with festive colors and elements
3. Boost Your Presence With A Strong Content Strategy
According to the Content Marketing Institute, 61% of online consumers in the United States have made a purchase based on recommendations from a blog. What does it tell us? While creating a holiday marketing plan to make the most out of the holiday shopping season, you must have a proper content strategy because, among all the other marketing efforts, content is the driving force that triggers the mind to take action.
Now the question is, what does a good content strategy entail, and how do you create one? To make the answer sound simpler than the question is, we have divided our third tip from our list of top holiday marketing tips into 5 phases-
Content Alignment: Begin with defining your target audience. Identify topics that are popular among your customers during the holiday shopping season. Create a list of topics that cater to your customer's buyer journey to target them at each stage.
Content Creation & Refurbishing: Create an editorial calendar for smooth and seamless execution and tracking of the entire process. Check your old content to identify how much of it can be used in its present state, what needs to be revamped or repurposed and what all needs to be created from scratch.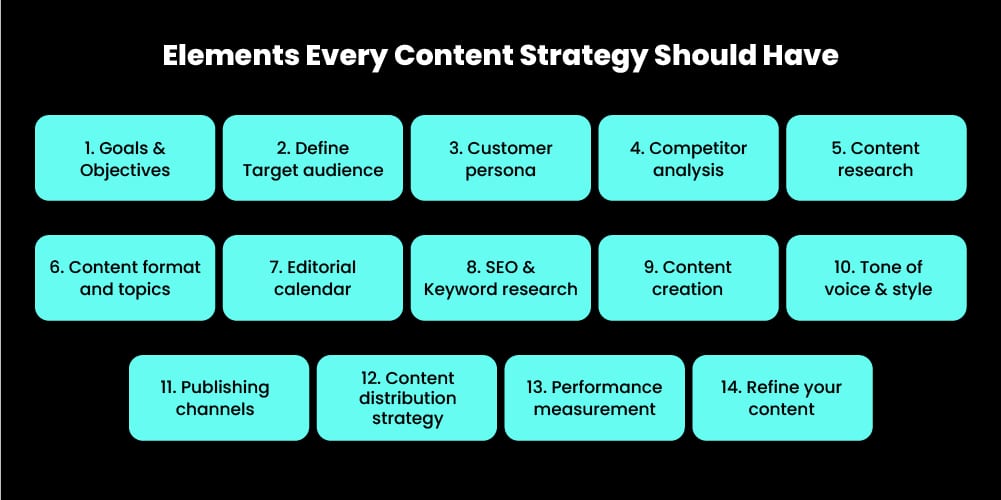 Resource and Time Management: Once the topics are finalized, align them with your team according to the availability of resources. And consider the time factor as according to a consumer survey by Gartner it was revealed that nearly half (48%) of consumers start to shop early (around the month of October or November) during the holiday season.
Performance Measurement: Determine the metrics for measuring each content piece's performance. The better you will be able to measure the performance, the better you will be able to optimize and refine your content pieces and strategy to get better results. To do that, you can divide the metrics as per the following headers- i) User Behaviour, ii) Engagement, iii) SEO, and iv) Impact: Leads & Revenue
Distribution & Promotion Plan: No matter how amazing your content piece is, if it is not showing up in front of the right audience on the right platforms at the right time, then consider all your efforts dead and wasted. Hence, having a foolproof promotion strategy in place is the last but one of the most important aspects of any content marketing strategy.
Little tip: If you want to leverage content marketing for your holiday marketing business plan but don't have the resources or time to manage it? You can reach out to our experts from our content marketing wing to make your holiday marketing a success!
4. Improve Your eCommerce SEO For Holiday Traffic
Whether you are a small-scale business, or a brick-and-mortar store, having an online commercial presence is crucial when it comes to your business growth. During the holidays, shoppers look for the best value deals with great discounts to get the most out of their spending budget. This is when, irrespective of being a small-scale business, you can bring the customers over to your side.
It is hugely due to the fact that when it comes to eCommerce, if you have everything SEO optimized, then your chances of showing up in search results or getting a better rank increase significantly. Coming to our main point, let's get back to our main topic, which is why we have added this to our list of holiday marketing tips.
To increase your traffic, visibility, and customer base during the holiday season, you need to note a few crucial things when it comes to improving your eCommerce SEO. Suppose you don't have a seller account on the top eCommerce sites such as Amazon, Flipkart, Shopify, etc. Then you are missing out on a large chunk of your target audience.
The customers who come to these eCommerce sites are the ones having a high level of buying intent; therefore having a strong presence on such platforms will not only increase your chances of getting noticed but will also help you generate business.
Apart from that, to improve your eCommerce SEO, follow these pointers-
Analyze the keyword search Volume, CPC, and user intent
Add high-volume keywords to your content
Optimize your product titles for holiday shopping trends
Address customers' pain points & needs in the description
Add metadata (tags, titles, descriptions)
Use long-tail keywords to target search queries
Use high-quality images
Add compelling copy and CTAs
Conduct Competitor Research
Enable the review/feedback option
Add FAQs to address common queries
Reduce page load time
Make it responsive and mobile-friendly
5. Collaborate With A Local Business Or Charity
Nowadays, just having an amazing product or service is not enough if you are not able to bring it to your customers with the right messaging.
With all the research and studies being conducted on consumer behavior and preferences these days, one thing that is finally getting recognition is the fact that people prefer brands that are charitable and have a humanitarian side to them. Another factor that comes into play is that consumers seem to prefer brands that make an active effort to reach out and connect with their audience.
People are interested in getting to know the brand before investing in them. From their vision, mission, interests, values, and beliefs, consumers are more interested in getting an in-depth understanding of whether that brand is worth their investment. This is due to the fact that money is not the only factor that is being considered while making a purchasing decision.
In today's time, selecting a brand translates into sharing the same values and beliefs. That's why marketing has changed from selling products or services to selling emotions. Therefore, for a successful holiday marketing plan, collaborating with any of your local businesses or charities would be a wise investment from a marketing as well as branding perspective.
To execute it, you can plan a fundraiser and involve your customers to chip in, donate a percentage of your profits, volunteer for a non-profit organization or camp, collaborate with a local food bank, or partner with a local business. This will lead to an increase in your brand awareness, recognition, and credibility among your target audience.
6. Provide Better Order Fulfillment And Payment Options
In the rush and excitement of the holiday season, there are a few things that dampen the fun for shoppers, such as the holiday rush, lack of inventory, limited payment options, delayed deliveries, and complicated returns. Due to this, shoppers prefer to switch brands in order to get better fulfillment or payment options.
With the online shopping era, businesses all over the world have been trying to offer the best conveniences to their customers. The consumers also expect no less from them during the festive season, if not more. Therefore, to excel and ace this holiday marketing for your business, you need to work on providing the shoppers with the most seamless shopping experience.
To execute it, you need to work on all aspects. Like when it comes to payment options, you can include the 'buy now, pay later' option, as this provides flexible payment methods to your customers. It offers them the ease of purchasing via debit card, credit card, zero-interest EMIs, or a small loan paid through a bank transfer. This will allow the shoppers to spread their savings on multiple purchases.
Moving on to the other aspects of order fulfillment, to ensure that you become the preferred choice of your customers, you also need to work on keeping your inventory stocked and providing hassle-free checkouts, better delivery, and returns options. According to Deloitte, 85% of people prefer free shipping over fast shipping and expect two days delivery time at max.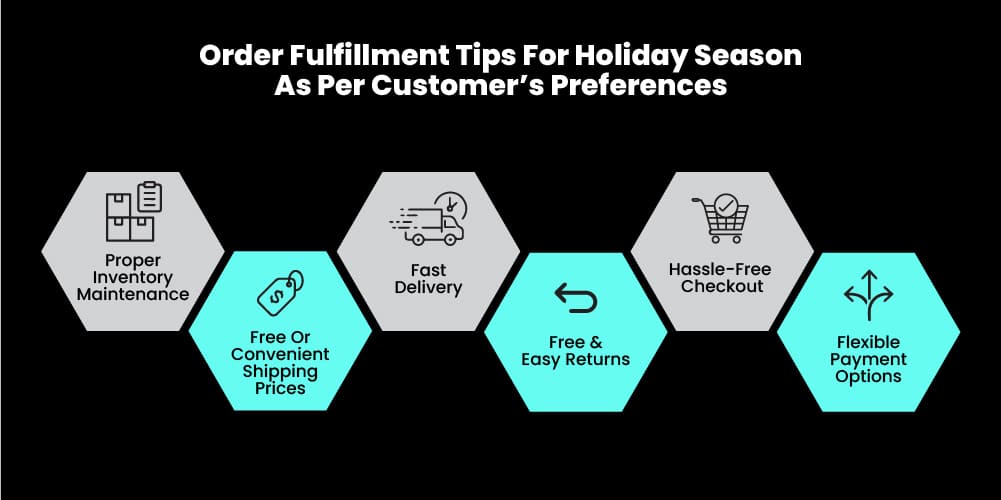 Thus, this earns the last and final place in our list of holiday marketing tips. It is not because this has lower value but because we want to drive the point that businesses need to remember that the after-sales service is equally important as the efforts spent on selling. Because if done right, it can lead to customers becoming your brand advocates.
Final Thoughts
First, here's a recap:
Today we explored the importance of holiday marketing for businesses, why this time of year is such an important opportunity for brands, and how they can best use this time to generate sales and grow their customer base with these holiday marketing tips mentioned below.
Choose the right marketing channels.
Create unique and compelling landing pages
Boost your presence with a strong content strategy
Improve your eCommerce SEO for holiday traffic
Collaborate with a local business or charity
Provide better order fulfillment and payment options
Moreover, as we have established already, holiday marketing is a tool of great significance for any business. Most people look to spend a good amount of money on gifts during this time of the year and are more than willing to buy from you if they see that you are offering something they want or need.
Therefore, it is an excellent opportunity for businesses to reach out to the target audience and promote their brand by providing them with the most seamless and delightful shopping experience. Here is where our holiday marketing tips will come in handy, which you incorporate into your holiday strategy to deliver that experience to customers.
Did you find this article helpful? We will be posting more holiday marketing tips in the upcoming weeks. Stay tuned to our blog, and never miss an update!
Achieve your digital marketing goals