7 Cyber Monday Marketing Ideas For Your Business
By Rohit Sharma
•
November 18, 2022
•
15 mins read
The biggest online sales event of the year is nearly here!
Cyber Monday 2022 is expected to be a stellar occasion for e-commerce retailers. The National Retail Association predicts online sales to increase between 6% and 8% to more than $4.86 trillion in 2022.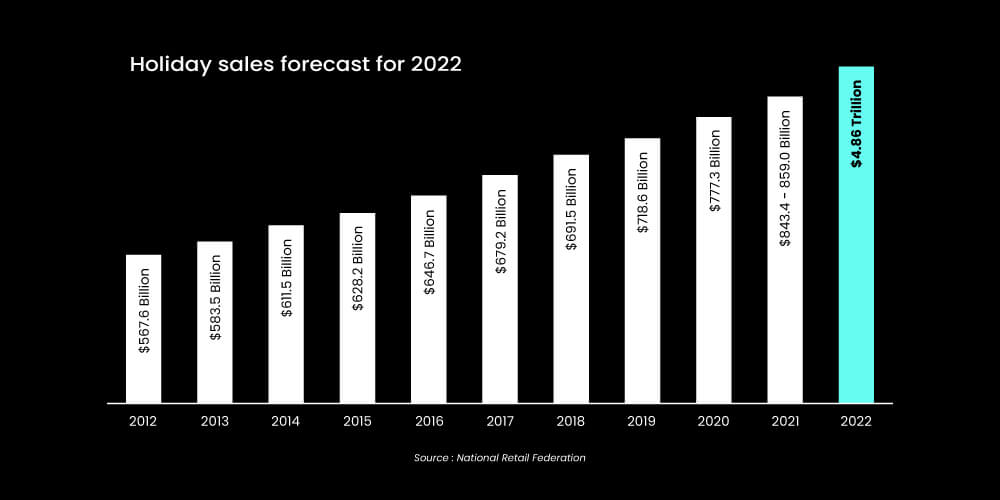 Over the years, Cyber Monday has evolved as an extension of the historical Black Friday event to create a weekend full of sales rather than a single day. There is no doubt that Cyber Monday is the most significant opportunity for businesses to meet or exceed their annual sales goals.
Many brands use Cyber Monday to market the stock of products that did not make it off the shelves on Black Friday. However, savvy business owners treat the two days as prongs in a single marketing approach.
Brands can sell more and appeal to two separate audiences by focusing on the in-person retail experience on Black Friday and then pushing them for online purchases during Cyber Monday.
Technology products, in particular, have the best deals on Cyber Monday, honing in on the terminology that puts digital experiences at the forefront. Products like laptops, gaming systems and PCs, televisions, video games, tablets, phones, subscription services, and SaaS programs are heavily featured in Cyber Monday sales.
Every business wants to make the most out of the Holiday Season. And it would be best if you start early to stay ahead in the game. Do not wait until late fall to implement your Black Friday and Cyber Monday marketing strategy.
Why is Cyber Monday Marketing so Important?
E-Commerce is taking over!
According to NASDAQ, nearly 95% of all purchases will be made online by 2040. That's why Cyber Monday is on track to surpass Black Friday as the most critical shopping day in the U.S.
Preparing a marketing plan for the festive season can help you make the most of Cyber Monday.
As per Adobe, online retailers have earned an average of $10.75 billion from Cyber Monday sales over the past two years.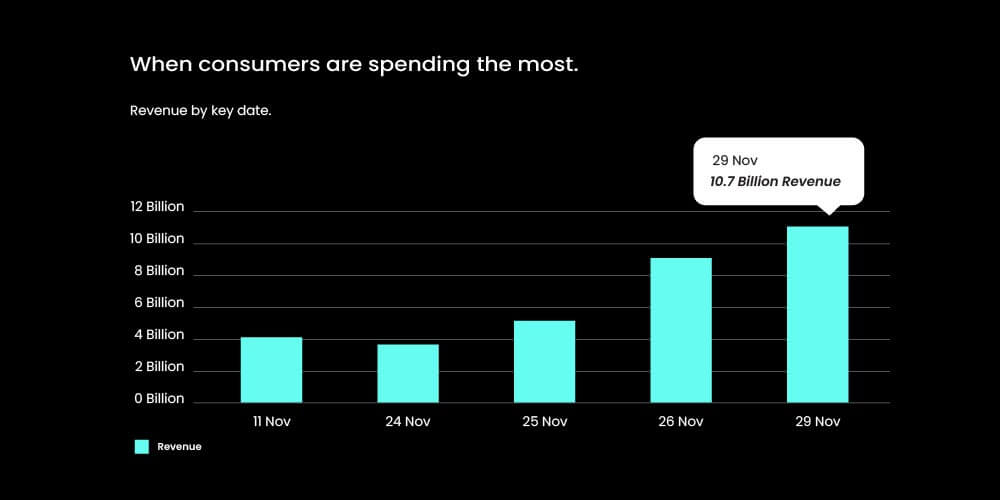 Here are a few other reasons why Black Friday and Cyber Monday Marketing is crucial for you:
Increased traffic – Black Friday and Cyber Monday promotions and marketing strategies can significantly increase traffic as people gear up to spend more for themselves and their loved ones during the festive season.
Increase in profits – Cyber Monday Marketing can help you position your brand well and help increase your revenue.
Acquire potential customers – Consumers' buying behavior is at its peak during Black Friday and Cyber Monday, as they are close to the holiday season. People want to purchase affordable products at great prices during the season.
Retain existing Customers – A good marketing strategy for your Cyber Monday promotions will help you position your brand well and retain your existing customers.
Stay ahead of the competition – You will be able to come up with much better ways to drive sales and increase awareness by creating Black Friday and Cyber Monday marketing strategies.
Great time to clear up old stock – Cyber Monday Marketing offers you an opportunity to clear old inventory to introduce newer stock in time for Christmas. If you have some unsold old items in your store, this is probably the best time to clear it up by offering discounts or special offers to your customers.
Boost Sales with these 7 Cyber Monday Marketing Strategies:
I. Create a Landing Page
A landing page for Cyber Monday is crucial in increasing brand awareness, driving traffic, and increasing sales.
A landing page is critical to promote your Cyber Monday deals. Since your landing page will be the first thing your customers see on your website, make sure your landing page:
Caters to a specific goal
It is simple yet eye-catching to help customers make informed decisions
Focuses on increasing the conversion rates
You can refer to the Cyber Monday landing page below.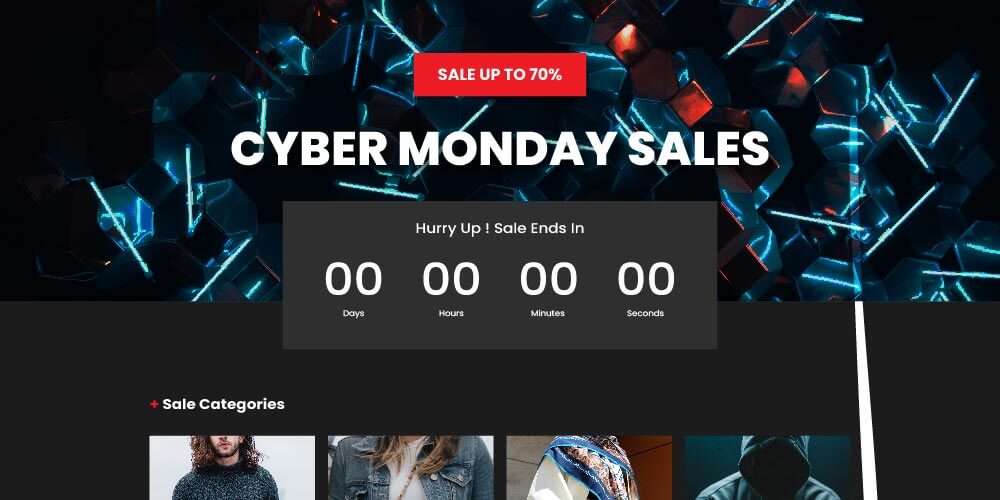 There are 4 things you need to do to make your landing page stand out:
1. Create a catchy Headline
The first thing that will draw the attention of your customer when they visit your landing page is the Headline. So make sure you subtly announce the reason for your landing page. You can add "CYBER MONDAY SALES" with bold text and place it at the top of your landing page.
You can also emphasize the discount percentage. For example:
UP TO 70% OFF
BIGGEST SALE EVER- UP TO 90%
BUY 1, GET 1
You can also add a Discount Code for your visitors during Cyber Monday.
2. Simplify the content and aesthetics for customers
Landing pages help simplify your customer's decision-making process, so remember to design your landing page with simple and eye-catching esthetics. Your job is to make your customers' buying process easy. You can follow a color theme for your Cyber Monday Landing Page related to the upcoming festive season.
There are accessible sources to choose from for free high-quality backgrounds and images. You can visit Pixabay, Unsplash, Freepik, etc.
3. Have a Call-to-action
Having a call to action on your Cyber Monday landing page is extremely important. A call-to-action is where your customers will click once they have decided to take action.
For Cyber Monday, you can use the following CTAs:
CLICK HERE BEFORE IT EXPIRES
AVAIL YOUR DISCOUNT
HERE'S YOUR SPECIAL OFFER
4. Optimize your landing page for mobile
Always think of "Mobile First" before investing time in your landing page. People do everything on their smartphones, so make sure your landing page display has a perfect mobile layout.
Here is a landing page optimized for mobile.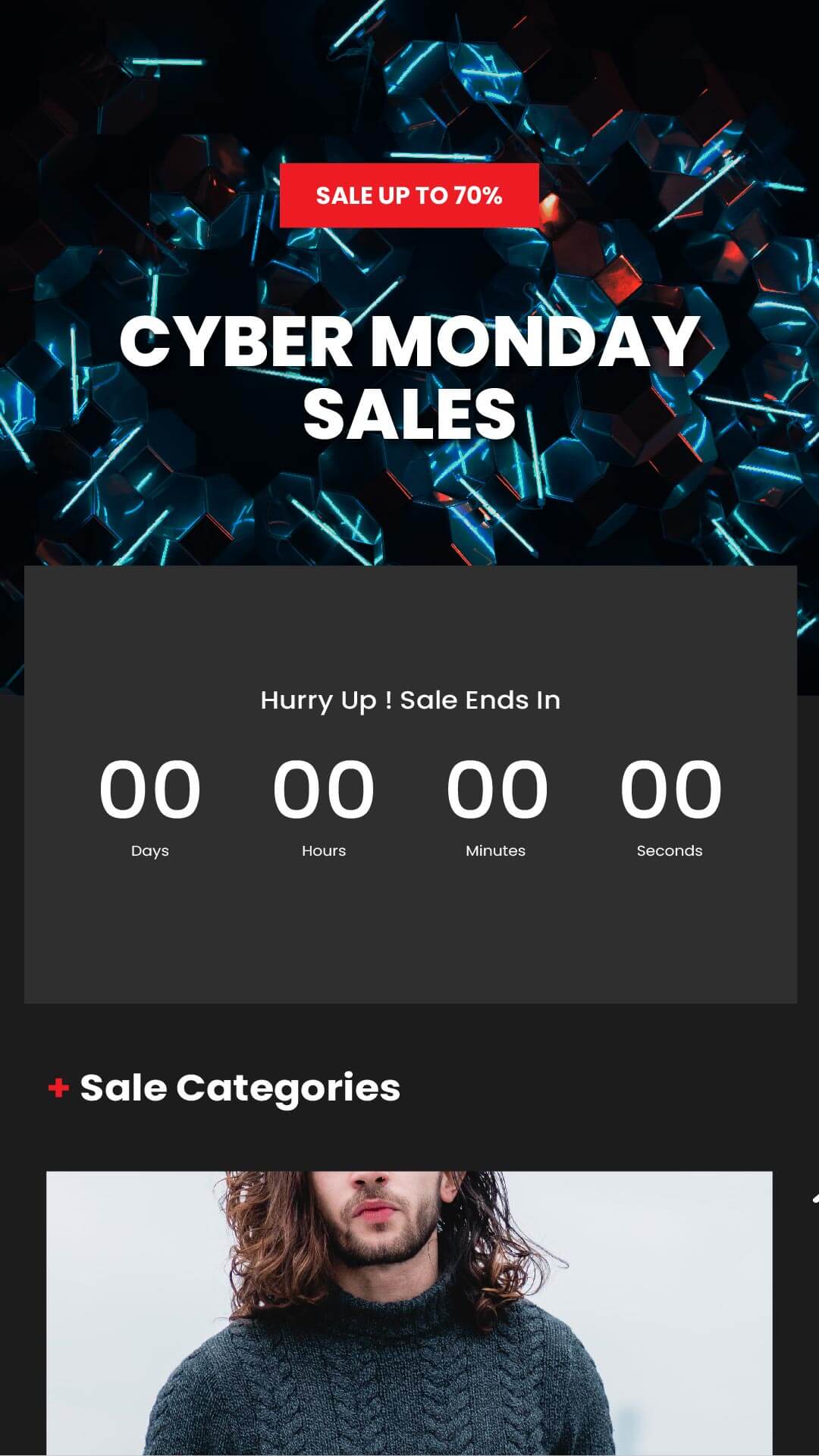 II. Sell your products in bundles
Bundling products is an effective marketing strategy used across all eCommerce markets. It is a win-win for both store owners and customers.
Selling products in bundles boosts sales, increases revenue, and improves your customer's average order value (AOV).
Customers love it because they can save money. Business owners prefer bundling products as it drives more sales, saves money on marketing, and helps reduce inventory waste.
Here are some ideas on how to bundle your products for Cyber Monday:
1. Create "Buy-More-Pay-Less" bundles
Creating "Buy-More-Pay-Less" bundles can help increase the perceived value of the bundled product, and you can help your shoppers save their pockets by providing them with an extra edge. You can effectively implement this strategy by-
Offering two or more products at a single price
Offering high-priced and low-priced products together at a single price
Offering multiple product varieties at a single price
2. Combine low-selling items with trending ones
Every eCommerce owner struggles with this question "how do I sell the few products that never sell?"
If you are struggling to sell a few products, focus on product bundling.
The best way to sell low-selling items is to pair them with the most trending ones. Combining products in a bundle can attract customers as most attention goes to the trending product. Take your lowest-selling products that are still in good condition and offer genuine savings.
3. Offer special deals and discounts to your customers
Don't forget to offer special deals and discounts to your customers during your Cyber Monday Marketing Efforts.
Offering special deals not only helps improve your brand's reputation in the minds of your customers but also makes them feel good. The feel-good factor that your marketing efforts bring will motivate your customers to choose your brand over your competitors' every time.
The 'Buy One Get One Free' bundle is one of the best bundles that you can include. As per AMG Strategic Advisors, 93% of customers prefer 'Buy One Get One Free' bundles.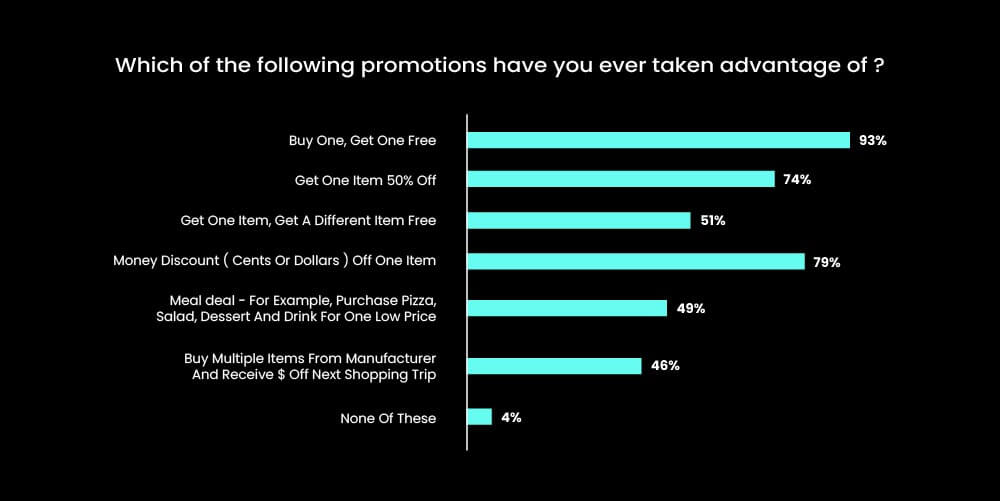 III. Create an Email Campaign – early and in advance
Email Campaigns can be one of the most effective tools at your disposal when it comes to digital marketing, let alone Cyber Monday Promotions.
Creating a solid email marketing strategy helps you reach and connect with your target audience in a personalized way and increase sales at an affordable cost.
By launching your Email Campaign at least a month in advance, you can stay ahead of your competitors and inform customers about the exclusive deals and offers before you post them on your channels.
A successful Email Campaign requires enough time to prepare inventories, workforce, spreading the information to the potential customer, etc. That is why it is best to start preparing for it six months before the Holiday Season.
Here are some tips on how to create a rocking email campaign:
1. Personalize your emails
Personalizing email is a great tactic with excellent benefits for your email campaigns.
It's up to you to convince users that every email you send has been created specifically for them.
A study conducted by Experian highlights that personalized emails have a 26% higher open rate.
Another study by Dynamic Yield in 2017 found that up to an incredible 88% of users agree that they will respond to an email favorably if it looks like it has been created specifically for them.
2. Keep your subject lines short
Subject lines can be your ticket to standing out in a crowded inbox.
Short and catchy subject lines may seem like a small part of your emails, but they are one of the first things a person notices in an email. Be sure to create a lasting first impression with compelling subject lines to get people to click.
If you want your email to be opened and read, make sure to work on your subject line and make it catchy.
Here are some tried and tested tips to help you create subject lines that will boost your email engagement:
i. Create a sense of urgency in your subject lines
ii. Start with action-oriented verbs
iii. Use numbers
iv. Provide offers
v. Ask a compelling question
3. Pick the right time to send your emails
The right timing is key when it comes to contributing to the success rate of your email campaigns. Sending emails at the right time leads to higher open and click-through rates.
But no one time fits all. You can refer to the chart below for different timings for different business types.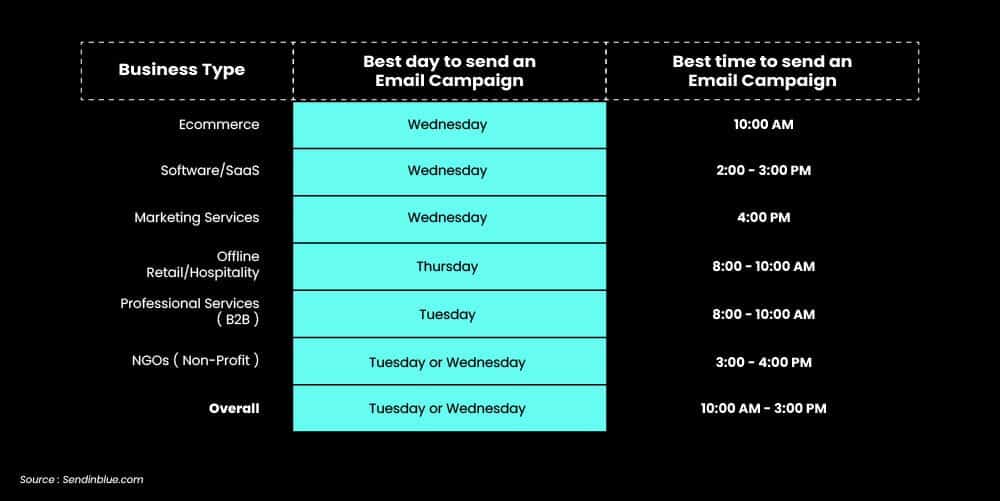 You can also use email automation tools to save time and resources and execute advanced testing to find the ideal timing for your email campaigns.
4. Give away Freebies in your emails
Freebies can act as a lead magnet that gets your customers to opt-in and share their email addresses. A freebie is some particularly valuable content you offer your readers in exchange for their email addresses.
These extra valuable giveaways will help you increase the number of subscribers and revenue.
But when you ask someone to share their email address to fill their inbox with newsletters and promotional emails, you need to offer something extraordinary in exchange.
Here are some examples of lead magnets you can use to get users to opt-in:
Short eBooks or How-To Guides
Audio Recordings of Blog Posts
A mini Email course
High-Value Webinar
Free Consultation
Invite only Facebook groups
Free shipping and discount codes
Limited product access
IV. Promote on Social Media
The 2022 Deloitte Holiday Survey suggests that mobile shopping will increase by more than 10 percent this holiday season.
Tools like Instagram and Facebook offer great business opportunities to grab the attention of smartphone-savvy customers.
Here are some tips for you to make your brand's Cyber Monday social media campaigns stand out:
1. Plan your content and schedule in advance
Planning your Holiday Marketing content and promotional strategies beforehand will allow you to create quality content that will keep you one step ahead of the competition. Make sure you create a Social Media Calendar for your brand's content.
You can also invest in a social media scheduling tool to help save time and ensure the effective utilization of your resources.
2. Create FOMO
People have a sense of urgency during the holiday season, so make sure you sprinkle some FOMO (Fear of Missing Out) into your social media campaigns.
An effective way to create a sense of urgency in your customers is to use Time or Scarcity Related Trigger Words in your social media content.
Here are some trigger words that you can use in your content to increase your chances of converting your followers into customers
Limited time offer
While stocks last
You don't want to miss this
Today only
Hurry
Claim your offer before it expires
Save today
And since Cyber Monday already lasts 24 hours, you can create a few countdowns throughout the day with various limited time offers. This is an incredible hack that will keep your audience engaged throughout the day.
3. Use Hashtags to increase reach
Using hashtags on social media can help you increase your organic reach and engagement. When you use relevant hashtags, your posts will be found by people searching for your tag.
You can use Black Friday and Cyber Monday hashtags (#cybermondaysales, #blackfridaysales), or for even more impact, consider researching trending hashtags.
Choosing relevant hashtags for your Black Friday and Cyber Monday deals can help promote your social media posts and sales.
V. Offer exclusive deals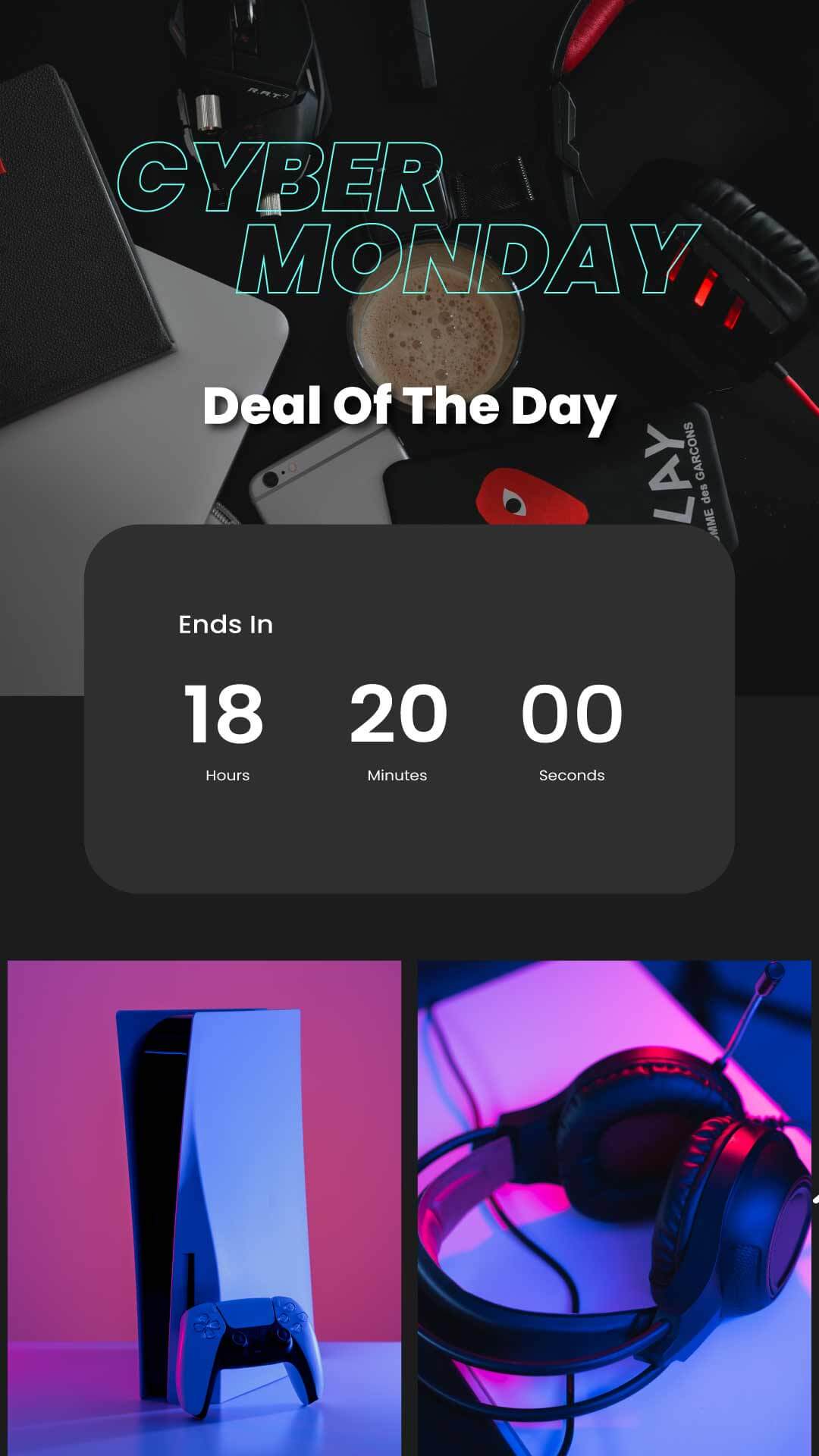 Customers like to be acknowledged.
Offering exclusive deals and discounts to customers can be an effective Cyber Monday marketing tactic that can build customer loyalty and increase repeat business.
Showing your customers that you value them will encourage them to come back throughout the year, even on days that aren't Cyber Monday.
Focus on creating irresistible offers and make your customers feel like they are getting a lot more than what they are paying for.
Here are some examples of exclusive deals that you can include in your Cyber Monday marketing plans:
Deal Of The Day
Short Term Discounts
Member Exclusive Rewards
Gift Vouchers
Loyalty Cards
Cash Back
Student Discounts
Remember to stand out. You need to make your deals exclusive enough that your shoppers have a reason to buy from you rather than your competitors.
VI. Partner with Influencers
Partnering with influencers can prove to be one of the most important tactics to make the most out of your Cyber Monday Marketing efforts.
A survey suggests that 84% of shoppers make a purchase based on an influencer's recommendation.
Social media influencers have gained a trusted following on social media platforms because people like them and trust their opinions. This is why partnering with them can help build people's trust in your brand.
Another reason why partnering with social media influencers during the Holiday Season can be an absolute game changer for your brand is because it can significantly increase your exposure. Social media influencers can have a following ranging from thousands to millions, which means that the content they put out reaches a wide range of audience.
If you are a business with a small social media following, then utilizing the reach of these social media influencers can help you reach a diverse audience and increase your brand exposure.
Here are some ways for you to partner with influencers on social media channels:
Gifting products to influencers
Organizing giveaways in collaboration with influencers
Making influencers your Brand Ambassador
Sponsored Posts
If you are wondering how to find the right influencers to work with, refer to the image below.

VII. Offer Free Shipping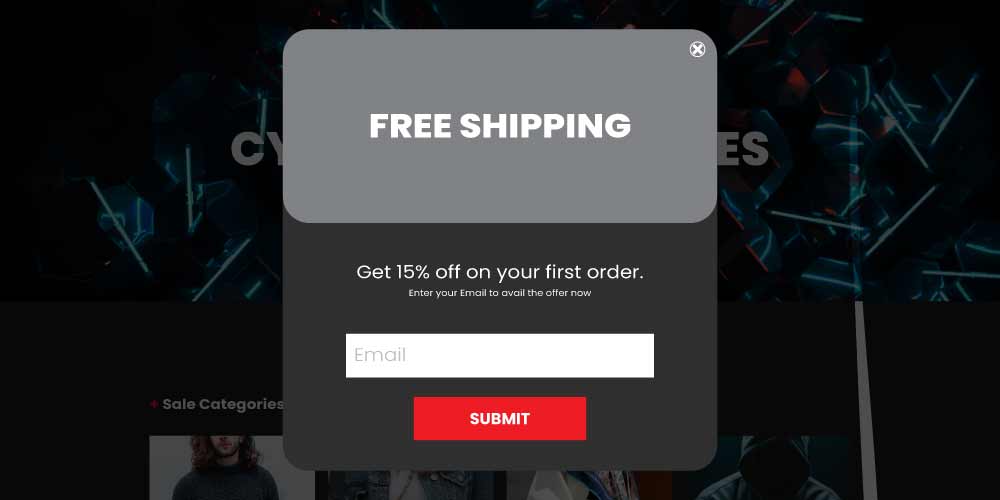 Shipping costs play a considerable role in influencing your customer's purchase decisions.
A survey by UPS showed that 52% of shoppers will add more items to their cart if they are offered free shipping. And almost 45% abandon their cart if they do not qualify for free shipping.
This proves that customers appreciate simple pricing structures and love it when they don't have to pay an additional shipping charge.
Since people love freebies, businesses can use free shipping during the holidays to their advantage by getting customers to spend above their budget.
We understand that absorbing all shipping and handling costs has significant drawbacks, the most apparent being profit margin loss.
So here are some other approaches for you to offer free shipping without cutting into your profit margins:
Offer free shipping for orders over a specific amount
Offer free shipping to members only
Offer free shipping on exclusive deals
Offer free shipping during a particular time frame that is ideal for increasing sales during slow periods
Include shipping fees in the price
Conclusion
We hope you include the ideas shared in this guide and make the most out of your Cyber Monday marketing campaigns.
There are several proven strategies for you to choose from. We have shared seven of our favorites.
Remember to start early and create a sense of urgency with eye-catching images, subject lines, and social media content.
Be sure to make the offers as exclusive as possible; to stay ahead of your competition.
If you want to make the most of this holiday season, visit Mastroke. We can help take care of all your marketing needs!
Achieve your digital marketing goals