7 Brands That Nailed It On Single's Day
By Surabhi Shukla
•
October 28, 2022
•
12 mins read
Are you ready for one of the biggest shopping holidays of the year? Single's Day is just around the corner, and the holiday shopping spirit spikes with each passing Day. If you're wondering what is Single's Day? Well, it's the Day we celebrate singlehood and look out for the best singles' day shopping deals. This Day gained prominence as an Anti-Valentine's Day, a day to cherish being single and pamper oneself with crazy shopping deals. You may also know it as Bare Sticks Holiday, Single Sticks Holiday, or 11/11 Holiday.
For those who aren't aware, Single's Day dates back to 1993; a group of students from Nanjing University, China, was the first to come up with this Chinese Holiday. This holiday teaches us to take pride in being single. Single's Day is quite a popular holiday in China and is gradually becoming prominent in the west.
Each year November 11 is celebrated as Single's Day. This particular date is chosen because 1111- four single sticks are standing together. Thus, Single's Day is also popular by the name Single Sticks or Bare Sticks Holiday.
Single's Day- Now A Global Shopping Festival
In recent years, Singles Day gained immense popularity around the globe. Both marketers and customers look out for this festival as it caters to a large section of our society.
Single community worldwide looks forward to this shopping bonanza as it comes up with lucrative deals. These shopping deals are not only eye-catching but also like never before.
Brands save their best deals for this day as customers are active while indulging in self-pleasure. Most brands now use E-Commerce services to target their audience and make customers aware of their upcoming holiday discounts.
It's one of the biggest holidays in China, where every brand makes its presence with its best deals.
Earlier, this Anti-Valentine's Day was a 24 hours shopping festival in China, but it is now a global saga and is celebrated over a week.
How Ready Are You For This Single's Day?
Looking at the statistics of 2021's sales during the Single's Day festivity, Alibaba's 1111 festive bonanza wrapped with $84.54 billion in gross merchandise volume.
The COVID situation didn't touch the zeal of this community, which splurged during this time of the year.
Global brands are now joining the Single's Day shopping festival bandwagon and planning for this year's marketing campaigns.
If you aren't sure how to plan and proceed, we offer a helping hand.
We have tapped into seven brands that made waves during 2021's Single Day bonanza and got the best results with E-Commerce services.
Let's take a cue from these amazing global brands, which made big impressions on Single's Day 2021.
7 Brands That Nailed It On Single's Day
1. Clinique
This high-end makeup brand opened its door to the biggest discounts on Single's Day 2021.
Strategy
It offered 20% off any order with the code 'TREATME', an added free 5-piece gift on orders over $45, and a free full-size bestseller on orders over $85. Clinique offered mind-blowing deals, which forced customers to stock their favorite products.
Clinique cleverly used a mix of social media and mobile marketing, giving them much-needed attention ahead of the shopping festival.
The End Result
Clinique observed an overwhelming response and landed among the top 50 brands making the best profits in 2021's Single'Day shopping festival.
2. Laura Mercier
Our favorite French-American makeup and skincare brand also joined the fun and frolic of Single's Day 2021 and gave a treat to its customers.
Strategy
Laura Mercier offered an exclusive 40% off on selected products for Single's Day 2021. Mostly, the LM products are high-end and a far cry from the masses. But this insane OFF for Single's Day pushed customers to its website.
Social Media Marketing helped LM to reach its desired customers and ended with a great business.
The End Result
Single's Day 2021 was a gala event for Laura Mercier because it witnessed one of the biggest sales online and via stores.
Laura Mercier also used social media's power to make its customers aware of and build curiosity for the Single's Day treat.
3. Burberry
Earlier, luxury brands were always absent from the Single's Day community. But 2021 opened the gates to many luxury brands. Luxury brands kept their distance from such shopping festivals as they didn't see opportunities, but Single's Day 2021 differed slightly from others.
Luxury brands were a part of Singles' Day 2021 and used amazing marketing tactics to draw crowds and generate sales.
Strategy
The prominent British luxury label Burberry launched a limited number of wool scarves with its signature logo. It got priced at $661 in the pre-order period, ahead of the sales festival in its flagship stores.
The End Result
You'll be amazed to know that all items sold out on the first Day.
4. Chanel
We all know and want to have the French luxury brand in our kitty, Chanel. It is known to be one of the most loved luxury brands. We all dream of having a Chanel product in our closet or vanity, and Single's Day 2021 gave us this fantastic opportunity. Let's see how they channel the shopping madness on Single's Day.
Strategy
The French luxury giant also appeared in 2021's Singles Day shopping festival. Chanel used the power of Social Media Marketing and came via WeChat marketing push on November 10 with its beauty line.
The luxury brands, too, couldn't resist this temptation and joined the Single's Day bandwagon to capture the market of luxury products.
The End Result
This luxury giant, as anticipated, enjoyed great sales with assistance from social media channels like WeChat. The sales were relatively high on Single's Day because of the buzz created by WeChat notifications.
5. Coach
Coach is an American fashion brand that relies on high-quality luxury products and chic designs.
Strategy
Single's Day 2021 witnessed this American brand making huge sales. Social Media Channels like- Facebook, Twitter, Instagram, Pinterest, and Weibo helped with communication and announcements; Coach uses the power of Email Marketing to direct connect with its audience and for information and updates. Coach made Single's Day 2021 extra special for its customers by offering a never-before 25% off the entire Beat collection with code BEAT25.
The End Result
These social media channels became the bridge between Coach and its customers. This direct communication helped Coach to enjoy great sales both online and through stores.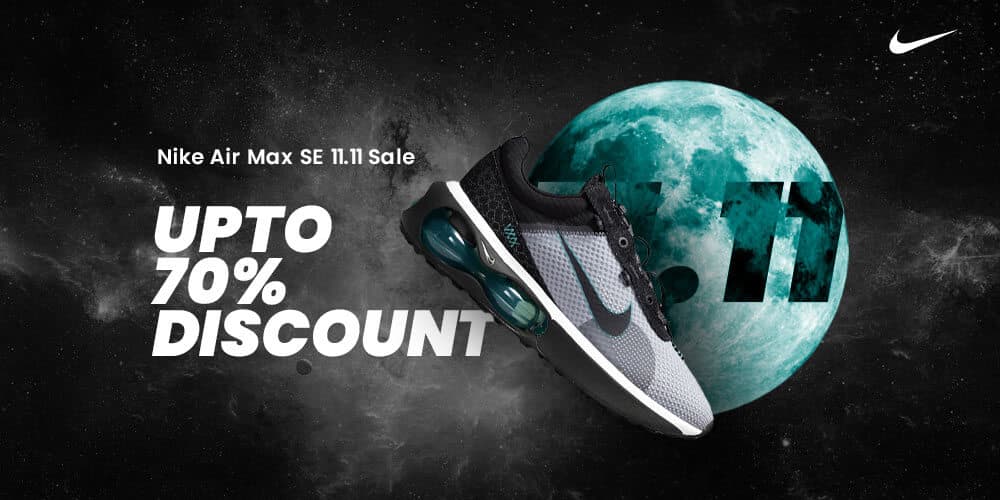 6. Nike
A prominent worldwide brand that enjoyed the Single's Day festivity is Nike. One of the beloved sports brands that men and women equally love. Let's have a look at their Single's Day 2021 marketing tactics.
Strategy
On Single's Day 2021, Nike focused on its digital presence with the help of Social Media Marketing and E-mail Marketing. Nike offered an exclusive up to 50% OFF to all its members on Single's Day. Hundreds of thousands of people signed-up to avail of huge discounts. The membership strategy generated a robust database of all Nike's customers for further direct communication.
The End Result
This strategy helped generate sales and created a vast database for itself. This database will help Nike in its future communication and product promotions.
7. Farfetch
Farfetch is a known E-Commerce platform with more than 350 international luxury brands under its umbrella.
Strategy Used
To make the best out of Single's Day 2021, Farfetch used Social Media to its advantage. It organized a nationwide sales event to engage customers with luxury brands. Farfetch also used WeChat and developed an engaging social media game to attract customers before the Single's Day festivity.
Result Achieved
Gamification came as a surprise channel of social media marketing. The customers thoroughly enjoyed it. Farfetch witnessed huge sales and enjoyed a bigger and better database with all the customers' important information.
Key Takeaways from all 7 Brands and their Strategies
All in all, these brands were highly successful in creating buzz and generating sales with good digital marketing campaigns. Rome was not built in a day; thus, a successful campaign takes months of hard work, research, and planning.
We'll discuss the main strategies used by mostly all brands:
Social Media Marketing
This fast-paced world has got its customers hitched to the internet and social media platforms. From the search for a product to the purchase, everything takes place over the internet today. Social media has opened doors to E-Commerce like never before. Today, each small to medium luxury business enjoys its fair share of social media.
Social Media Marketing is no rocket science. It's a trick and treats for customers who are clueless about their wants. Brands are getting more involved with social media channels to generate more sales and create awareness and brand image in the market.
From Laura Mercier to Nike to Farfetch; all big shots dived into social media marketing through various popular channels. Each brand steeped into the mad race of Single's Day sales by targeting and announcing through Facebook, Instagram, Weibo, Pinterest, etc.
These social media channels are the dominating ones in the market, which results in better revenue and future leads.
The above-mentioned seven brands witnessed a significant positive change in the following:
Brand Awareness
Customer Engagement
Customer Growth
Revenue and Sales
Brand Image
Customer Database
Gamification
Brands also opened doors for new concepts like gamification. In gamification, brands create games to boost user engagement and maximize lead generation. These games are specifically designed keeping in mind the brand and its users. In 2021, Farfetech used the power of gamification to expand its user base and generate hundreds of thousands of sales.
Live Streaming
Single's Day 2021 witnessed Live Streaming as a popular means of direct customer communication. Many organizations reached out to their customers using the power of Live Streaming via social media platforms.
Loreal, one of the world's most famous makeup and skincare brands, also joined the bandwagon and used it to its advantage.
They got famous actors and influencers who preached the importance of the Self-Love concept. These actors discussed the products' goodness and persuaded them to splurge.
E-mail Marketing
Another very commonly used marketing strategy during Single's Day 2021. E-mail marketing helps businesses communicate better. Businesses regularly send these promotional e-mails to their potential customers. These e-mails may include announcements, schemes, sales, new ventures, etc. During Singles' Day 2021, many businesses pre-informed their customers about the upcoming discounts and other benefits. They use e-mail marketing as customers daily check their e-mails; thus, they can be well aware of what's in store for them for this Single's Day. Nike used personalization of e-mails during Single's Day 2021. This feature adds a sense of importance to the e-mails, and customers are thrilled to receive such e-mails. Thus, e-mail marketing is a great way to make way through competition during the holiday season.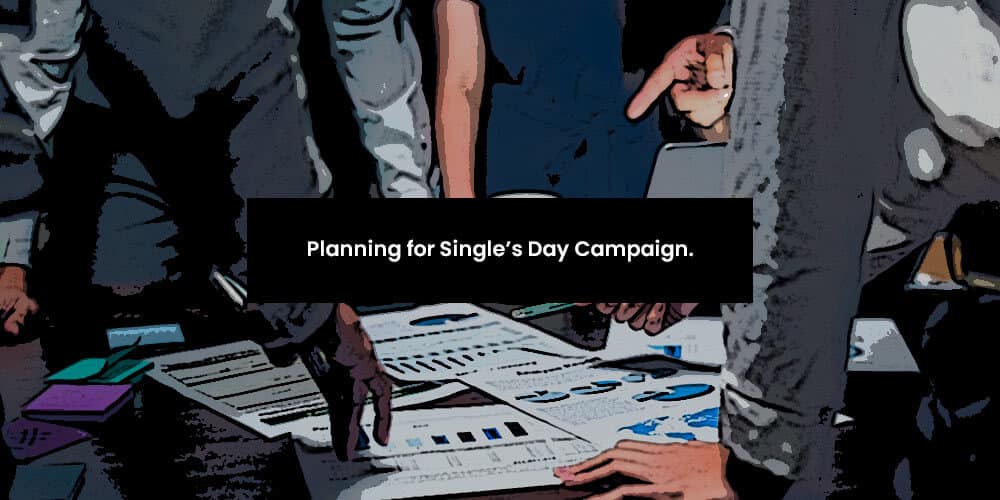 Single's Day 2021- All Hail to Digital Marketing Trends!
Single's Day is one of the biggest festive holidays of the year. Each organization is trying its best to woo customers. Some are offering huge discounts, whereas some are offering free memberships.
We did some research and zeroed to these mind-blowing trends that must be a part of your Single's Day marketing plan.
Giveaways
One of the most successful trends of 2021 was that of Giveaways. It's easy, quirky, and suits all budgets. This trend was well received by small to medium to large organizations. Large to medium organizations took assistance from influencers, whereas small businesses used less famous faces for giveaways. Giveaways not only boosted competition but also created a buzz around the business.
Instagram is a trendy choice of medium for giveaways. It enjoys a young and affluent audience, which is edgy and loves to participate in competitions and giveaways.
These giveaways offer a significant social media presence, helps the business grow organically, and eventually lead to great sales.
Hourly Surprises
This trend is wooing customers all over the globe. It's an easy trend wherein businesses bring in deals and discounts every hour (or every few hours). The companies play cleverly by keeping the maximum discounts and deals for the prime time.
This trend allows customers to visit your website for attractive discounts and new deals regularly. Hourly surprises create a good customer return rate and customer interaction ratio.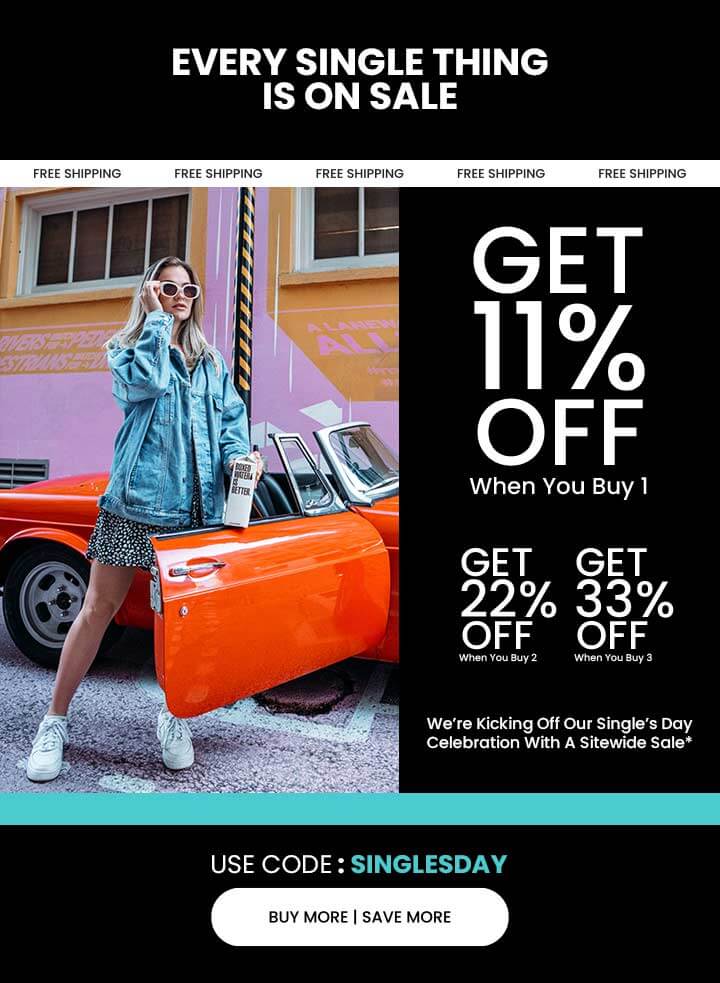 Coupons and Codes
Coupons and codes are a trusted trend to capture major customers and leads. Customers are sensitive to extra perks being offered by their trusted brands. Hence, businesses in 2021 provided additional codes and discounts to their single customers to join the fun of this festivity.
Some businesses also introduced referral codes to their single friends and family members to create leads and future sales.
Virtual Meet-ups
Another popular trend in 2021 was virtual meet-ups via various platforms. These virtual rooms were designed for the community. These meet-up rooms are specifically created to bombard them with Single's Day sales and discounts on their products. Additionally, the members who joined the meet got additional perks like- free shipping, extra off, etc.
We hope these trends have sparked an idea within you for this upcoming holiday season. So, without further ado, you should start planning and prep to make the most of this festive season.
Summing It Up
Suppose you are a bit skeptical about these trends and want to have a helping hand. Without any doubts, feel free to reach out to Mastroke. One of the finest advertising and marketing agencies, which caters to all problems with a positive mindset. The aim is to offer you solutions and growth for your future endeavors.
Achieve your digital marketing goals