7 Wicked Halloween Marketing Ideas To Boost Your Online Sales!
By Priya Srivastava
•
October 17, 2022
•
9 mins read
Knock, Knock, It's Halloween Time!
Halloween is just a few days away, and the shopping spree has already started in full swing. Halloween is not only about scary costumes, carved pumpkins, tricks & treats, or festive feasts. Apart from Thanksgiving, Christmas, and Easter, this is one of the most popular Holidays in the US and UK region when shoppers' excitement level is at its peak. With the rise in shopping, it comes as a huge opportunity for e-commerce sellers to grow their businesses. So it's time to get ready with some creative, wicked, and wildest halloween marketing ideas to attract and engage customers and boost your sales.
However, a lot of competition and their already-running promotional campaigns can make you feel overwhelmed, and your mind runs out of ideas. If you are an e-commerce seller and can relate to this situation, then you are in the right place.
In this article, we will give you seven effective halloween marketing ideas that can make your business sales soar.
Seven Halloween Marketing Ideas To Boost Sales
1. Update your store with a spooktacular theme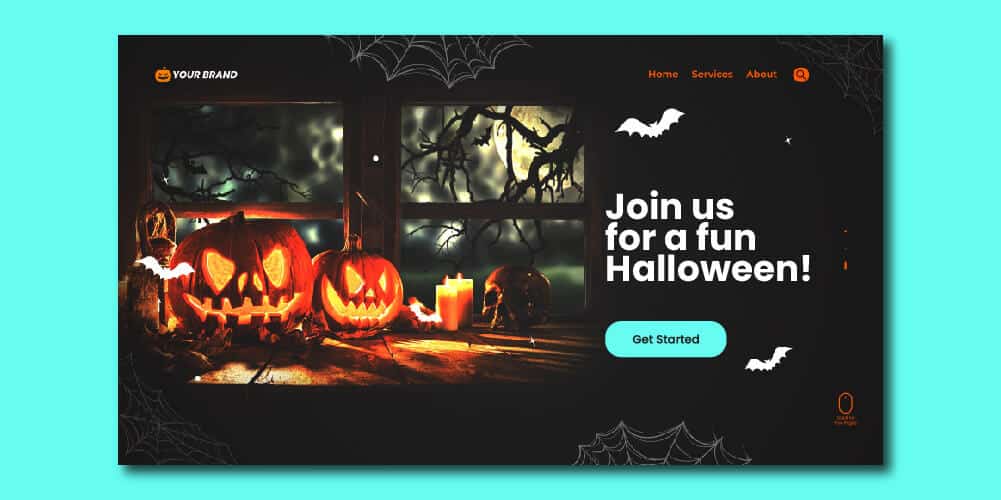 Whether it's a physical storefront or your digital shop's storefront, you need to revamp and update it for Halloween. Add a hint of halloween elements or host a scavenger hunt event to engage your customers.
Or, add some mysterious clues with a spooky appeal to your store's home page and ask the visitors to locate the clues. It can be anything like an image of a peeking bat, a carved pumpkin, candy corn, a ghost, or a witch's hat hidden in all different locations.
You can add links and redirect those images to a landing page offering freebies or other rewards to participants.
This change in the store theme by adding Halloween aesthetics will help you to attract more shoppers. Let your customers know that you are celebrating Halloween and have special offers to treat them.
Apart from this, do not forget to optimize your store for mobile screens.
The majority of the traffic for e-commerce stores comes from smartphones and more than half of online purchases also happen through mobile. Because it's easier and more convenient than a desktop, and the users can search and purchase the items anywhere, anytime.
Thus, it becomes crucial to have a mobile-responsive website or to optimize your mobile app if you have one for your store. As desktop shopping takes a backseat when compared to mobile shopping during the holiday season.
And, if anyone is looking out for some scary and catchy shopping deals for Halloween through their mobile screens, you don't want to miss out on the engagement mobile-responsive page or mobile app can bring to your store.
Last moment check for store optimization:
For every second of delay in mobile site load time, there is a 20 percent drop in conversions. So, it becomes crucial to check the loading time of your store for mobile screens.
Check and minimize your store's loading time, as it can heavily impact your visitors' purchase decisions and sales.
If the loading speed is slow and takes more than 1-2 seconds to load, the abandonment rate would likely increase, and the visitors might not revisit your website.
The additional traffic during the holiday season is one of the reasons that lead to slow load time, so be prepared to handle that extra traffic load.
Optimize the store and remove the unnecessary elements that can add to the increased loading time.
2. Prep up with an early bird Halloween sale
You don't need to wait for Halloween to implement halloween marketing ideas or halloween campaign strategies. The earlier you start, the more chances you get to catch more customers' attention. As most businesses have already started with their holiday marketing campaigns, you also need to buckle up with early halloween sales.
Give access to early-bird special offers & deals to your customers. Offer them Halloween-themed goodies on purchases or offer halloween-themed product bundles to get the maximum attention from your store visitors.
3. A halloween dedicated landing page
This is one of the best practices followed by most e-commerce sellers to promote Halloween sales.
Create a specific landing page on your store and showcase all the deals, offers, product bundles, or any Halloween special giveaways you are offering your customers.
You can also launch a new range of Halloween-dedicated products for your customers and add them to this landing page.
This will help you attract your store visitors' attention and help them choose the offers more efficiently, as they won't have to navigate the whole store to find and select the offers.
Best Practices:
Ensure that the page is properly organized and well-optimized
Try and offer discounts on your best-selling products as this will improve the chances of more purchases
Display the best deals on the top of the page to attract more customers
Do not forget to add Halloween special elements to the page design
4. Spookify your followers with Halloween special social campaigns
Here is the most fruitful method for Halloween marketing strategy. Halloween festival is full of fun activities, wild & scary costumes, and amazing music nights. So, when the festival is this full of excitement and creativity, it comes as a huge opportunity to grab customers' attention with some creative engaging social media posts.
Build your store's social media profiles with halloween-themed content. Plan engaging spooky posts or videos or use captivating hashtags to bring more visitors to your business's social media pages.
Create attention-grabbing and fun halloween-themed infographics or videos, create hashtag-specific challenges or buzzworthy activities, and invite the readers to participate in them. To further increase engagement, you can announce an offer of halloween-themed gifts for the winners.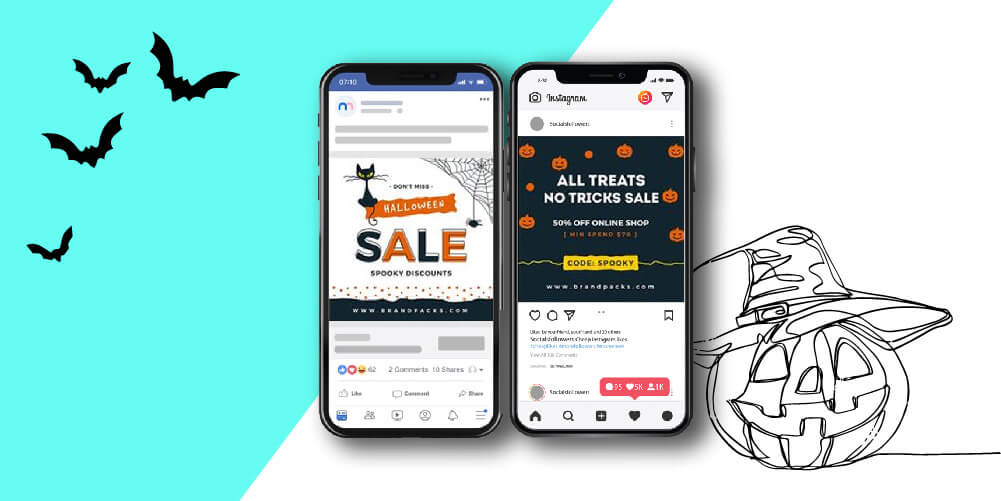 Host Halloween special giveaways on your social channels to get your followers' attention toward your store. Hold a virtual contest for customers who use your hashtags or ask them to share their costume ideas for Halloween.
This will keep your customers feeling excited and happy, and you will gain a lot of exposure to your site. More so, you will also get user-generated content and clicks and an improved engagement rate to your store.
Use paid ad campaigns on social media platforms to gain more traction and exposure
You can increase Halloween sales with the help of remarketing google ads campaigns or by introducing halloween discounts with Facebook, Instagram, and Youtube ads.
Create ads based on demography, customer interests & behaviors for targeted audience reach.
Also, ensure to target the right audience at the right time to get the maximum clicks on ads. You can not plan out remarketing ads for visitors who are new to your business or who are at the awareness stage.
More so, try out A/B testing to check which type of campaigns works best for your business, and you can leverage those campaigns in your Halloween marketing strategy.
"If done strategically, ad campaigns have a lot of potential to improve brand awareness and increase leads, conversions, and revenue generation. It can be one of the best and most effective Halloween marketing ideas to reach out to new or existing customers on Halloween."
All in all, social media campaigns for Halloween are something that should be on the top of your Halloween checklist of marketing strategies.
5. Treat your customers with E-mail campaigns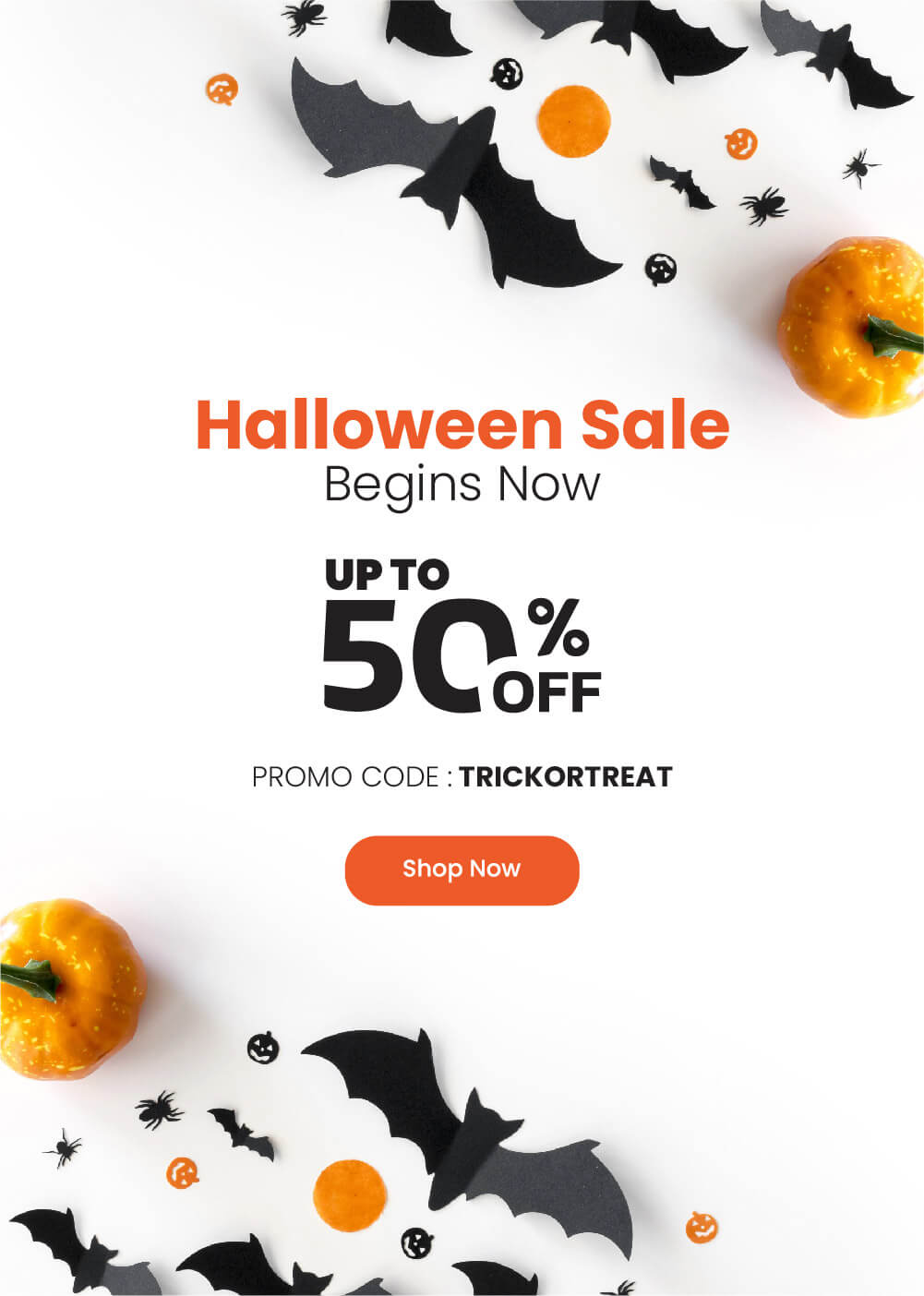 E-mail marketing is a classic and most effective marketing campaign.
Get a halloween-ready email template and offer product updates or sale offers to your email list. Or, send a newsletter with colorful and interesting emails.
You can introduce promotions, send product recommendations, discounts, or a FOMO reminder via a email to drive customers to your store.
Also, the Holiday season is the perfect time to gain traffic to your store as customers look forward to such emails as they come with various offers, freebies, or other good deals.
Thus, your halloween marketing ideas list is going to be incomplete if you do not include an email marketing strategy in the list.
6. Greet your visitors with eye-grabbing pop-ups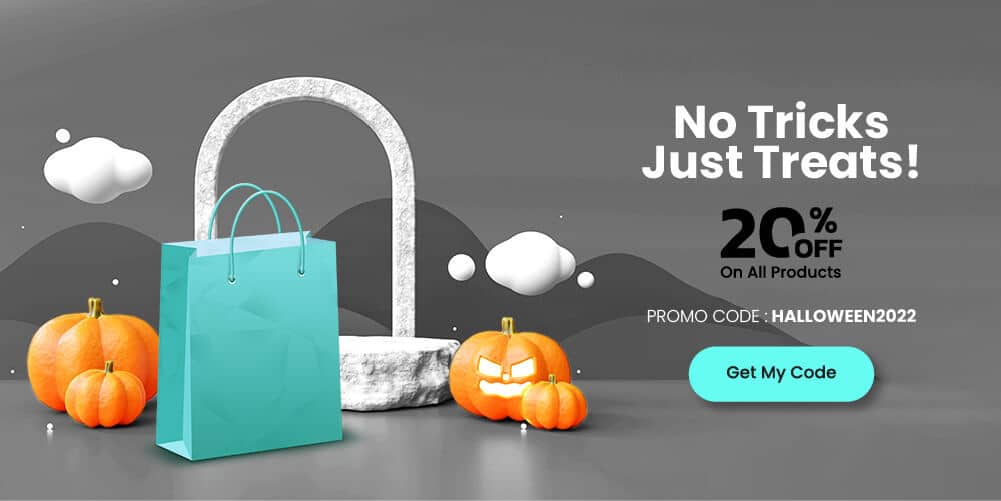 A small pop-up to greet your visitors when they visit your store is a good idea to enhance the user's browsing experience on your website.
Along with this, you can also use a trick-or-treat spinning wheel with which the visitors can get a chance to win some Halloween offers. Or, offer discounts or coupon codes they can redeem on their purchase.
This will also decrease the bounce rate of your website and increase the chances of improving your conversion rate.
7. Add Halloween vibes to your content strategy
Content is the voice of every brand, indeed! So, you can't and must not go wrong with your Halloween content marketing strategy.
The most searched topic before Halloween is Halloween gift ideas or Halloween Costume ideas. So, if you have a blog page on your store, craft content with halloween vibes around these topics to gain users' attention.
This strategy can potentially bring a lot of organic traffic to your site. And, the customers would likely end up buying a lot of stuff from our store too.
Best Tips:
Use delightful words or phrases in your content while promoting scream-worthy sales
Add your products in recommendations giving ideas on how the readers can use the product during Halloween
Add fascinating infographics or videos to your content to gain the reader's attention
If you want to get additional benefits, you can add a push notification to promote unique Halloween tips and ideas. It could be anything ranging from Halloween decoration ideas to costume ideas.
Say hello to these wicked halloween marketing ideas
Great planning is a stepping stone to halloween success for your business. However, executing the planning the right way is more important to get the best out of your Halloween promotions.
Arrange scavenger hunts or community contest events to engage the shoppers' interests and encourage them to shop from your store. Focus on highlighting the Halloween promotions on your online store. When executing your campaigns, consider both the new and the existing customers.
Have deep research and analysis on what your competitors are doing and how you can differentiate yourself through unique promotion ideas and strategies. Don't be a scared cat while experimenting. To stay ahead of the competition curve, you need to have an incredibly amazing halloween marketing strategy to boost your online sales.
Before you go……
We wish you a happy halloween, and you may have an incredible halloween sale!
Achieve your digital marketing goals