Mastroke Connect 2023_The Journey Begins [Business Anniversary]
By Prachi Bisht
•
September 14, 2023
•
9 mins read
"Success is when those who have faith in you shine."
These words resonate deeply with us as Mastroke celebrated its first business anniversary on 12 September 2023. It was a day filled with inspiration, motivation and a whole lot of fun. And we can't wait to share the highlights of our annual event with you.
It's hard to believe that it was just a few years ago that we started out as a small team of marketers in a basement room. But thanks to our team's hard work, dedication, and commitment, we have grown into a successful company.
From a small team of marketing enthusiasts who started off with working for ecommerce projects as a Digital Marketing Team at our sister brand CedCommerce, we have come a long way to thriving as an organization.
Our Story
"We started out small but were determined to make a difference."
It all began in the humble confines of a basement room in our office building, where a handful of passionate individuals wore multiple hats, managing everything from strategy to execution.
With determination and a growth mindset, we evolved into a team of marketing experts and under the endeavor to have a platform to showcase the same team as digital marketers, hence, proudly known as Mastroke, and we owe this opportunity to our co-heads Himanshu Vaish, Pradeep Kumar & co-founders Abhishek Jaiswal, Himanshu Rauthan.
Today, we are united in our pursuit of creating winning stories for our clients and ourselves.
We asked some of our Mastrokians how their role has evolved while working at Mastroke, and here's what they said! Their stories of personal and professional growth were truly inspiring.

About The Event
Mastroke Connect 2023, held on 12 September 2023, marked a significant milestone in our journey.
Our 1st Business Anniversary Celebration was a one day virtual event filled with activities and sessions celebrating our achievements and setting the stage for continuous growth and prosperity.
The event began with an inspiring Co-Heads Connect hosted by Himanshu Vaish and Pradeep Kumar, Co-Heads at Mastroke.
Their motivating speeches struck a chord with the entire team, setting the tone for the day. They shared their knowledge, expertise, and vision for Mastroke's future, leaving everyone feeling motivated and ready to achieve goals together.
Furthermore, the event reflected our commitment to growth, innovation, and learning, aligning seamlessly with Mastroke's mission to create winning stories, foster a culture of excellence, and empower our employees.
Throughout the day, we reflected on our accomplishments, planned for the future, and created opportunities for personal and professional development. Mastroke Connect 2023 was not just a celebration but a manifestation of our commitment to continuous growth.
Life-Work Related Corporate World Talks – Speaker's Spotlight
To create a more energetic, exciting atmosphere for Mastrokians during our business anniversary, we hosted a series of inspiring talks by our very own department experts, entirely virtual.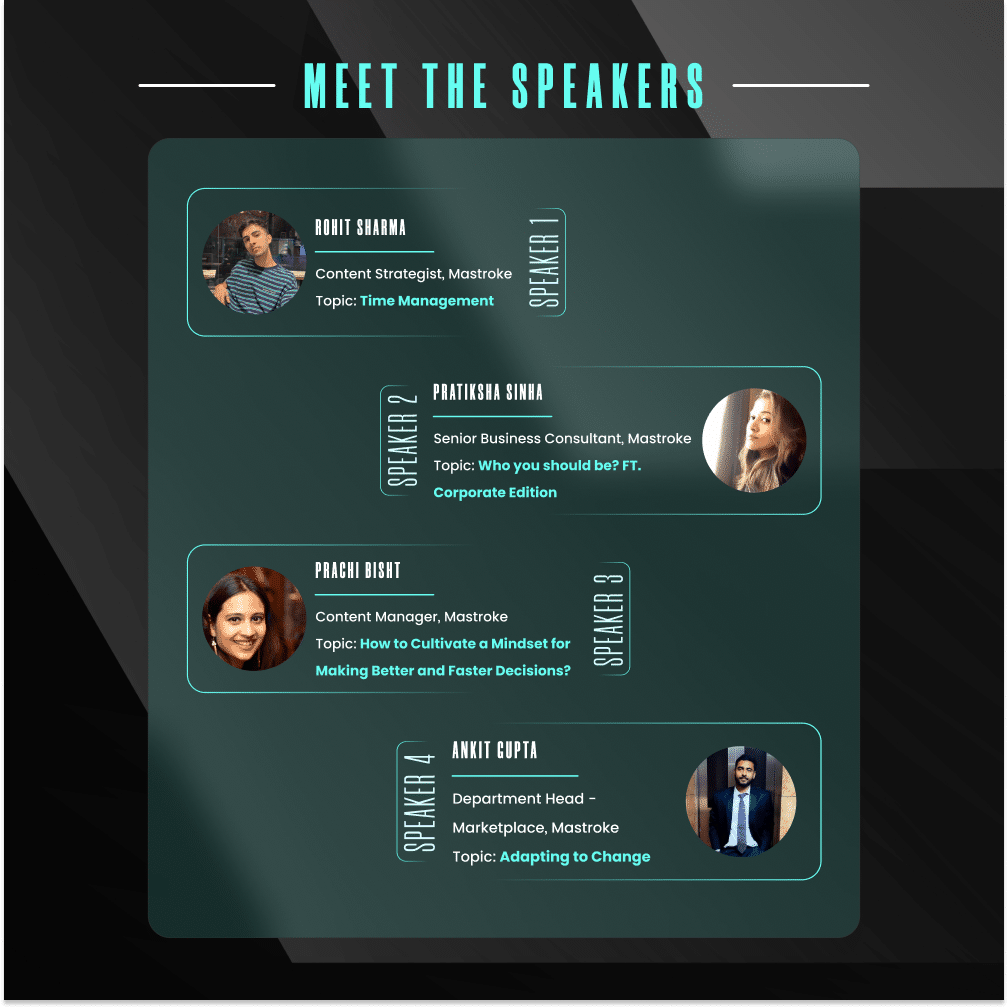 They addressed critical topics such as decision-making, time management, navigating workplace changes, and how to be in the corporate world. These sessions aimed to empower our employees with valuable insights and strategies for personal and professional development.
Awards And Recognition: Another Highlight of Our 1st Business Anniversary
In the spotlight, we find inspiration. Pride and Accomplishment of our high achievers.
As we celebrated our 1st business anniversary, one of the event's many highlights was our awards and recognition segment, designed to applaud our employees' relentless dedication and hard work.
Here's a glimpse of our achievers.
By honoring their achievements, we aimed to motivate them to reach greater heights while inspiring others to follow suit. We believe in the power of recognition to fuel ambition and foster a culture of excellence. This celebration of our team's accomplishments was another shining moment during this annual event.
It is great to see our team getting recognition for their efforts!⁠
Mastroke Trivia, Quiz, And Stand-Up Comedy
The event wasn't just about serious business; we also had our fair share of entertainment! The Mastroke Trivia and Quiz competitions tested our knowledge, while the Stand-Up Comedy acts had everyone in splits.
Laughter truly is the best medicine, and it brought us all closer together.
These lighthearted activities played a vital role in fostering team building and enhancing employee engagement. They provided an opportunity for our diverse team to connect on a personal level, share moments of joy, and strengthen the bonds that make Mastroke a closely-knit community.
Here's a glimpse of the major highlights from our virtual meetup.

We've Always Taken The Harder Right vs. The Easier Wrong
Our journey has been nothing short of remarkable. Since our inception, our vision has been to foster a culture of growth, innovation, and learning.
The event's core was an insightful presentation, "Business in a Year," which delved into our achievements, highs, and lows.
We analyzed our challenges, celebrated our successes, and brainstormed on what could be done better in the coming year. The presentation also outlined growth opportunities for Mastrokians and projected goals for the next year.
So, we asked some of our Mastrokians what they want to achieve in the coming year at Mastroke, and here's what they said! Their aspirations and goals align perfectly with our vision for the future.

Announcements By Co-Heads
As part of our business anniversary celebration, we had some exciting announcements by our co-heads aimed at further enhancing our workplace and employee experience. One of the most awaited announcements
Introducing the Employee Award System, Mastroke Annual Awards
The permanent Work from Home (WFH)
Recognizing the importance of work-life balance, a permanent Work from Home (WFH) culture.
This WFH culture not only empowers our employees with the freedom to manage their work-life balance but also reflects our trust in their ability to deliver outstanding results, regardless of location. It's a significant step toward shaping a more dynamic and employee-centric workplace at Mastroke.
An Evening Of Recognition, Inspiration, And Unparalleled Enthusiasm
Mastroke Connect 2023 was a balanced mix of what has been achieved and what remains to be done.
With something for everyone, the one-day virtual annual event brought to the forefront a lot of hidden talent, recognition, appreciation, awards, insights, fun-filled moments, and memories to cherish!
As we believe in transparency and open communication, we provided an open forum for everyone to share their feedback about the event and ask any questions or seek clarifications. This ensured that every voice was heard and every query addressed.
We are excited to see what the next year brings for Mastroke. We are confident that we will continue to grow and succeed, and we are grateful for the support of our employees, clients, and partners.
Achieve your digital marketing goals