11 Creative Ways to Market your E-Commerce Business Online
By Kartikey Sharma
•
September 8, 2022
•
8 mins read
Being such an important, popular, and in-demand platform, it's essential for eCommerce business owners to stand out from the rest. That's where digital marketing in eCommerce became a necessity.
A need for business owners to change verticals of the market and adjust their marketing strategies to smoothen the prospect's journey through their marketing and eventually their sales funnels becomes the need of the hour. Effective campaigning can never be achieved without unveiling the umbrella of digital marketing that branches into strategies like content marketing, social media marketing, affiliate marketing, search engine marketing, etc.
It is in pursuit to advance with the rapidly growing market and its trends for eCommerce businesses to adapt to a particular buyer's approach. Mapping the buyer's journey and simultaneously filling the loopholes that were never covered by the competitors in the game becomes the utmost necessity.
E-Commerce marketing strategies: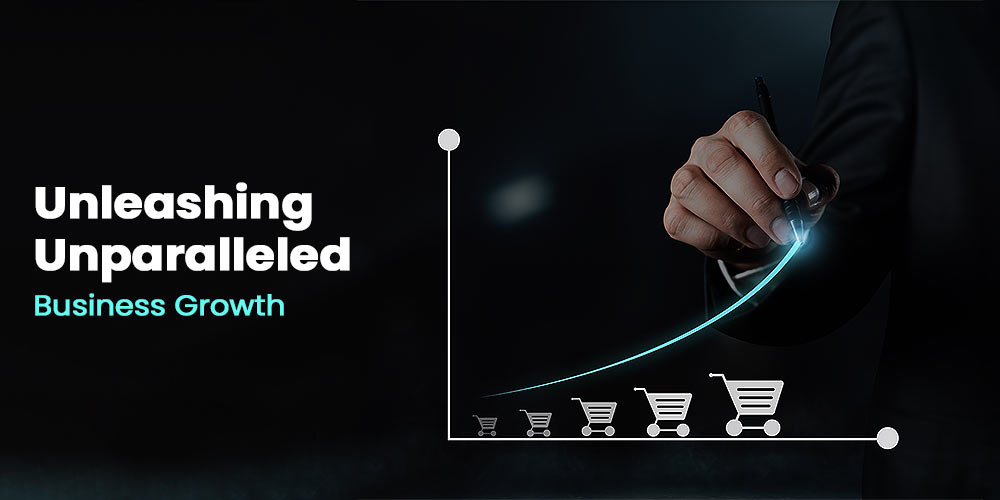 Ranging from acquiring a gigantic customer base to generating a never ceasing brand value to getting an expected sales number, the secret sauce behind a successful eCommerce business venture is always a stratified approach. An approach that corroborates right marketing techniques applied through targeted campaigns, achievable through unique marketing strategies.
The aim has been to tap into expansive market potential by applying all the methods which when used in the online marketing ecosystem prove highly affordable yet effective and result oriented. To channel your business goals and achieve them through the right marketing techniques, we are listing down 11 eCommerce marketing strategies that would help your business grow full-throttle. Let's dive into these innovative yet inventive ways to let you outrank the huge chunk of your competitors. Use these strategies to maximize your business growth and be a part of a broader market share.
Personalizing the brand to garner a distinctive value
It is never difficult to recognize familiar faces! Renowned brands work the same way. The trust your brand develops sowing the seeds of familiarity in the entire buyer's journey leads to turning those prospects into loyal paying customers in the grand scheme of things. While customer testimonials can help to humanize your brand, building a to-and-fro communication with the customers is the key takeaway from all lessons you take on marketing and brand personalization. Following are some ways to cater to your loyal fan base:
Go above and beyond (through constant messaging, to and fro communication channels, events, etc)
Follow-ups
Keeping it personal, not transactional
Responding to concerns
Using a consistent voice
Highly optimized top-quality content creation done consistently
A lot of a brand's success is metrics-oriented. It all boils down to the game of numbers and only when we stay abreast of the data, we are ready to implement our strategies in the longer run. A brand marketing strategy keeps at the forefront, the art of creating and curating highly-optimized top-quality content pieces to bring results through events that are actionable. One of the key areas of focusing on quality content deliverables depends on how you target with appropriate voice, tone, engagement, and storytelling.
Not just long-form, quality follows a relative comparison when it comes to adapting to and engaging with the different forms of content pieces. Measurable dynamics contribute to boost not just the SEO, paid, email, but also the social media efforts, depending on a multitude of distinctive content verticals including ebooks, checklists, guides, emails, etc. Having quality content is important in something called content marketing, a way every brand finds to not just speak but stay on top of the minds of its followers.
Marketing the regularly created content
Purposeful as it turns out to be for eCommerce marketers and online business owners, leveraging the power of the appealing content pieces being regularly shared on third-party websites, social media channels, via email, forums, or an engagement done via online communities. Deepening relationships with your audiences, a sustainable tie-up depends on the content pieces that are being followed by your target prospects which eventually is the key to driving more brand loyalty.
To attract, engage and retain a particular set of targeted audiences finds sharing already created content as an approach to fortify a business owner's presence through expertise. The EAT (Expertise, Authroitativeness and Trustworthiness) factor thus harbors a mutual connect between the reader and the brand promoting top of the funnel awareness.
Leveraging the power of paid ads
Driving website traffic, building awareness & generating higher quality leads, the maximization of B2B growth with personalised ads is one of the best bet to garner instant results. Ecommerce-businesses must realize the importance of paid ads in a day and age where this form of advertising has become an efficient method to create a top-of-the-funnel awareness leading to generating high quality and targeted website traffic. Ultimately turning prospects into loyal paying customers.
Additionally, new customer acquisitions through paid ad placements or via third-party platforms (either targeting new prospects or retargeting), elevate your brand to generate more qualified leads. All in all, advertising works to amplify your small business marketing efforts and helps you reach the right audience with positive, targeted messaging.
Video marketing is the next big thing
From creating videos on youtube to floating it on other channels and letting those develop trust among customers, video marketing proves an effective way to build brand credibility. Using videos as a medium to target your prospects and tell them about your product or service is a powerful way to increase engagement on your digital and social channels. Regular video shares lead to educating your audience and allow you to reach them with a new medium that is as effective and transparent as your brand would be in the near future.
Brands should focus on retargeting
Retargeting informs your customers of the changes to your brand and helps you find early adopters. The reiterated interactions that emphasize the existence of an already familiar brand to the prospective customers increase the chance of conversions at the bottom of the funnel. Their interactions promotes your brand and help improve visibility with targeted, efficient marketing.
Termed as an adequate tactic to focus on the lapsed users, such an engagement is likely to increase the chances of the user ending with purchased decision-making more likely to convert. Retargeting proves more affordable yet efficient as compared to targeting a new user less likely to be converted and more inclined towards exploring more options.
Customer reviews on trusted platforms
Reviews and customer testimonials are key to forging the ultimate decision-making that would favor your target audiences and their interest more than anything else. Helping customers get a better understanding and idea of your product or service, customer feedback can not only help improve products but also increase conversions. Reviews left time and again on your eCommerce website reveal a lot about your online store. A wealth of positive words can have a measurable impact on your sales, driving purchases and bridging any existing gaps that would otherwise lead to your customers refusing to stand by your products or services when a good-will iswdemanded.
A free marketing collateral would help your cause
Understanding customer needs, their ask or rather solving their questions is yet another way to interact and build a base of loyal customers. Yes, we are going to talk about how free marketing collateral would cater to rising customer queries through accurate and authentic content that answers all that's required when your prospects look forward to their brand as a companion. The biggest reason to invest in these is the storytelling option that unlocks an abundance of opportunities to let you help tell a story most consistently to potential customers. And remember, without the help of a professional marketing agency, you won't be able to tell that story as well.
Keep your website SEO optimized
SEO for e-commerce is a strategy that helps web retailers rank higher in search engine results. A well-designed and optimized website with high-quality content will have higher visibility on search engines. The visibility is dependent primarily on the position of the website on the SERP. Higher rankings on searches would lead to targeted lead generation via a greatly increased visitor portfolio. An SEO-optimized user-friendly website undoubtedly unlocks massive amounts of target leads falling in the marketing and sales funnel without a hindrance. With more traffic, you get the opportunity to convert a higher number of prospects into customers.
Customer experience should be the top priority
Why Does Customer Experience Matter? Customer experience can set companies up to be more competitive and more customer-focused, ultimately driving sales and business growth. Impacting purchasing decisions quite brilliantly, a remarkable customer experience is a statement of brand advocacy, proves critical for the growth and sustainability of any business in the longer run, promotes loyalty, and helps you retain the EAT factor. Remember, today customers have the power, not the sellers.
Understanding how critical the role of a microinfluencer is
Providing access to a smaller subset of a targeted demographic audience, micro-influencers can be beneficial to a brand as collaborating with these provide a smaller yet a targeted reach determining the sales turnover.Defining your audience, determining your goal, bringing into picture the social platform you will be using, influencer meets, influencer marketing tools, etc., there is so much in 2022 and beyond, for your eCommerce business to look forward to when partnering with micro-influencers for better results.
Conclusion
Its high-time small and medium-sized business owners adapt to such rapidly popularising and in-demand eCommerce platforms
Amongst a billion shopaholics connected today worldwide through the power of the web, shopping online cannot be a mere happenstance! An overwhelming shopping experience for a pool of consumers is what eCommerce businesses target with the sudden yet discreet changes brought about after the pandemic changed the world order and those topping the list of business owners running their eCommerce ventures.
Digitalization is more a need than a necessity with the needs of consumer behavior changing upside down. In this being one of the major turns of events amidst an already broadening horizon of online shopping experiences, eCommerce business owners already leaving huge imprints in the internet marketing ecosystem were quick to adapt to changing circumstances.
It was because of the dependability of the business ventures on the ever-so-evolving needs of their target markets that needed to accustom to not just plunging their competitors, but also to capture a mammoth target market share with an exploration of the growing customer demands and the rapidly changing buying cycles.
Achieve your digital marketing goals