5 Favorite Things About Working in a Creative Advertising Agency
By Manjari Shreya
•
May 5, 2023
•
8 mins read
Ever wondered what a creative advertising agency is? A creative advertising agency offers a broader range of services that come under the realm of marketing and advertising. The plethora of creative opportunities one gets at a creative agency is endless. But working at a creative advertising agency is more than just that.
Working at a creative advertising agency is an exciting career path for many reasons. It offers the opportunity to use creativity and imagination to develop innovative ideas for campaigns and branding. Working with a team of talented individuals with diverse backgrounds and skill sets is also a significant advantage of working in this industry.
The work is often varied, with different projects and clients, which provides the opportunity to work on a range of campaigns. The fast-paced environment can be exciting and challenging at the same time.
Advertising and marketing campaigns can also significantly impact consumer behavior and shape culture, which allows for making a difference in the world.
Overall, 267,601 people are working at an advertising agency in the US & they consider it an ideal career path for those passionate about creativity, collaboration, and making an impact.
So if you are still considering whether advertising is a good career path, then this blog might just help you decide! Remember, working at a creative advertising agency will be an exciting experience!
5 Absolutely Favorite Things About Working at a Creative Advertising Agency
A creative advertising agency is all about what it stands for. At Mastroke, our vision is our guiding force, while our principles & values keep our team going. Read more about The Values & Principles of Mastroke: Our New Year's Resolution here!
1. There's never a dull moment
Work is never monotonous in a creative advertising agency. There's always something brewing & you will often find yourself working on multiple projects simultaneously. Moreover, these agencies have a work hard and play hard mentality. It involves putting a lot of effort and dedication into your work while also taking time to enjoy life and have fun outside of the workspace.
In a creative advertising agency, employees work productive and efficient hours, make efforts & come up with innovative and effective advertising campaigns for clients. This can involve brainstorming sessions, research, and collaborating with team members to come up with unique ideas.
Additionally, it is worth noting that a creative advertising agency always is trying to create an impact, so you will always have something or the other coming up. To ensure you are at your best, remember to ask for help when needed & aim to be consistent.
2. There's always room to try something new
In a creative & advertising agency, there is always something new to try your hands at. The advertising industry constantly evolves, and clients always look for new and innovative ways to reach their target audience.
Here are 3 reasons why there is always something new to try at a creative advertising agency:
1.Changing Consumer Behaviors: As consumers' habits and behaviors change, it calls for ways brands need to adapt to reach them. For example, the rise of social media and mobile devices has led to new advertising channels and formats that only existed a few years ago.
Here are more ways consumer behavior has changed over the last few years:
10% of people didn't change their consumer behavior when it comes to non-essential spending
Whereas 20% of consumers are aware but haven't changed their consumption habits when it comes to non-essential spending
While 28% of consumers are concerned and well-aware of their consumption habits & have taken some kind of action when it comes to non-essential spending
42% of consumers are concerned and have taken action to their non-essential spending
2. Upcoming Technologies: Emerging technologies like augmented reality, virtual reality, and voice assistants offer new opportunities for brands to engage with consumers in innovative ways.
3. Fast-changing & Emerging Platforms: New platforms and channels (like TikTok, Clubhouse, and Twitch) give brands new opportunities to reach audiences in new and creative ways.
Working in a creative advertising agency will compel you to keep expanding your knowledge & keep learning about upcoming trends and algorithmic changes.
3. Develops soft skills along with hard skills:
Technical, computer, analytical, marketing, presentation, management, writing, and project management are considered hard skills.
These skills are always at play when working for a creative agency as one progresses towards task completion on time, dealing with everyday challenges, and producing required results. While these skills are essential, working at a creative advertising agency can also help develop soft skills.

Here are 5 ways working in a creative advertising agency can help develop critical soft skills:
Communication Skills: Communication is vital in the advertising industry. Whether it's about communicating with clients, team members, or others. Working in an advertising agency requires a lot of collaboration, which means that employees need to be able to communicate their ideas effectively, listen actively, and provide constructive feedback.
Pushes one to be more creative: Creativity is a core skill in the advertising industry, and working in an advertising agency can help develop this skill by encouraging employees to think outside the box, come up with unique ideas, and take creative risks.
Enhances Adaptability: Advertising is an ever-changing industry, and working in an advertising agency requires employees to be adaptable and able to pivot quickly in response to new challenges, trends, updates, and opportunities.
Time Management Skills: Advertising campaigns often have tight deadlines, which means that employees need to manage their time effectively to ensure that projects are completed on time and match industry standards.
Problem-Solving Skills: Creative advertising campaigns can be complex, and unexpected problems can arise anytime. Working in an advertising agency requires employees to be able to identify and solve problems quickly and creatively.
Additionally, creative advertising agencies often aim at tailoring customized, problem-specific solutions; this gives plenty of room to learn, experiment and optimize your skillsets even more.
4. Expand your network
Creative advertising and marketing industries are highly collaborative and require frequent communication and interaction with clients, colleagues, and partners. As a result, there are many opportunities to build relationships and connections that can help advance your career.
Moreover, there's always a chance that your former co-worker can become your client or a vendor. Additionally, these colleagues will work, learn, and grow with you for years to come, making them a contact throughout your career (& life).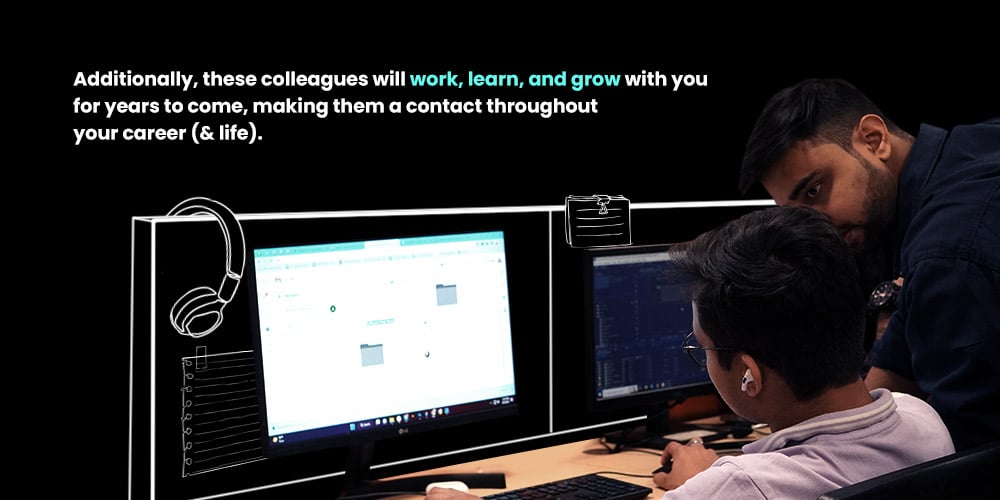 5. Creative freedom
Marketing is a constantly evolving industry. And a creative advertising agency is the best place to exercise your creative potential.
But how?
Creative and thoughtful campaigns help build brand awareness and recollection. When an advertisement is memorable and unique, it can help create a lasting impression in the minds of consumers, ultimately leading to increased brand loyalty and sales.
It can also help to humanize a brand, making it more relatable to consumers. When an advertisement is creative and engaging, it can connect with people emotionally, helping build trust and foster long-term relationships between the brand and its customers.
Additionally, working remotely is becoming a favorite, and more people are looking to take up jobs that offer creative freedom.
Buffer's 2023 report on the State of Remote Work revealed that most of the survey participants (91%) expressed satisfaction with working remotely, citing flexibility as the primary advantage.
Additionally, McKinsey conducted a study in 2022, surveying 25,000 individuals working in various industries to gauge their experience with remote work.
According to the findings, seeking flexible work environments ranks third. Among other reasons, people search for new jobs with better pay/hours. Whereas career opportunities occupy the top two positions.
The study further highlighted that remote work is a top priority for employees. With 87% of the respondents indicating that they would choose to work remotely if offered the option.
A Never-ending Cycle of Learning and Growing: Working in a Creative Advertising Agency
Working at a creative advertising agency offers learning opportunities in a stimulating, fast-paced environment with diverse projects to work on and an uplifting work environment & culture. Aside from these, the recognition and awards for team collaboration are the icings on the cake.
Moreover, being at a creative advertising agency requires curiosity as there is a never-ending cycle of learning and growing to keep up with the constantly evolving consumer needs & behaviors.
Staying up-to-date with the latest trends and technologies is one of the most important aspects of working in a creative advertising agency. Having the willingness to learn and experiment with new ideas and techniques is also crucial.
In addition, agency life requires collaborating with others and openly sharing ideas and feedback from team members & clients. This can spark new ideas and push creative boundaries, leading to more innovative and effective advertising campaigns.

Additionally, another critical aspect of working in a creative agency is refining and improving one's skillset. This may involve attending workshops, taking relevant courses, or seeking available mentorship opportunities.
Finally, working in creative advertising agencies also involves the willingness to take risks and embrace failure as a necessary part of the learning process. This can help to foster a culture of experimentation and innovation, leading to more impactful and successful solutions.
Mastroke is a new-age creative advertising agency that is constantly working to deliver strategic, data-oriented solutions to brands. We believe that a cookie-cutter strategy is a thing of the past & today's businesses need more than empty promises.
PS: If you are looking for a career launchpad where you can be the best version of yourself while working on exciting projects and learning from our leaders, it's time to join #teamMastroke!
Achieve your digital marketing goals